Electricity Markets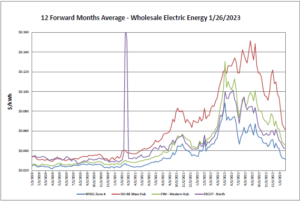 The downward trend in the market continued this week as the underlying cost of gas tumbled even further in the near-term. The forward 12M average is now at levels not seen since mid-2021.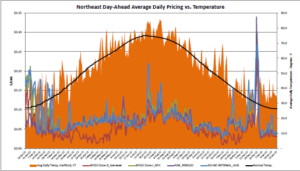 Seasonally mild and stable temperatures over the past few weeks have brought some stability to spot pricing. Colder weather in the coming weeks could bring volatility.
Natural Gas Markets

All forwards continue to fall but 2023 has widened the gap between its futures and those of 2024 and 2025. Near-term purchases remain increasingly competitive.
Futures as of 1/26/2023 versus previous week:
| | | |
| --- | --- | --- |
|   | Current |   |
| Feb-23 | $3.010 | -$0.271 |
| Mar-23 | $2.881 | -$0.229 |
| Apr-23 | $2.896 | -$0.207 |
| May-23 | $2.986 | -$0.193 |
| Jun-23 | $3.143 | -$0.180 |
| Jul-23 | $3.299 | -$0.170 |
Natural Gas Inventory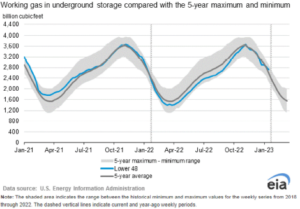 Working gas in storage was 2,729 BCF as of Friday, January 20th. According to EIA estimates this represents a net decrease of 91 Bcf from the previous week.

The Baker Hughes exploration gas count increase by 4 rigs for a total of 160 this week. There are 113 additional rigs in operation than at this time one year ago.
Weather Update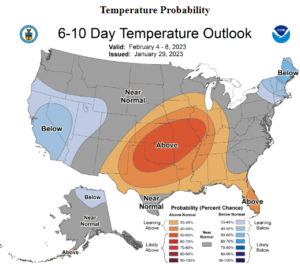 Temperatures will be above average across the Midwest, and below average in New England and the Southwest.
Hurricane Watch:  Click here to view the National Hurricane Center site.
News : Rapid renewable expansion driving down gas, coal generation incoming years: EIA- The rapid expansion of renewables in the US electricity generation mix, driven by declining construction costs and favorable tax credits, will reduce coal -fired and natural gas -fired generation over the next two years, according to the US Energy Information Association.
If you would like to receive the Energy Market Update to your inbox weekly, please click here to submit your name and email address.   Disclaimer: This information is provided for the use of our customers and potential customers. Power Management Company assumes no responsibility or liability for the accuracy or completeness of pricing or information in this document. Historical data was obtained from sources that we believe to be reliable, but we do not guarantee its accuracy or completeness. It is not intended to provide advice or recommendation. Views are subject to change.