Electricity Markets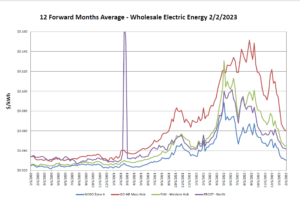 The electric market continued it's downward trend week-over-week. The underlying cost of gas saw its own dip in light of mild weather and continuing strong storage numbers. Twelve-month forward average rates now mirror costs not seen since mid-2021.
Spot rates continue to be low for January heading into February amid sustained warmth. Localized volatility can be expected as the cold snap continues across the Northeast.
Natural Gas Markets

The prompt months of winter 2023 are now trending below historic settled rates from 2021. 2024 and 2025, while also down week-over-week, continue to trend above 2023 but well below rates that materialized in 2022.
Futures as of 2/2/2023 versus previous week:
| | | |
| --- | --- | --- |
|   | Current |   |
| Mar-23 | $2.536 | -$0.345 |
| Apr-23 | $2.595 | -$0.301 |
| May-23 | $2.725 | -$0.261 |
| Jun-23 | $2.937 | -$0.206 |
| Jul-23 | $3.155 | -$0.144 |
| Aug-23 | $3.202 | -$0.133 |
Natural Gas Inventory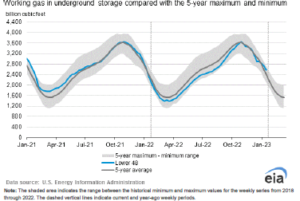 Working gas in storage was 2,583 BCF as of Friday, January 27th. According to EIA estimates this represents a net decrease of 151 Bcf from the previous week.

The Baker Hughes exploration gas count decreased by 2 rigs for a total of 158 this week. There are 115 additional rigs in operation than at this time one year ago.
Weather Update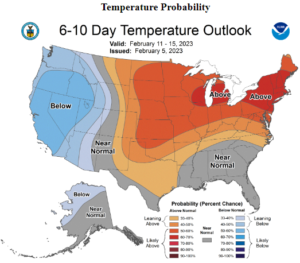 Temperatures will be above average across the Midwest and Northeast, and below average across the West.
Hurricane Watch:  Click here to view the National Hurricane Center site.
News : Republican House energy leaders seek 'course correction' in new Congress- The House Energy and Commerce Committee heard calls to reform the Federal Energy Regulatory Commission's approach to ensuring adequate energy supplies, as Republican leaders set out their agenda for a "course correction" during the panel's first hearing of the 118th Congress Jan. 31.
News : Global LNG trade to overtake pipeline gas trade by 2026: GECF- Global trade in LNG is expected to exceed that in pipeline gas by 2026, earlier than previously expected, the Gas Exporting Countries Forum (GECF)said in its new long-term market outlook published Jan. 29.

If you would like to receive the Energy Market Update to your inbox weekly, please click here to submit your name and email address.   Disclaimer: This information is provided for the use of our customers and potential customers. Power Management Company assumes no responsibility or liability for the accuracy or completeness of pricing or information in this document. Historical data was obtained from sources that we believe to be reliable, but we do not guarantee its accuracy or completeness. It is not intended to provide advice or recommendation. Views are subject to change.