Electricity Markets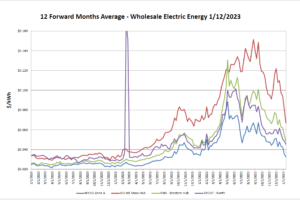 Forward markets continue to slide amid the steep decline in the underlying cost of gas. Prolonged warmer temperatures have been a major contributing factor.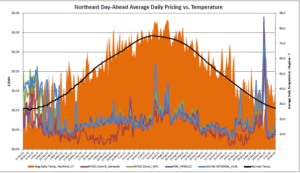 Spot pricing stabilized over the last week as temperatures remained above normal across the US. Colder weather is expected in the coming weeks and could bring excessive volatility as seen in early December 2022.
Natural Gas Markets

Consistent warmth and a mid-winter injection brought 2024 and 2025 forward pricing below 2023. The gap in forward pricing in the winter months continues to grow
Futures as of 1/12/2023 versus previous week:
| | | |
| --- | --- | --- |
|   | Current |   |
| Feb-23 | $3.800 | -$0.909 |
| Mar-23 | $3.466 | -$1.054 |
| Apr-23 | $3.413 | -$0.670 |
| May-23 | $3.497 | -$0.433 |
| Jun-23 | $3.640 | -$0.297 |
| Jul-23 | $3.772 | -$0.296 |
Natural Gas Inventory 
Working gas in storage was 2,902 BCF as of Friday, January 6th. According to EIA estimates this represents a net increase of 11 Bcf from the previous week.

The Baker Hughes exploration gas count decreased by 2 rigs for a total of 150 this week. There are 107 additional rigs in operation than at this time one year ago.
Weather Update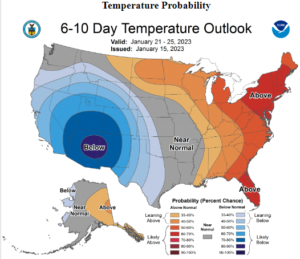 Temperatures continue to remain above average across the East Coast, while temperatures will be below average across the West and Southwest.
Hurricane Watch:  Click here to view the National Hurricane Center site.
News : New York governor backs cap-and-invest program, statewide building gas ban- New York State is pursuing a program that would cap greenhouse gas emissions and invest in the clean energyeconomy, and the state will ban the use of natural gas in new buildings, Governor Kathy Hochul said during a State of the State address she gave in Albany Jan. 10. 
News : Record US production growth to keep lid on 2023-2024 gas prices: EIA- Anticipating growing US natural gas production that will top prior highs, the US Energy Information Administration scaled back its near-termnatural gas price forecasts, expecting Henry Hub spot prices will average $4.90/MMBtu in 2023, down from $6.42/MMBtu in 2022.
If you would like to receive the Energy Market Update to your inbox weekly, please click here to submit your name and email address.   Disclaimer: This information is provided for the use of our customers and potential customers. Power Management Company assumes no responsibility or liability for the accuracy or completeness of pricing or information in this document. Historical data was obtained from sources that we believe to be reliable, but we do not guarantee its accuracy or completeness. It is not intended to provide advice or recommendation. Views are subject to change.