Electricity Markets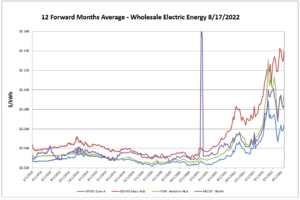 ISO-NE, PJM and NYISO all saw an increase over the last week. This was due to an increase in the underlying NYMEX and Algonquin basis.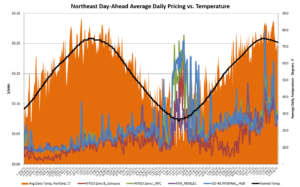 We have seen some relief after the past week, and noticed the markets soften around more seasonal weather.
Natural Gas Markets

There was a $1.70 increase In the Natural gas price, which we can see reflected in the overall electric pricing.
Futures as of 8/17/2022 versus previous week:
| | | |
| --- | --- | --- |
|   | Current |   |
| Sep-22 | $9.244 | $1.042 |
| Oct-22 | $9.228 | $1.035 |
| Nov-22 | $9.297 | $1.025 |
| Dec-22 | $9.401 | $1.012 |
| Jan-23 | $9.465 | $1.016 |
| Feb-23 | $8.951 | $0.954 |
Natural Gas Inventory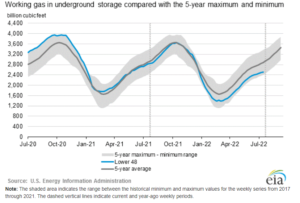 Working gas in storage was 2,519 Bcf as of Friday, August 12, 2022. According to EIA estimates this represents a net increase of 18 Bcf from the previous week.

The Baker Hughes exploration gas count remained the same at 159 this week. There are 102 additional rigs in operation than at this time one year ago.
Weather Update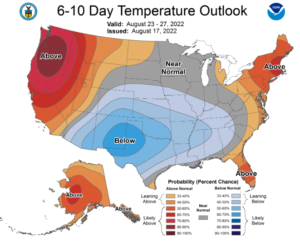 The Midwest will see below than normal temperatures whereas the West and Northwest will see above normal temperatures.
National Weather Service Updates (NOAA)
Hurricane Watch: Click here to view the National Hurricane Center site.
Equatorial Pacific Outlook: Click here to view La Nina and El Nino status.  
Almanac predicts cold, snowy winter The almanac, which releases an annual long-range weather outlook, said 'this winter season will have plenty of snow, rain and mush − as well as some record-breaking cold temperatures! We are warning readers to get ready to 'Shake, shiver and shovel!''
EV drivers aren't happy with public chargers, new survey says. Neither am I. Electric vehicles are getting better, but commercial charging stations aren't
US gas futures set 14-year high as European gas prices surge to record highs US natural gas spot and futures prices climbed to fresh heights in Aug. 16 trading, with market watchers suggesting a potential domino effect on US prices from the record-high European gas prices.
If you would like to receive the Energy Market Update to your inbox weekly, please click here to submit your name and email address.
Disclaimer: This information is provided for the use of our customers and potential customers. Power Management Company assumes no responsibility or liability for the accuracy or completeness of pricing or information in this document. Historical data was obtained from sources that we believe to be reliable, but we do not guarantee its accuracy or completeness. It is not intended to provide advice or recommendation. Views are subject to change.