Electricity Markets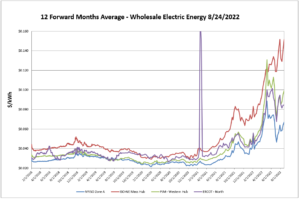 ISO-NE, PJM and NYISO all saw another increase over the last week.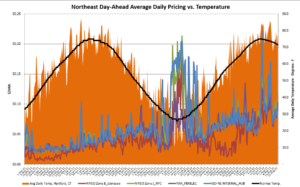 We have experienced seasonal temperatures this last week. Base prices are higher, due to the underlying price of natural gas. Overall average price is in a downward trend, due to the cooler temperatures.
Natural Gas Markets

Natural gas rates have elevated above $9.00 for the remainder of 2022 and the beginning of 2023.
Futures as of 8/24/2022 versus previous week:
| | | |
| --- | --- | --- |
|   | Current |   |
| Sep-22 | $9.33 | $0.086 |
| Oct-22 | $9.30 | $0.072 |
| Nov-22 | $9.369 | $0.072 |
| Dec-22 | $9.504 | $0.103 |
| Jan-23 | $9.57 | $0.105 |
| Feb-23 | $9.079 | $0.128 |
Natural Gas Inventory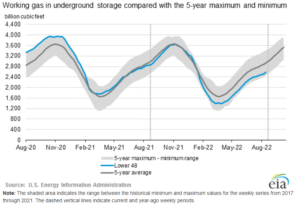 Working gas in storage was 2,579 Bcf as of Friday, August 19, 2022. According to EIA estimates this represents a net increase of 60 Bcf from the previous week.

The Baker Hughes exploration gas count remained the same at 158 this week. There are 97 additional rigs in operation than at this time one year ago.
Weather Update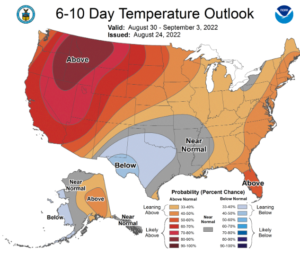 The Western half of the country will see above normal temperatures whereas the Midwest and Northeast will see below normal temperatures.
Hurricane Watch: Click here to view the National Hurricane Center site.
Equatorial Pacific Outlook: Click here to view La Nina and El Nino status.  
Global LNG demand growth drives investment, enthusiasm in US energy sector US oil and natural gas executives have linked their companies' growth opportunities to surging exports of liquefied natural gas and a rush of commercial activity supporting new multibillion-dollar LNG projects.
Natural Gas Price Touches 14-Year High U.S. natural-gas futures reached a 14-year intraday high Tuesday, before falling at the close, a sign of the unceasing demand for U.S. shale gas across the Atlantic and likely pointing to rising prices and market volatility ahead.
If you would like to receive the Energy Market Update to your inbox weekly, please click here to submit your name and email address.
Disclaimer: This information is provided for the use of our customers and potential customers. Power Management Company assumes no responsibility or liability for the accuracy or completeness of pricing or information in this document. Historical data was obtained from sources that we believe to be reliable, but we do not guarantee its accuracy or completeness. It is not intended to provide advice or recommendation. Views are subject to change.