Electricity Markets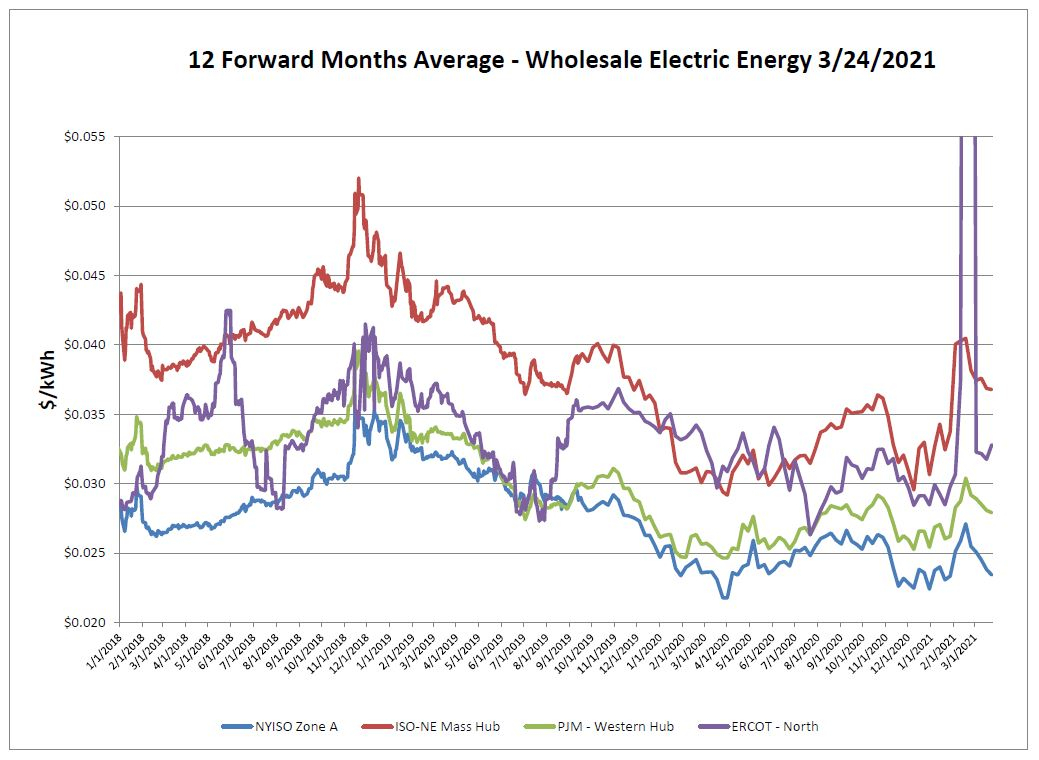 NYISO, PJM and ISO-NE forward markets are currently trending down in response to continued warmer weather. Energy prices remain competitive for fixed options, particularly in NY. Texas did see a slight rebound up, but a spike similar to February 2021 is not anticipated.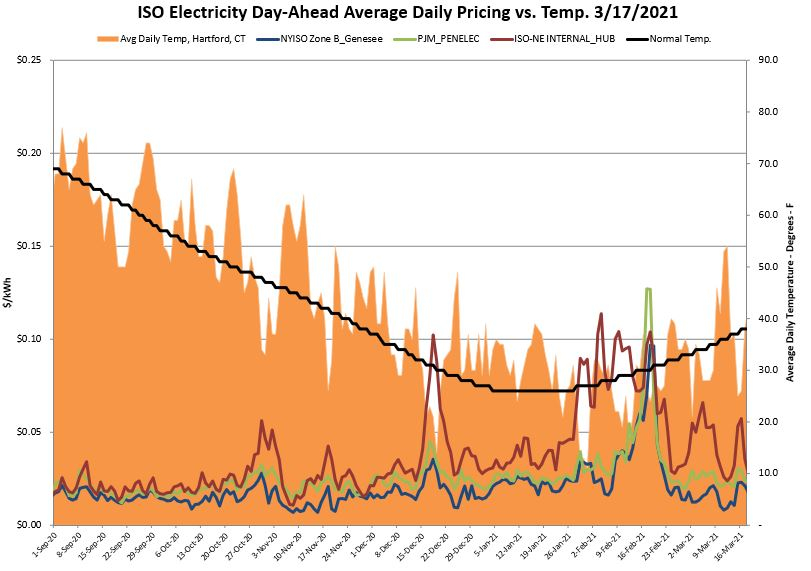 We have seen warmer than normal weather across most of the Northeast this past week. The higher temperatures have led to lower spot pricing. As the markets move from winter to spring trends.
Natural Gas Markets
April's NYMEX price has moved down compared to last month. Overall, NYMEX pricing was almost flat to last week, with little change. Natural gas pricing is trading within normal ranges as previous year.
.
Futures as of 3/24/2021 versus previous week:
| | | |
| --- | --- | --- |
| Apr-21 | $2.518 | $-0.010 |
| May-21 | $2.568 | $0.013 |
| Jun-21 | $2.603 | $0.017 |
| Jul-21 | $2.691 | $0.016 |
| Aug-21 | $2.708 | $0.017 |
| Sep-21 | $2.698 | $0.018 |
Natural Gas Inventory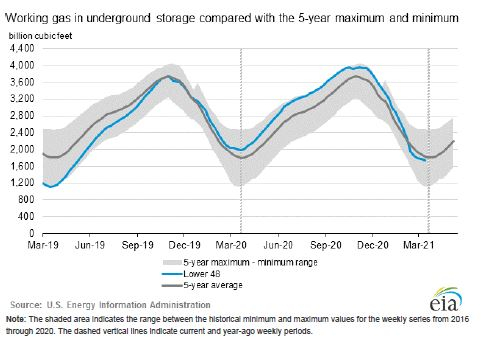 As of Friday, March 19, 2021 working gas in storage was 1,746 Bcf. According to EIA estimates this represents a net decrease of 36 Bcf from the previous week. Storage levels are gaining on the 5-year average. We predict this to be the last week of withdrawals.

The Baker Hughes exploration gas count remained the same from the previous week for a total of 92 rigs. This is 14 fewer rigs than the 107 in operation at this time one year ago.
Weather Update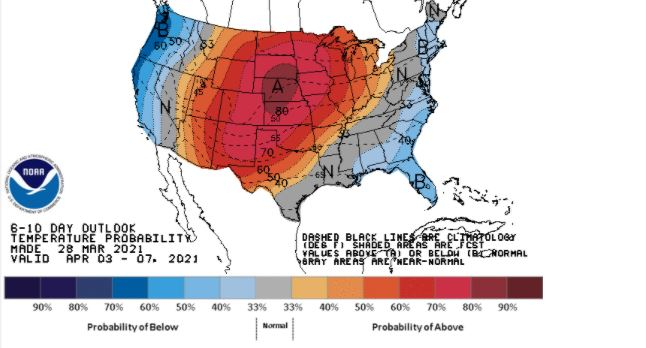 A cold front is expected over the East and West Coasts. The Central CONUS is going to see warmer than normal temperatures as we head into April.
National Weather Service Updates (NOAA)
Click here
to view the National Hurricane Center site. Equatorial Pacific Outlook:
Click here
to view La Nina and El Nino status.
Energy News
News : Muted gas demand, strong production allows for US inventory rebounds
Regional
US
inventories have been strengthening, with the deficit narrowing to the five-year average as
US gas
demand has remained muted with above-average temperatures across the country, in addition to dry production remaining resilient after rebounding from the winter storm freeze-off seen just a few weeks ago.
News : Amid budding industry optimism, US natural gas production hit one-year high
Domestic
gas
production surged to a nearly 12-month high this week as rising optimism in the
US
oil and
gas
industry continues to fuel an expansion in drilling activity and upstream investment. If you would like to receive the Energy Market Update to your inbox weekly, please
click here
to submit your name and email address.
Disclaimer
: This information is provided for the use of our customers and potential customers. Power Management Company assumes no responsibility or liability for the accuracy or completeness of pricing or information in this document. Historical data was obtained from sources that we believe to be reliable, but we do not guarantee its accuracy or completeness. It is not intended to provide advice or recommendation. Views are subject to change without notice.