Electricity Markets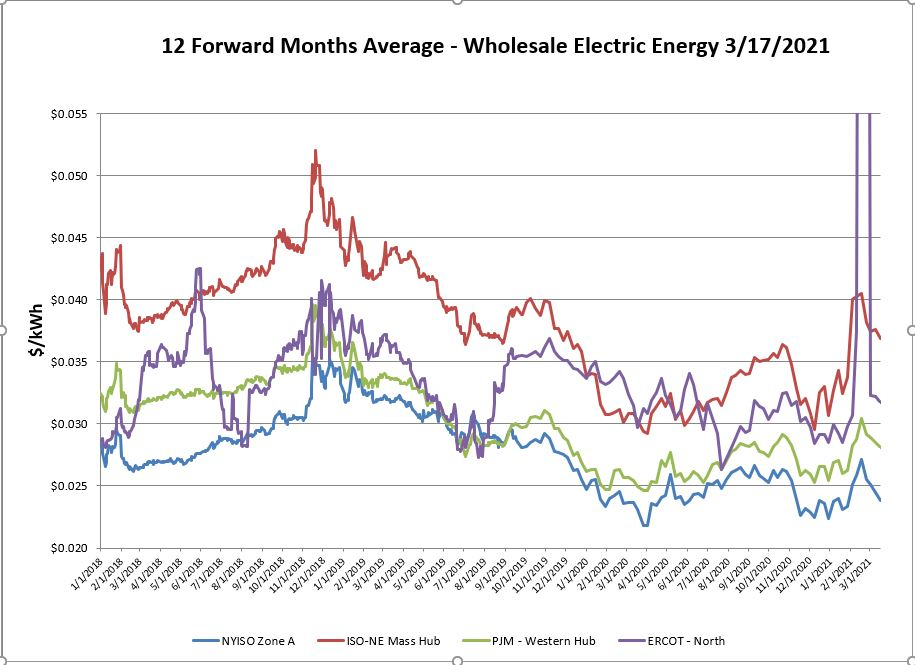 All forward markets are currently in a downward trend in response to continued warmer weather. Energy pricing remains competitive for fixed options, particularly in NY.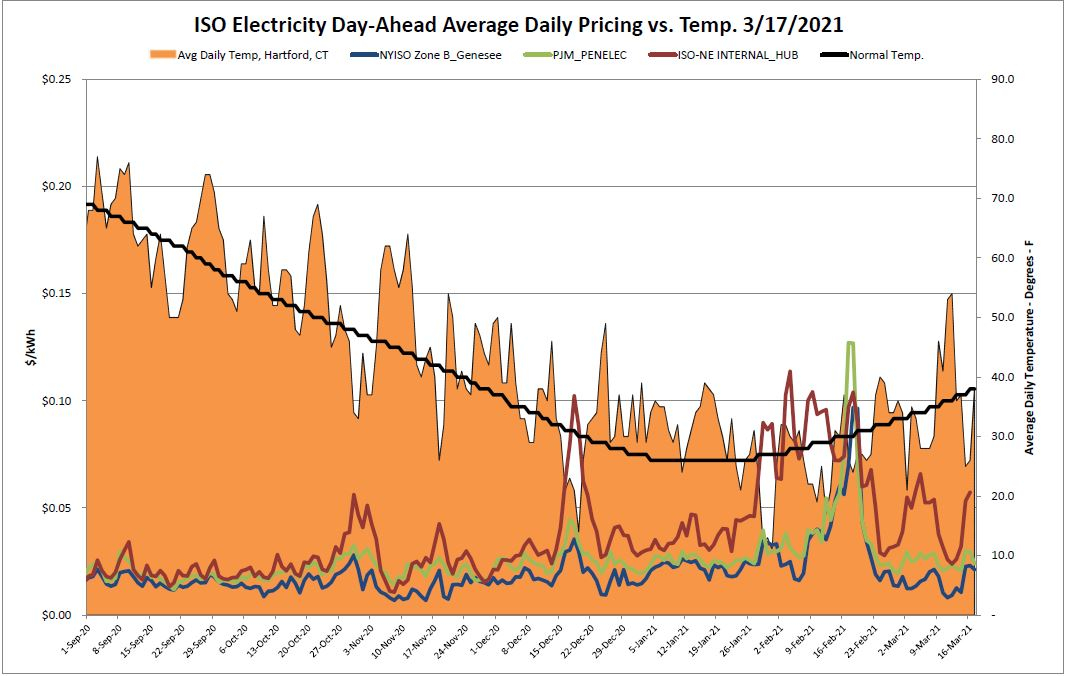 Fluctuations in the temperature that varies above, and below seasonal average have caused some short-term volatility in the markets. However, demand in the daily market has fallen as warmer temperatures and milder weather continues to move through the region. NYISO Zone B and PJM are seeing attractive future pricing.  
Natural Gas Markets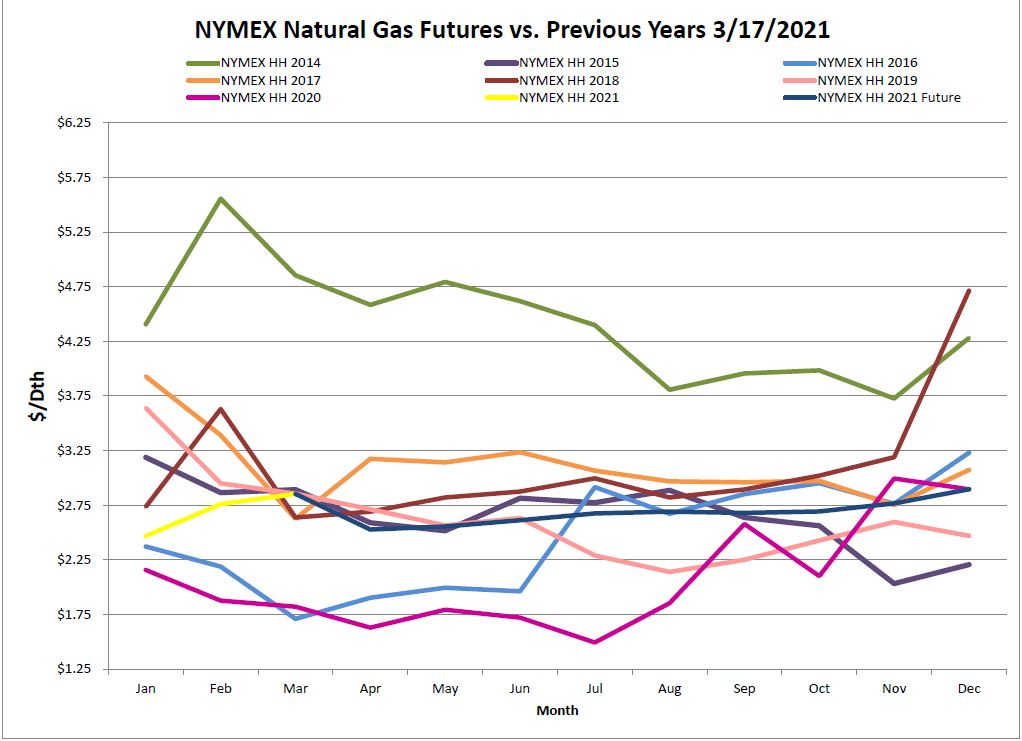 Gas pricing throughout the remainder of 2021 is starting to trade in a more normal range after falling an average of $.13 over last week. November and December 2021 are at or below last years NYMEX close. Total U.S. consumption of natural gas fell by 3.9% compared with the previous report week as demand declines with the end of the heating season approaching.  
.
Futures as of 3/17/2021 versus previous week:
| | | |
| --- | --- | --- |
| Apr-21 | $2.528 | -$0.184 |
| May-21 | $2.555 | -$0.214 |
| Jun-21 | $2.613 | -$0.215 |
| Jul-21 | $2.675 | -$0.176 |
| Aug-21 | $2.691 | -$0.150 |
| Sep-21 | $2.680 | -$0.173 |
Natural Gas Inventory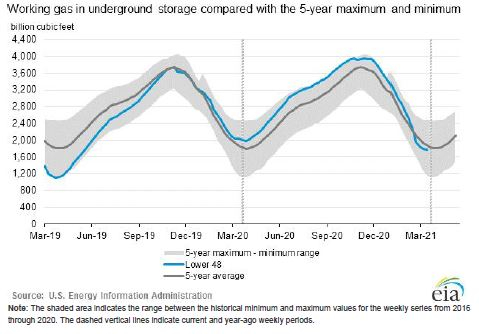 As of Friday, March 12, 2021 working gas in storage was 1,782 Bcf. According to EIA estimates this represents a net decrease of 11 Bcf from the previous week. Warmer temperatures have also resulted in smaller withdrawals from natural gas storage. There are likely just two more withdrawals to be reported before we flip to injections. We are still below last year and the 5-year average levels.    

 The Baker Hughes exploration gas count remained the same from the previous week for a total of 92 rigs. This is 14 fewer rigs than the 106 in operation at this time one year ago.
Weather Update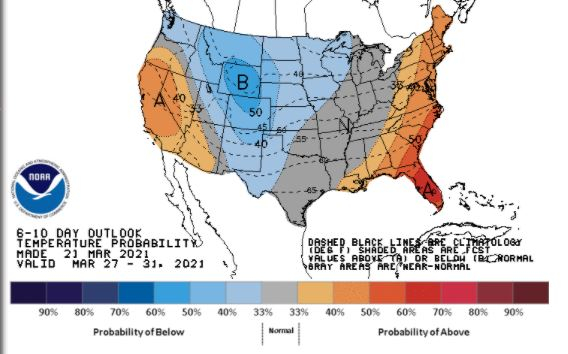 The Northeast is expected to see warmer than normal temperature while the remaining CONUS is expected to see cooler than normal temperatures in the 6-to-10-day forecast. The remainder of March is expected to be warmer than normal from central to eastern U.S. This mild pattern is likely to last into April, at normal temperatures rise and demand falls. Contrary to February, March is expected to come in as one of the Top 10 warmest since 1950.
National Weather Service Updates (NOAA)
Hurricane Watch: No Hurricanes
Click here to view the National Hurricane Center site.
Equatorial Pacific Outlook:
Click here to view La Nina and El Nino status.
Energy News
Data Driven Analysis PJM Tracker Feb prices double on year, driven by cold weather, surging gas
Colder weather, heavier loads and surging natural gas prices about doubled PJM day-ahead on-peak locational marginal prices this February, compared with February 2020, and this February's prices were also much higher than this January. April on-peak power forwards also strengthened alongside gas forwards.    
If you would like to receive the Energy Market Update to your inbox weekly, please click here to submit your name and email address.
Disclaimer: This information is provided for the use of our customers and potential customers. Power Management Company assumes no responsibility or liability for the accuracy or completeness of pricing or information in this document. Historical data was obtained from sources that we believe to be reliable, but we do not guarantee its accuracy or completeness. It is not intended to provide advice or recommendation. Views are subject to change without notice.