Electricity Markets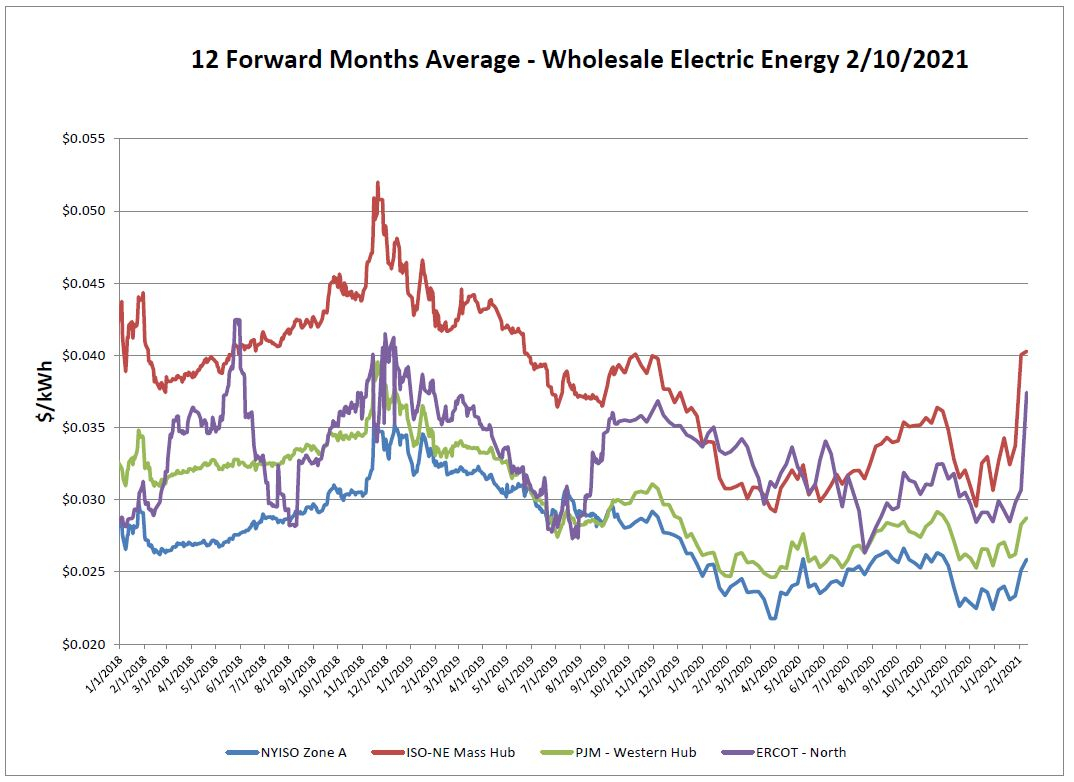 The widespread extended cold spell is driving the spot markets up and, in turn, the forward markets have followed. These colder temperatures have led to increases across the board, and, if you are on index or variable rate models, you can expect to see higher prices as a result. ERCOT electric prices have also spiked which generally unobserved in the winter. However, with colder weather dipping down into this region, and electric needed for the majority of heating demand, they are also seeing the effects of this volatility.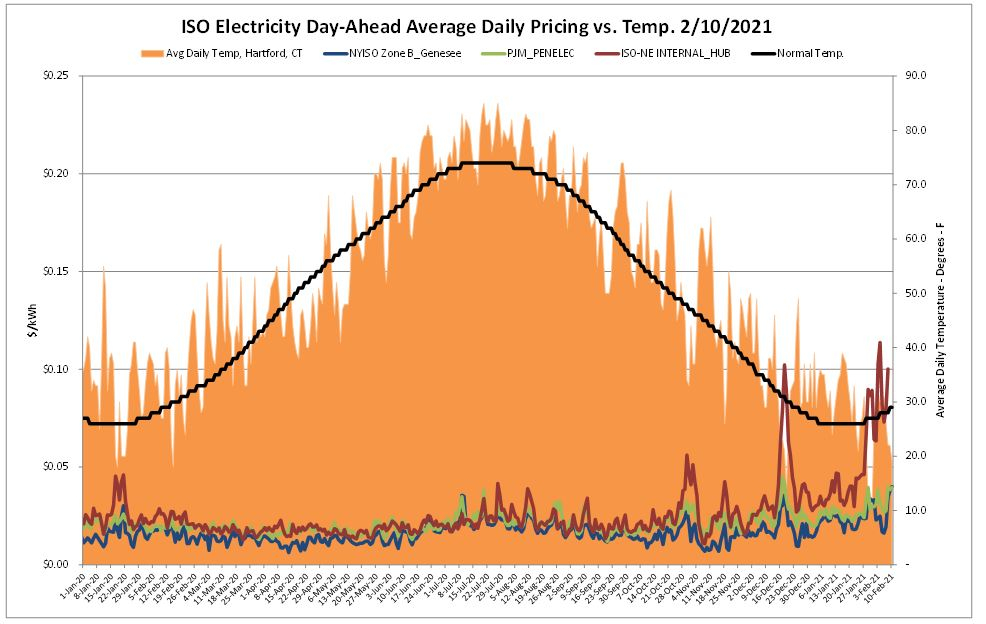 The day-ahead markets remain volatile; ISO-NE specifically remained very elevated over the report week.
Natural Gas Markets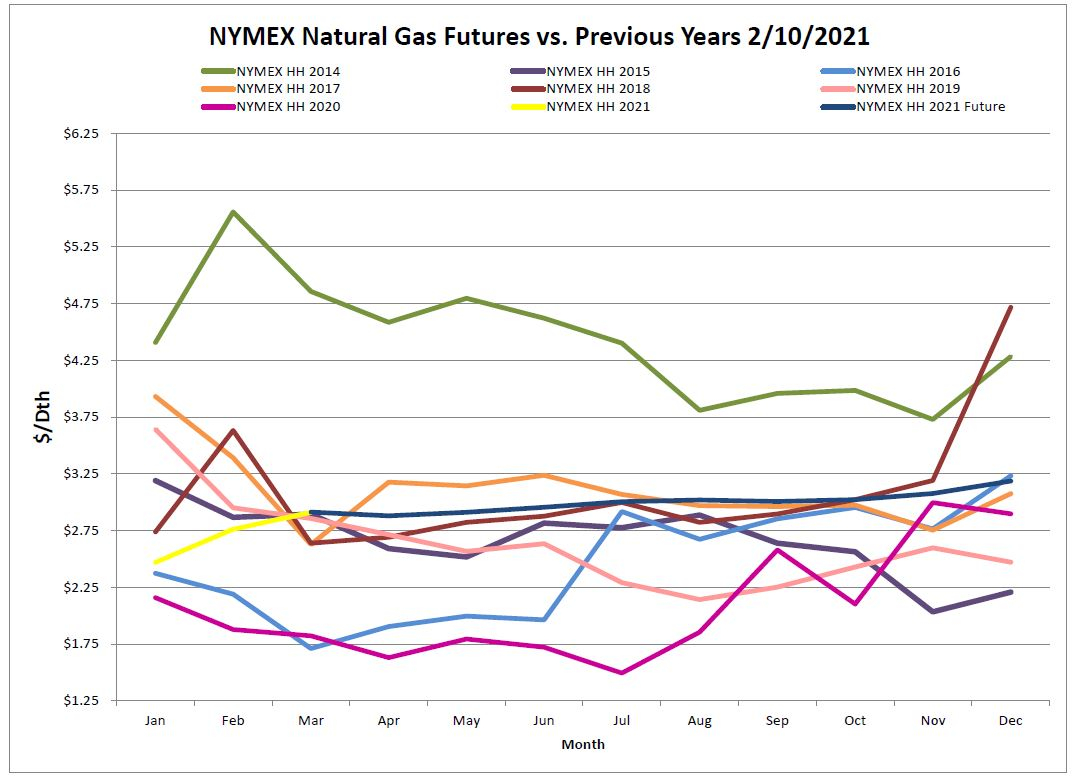 With the coldest blast of the winter being felt across the U.S., demand is up and prices for natural gas and heating oil are surging. Both the NYMEX and Algonquin basis were up as a result. The 12-month NYMEX strip is now above $3.00, and there is a significant gap of $1.00+ for the 2021 futures in comparison to the settlement prices of 2020 natural gas rates.
Futures as of 2/10/2021 versus previous week:
| | | |
| --- | --- | --- |
| Mar-21 | $2.911 | +$0.122 |
| Apr-21 | $2.879 | +$0.107 |
| May-21 | $2.910 | +$0.111 |
| Jun-21 | $2.954 | +$0.111 |
| Jul-21 | $3.003 | +$0.106 |
| Aug-21 | $3.018 | +$0.107 |
Natural Gas Inventory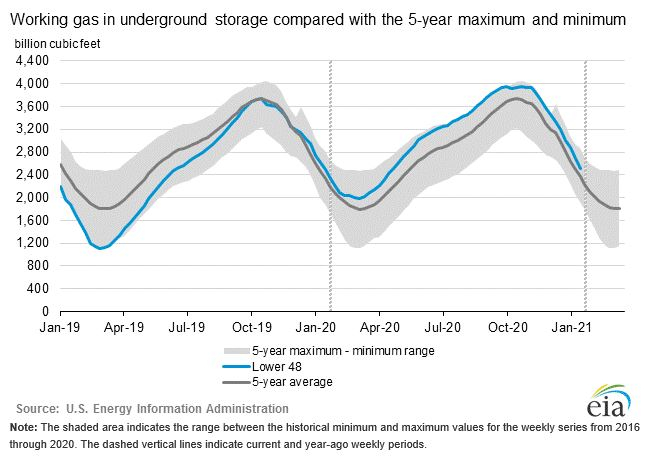 The EIA reported a net withdrawal of 171 Bcf from the previous week. Working gas in storage was 2,518 Bcf as of Friday, February 5, 2021. Analysts have predicted that next week we are likely to see the largest storage withdrawal on record. The largest weekly storage drop on record currently stands at 359 Bcf during the first part of 2018.

The Baker Hughes exploration gas count decreased 2 rigs from the previous week for a total of 90 rigs. This is 20 fewer rigs than the 110 in operation at this time one year ago.
Weather Update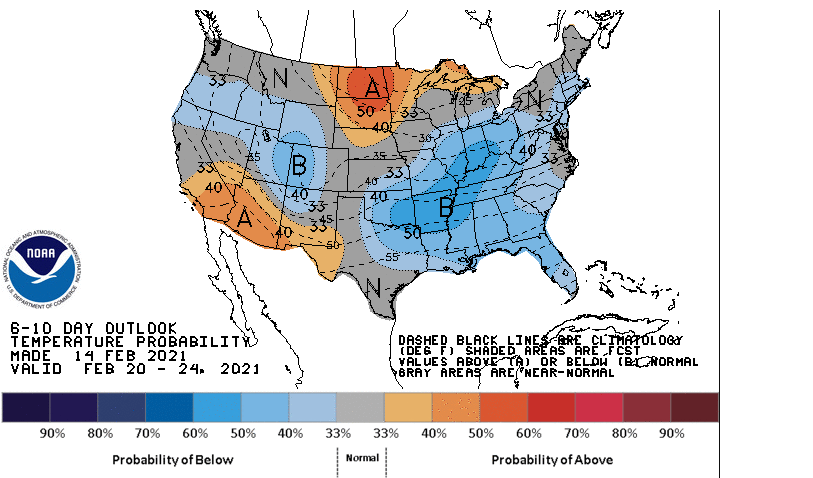 Temperatures are expected to remain below normal for much of the US over the next 6 to 10 days. Isolated regions in the Southwest and Dakotas may see a reprieve with warmer than normal weather.
National Weather Service Updates (NOAA)
Hurricane Watch: No Hurricanes Click here to view the National Hurricane Center site.
Equatorial Pacific Outlook:
Click here to view La Nina and El Nino status.
Energy News
Polar vortex hitting US Central region heads east boosting power, gas Prices
New York — Colder weather with polar vortex conditions moving through the Central US and into the Northeast around the weekend is boosting power and natural gas prices in New England, New York, and PJM Interconnection.
US working natural gas volumes in underground storage decline 171 Bcf: EIA
New York — Last week's draw from US working natural gas in storage proved strong enough to reduce the year-on-year surplus to a deficit while the possibility for the largest weekly draw ever is on the horizon
Extreme cold weather expected to result in record electric use in ERCOT region
AUSTIN, TX, Feb. 11, 2021 – The Electric Reliability Council of Texas (ERCOT) is expecting record electric use as a result of the extreme cold temperatures that have already reached much of the ERCOT region
If you would like to receive the Energy Market Update to your inbox weekly, please click here to submit your name and email address.
Disclaimer: This information is provided for the use of our customers and potential customers. Power Management Company assumes no responsibility or liability for the accuracy or completeness of pricing or information in this document. Historical data was obtained from sources that we believe to be reliable, but we do not guarantee its accuracy or completeness. It is not intended to provide advice or recommendation. Views are subject to change without notice.