Electricity Markets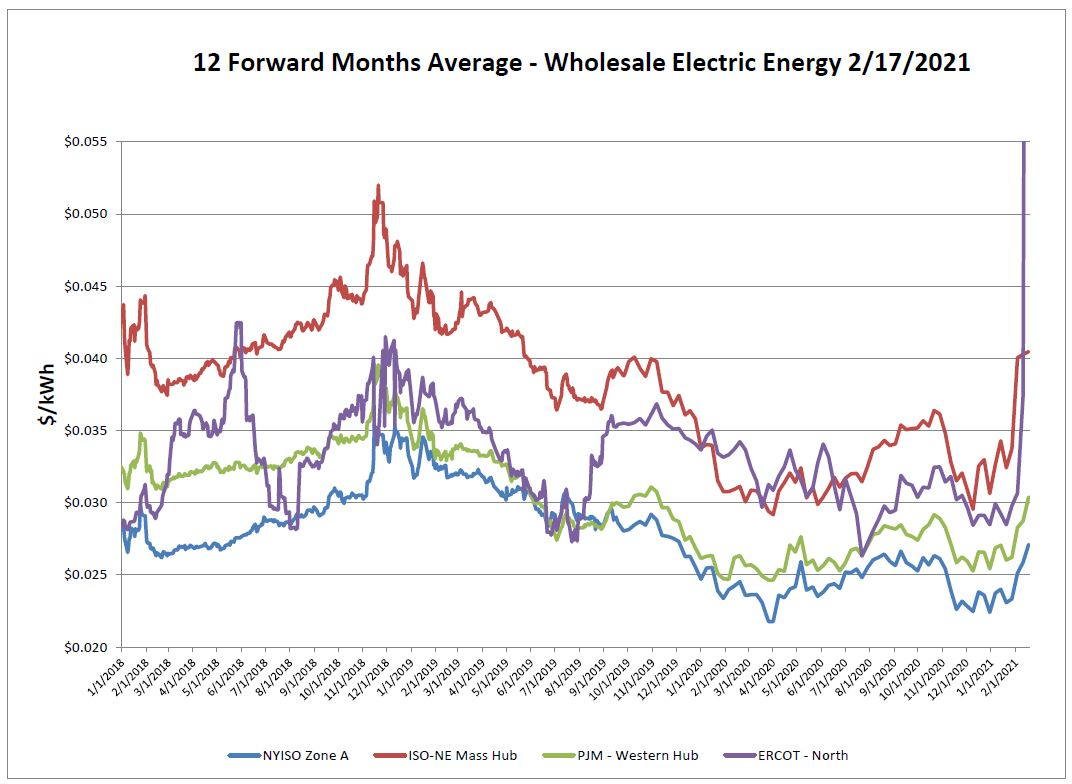 Cold winter weather has started impacting many different markets, but as you have likely heard, the effects are most severe in Texas. On February 15th, ERCOT declared an Energy Emergency Alert (EEA) level 3, which initiated rolling blackout events. This has been a serious historical energy event for the state. The cold has caused windmills blades to freeze as well as mechanical issues with gas pipelines, coal generators and a nuclear unit experiencing water supply problems. This has severely limited the capacity across ERCOT and created undersupply. Real-time prices have been capped at $9,000/MWh ($9.00/kWh) until the EEA 3 is recalled. For those that are lucky enough to still have power during this time, but are unfortunate enough to be on an index price model, there could be serious cost consequences. This historical weather event is a great example of why it is dangerous to ride the market without locking in at least a portion of your energy load.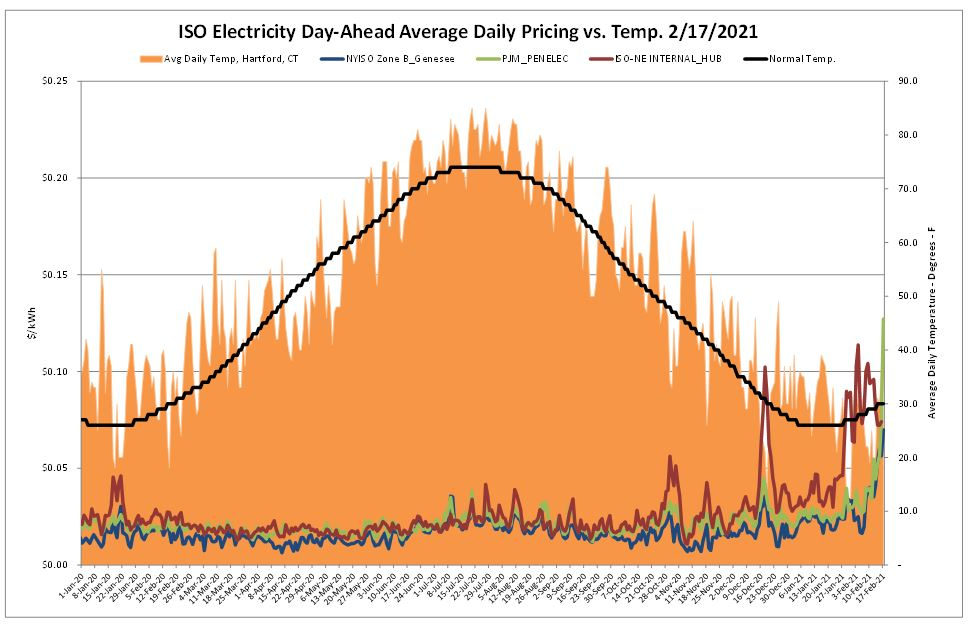 Day-ahead markets continue to show volatility as February temperatures remain below average.
Natural Gas Markets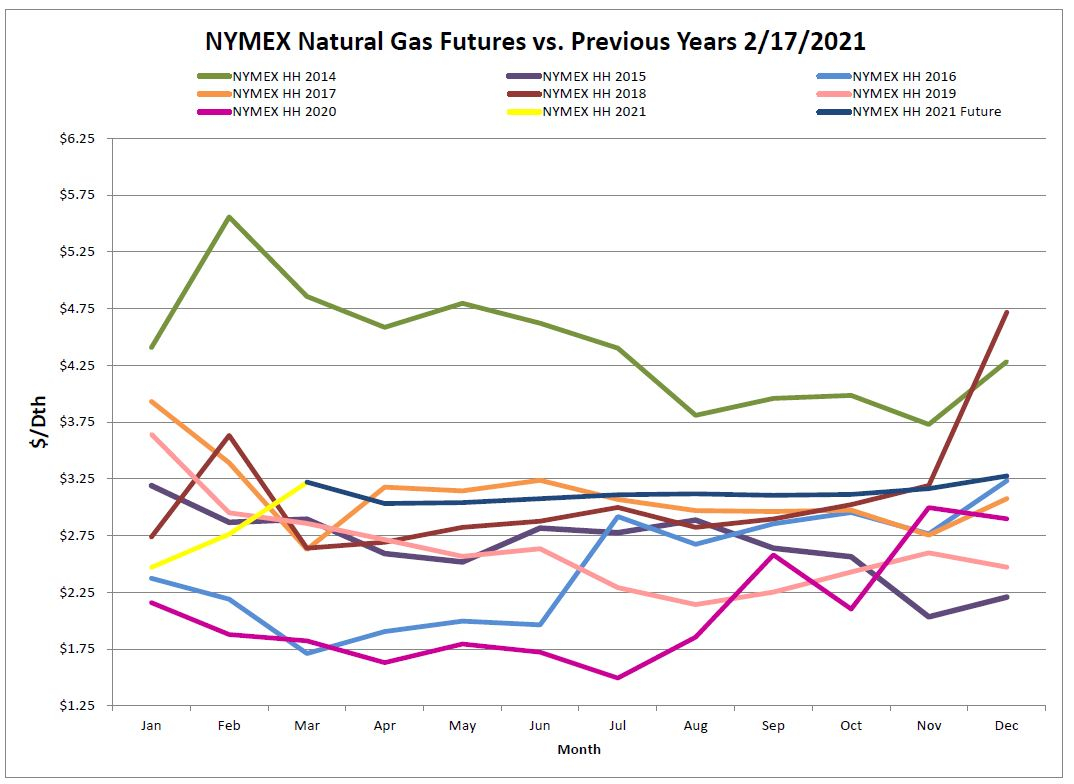 Cold weather and decreasing storage levels are supporting a run up in near term forward prices. NYMEX prompt month has surged since the 2021 low of $2.45 on January 22 amid record low temperatures in certain regions of the Midcontinent. Gas production plummeted amid deep freeze offs in the Rockies and South-central regions. The 12-month strip also reacted similarly with an upward climb increasing from $3.04 to $3.16 over the report week, the highest 12-month strip we have seen in a while. However, the movement remains confined to these near-term months only as Cal '22 and beyond remaining basically flat.
Futures as of 2/17/2021 versus previous week:
| | | |
| --- | --- | --- |
| Mar-21 | $3.219 | +$0.308 |
| Apr-21 | $3.032 | +$0.153 |
| May-21 | $3.040 | +$0.130 |
| Jun-21 | $3.073 | +$0.119 |
| Jul-21 | $3.108 | +$0.105 |
| Aug-21 | $3.116 | +$0.098 |
Natural Gas Inventory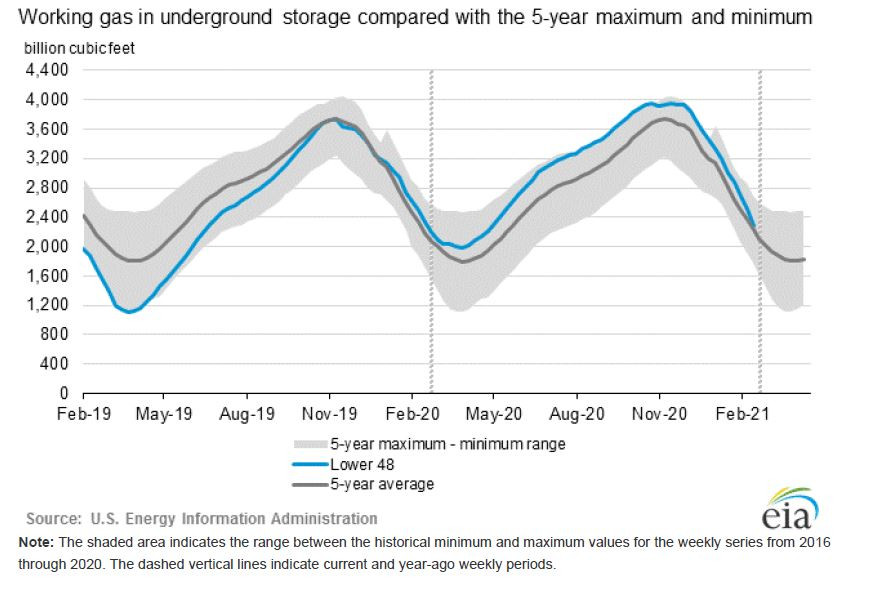 As of Friday, February 12, 2021 working gas in storage was 2,281 Bcf. According to EIA estimates this represents a net decrease of 237 Bcf from the previous week. The withdrawal was not as large as the 250-260 Bcf pull that analysts were anticipating. However, next week is likely to be the largest pull on record and will bring storage levels below the 5-year average, causing concerns for the upcoming injection season. As the near-term cold weather wanes, a decrease in forwards for natural gas usually follows. However, with market concern that storage will be depleted to the point where the next year or so will have limited storage, this may result in higher prices being sustained.

The Baker Hughes exploration gas count increased 1 rig from the previous week for a total of 91 rigs. This is 19 fewer rigs than the 110 in operation at this time one year ago.
Weather Update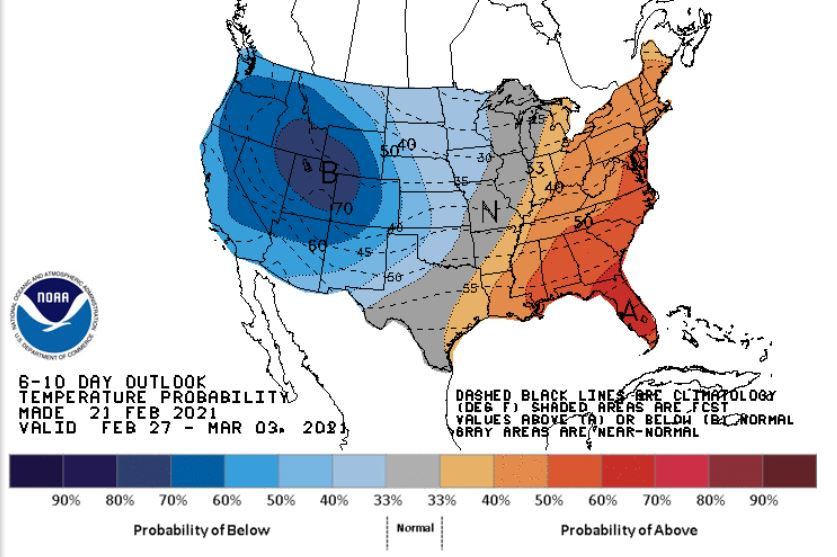 February temperatures have come in thus far overall as the coldest of the 2000's. Weather expected to ease, and a more normal end to February in the Northeast. However, a cold shot is possible again on the West coast at the beginning of March.
National Weather Service Updates (NOAA)
Hurricane Watch: No Hurricanes
Click here to view the National Hurricane Center site.
Equatorial Pacific Outlook:
Click here to view La Nina and El Nino status.
Energy News
ANALYSIS: US gas supply crunch hits wider market amid historic freeze-off, record prices
Denver — The historic freeze-off in Texas and the Midcontinent continued Feb. 17, slashing gas production in the Permian Basin, the Haynesville and the Eagle Ford and pushing Henry Hub cash prices to a record high.
The Political Making of a Power Outage  
If you would like to receive the Energy Market Update to your inbox weekly, please click here to submit your name and email address.
Disclaimer: This information is provided for the use of our customers and potential customers. Power Management Company assumes no responsibility or liability for the accuracy or completeness of pricing or information in this document. Historical data was obtained from sources that we believe to be reliable, but we do not guarantee its accuracy or completeness. It is not intended to provide advice or recommendation. Views are subject to change withou