Electricity Markets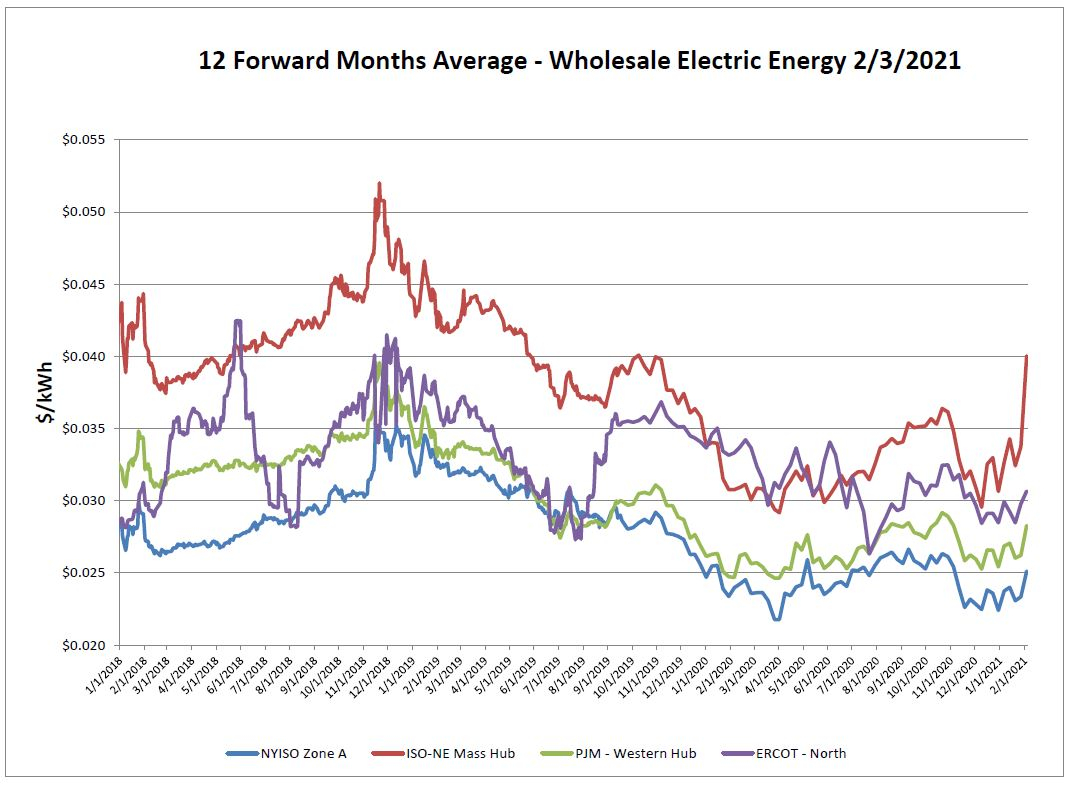 February started off cold and is seeing strength in the markets as a result. ISO-NE certainly moved higher on the heels of the significant increase in the Algonquin basis. Similar strength in pricing was observed across the ISOs as the underlying NYMEX costs increased throughout the week. Near-term concerns are really driving these increases for the 12 month forwards as uncertainty surrounding the remainder of February and March weather remains.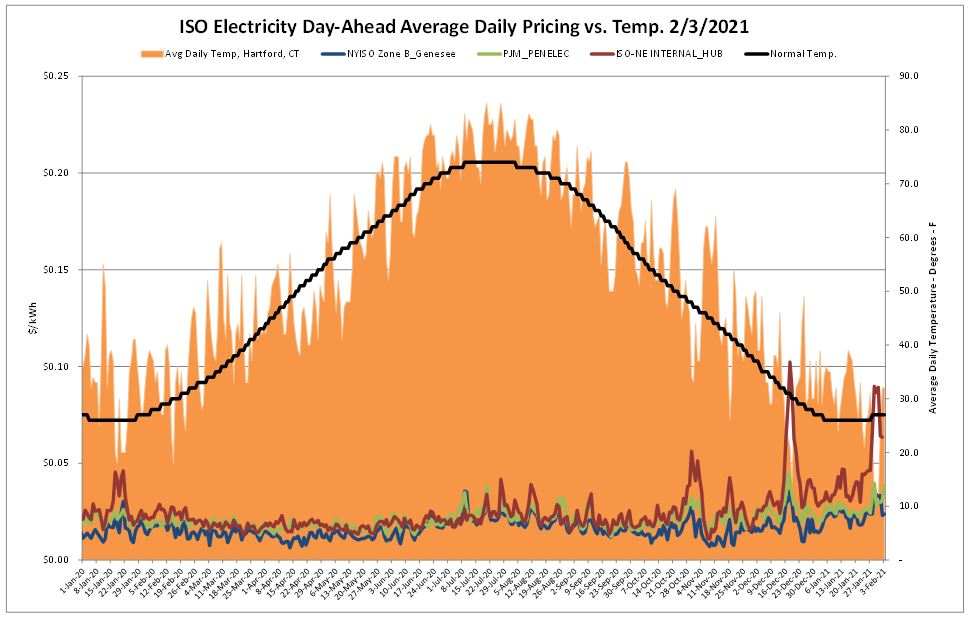 The day ahead market reacted with sharp upward pressure as very cold weather and storms blanketed the Northeast over the report week.
Natural Gas Markets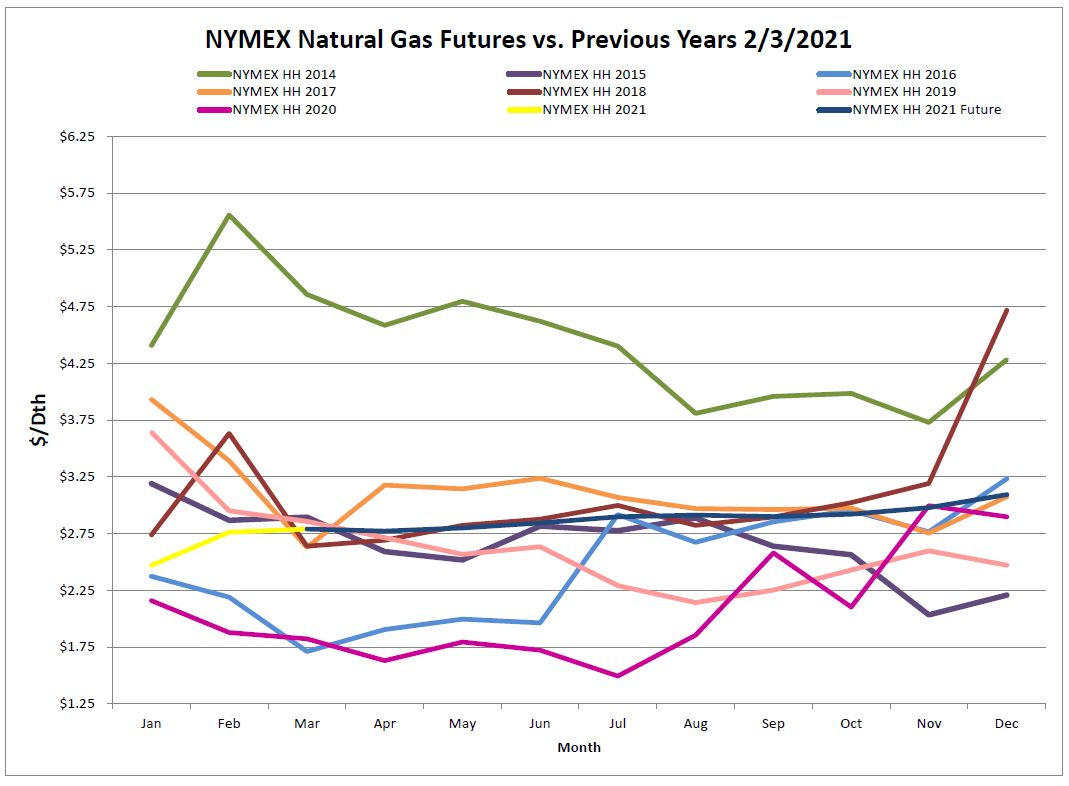 Prices rose amid cold temperatures and snow on the East Coast. The NYMEX 12-month strip gained just $0.03 over the report week while the Algonquin basis increase $0.12. The 12-month strip is now currently trending on the higher side of the "normal" range in relation to the last few years.
Futures as of 2/3/2021 versus previous week:
| | | |
| --- | --- | --- |
| Mar-21 | $2.789 | +$0.087 |
| Apr-21 | $2.772 | +$0.052 |
| May-21 | $2.799 | +$0.048 |
| Jun-21 | $2.843 | +$0.037 |
| Jul-21 | $2.897 | +$0.026 |
| Aug-21 | $2.911 | +$0.021 |
Natural Gas Inventory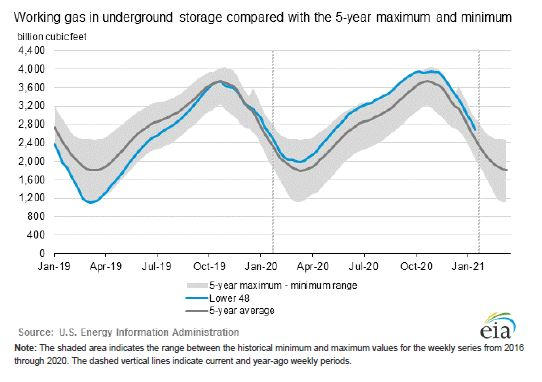 Working gas in storage was 2,689 Bcf as of Friday, January 29, 2021, according to EIA estimates. This represents a net decrease of 192 Bcf from the previous week. This compares with the five-year average net withdrawals of 146 Bcf and last year's net withdrawals of 155 Bcf during the same week. As such, this is the time of the year for large withdrawals which are likely to continue for at least the next 2 weeks on the heels of colder weather.
The Baker Hughes exploration gas count increased by 4 rigs from the previous week for a total of 92 rigs. This is 19 fewer rigs than the 111 in operation at this time one year ago.
Weather Update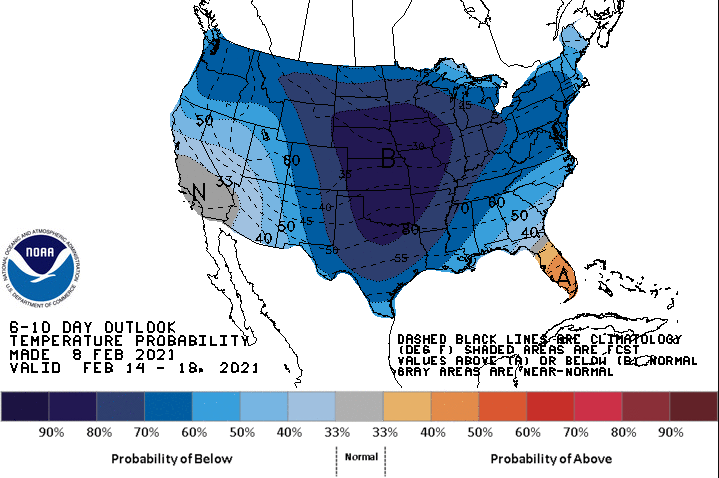 Temperatures are expected to fall below normal for almost all the contiguous US with a small band of warmer than normal temperatures over Southern Florida.
National Weather Service Updates (NOAA)
Hurricane Watch: No Hurricanes Click here to view the National Hurricane Center site.
Equatorial Pacific Outlook:
Click here to view La Nina and El Nino status.
Energy News
Biden should embrace competitive markets, carbon pricing, electrification: EPSA Houston — In support of President Joe Biden's goal of slowing global warming, the Electric Power Supply Association has released policy objectives focusing on eliminating subsidies for legacy assets, promoting carbon pricing, adopting economy-wide electrification and establishing an impartial clean energy standard. If you would like to receive the Energy Market Update to your inbox weekly, please click here to submit your name and email address. Disclaimer: This information is provided for the use of our customers and potential customers. Power Management Company assumes no responsibility or liability for the accuracy or completeness of pricing or information in this document. Historical data was obtained from sources that we believe to be reliable, but we do not guarantee its accuracy or completeness. It is not intended to provide advice or recommendation. Views are subject to change without notice.