Electricity Markets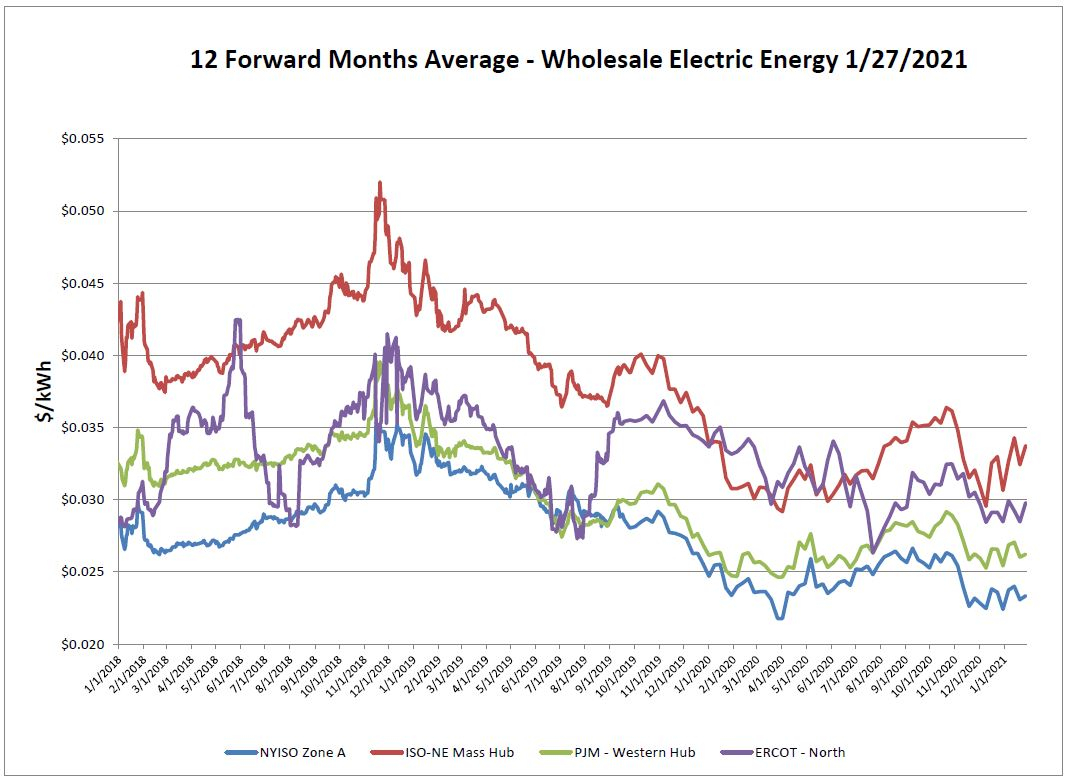 PJM & NYISO electric prices were up just slightly over the report week, while ISO-NE and ERCOT saw larger movements upward.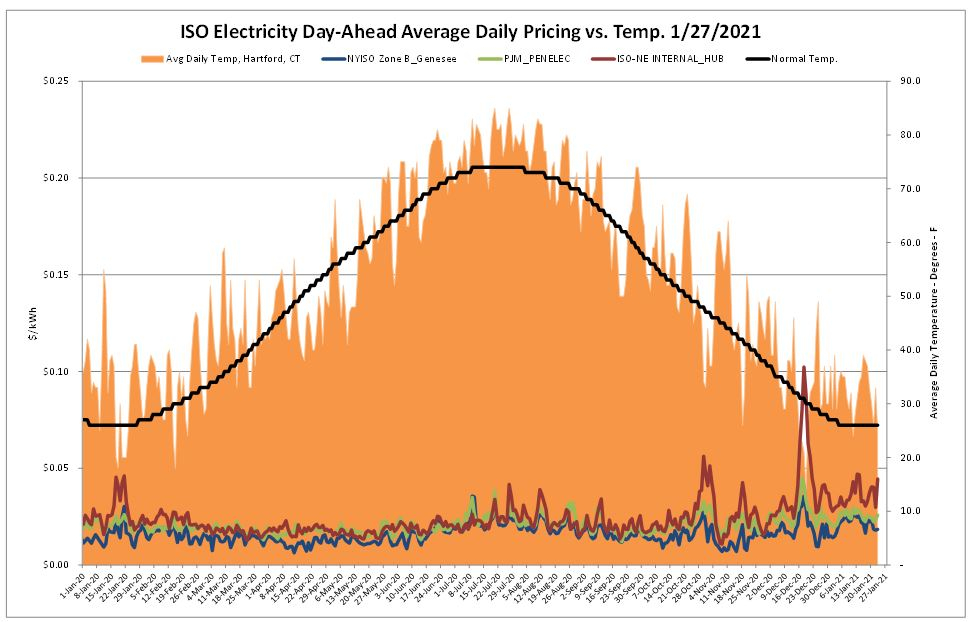 We have reached what is historically the coldest part of the year. More seasonable cold temperatures are causing strength in prices and day-ahead markets continue to show volatility.
Natural Gas Markets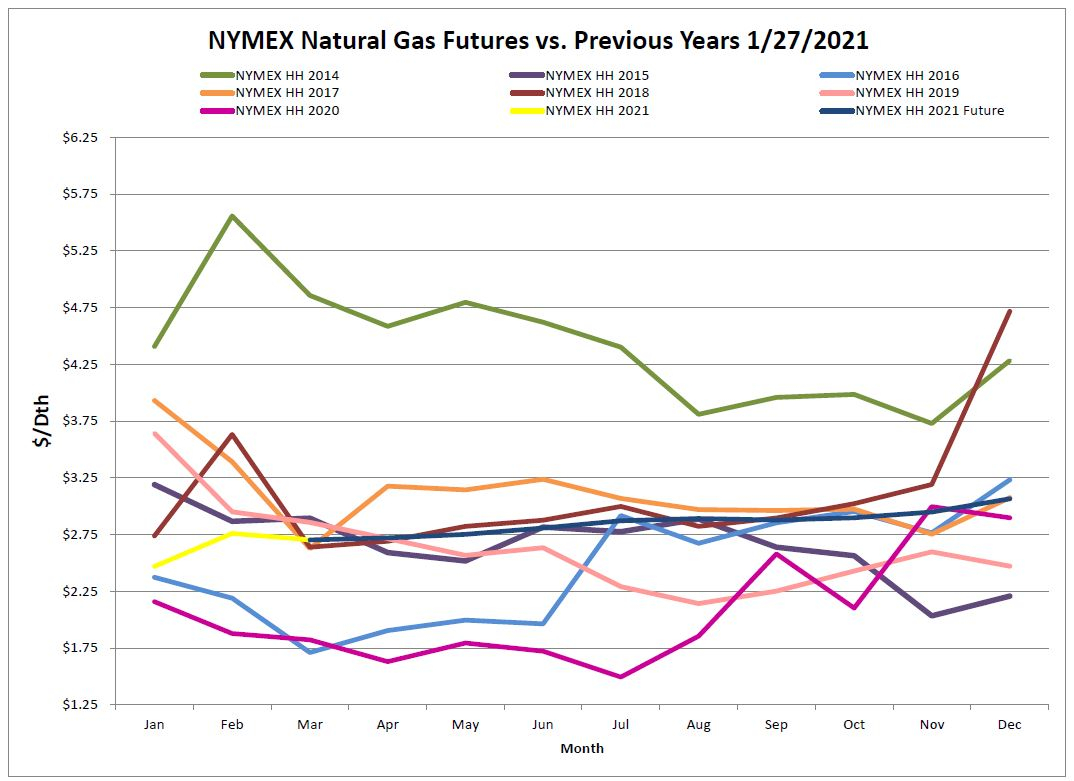 The natural gas market ran up prior to the close of the February 2021 contract which ultimately settled at $2.760. This settlement price was nearly $1.00 higher than last year. In response to increasingly cold weather, the prompt month and near-term prices especially felt the pressure as the 12-month strip for the Algonquin basis was up $.12 and the NYMEX was up $.19 for the report week.
The turnover at both the White House and at FERC promise to bring change to the energy sector. The inauguration of President Biden was followed by the rejoining of the Paris Climate Accord and the cancelling of the Keystone XL pipeline permits. Other energy related changes that may be on the docket to evaluate include; Assesses greenhouse gas emissions, reviewing environmental impacts on gas infrastructure projects, prioritizing transmission reform, reassess capacity markets, lowering barriers that hinder clean energy resources' participation in the markets, pausing granting new leases to oil and gas producers for drilling on federal lands.
Futures as of 1/27/2021 versus previous week:
| | | |
| --- | --- | --- |
| Mar-21 | $2.702 | +$0.202 |
| Apr-21 | $2.720 | +$0.184 |
| May-21 | $2.751 | +$0.167 |
| Jun-21 | $2.806 | +$0.160 |
| Jul-21 | $2.871 | +$0.156 |
| Aug-21 | $2.890 | +$0.150 |
Natural Gas Inventory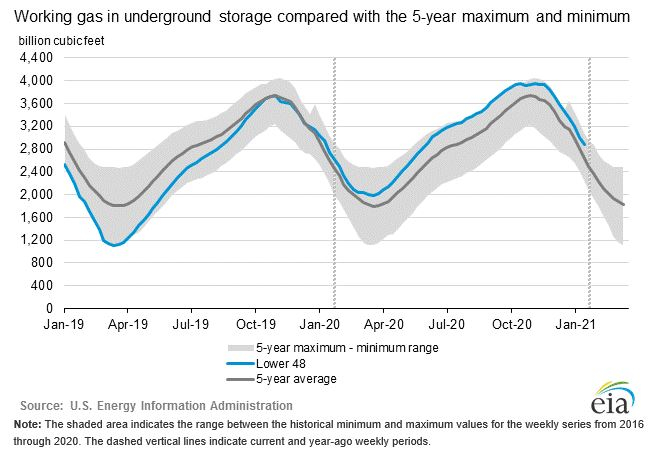 According to EIA estimates a net decrease of 128 Bcf from the previous week was report for storage. Working gas in storage was 2,881 Bcf as of Friday, January 22, 2021. Loads are high due to colder temperatures and the next 2 weeks are predicted to be much larger withdrawals with the frigid temperatures and storms developing for major population zones. This will likely add further strength to forward prices.

The Baker Hughes exploration gas count was unchanged from the previous week for a total of 88 rigs. This is 24 fewer rigs than the 112 in operation at this time one year ago.
Weather Update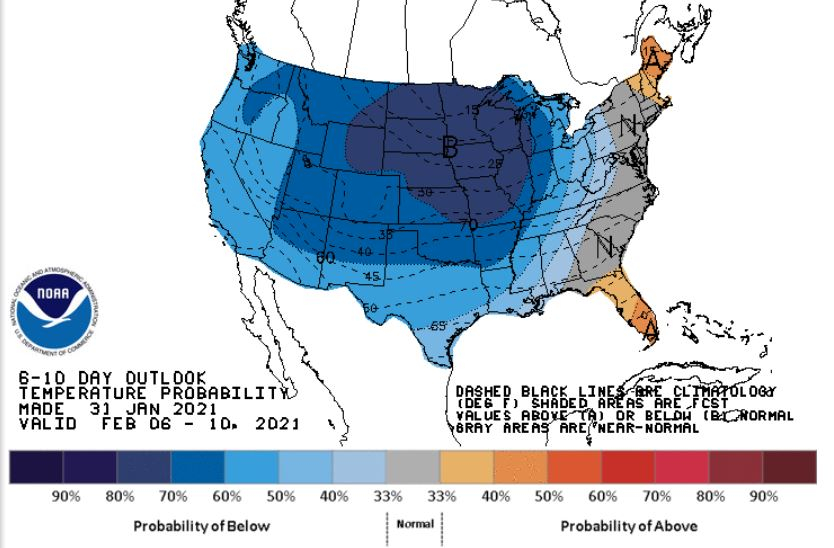 In recent years, the end of January into mid-February has been accompanied with the coldest temperatures. It appears that the forecasts are calling for the same pattern this year as the Northeast is braced for a whopper of a storm along the coast that could drop one to two feet of snow near New York City, parts of Northern New Jersey, and southeast Pennsylvania. The remaining CONUS is also expected to see below average temperatures persist.
National Weather Service Updates (NOAA)
Hurricane Watch: No Hurricanes
Click here to view the National Hurricane Center site.
Equatorial Pacific Outlook:
Click here to view La Nina and El Nino status.
Energy News
Biden order aims to double offshore wind, boost transmission, end fossil fuel subsidies
President Joe Biden signed an executive order on Wednesday, ending federal subsidies for fossil fuels, aiming to double U.S. offshore wind capacity by 2030 and directing infrastructure planning to accelerate transmission and clean energy buildout.
Biden plan to electrify federal fleet will boost EV market, but many questions remain, experts say
President Joe Biden on Monday called to transition the federal government's vehicle fleet to all-electric and American-made, spurring optimism within the electric vehicle (EV) sector for increased adoption of emissions-free cars.
If you would like to receive the Energy Market Update to your inbox weekly, please click here to submit your name and email address.
Disclaimer: This information is provided for the use of our customers and potential customers. Power Management Company assumes no responsibility or liability for the accuracy or completeness of pricing or information in this document. Historical data was obtained from sources that we believe to be reliable, but we do not guarantee its accuracy or completeness. It is not intended to provide advice or recommendation. Views are subject to change without notice.