Electricity Markets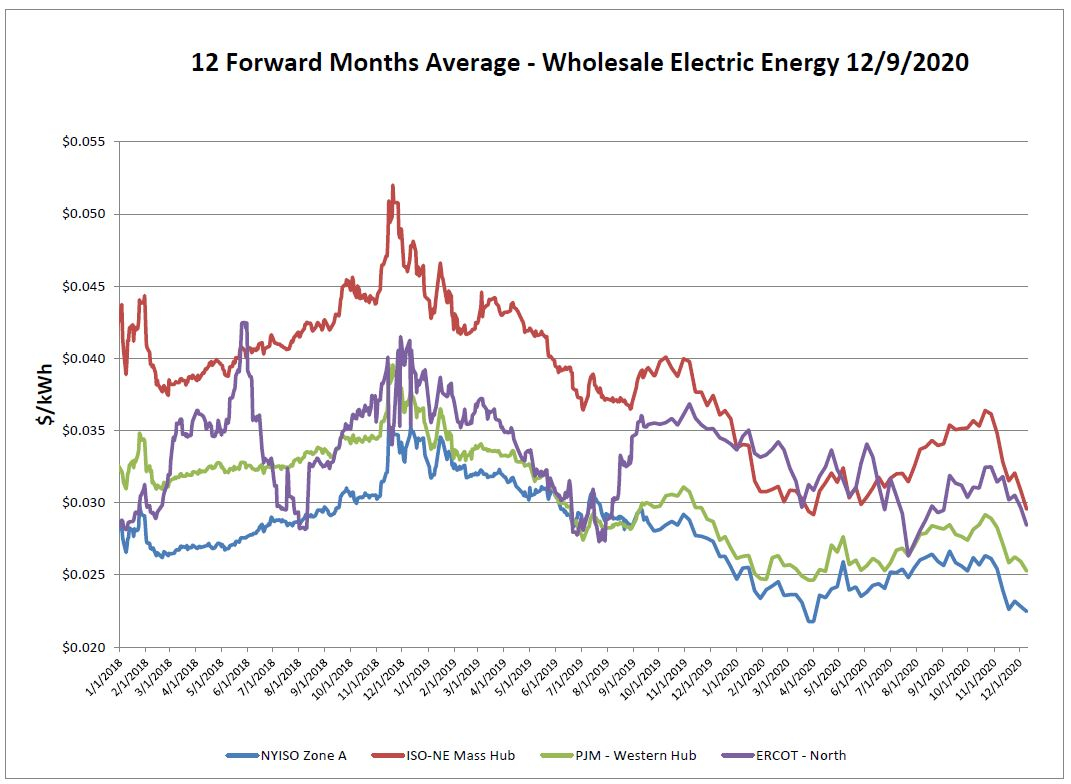 Electric prices over the report week were still trending downward. This is being drive in large part by low natural gas basis prices, a 5-year high gas storage level and thus far a fairly warm winter outlook. ISO-NE wholesale electric prices specifically have dropped to lows not seen in years with the exception of the short time frame this past April. But in general, all ISOs are showing it's a really a great time to be looking at pricing.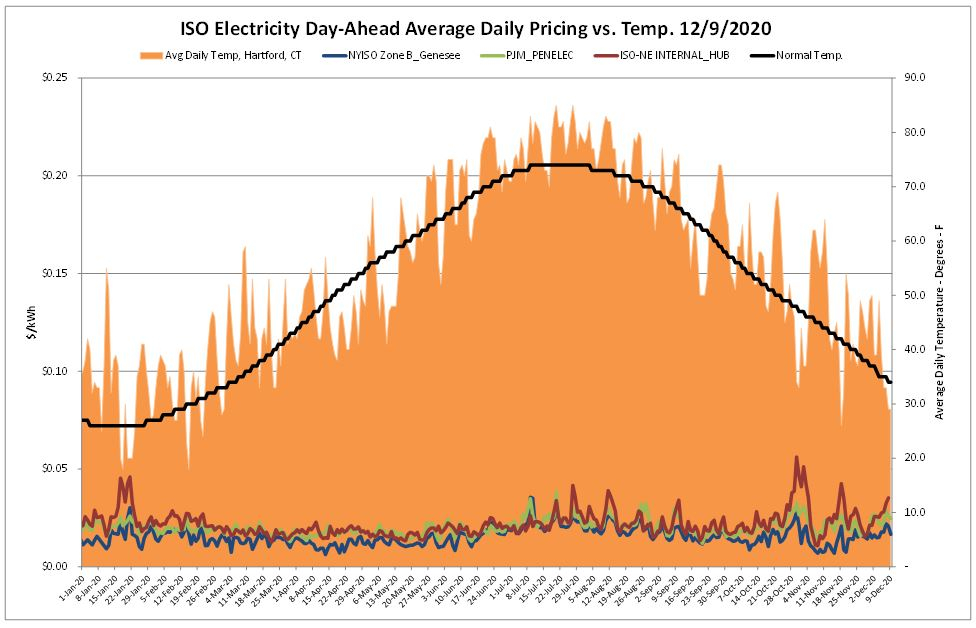 Temperatures were a little cooler than normal which created some volatility on the day-ahead market.
Natural Gas Markets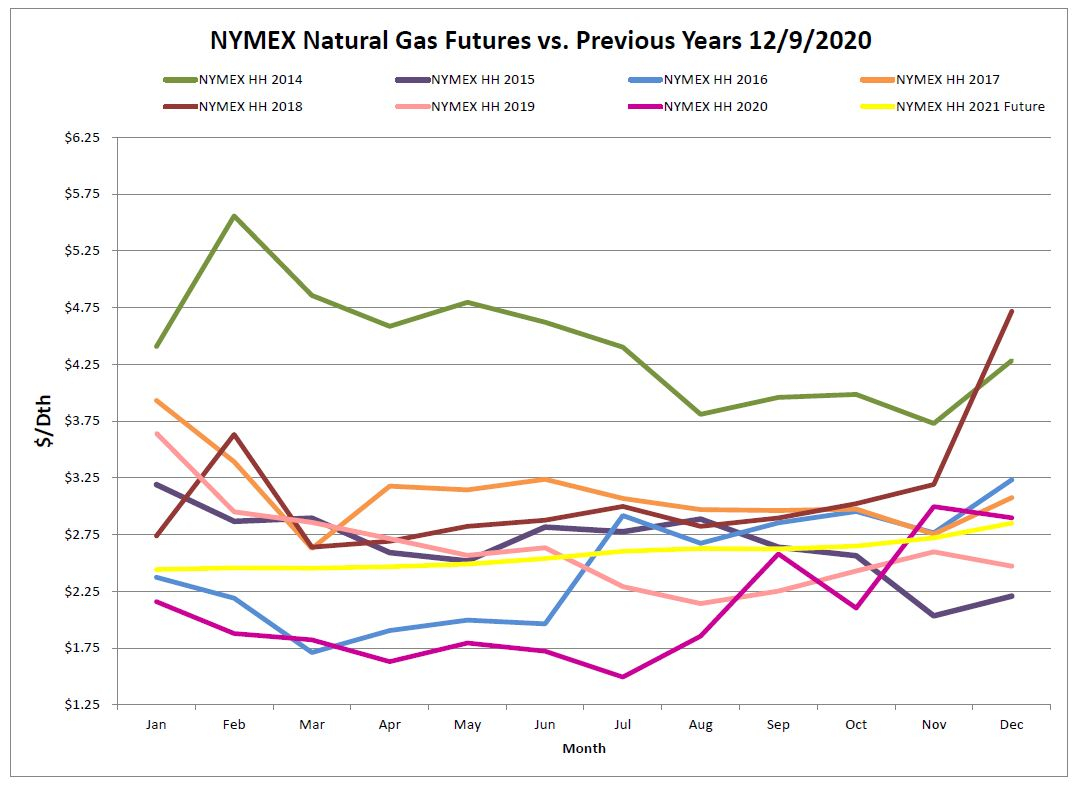 While cold days have come and gone, much of the country is experiencing warmer-than-normal temperatures leading to lackluster heating demand. The near-term winter prices fell most dramatically over the report week. The price of the 12-month strip averaging January 2021 through December 2021 futures contracts declined $.20 to $2.576. The Algonquin basis for New England dropped $.11, for a total $.31 drop in that region. If we go through winter and storage stays high and we don't see severe cold spells, spring is likley to soften as well.
Longer term it will be important to consider natural gas exports, which recently hit an all-time high. This shows both international growth in the natural gas market and the potential for demand competition growing on the long-term global scale.
Futures as of 12/9/2020 versus previous week:
| | | |
| --- | --- | --- |
| Jan-21 | $2.442 | -$0.338 |
| Feb-21 | $2.456 | -$0.322 |
| Mar-21 | $2.452 | -$0.271 |
| Apr-21 | $2.466 | -$0.191 |
| May-21 | $2.489 | -$0.170 |
| Jun-21 | $2.538 | -$0.163 |
Natural Gas Inventory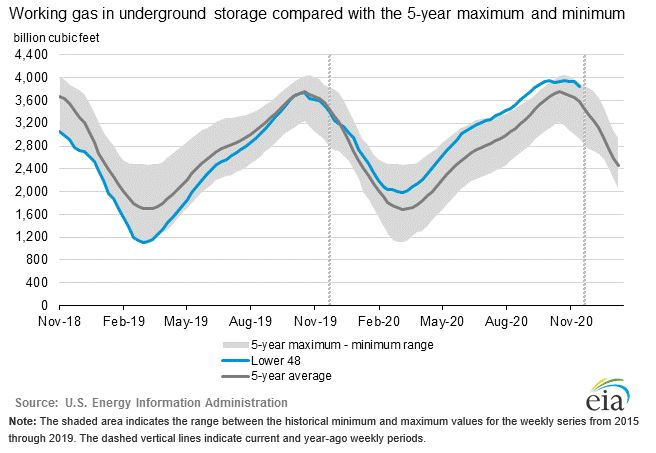 As of Friday, December 4, 2020 working gas in storage was 3,848 Bcf. According to EIA estimates this represents a net decrease of 91 Bcf from the previous week. Analysts anticipated a smaller average 86 Bcf withdrawal in relation to the 65 Bcf five-year average. As a result of the higher than expected report, market prices went up which are not reflected in this update as storage results lag.

The Baker Hughes exploration gas count increased 4 rigs over the report week for a total of 79. This is 50 fewer rigs than the 129 in operation at this time one year ago.
Weather Update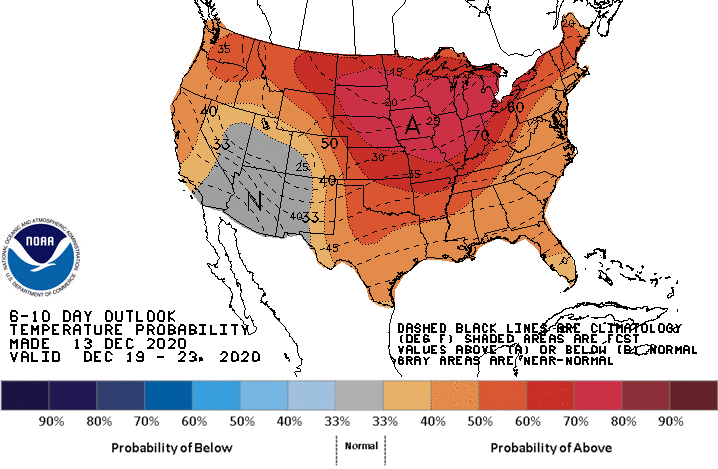 Temperatures are expected to be above normal for most of the contiguous US apart from the Southwest.
National Weather Service Updates (NOAA)
Click here
to view the National Hurricane Center site. Equatorial Pacific Outlook:
Click here
to view La Nina and El Nino status.
Energy News
ISO-NE expects winter power demand to peak at 20.2 GW under normal weather
New York — ISO New England said Dec. 8 it expects power demand to peak at 20.2 GW under normal weather conditions this winter, which is 310 MW or 1.5% lower than the 2019-20 forecast and reflects a long-term trend of declining peak winter electricity use.
US EIA lowers Q4 Henry Hub spot gas price forecast 27 cents to $2.66/MMBtu
The main energy-data-gathering arm of the U.S. government has dropped earlier estimates of natural gas demand and pricing, cutting its fourth-quarter forecasts for consumption by 1 Bcf/d and spot market prices by 27 cents/MMBtu. If you would like to receive the Energy Market Update to your inbox weekly, please
click here
to submit your name and email address.
Disclaimer
: This information is provided for the use of our customers and potential customers. Power Management Company assumes no responsibility or liability for the accuracy or completeness of pricing or information in this document. Historical data was obtained from sources that we believe to be reliable, but we do not guarantee its accuracy or completeness. It is not intended to provide advice or recommendation. Views are subject to change without