Electricity Markets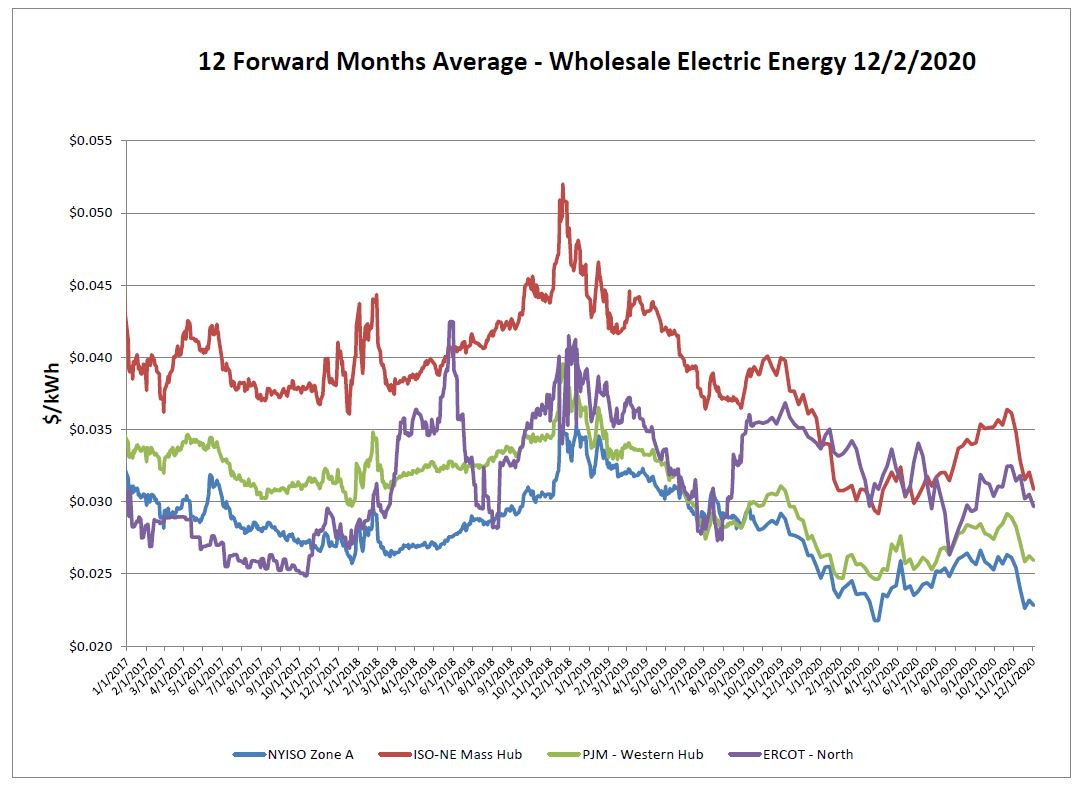 Electric prices remain very favorable moving into December. For those in NYISO especially, capacity markets are still trading unusually low and there is good value in locking in outer years. With the capacity that was removed from the market last April, and more to come this April, we should be seeing capacity prices tighten up more than it has thus far.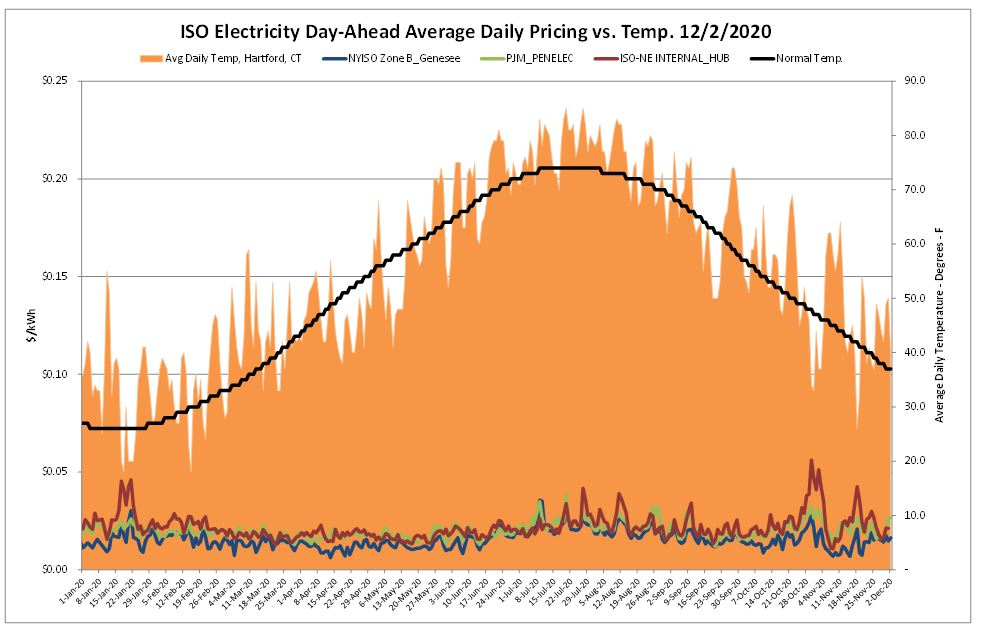 Warmer temperatures sustained for a few days softened volatility on the day-ahead market.
Natural Gas Markets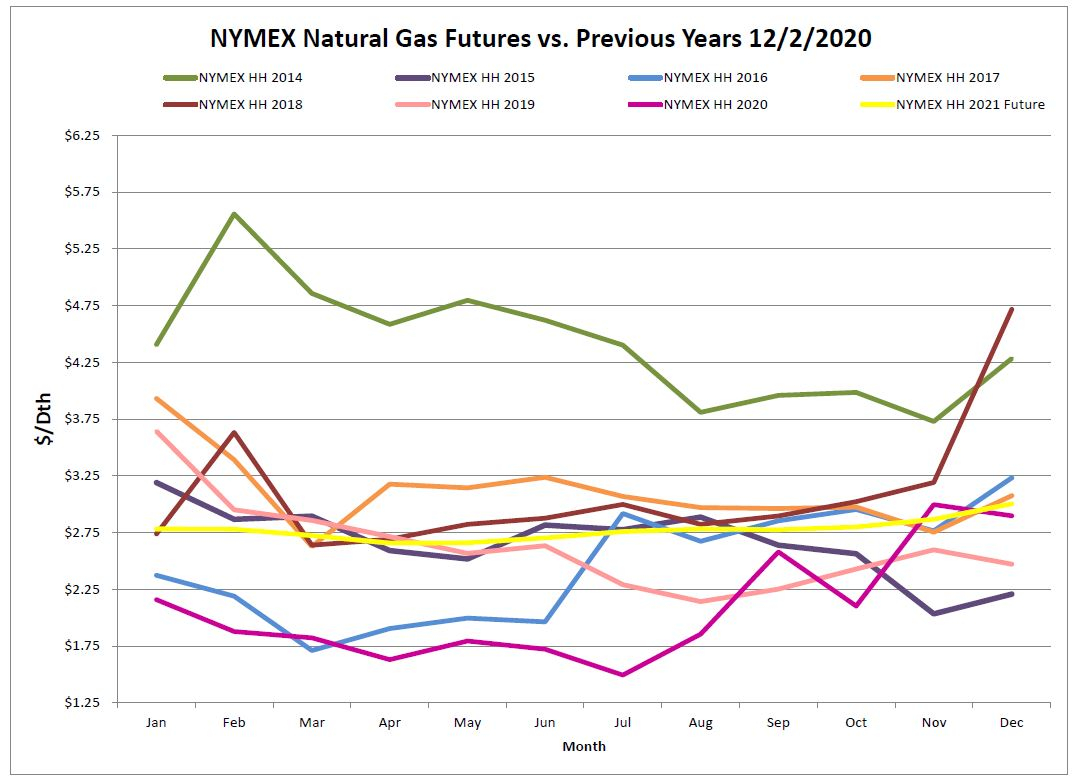 The December 2020 NYMEX contract expired last Wednesday at $2.896. The price of the 12-month strip averaging January 2021 through December 2021 futures contracts declined $0.08. The natural gas storage report came in underwhelming low, after unseasonable warmth blanketed much of the country. As a result, near term prices decreased and may be a last opportunity to lock in prices. After coming off last year's warm winter, and the demand drop related to COVID, prices bottomed out in 2020. Even up until this past September, prices have remained low. Forward natural gas prices are likely to begin a more normal pattern.
Futures as of 12/2/2020 versus previous week:
| | | |
| --- | --- | --- |
| Jan-21 | $2.780 | -$0.181 |
| Feb-21 | $2.778 | -$0.158 |
| Mar-21 | $2.723 | -$0.142 |
| Apr-21 | $2.657 | -$0.077 |
| May-21 | $2.659 | -$0.059 |
| Jun-21 | $2.701 | -$0.053 |
Natural Gas Inventory

Working gas in storage was 3,939 Bcf as of Friday, November 27, 2020. According to EIA estimates this represents a net decrease of 1 Bcf from the previous week. With an anticipated -13 Bcf withdrawal, this discrepancy drove a big drop in the market. In comparison, last years withdrawal was -22 Bcf and the five-year average is -41 Bcf.

The Baker Hughes exploration gas count decreased 2 rigs over the report week for a total of 75. This is 58 fewer rigs than the 133 in operation at this time one year ago.
Weather Update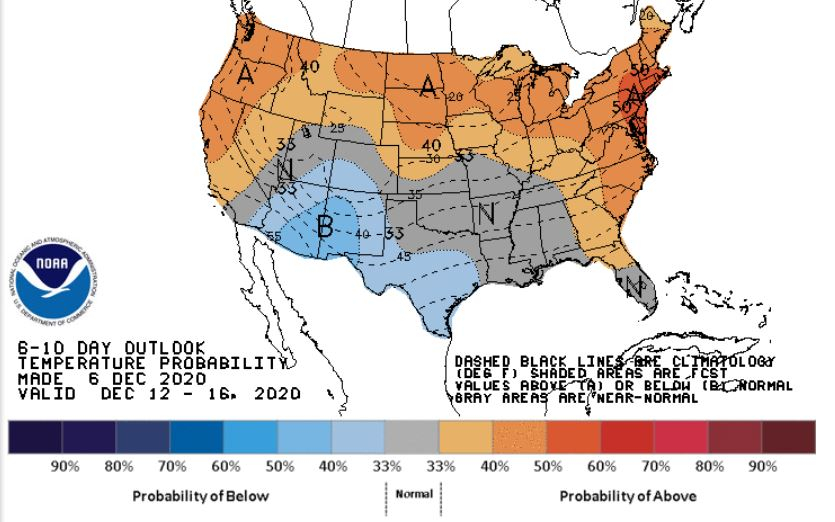 The NOAA 6-10 day outlook anticipates temperatures in the Northern half of the country and sweeping down into Florida to remain above-average. Arizona, New Mexico and Texas are the only states forecasted to see cooler than normal temperatures through the middle of December.
National Weather Service Updates (NOAA)
Hurricane Watch: No Hurricanes
Click here to view the National Hurricane Center site.
Equatorial Pacific Outlook:
Click here to view La Nina and El Nino status.
Energy News
US shale sector faces incoming policy threats, industry advocate says
The shale oil and gas sector will face challenges under the new U.S. presidential administration even if more aggressive steps on climate are held in check, a fossil fuel industry advocate said at a Marcellus and Utica midstream industry conference.
If you would like to receive the Energy Market Update to your inbox weekly, please click here to submit your name and email address.
Disclaimer: This information is provided for the use of our customers and potential customers. Power Management Company assumes no responsibility or liability for the accuracy or completeness of pricing or information in this document. Historical data was obtained from sources that we believe to be reliable, but we do not guarantee its accuracy or completeness. It is not intended to provide advice or recommendation. Views are subject to change without