Electricity Markets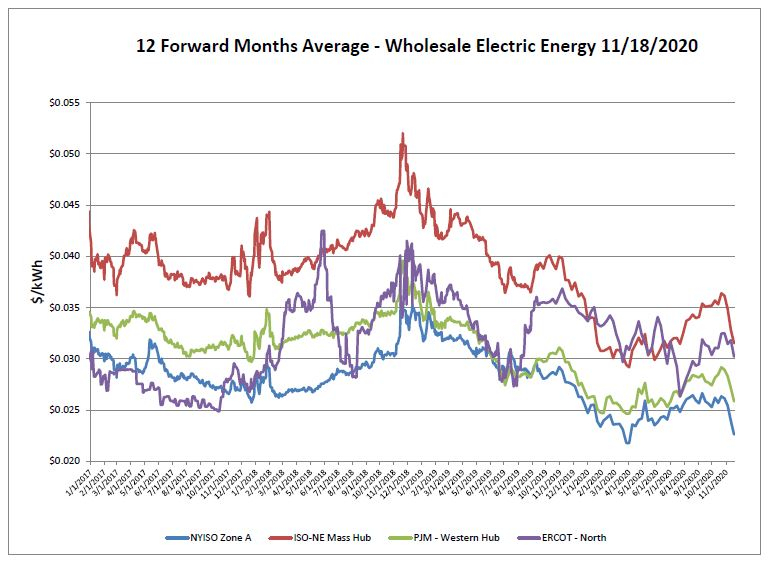 Another pretty significant drop in the 12-month forward average for all markets, driven but a drop in natural gas and basis prices. Some of the ISO's are starting to approach the lows we last saw in April/May. This may be a chance to recapture a missed opportunity if you held off when the market started turning upward.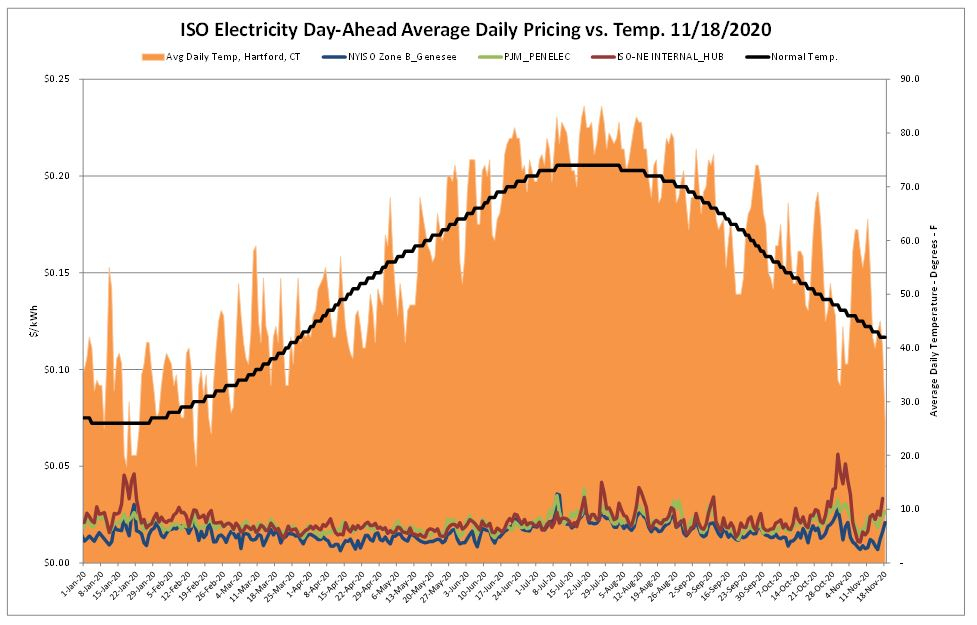 Day-ahead electric prices crept up a bit as temperatures fell from the highs seen the previous week.
Natural Gas Markets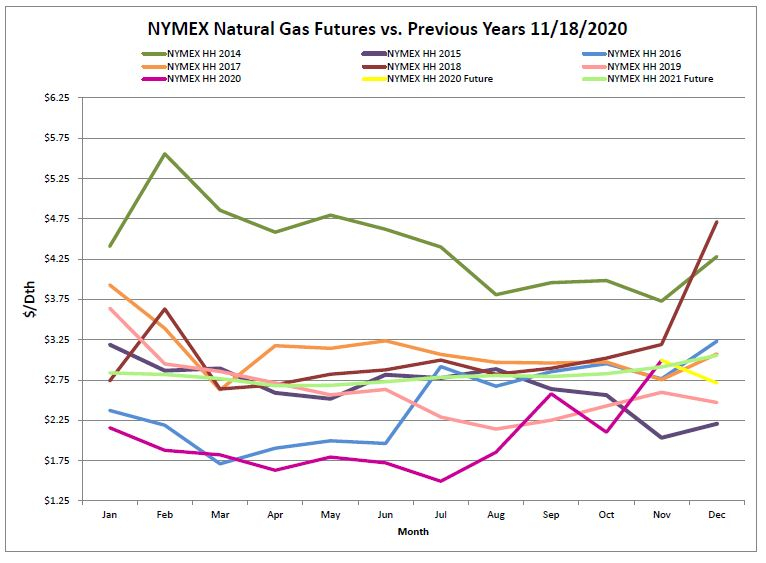 Another $0.08 drop in the Algonquin basis and a $0.21 drop in the 12-month forward NYMEX strip. After a steady uptick, the market has continue to soften over the past few weeks tied in part to rising COVID cases, relatively speaking warm weather over the past few weeks and forecasted mild weather over the new few. Furthermore, the above average storage injections that have been reported over the past few weeks have created some of the best prices ever seen for the year '21 across nearly all of the markets. Again, it's a great time to hedge if you still are exposed for calendar 2021. Keep in mind, if lowered prices persist heading into winter, lower production levels may follow. Natural gas and electric prices could shoot up quickly at the first sign of cold this winter.
Futures as of 11/19/2020 versus previous week:
| | | |
| --- | --- | --- |
| Dec-20 | $2.712 | -$0.319 |
| Jan-21 | $2.838 | -$0.313 |
| Feb-21 | $2.818 | -$0.298 |
| Mar-21 | $2.767 | -$0.259 |
| Apr-21 | $2.680 | -$0.212 |
| May-21 | $2.684 | -$0.188 |
Natural Gas Inventory

The EIA reported a net injection of 31 Bcf. Working gas in storage was 3,958 Bcf as of Friday, November 13, 2020. It's unusual to see injections this far into November. The report compares to last year's 66 Bcf withdrawal and the 5-year average of a 24 Bcf withdrawal. Currently for this winter, storage is starting at 3.95 Tcf. Market analysts expect end of winter estimates to vary from 1.93 Tcf to 0.63 Tcf, depending on how cold it gets, meaning the market could see its lowest end of winter storage level in the past decade.

The Baker Hughes exploration gas count increased 3 rigs over the report week for a total of 76. This is 53 fewer rigs than the 129 in operation at this time one year ago.
Weather Update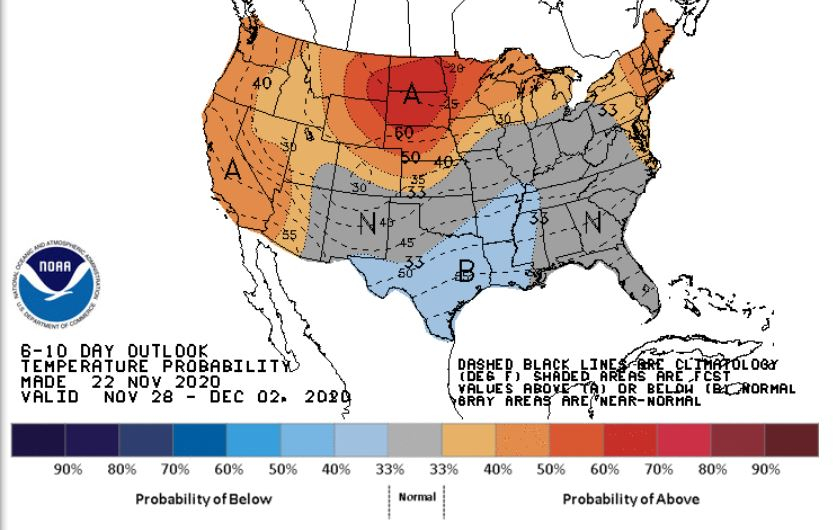 Above average temperature continue to blanket the North east as well as the West coast and Northern states. A slow start to winter has kept a lid on heating demand.
National Weather Service Updates (NOAA)
Hurricane Watch: No Hurricanes
Click here to view the National Hurricane Center site.
Equatorial Pacific Outlook:
Click here to view La Nina and El Nino status.
Energy News
News : Heating demand faces more winter downside risk, Weather Service forecast shows
New York — Mild US weather this month could endure through at least February, according a National Weather Service forecast, potentially perpetuating this winter's already disappointing heating-demand season.
News : Considerable power market design changes needed to decarbonize New England
New York — Ernest Moniz, former US energy secretary, introduced the results of a study Nov. 16 that found getting to net-zero greenhouse gas emissions in New England will need an incremental 93 GW of generation capacity by 2050, which experts said will require significant market design changes.
If you would like to receive the Energy Market Update to your inbox weekly, please click here to submit your name and email address.
Disclaimer: This information is provided for the use of our customers and potential customers. Power Management Company assumes no responsibility or liability for the accuracy or completeness of pricing or information in this document. Historical data was obtained from sources that we believe to be reliable, but we do not guarantee its accuracy or completeness. It is not intended to provide advice or recommendation. Views are subject to change without