Electricity Markets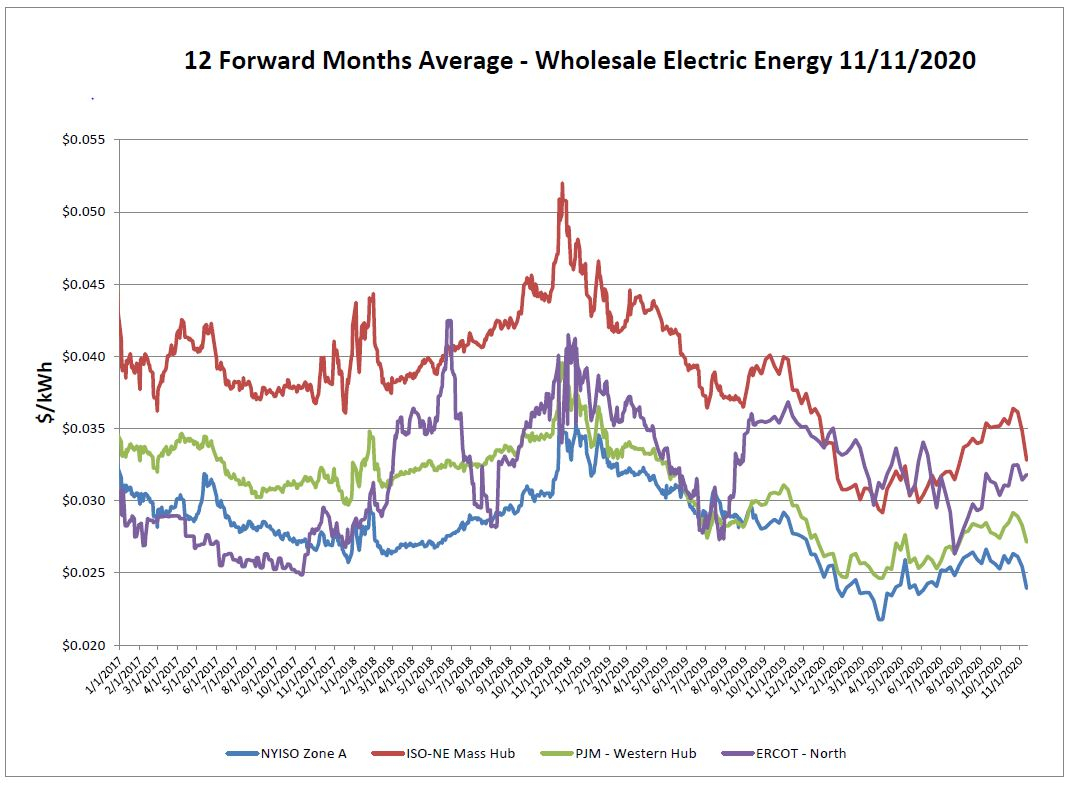 There was a large drop in all electric markets over the report week, with the exception of ERCOT. ISO-NE especially came down quite a bit from the highs seen just 2 weeks ago. This drop is again, tied like last week to the large decrease in the gas basis prices in the Northeast.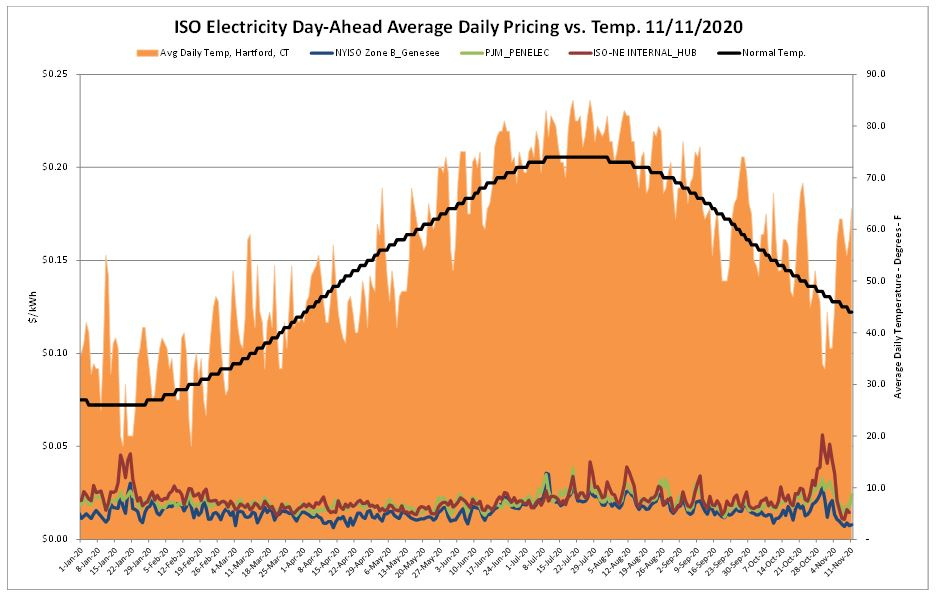 The report week brought some of the highest deviations in temperatures we have seen this year. After the volatility experienced last year week, prices fluctuated from some of the highest to some of the lowest on the day-ahead markets this year.
Natural Gas Markets
The Algonquin basis saw another $0.08 drop over the report week. Although basis prices have been seeing extreme lows, the underlying over all-in price of natural gas is basically unchanged week over week, only seeing a $0.01 decrease for the 12-month strip. Early November has thus far been quite bearish across the East Coast causing traders to question whether storage will actually become an issue into 2021.
Futures as of 11/11/2020 versus previous week:
| | | |
| --- | --- | --- |
| Dec-20 | $3.031 | -$0.015 |
| Jan-21 | $3.151 | -$0.026 |
| Feb-21 | $3.116 | -$0.024 |
| Mar-21 | $3.026 | -$0.019 |
| Apr-21 | $2.892 | -$0.002 |
| May-21 | $2.872 | +$0.004 |
Natural Gas Inventory

According to EIA estimates working gas in storage was 3,927 Bcf as of Friday, November 6, 2020. This represents a net increase of 8 Bcf from the previous week.

The Baker Hughes exploration gas count increased 2 rigs over the report week for a total of 73. This is 56 fewer rigs than the 129 in operation at this time one year ago.
Weather Update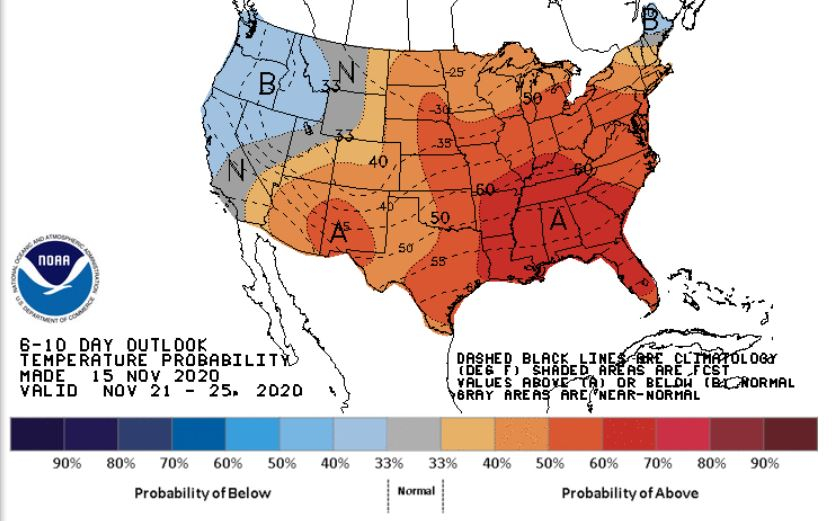 November temperatures are expected to continue to trend in a similar fashion to what they have over the past few weeks. Much of the CONUS is expected to have warmer than normal temperatures, with the exception of the West coast.
National Weather Service Updates (NOAA)
Hurricane Watch: Hurricane Iota
Click here to view the National Hurricane Center site.
Equatorial Pacific Outlook:
Click here to view La Nina and El Nino status.
Energy News
US EIA bumps up gas production, consumption estimates for early 2021
Washington — The US Energy Information Administration continues to forecast lower average levels of US natural gas production and consumption in 2021
US ELECTIONS: Biden win brings new approach to energy markets
Washington — Energy markets and sectors were quick to react to the weekend's news that Joe Biden had been declared winner of the 2020 race to the White House.
If you would like to receive the Energy Market Update to your inbox weekly, please click here to submit your name and email address.
Disclaimer: This information is provided for the use of our customers and potential customers. Power Management Company assumes no responsibility or liability for the accuracy or completeness of pricing or information in this document. Historical data was obtained from sources that we believe to be reliable, but we do not guarantee its accuracy or completeness. It is not intended to provide advice or recommendation. Views are subject to change without