Electricity Markets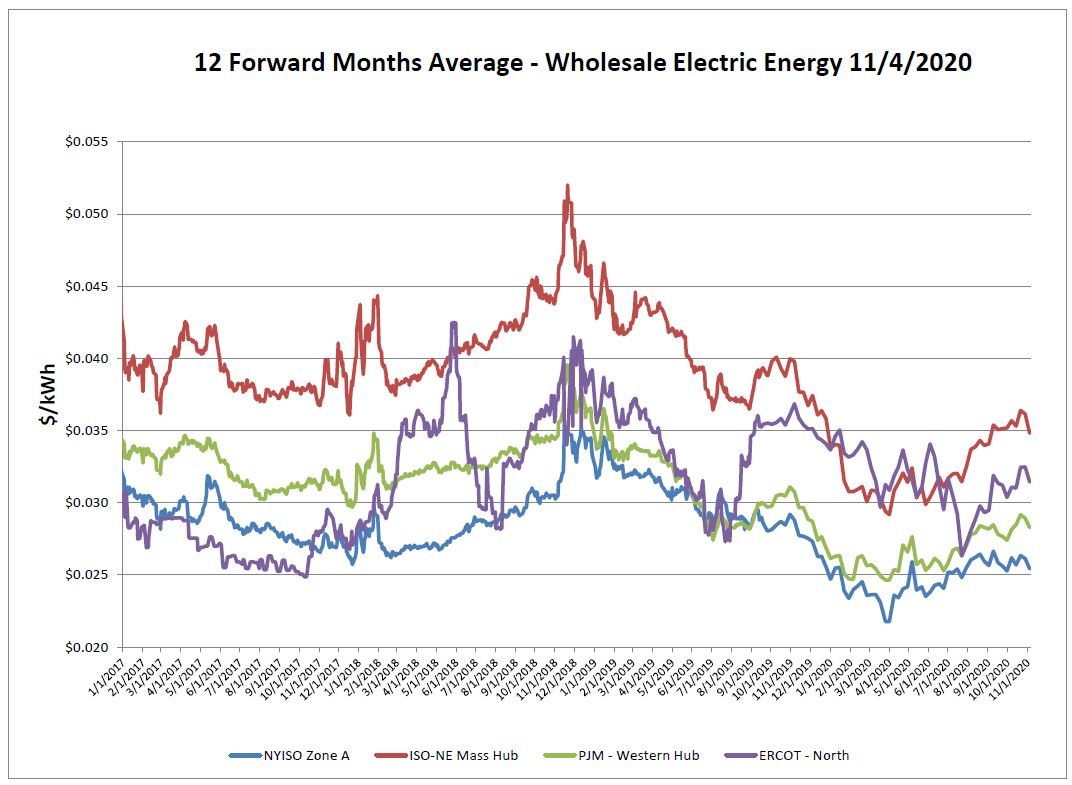 All electric markets saw a slide downward over the report week. After some uncertainty for ERCOT this summer, TEXAS is now out of cooling season so things should remain calmer. There was no huge volatility for the ISO this summer which allowed them to come through the season fairly well.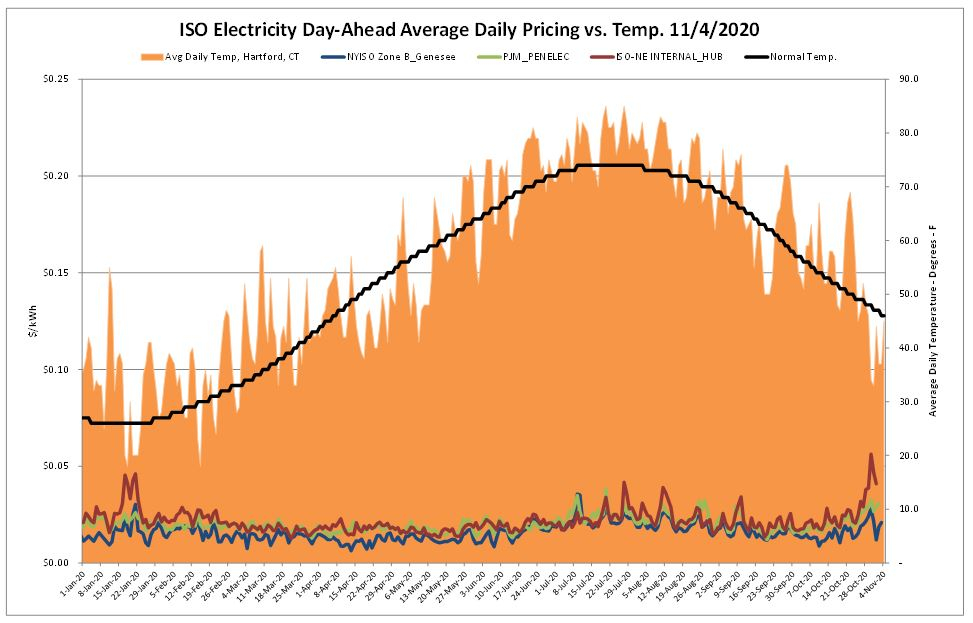 With the onset of some cool end of October, early November weather, day-ahead electric prices showed signs of volatility. Likely short lived as temperatures moving into November have shifted in the opposite direction.
Natural Gas Markets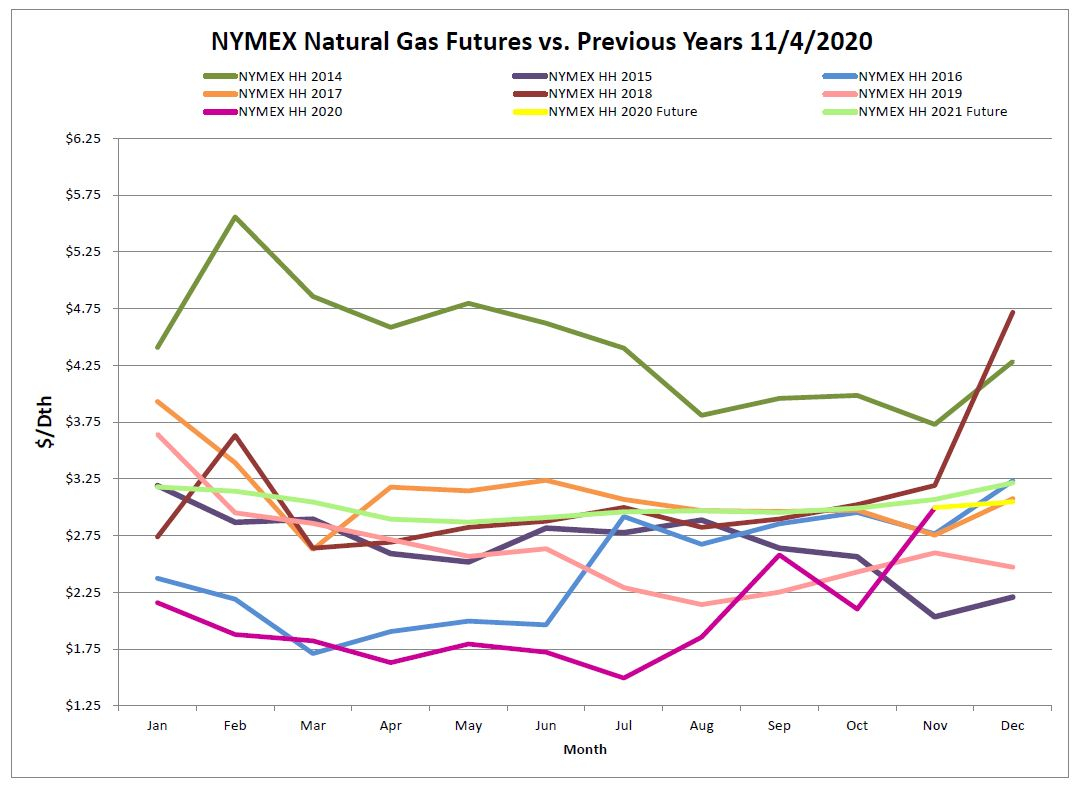 Residential and commercial heating demand came down from the high point on Monday of the report week and is expected to remain lower with the warm weather forecasted through at least the next seven days. The NYMEX 12-month strip dropped from $3.11 to $3.00. Algonquin basis crept up last month but pulled back this month, dropping from $0.86 to $0.70 over the report week. Production in the Marcellus shale and the increasing prospect of Biden becoming President which would slow natural gas pipeline projects leading to discounts in local natural gas prices relative to Henry Hub Louisiana led to these price slides. The basis is the lowest it's been since October 2016. Great time for those looking to lock in basis portion of their gas pricing to take another look. Although things are fairly calm for the time being, it's not unusual to see run ups before the start of winter while traders buy positions.
Futures as of 11/4/2020 versus previous week:
| | | |
| --- | --- | --- |
| Dec-20 | $3.046 | -$0.245 |
| Jan-21 | $3.177 | -$0.234 |
| Feb-21 | $3.140 | -$0.223 |
| Mar-21 | $3.045 | -$0.191 |
| Apr-21 | $2.894 | -$0.076 |
| May-21 | $2.868 | -$0.061 |
Natural Gas Inventory

As of Friday, October 30, 2020 working gas in storage was 3,919 Bcf. According to EIA estimates this represents a net decrease of 36 Bcf from the previous week. Total working gas is back within the five-year historical range. With the temperatures being much warmer than normal for the start of November there is a good chance of an injection in the next week of two of reporting.

The Baker Hughes exploration gas count decreased 1 rig over the report week for a total of 71. This is 59 fewer rigs than the 130 in operation at this time one year ago.
Weather Update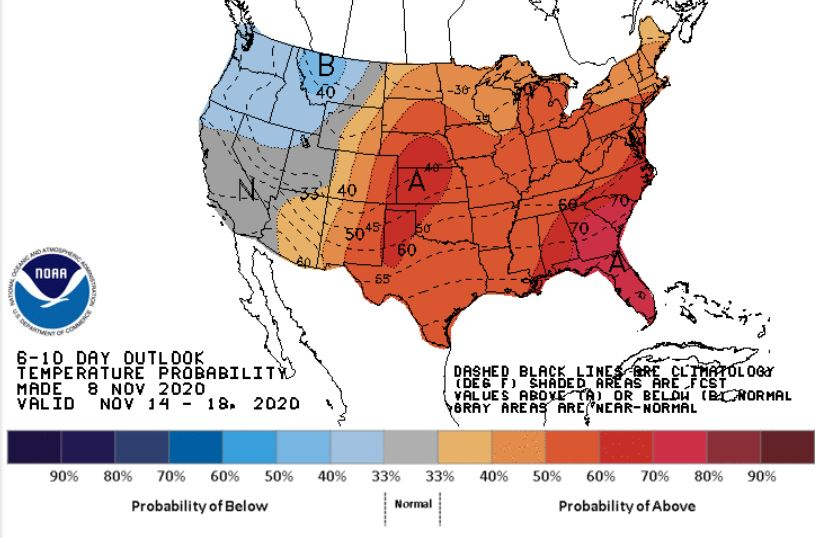 The middle of November continues to show signs of near record warmth for much of the CONUS, leading to a delay in residential heating demand. The Northwest seems to be the only exception with slightly cooler temperatures expected.
National Weather Service Updates (NOAA)
Hurricane Watch: No Hurricanes
Click here to view the National Hurricane Center site.
Equatorial Pacific Outlook:
Click here to view La Nina and El Nino status.
Energy News
Southwestern Energy pledges to limit production as Appalachian gas output rises
As Appalachian Basin gas production surges, many of the region's producers, including Southwestern Energy Co., are still promising maintenance-level output and balance-sheet discipline through the fourth quarter and into 2021.
If you would like to receive the Energy Market Update to your inbox weekly, please click here to submit your name and email address.
Disclaimer: This information is provided for the use of our customers and potential customers. Power Management Company assumes no responsibility or liability for the accuracy or completeness of pricing or information in this document. Historical data was obtained from sources that we believe to be reliable, but we do not guarantee its accuracy or completeness. It is not intended to provide advice or recommendation. Views are subject to change without