Electricity Markets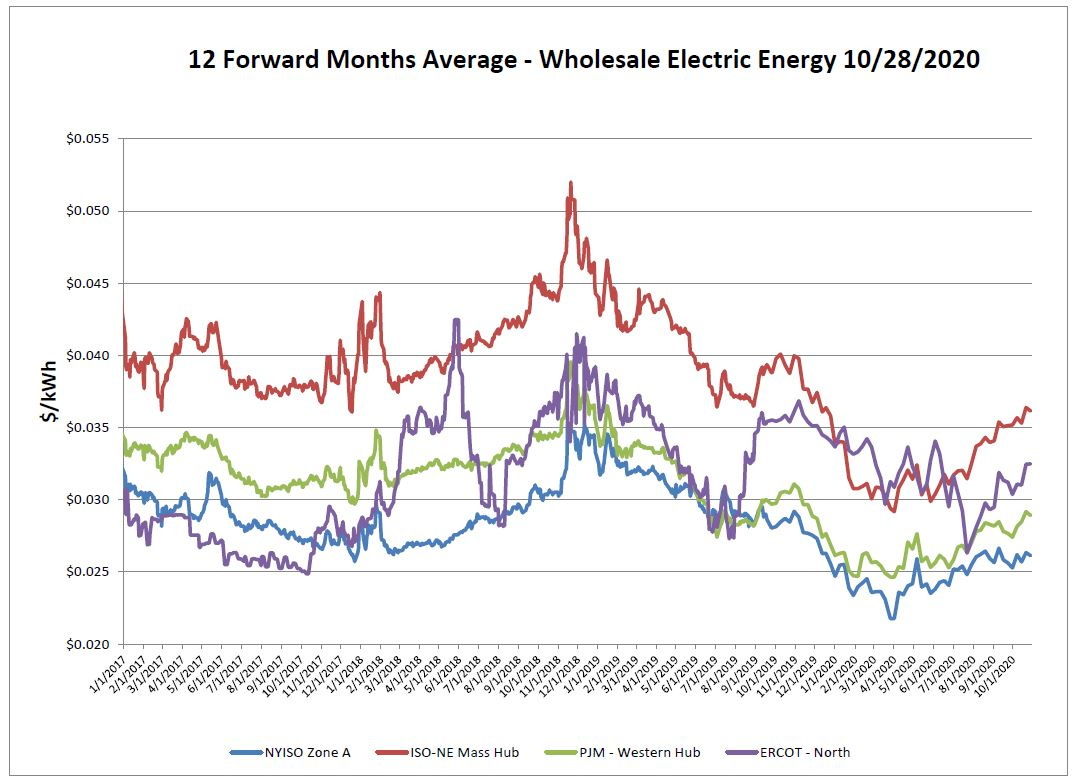 Electric prices in the majority of the ISO's were down just slightly over the report week after recent run ups.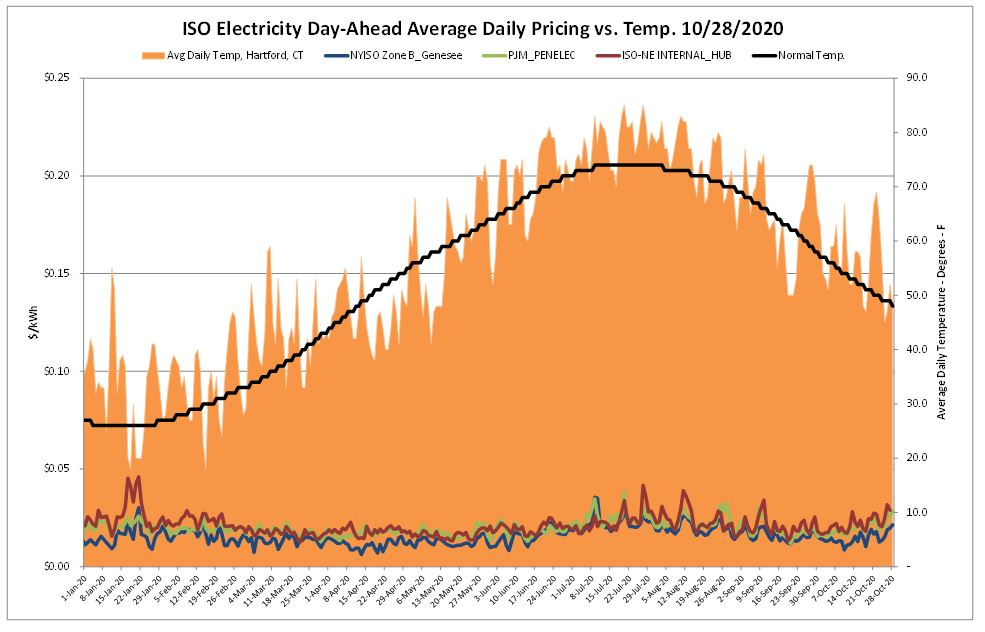 Natural gas day ahead prices continue to remain volatile, having impact on electric prices being slightly elevated as well.
Natural Gas Markets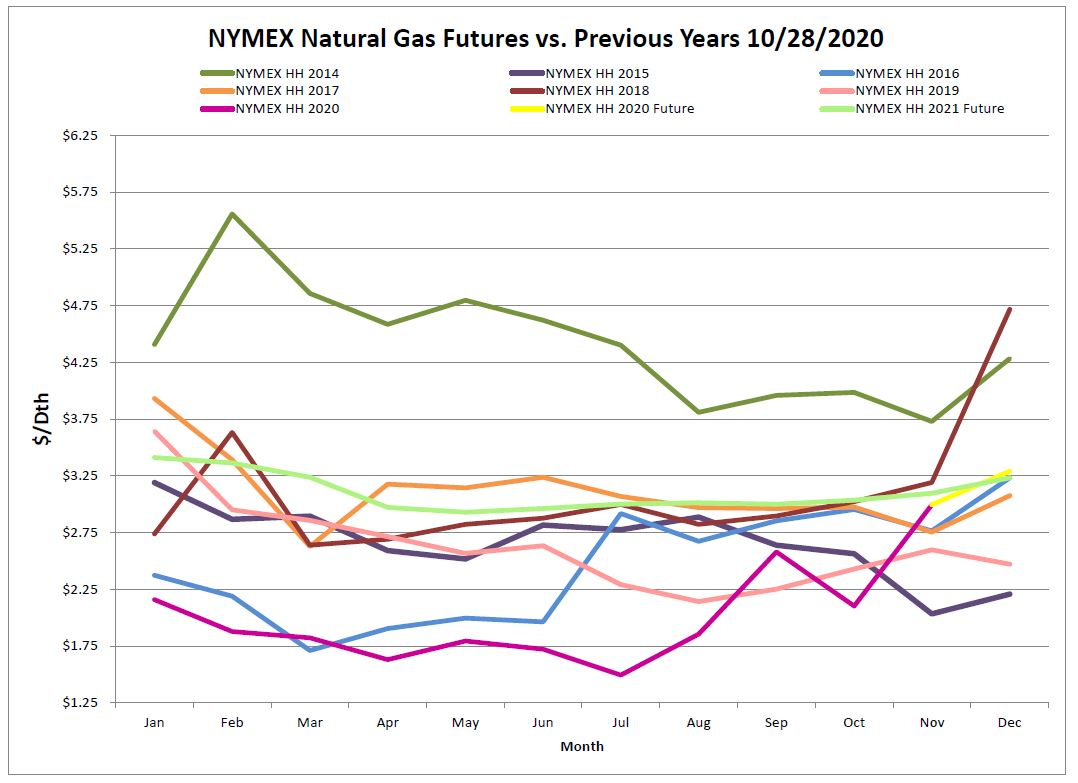 The November '20 NYMEX closed Wednesday, October 28th at $2.996. There was a big jump from the October close of $2.101 to November and also a large gap between January 2020 close and where January 2021 is trading currently. (For reference, the NYMEX always settles the 3rd to last business day of the month.) Demand continues to trend higher, led by colder temperatures driving residential heating demand. A close eye continues to focus on the end of the injection season, as minimal storage inputs are propping up winter term pricing. A colder start to the season could lead to more gas being used for heating load and prices continuing to rise. Additionally, back-to-back hurricanes and tropical storms have led to other oil and gas shut-in leading to market uncertainty and infrastructure damage.
Futures as of 10/28/2020 versus previous week:
| | | |
| --- | --- | --- |
| Dec-20 | $3.291 | -$0.057 |
| Jan-21 | $3.411 | -$0.060 |
| Feb-21 | $3.363 | -$0.064 |
| Mar-21 | $3.236 | -$0.068 |
| Apr-21 | $2.970 | -$0.026 |
| May-21 | $2.929 | -$0.024 |
Natural Gas Inventory

As of Friday, October 23, 2020 working gas in storage was 3,955 Bcf. According to EIA estimates this represents a net increase of 29 Bcf from the previous week. The injection came in much below the expectation of around 37 Bcf, the 5-year average of 67 Bcf, and last year's injection of 89 Bcf. There was a big price swing on the lower than average injection news. This was likely the last injection of the year and levels has ended at a high level, but not the 4,100 Bcf ending point predicted during the refill season. With decreased production and other natural gas and supply and demand fundamentals, it may not take us long to run out this season. While natural storage levels continue to operate at a surplus to last year, injections have slowed down, and forecasts are showing the potential to exit winter at a deficit to last year if we experience a cold winter.
The Baker Hughes exploration gas count decreased 1 rig over the report week for a total of 72. This is 58 fewer rigs than the 130 in operation at this time one year ago.
Weather Update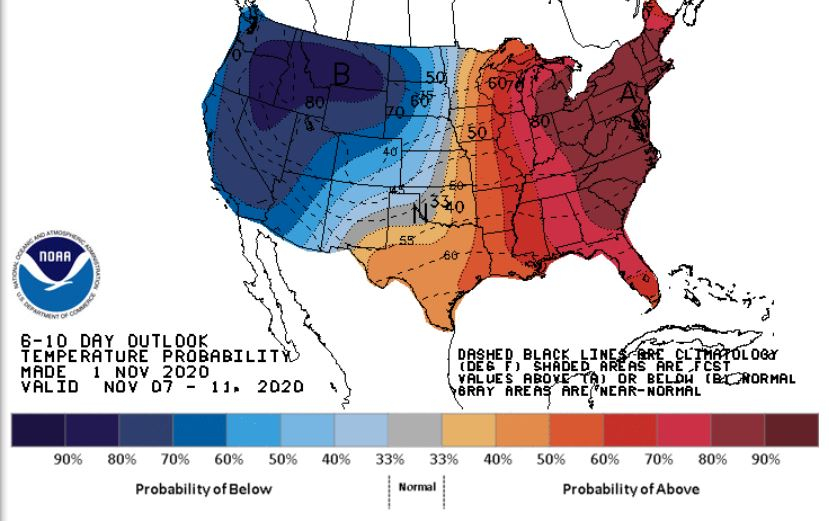 Weather forecasts show warmer than average temperatures along the Eastern half of the CONUS into the 2nd week of November, perhaps delaying the start to cold winter weather. The Western half of the country conversely will be cooler than normal.
National Weather Service Updates (NOAA)
Hurricane Watch: Hurricane Eta
Click here to view the National Hurricane Center site.
Equatorial Pacific Outlook:
Click here to view La Nina and El Nino status.
Energy News
News : US ELECTIONS: Biden presidency could accelerate building Electrification
New York — Building electrification backers could get a powerful ally if Democratic candidate Joseph Biden prevails in the presidential election on Nov. 3  
If you would like to receive the Energy Market Update to your inbox weekly, please click here to submit your name and email address.
Disclaimer: This information is provided for the use of our customers and potential customers. Power Management Company assumes no responsibility or liability for the accuracy or completeness of pricing or information in this document. Historical data was obtained from sources that we believe to be reliable, but we do not guarantee its accuracy or completeness. It is not intended to provide advice or recommendation. Views are subject to change without