Electricity Markets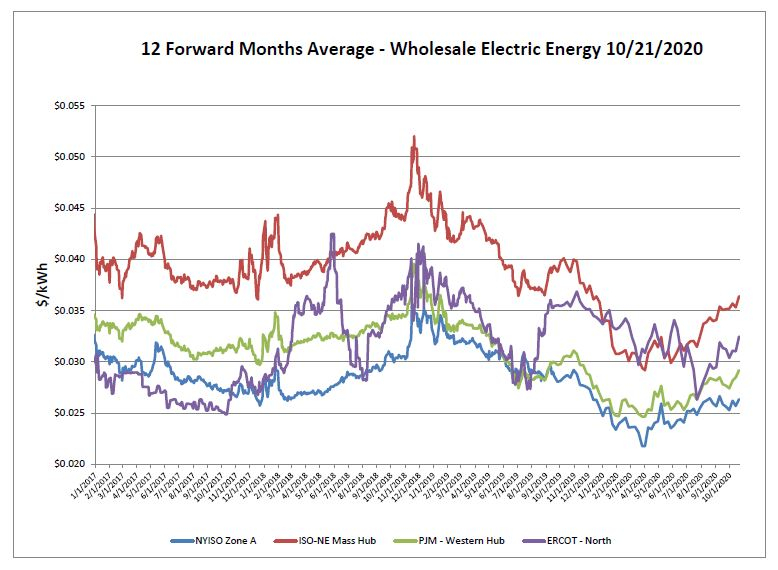 The uncertainty of winter outlooks and an increase in natural gas prices caused electric prices to tick up over the report week.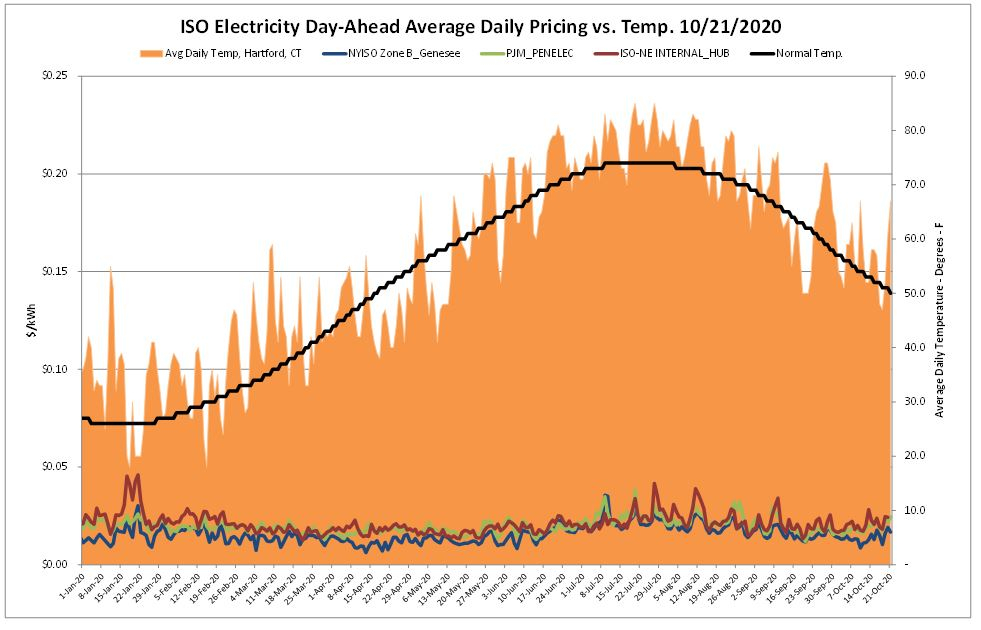 Average temperatures were a bit elevated for the later part of October, but the day-ahead electric market didn't show much reaction.
Natural Gas Markets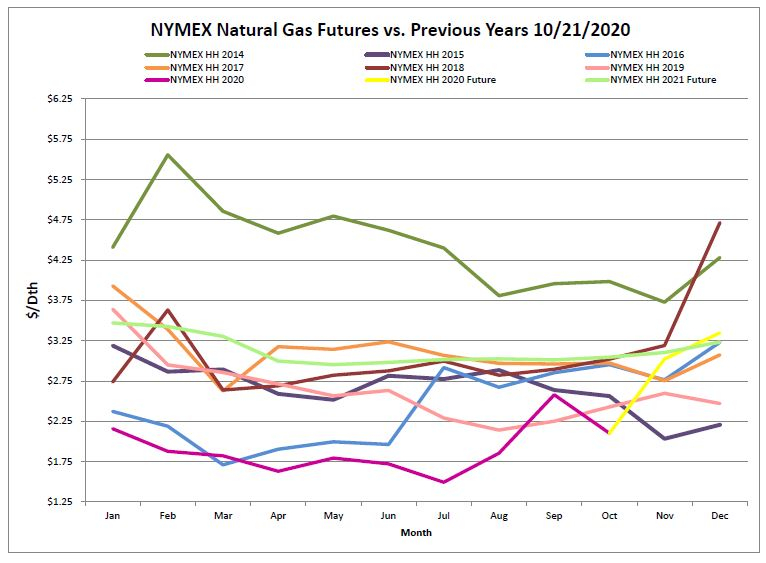 After the lows hit during the height of COVID-19, the economy is slowly coming around. However, the oil and natural gas industries are suffering with a combination of bankruptcies, mergers, and a decrease in drill rigs. Supply will not react as quickly as demand and prices, combined with concerns for the upcoming winter. While storage inventory is strong, production is predicted to remain much below last year's winter production. Daily prompt month gas was volatile over the report week, with the November 2020 NYMEX contract increasing $0.39, the first time the near-month natural gas futures price has reached $3.00 since January 2019. The NYMEX 12-month strip increased $0.13.
Futures as of 10/14/2020 versus previous week:
| | | |
| --- | --- | --- |
| Nov-20 | $3.023 | +$0.387 |
| Dec-20 | $3.348 | +$0.159 |
| Jan-21 | $3.471 | +$0.139 |
| Feb-21 | $3.427 | +$0.133 |
| Mar-21 | $3.304 | +$0.123 |
| Apr-21 | $2.996 | +$0.098 |
Natural Gas Inventory

A net increase of 49 Bcf was reported from the previous week, a bit below the projection of 52 Bcf and smaller than both the 75 Bcf five-year average and the 92 Bcf recorded last year for the corresponding week. Working gas in storage was 3,926 Bcf as of Friday, October 16, 2020, according to EIA estimates. Analysts continue to closely track storage fundamentals as a cold winter, along with increasing export demand, could quickly change the surplus to a deficit.

The Baker Hughes exploration gas count decreased 1 rig over the report week for a total of 73. This is 60 fewer rigs than the 133 in operation at this time one year ago.
Weather Update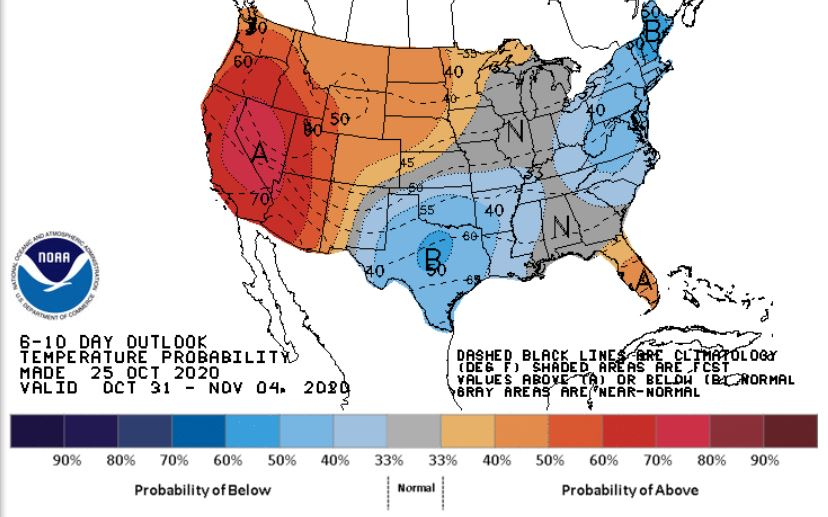 Weather patterns will shift for the beginning of November with the NOAA anticipating a cooler Northeast and Texas region, and a return to above-normal temperature for the West coast.
National Weather Service Updates (NOAA)
Hurricane Watch: No Hurricanes
Click here to view the National Hurricane Center site.
Equatorial Pacific Outlook:
Click here to view La Nina and El Nino status.
Energy News
N.Y. Gov. Cuomo Announces PSC Approval of Expanded Clean Energy Standard to Decarbonize New York's Power Sector and Combat Climate Change
Gov. Andrew Cuomo, D-New York, issued the following news release on Oct. 15:Governor Andrew M. Cuomo today announced that the New York State Public Service Commission approved an expansion of the landmark Clean Energy Standard to refocus New York's existing regulatory and procurement structure on achieving the goals laid out in New York's nation-leading Climate Leadership and Community Protection Act, or CLCPA.
CT leads New England charge to overhaul electricity market structure
Oct. 16–Weeks after initiating a broad overhaul of utility regulation within its borders, Connecticut has recruited four New England states to rework the regional grid that is overseen by ISO New England, the independent system operator charged with ensuring a reliable supply of electricity from power plants.
If you would like to receive the Energy Market Update to your inbox weekly, please click here to submit your name and email address. Disclaimer: This information is provided for the use of our customers and potential customers. Power Management Company assumes no responsibility or liability for the accuracy or completeness of pricing or information in this document. Historical data was obtained from sources that we believe to be reliable, but we do not guarantee its accuracy or completeness. It is not intended to provide advice or recommendation. Views are subject to change without