Electricity Markets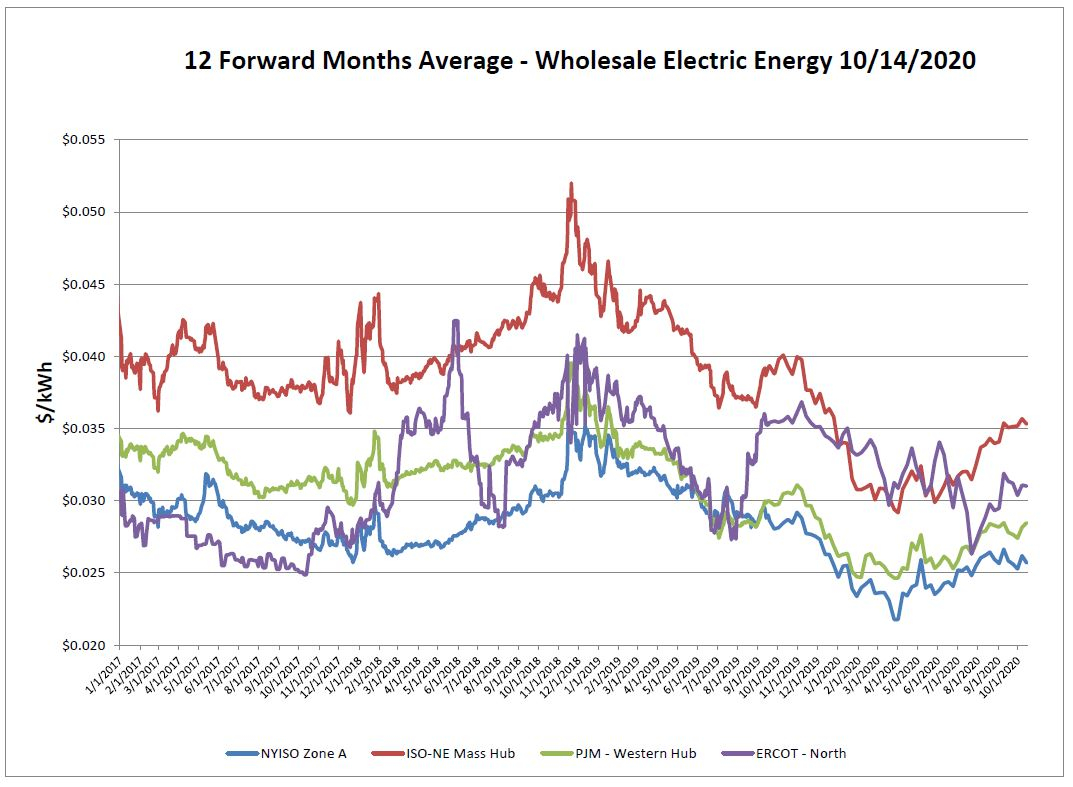 Electric markets continue to remain slightly elevated over a short period of time. Keep in perspective however that these prices are still very favorable compared to historic levels. Although prices at the rock bottom levels experienced around the April timeframe, it's unable to be determined if we will see electric rates at these lows again anytime soon.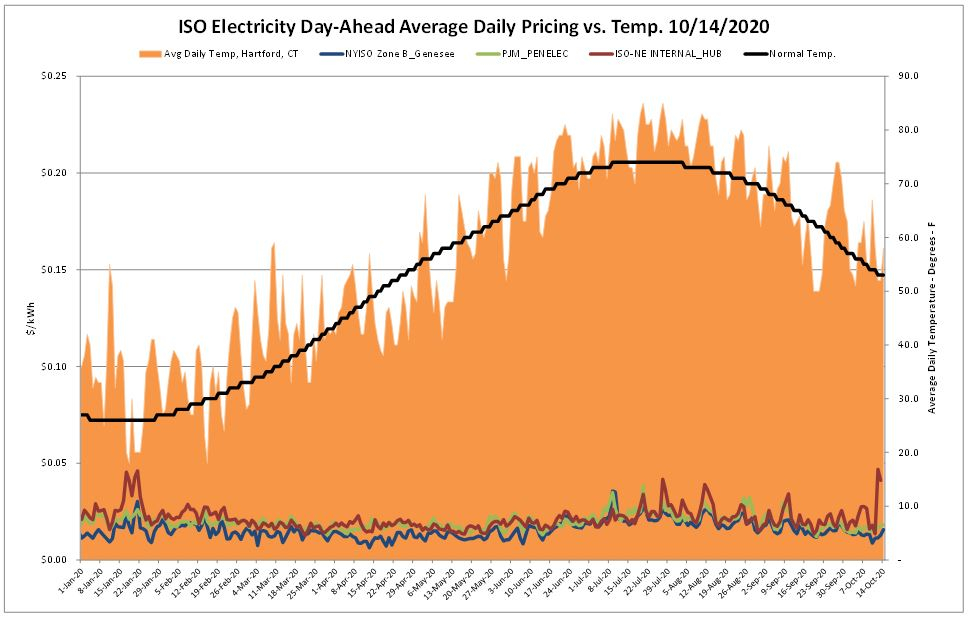 Temperatures fell mostly within the normal range over the report week. Thus far there is nothing extreme on the horizon for weather forecasts moving into the next few months. November is anticipated to be warmer than normal per current predications.
Natural Gas Markets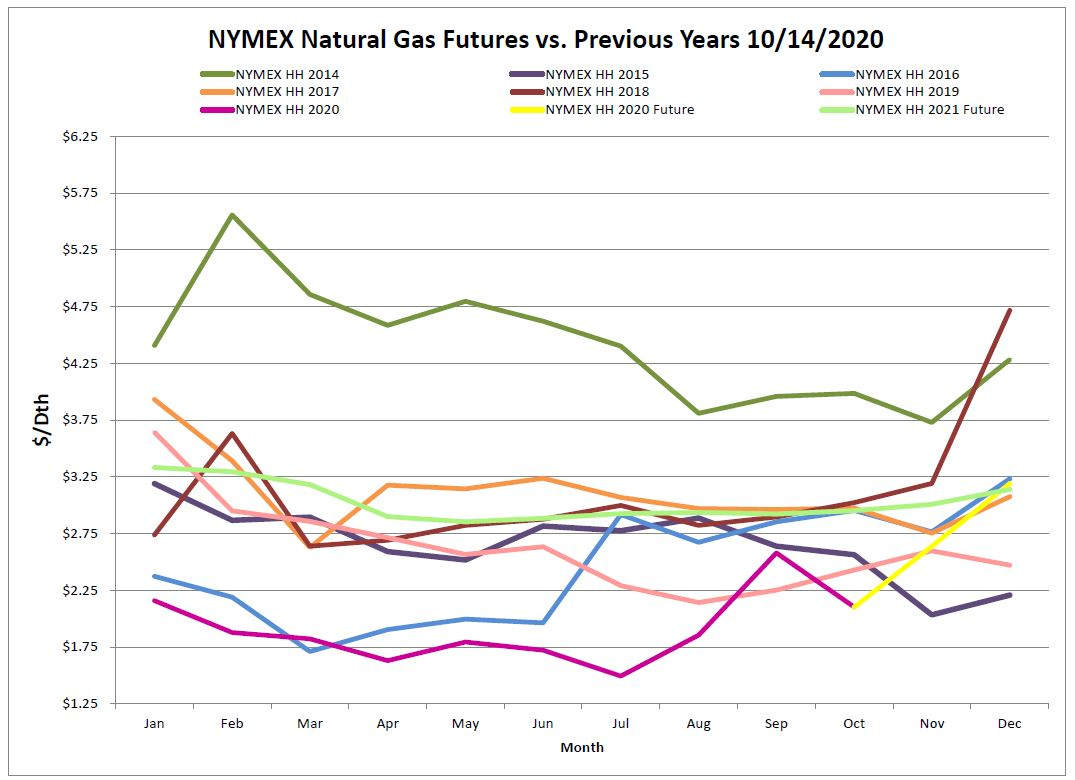 The NYMEX 12-month strip was up $0.08 while the Algonquin bases dropped $0.08. November and December 2020 prices are still elevated but within the normal levels compared to historic end of year prices. Winter will soon dictate where 2021 futures move.
Futures as of 10/14/2020 versus previous week:
| | | |
| --- | --- | --- |
| Nov-20 | $2.636 | +$0.030 |
| Dec-20 | $3.189 | +$0.040 |
| Jan-21 | $3.332 | +$0.038 |
| Feb-21 | $3.294 | +$0.046 |
| Mar-21 | $3.181 | +$0.051 |
| Apr-21 | $2.898 | +$0.094 |

Natural Gas Inventory

According to EIA estimates a net increase of 46 Bcf was reported from the previous week. As of Friday, October 9, 2020 working gas in storage was 3,877 Bcf.

The Baker Hughes exploration gas count increased 1 rig over the report week for a total of 74. This is 63 fewer rigs than the 137 in operation at this time one year ago.
Weather Update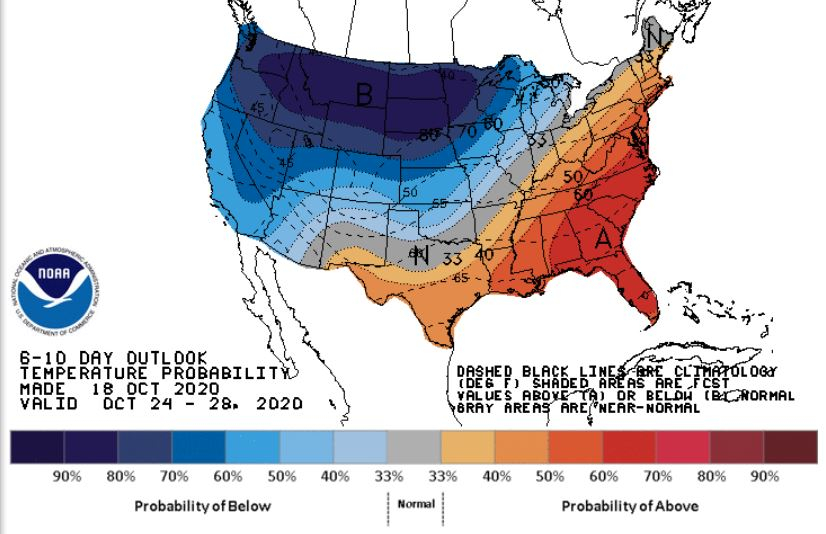 Warm temperatures are on the horizon for the Southeastern states while the Northern CONUS and West coast will likely experience some cooler than normal temperatures for the end of October.
National Weather Service Updates (NOAA)
Hurricane Watch: No Hurricanes
Click here to view the National Hurricane Center site.
Equatorial Pacific Outlook:
Click here to view La Nina and El Nino status.
Energy News
EIA forecasts that average household expenditures for all major home heating fuels, except heating oil, will increase this winter largely because of higher expected energy consumption.
News : Pa. shale permitting falls by nearly half on year in Sep as drillers hold fire
Permits for shale gas wells in Pennsylvania dropped nearly 50% year over year in September, as four of the state's five top producers try to time a winter market where prices are expected to top $3/MMBtu, about $1/MMBtu more than current prices at the benchmark Henry Hub.
News : Milder US weather to limit upside for gas-fired heating demand this Winter
A winter weather forecast that the National Weather Service published Oct. 15 is calling for above-average temperatures across the US Northeast along with much of the South and West from December to February, signaling lower-than-anticipated upside for gas -fired heating demand.
If you would like to receive the Energy Market Update to your inbox weekly, please click here to submit your name and email address.
Disclaimer: This information is provided for the use of our customers and potential customers. Power Management Company assumes no responsibility or liability for the accuracy or completeness of pricing or information in this document. Historical data was obtained from sources that we believe to be reliable, but we do not guarantee its accuracy or completeness. It is not intended to provide advice or recommendation. Views are subject to change without