Electricity Markets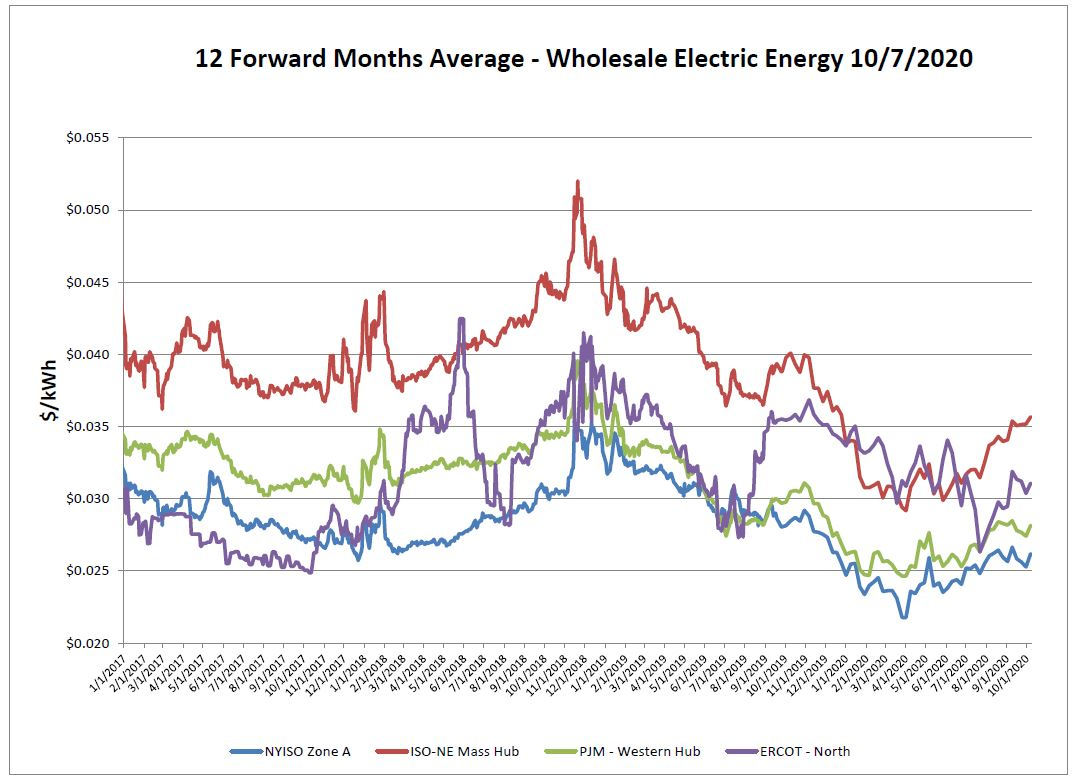 Electric markets were all up about the same amount across the board week over week.
*Please note, day-ahead temperature chart data was not available for update this week
Daily volatility has been high with prices swinging 10-15% in a day. Temperatures for the first week of October were above normal for the West Coast and below normal for the eastern 2/3 of the country. The pattern broke over the next few days as the East Coast saw large areas of very mild temps in the lower 70's.
Natural Gas Markets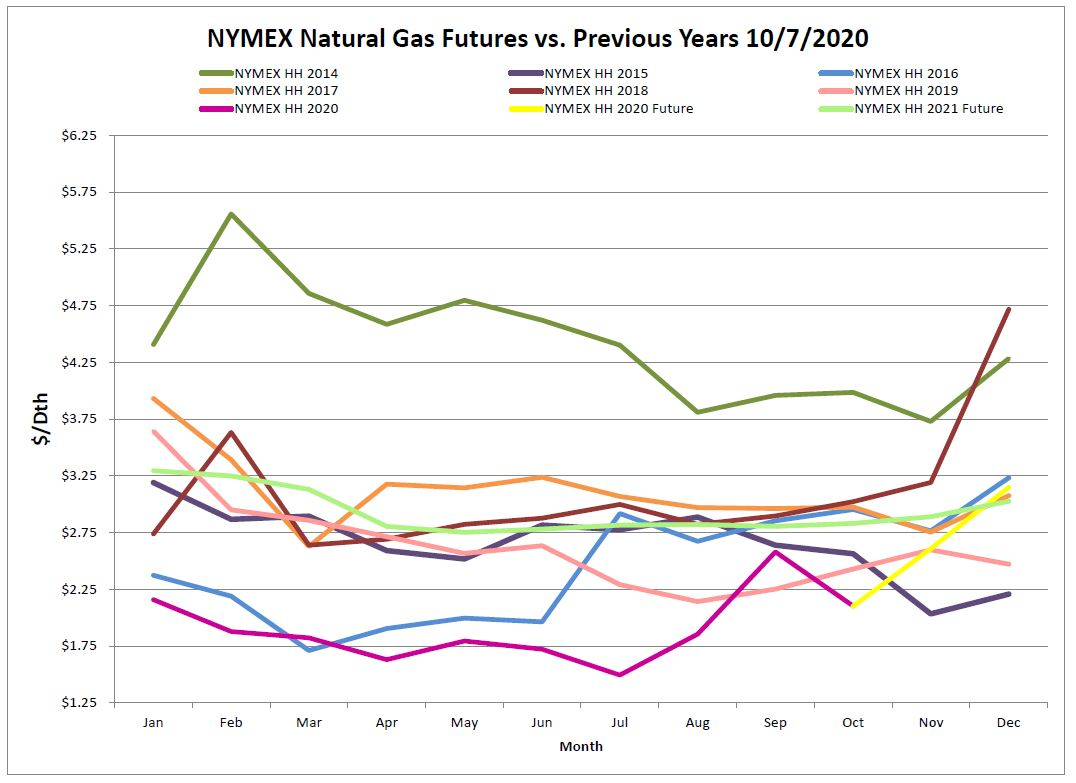 NYMEX prices were up slightly over the report week, with the NYMEX 12-month strip up $0.02. The Algonquin basis conversely was down slightly, dropping $0.04.
Futures as of 10/7/2020 versus previous week:
| | | |
| --- | --- | --- |
| Nov-20 | $2.606 | +$0.079 |
| Dec-20 | $3.149 | +$0.032 |
| Jan-21 | $3.294 | +$0.027 |
| Feb-21 | $3.248 | +$0.027 |
| Mar-21 | $3.130 | +$0.031 |
| Apr-21 | $2.804 | +$0.010 |
Natural Gas Inventory

Working gas in storage was 3,831 Bcf as of Friday, October 2, 2020. According to EIA estimates this represents a net increase of 75 Bcf from the previous week. Each week we are now setting a new 5-year max range. In order to reach the 4,100 Bcf max level there needs to be an average of 53 Bcf injection for the next few weeks. The next injection however will likely be lower as there was a need for an increase in heating demand. Estimates are in the 30-40 Bcf range.

The Baker Hughes exploration gas count decreased 1 rig over the report week for a total of 73. This is 70 fewer rigs than the 143 in operation at this time one year ago.
Weather Update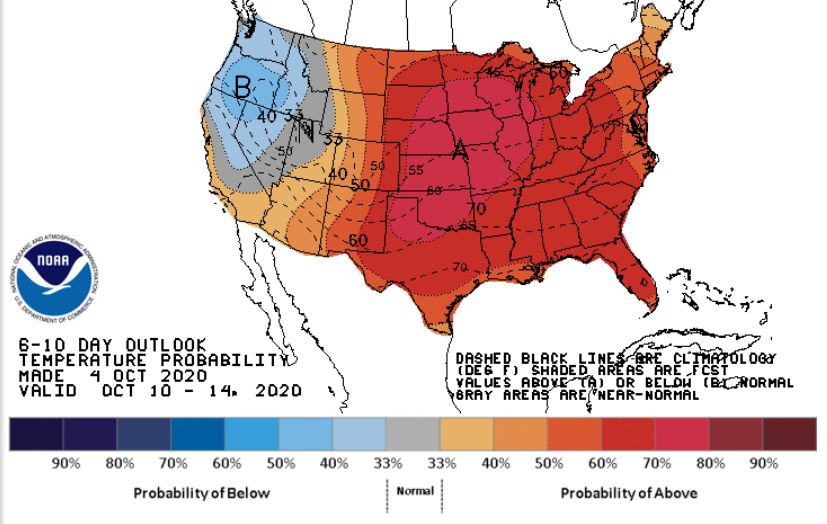 The 6-10 day NOAA outlook predicts that the majority of the CONUS is expected to see cooler temperatures, with the exception of small pockets of area in the Northeast, Southeast and Southwest.
National Weather Service Updates (NOAA)
Hurricane Watch: No Hurricanes
Click here to view the National Hurricane Center site.
Equatorial Pacific Outlook:
Click here to view La Nina and El Nino status.
Energy News
News : EIA sees rising US gas demand, exports pushing up winter Henry Hub Prices
Rising domestic demand for natural gas and improved LNG exports heading into the winter are likely to combine with declining production to push up Henry Hub spot prices to average $3.38/MMBtu in January 2021, the US Energy Information Administration said Oct. 6.
If you would like to receive the Energy Market Update to your inbox weekly, please click here to submit your name and email address.
Disclaimer: This information is provided for the use of our customers and potential customers. Power Management Company assumes no responsibility or liability for the accuracy or completeness of pricing or information in this document. Historical data was obtained from sources that we believe to be reliable, but we do not guarantee its accuracy or completeness. It is not intended to provide advice or recommendation. Views are subject to change without