Electricity Markets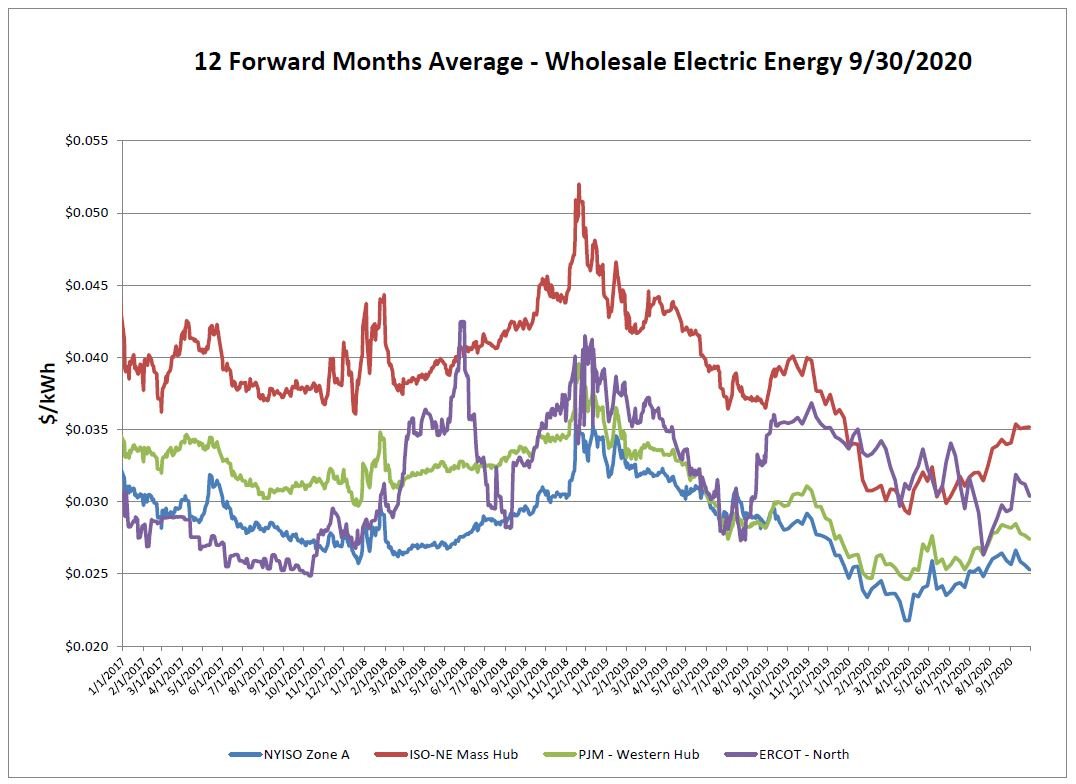 Forward electric prices for NYISO are still quite low and compare very favorably against the last two decades. Pricing has continued to drop week-over-week and has seen an overall rise month-over-month in response to the rising cost of capacity in the outward years. Expectations are that these costs will firm up as we move closer to Indian Point's closure in April 2021. In PJM, the lack of load in the region is driving prices down, and rates also remain incredibly competitive. A comfortable summer in Texas led ERCOT to experience far less volatility than historically seen. This should continue to bring pricing down as we move out of their hottest months and rates have already begun to fall over the last couple of weeks. In ISO-NE electric prices have remained flat week-over-week however remains elevated month-over-month, potentially due to strength in the Algonquin Basis.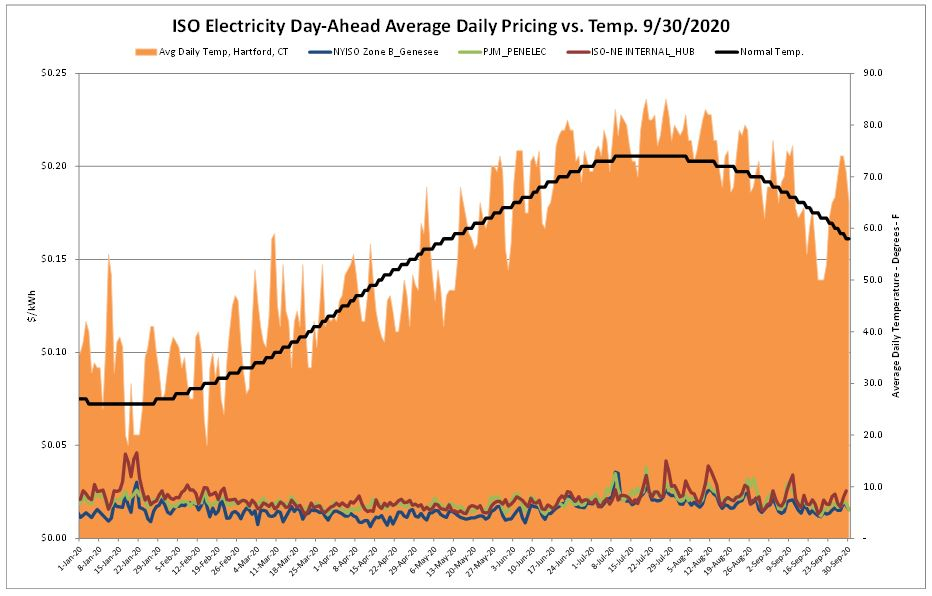 Despite a spike in temperature during the report week, pricing remained fairly steady on the daily markets.
Natural Gas Markets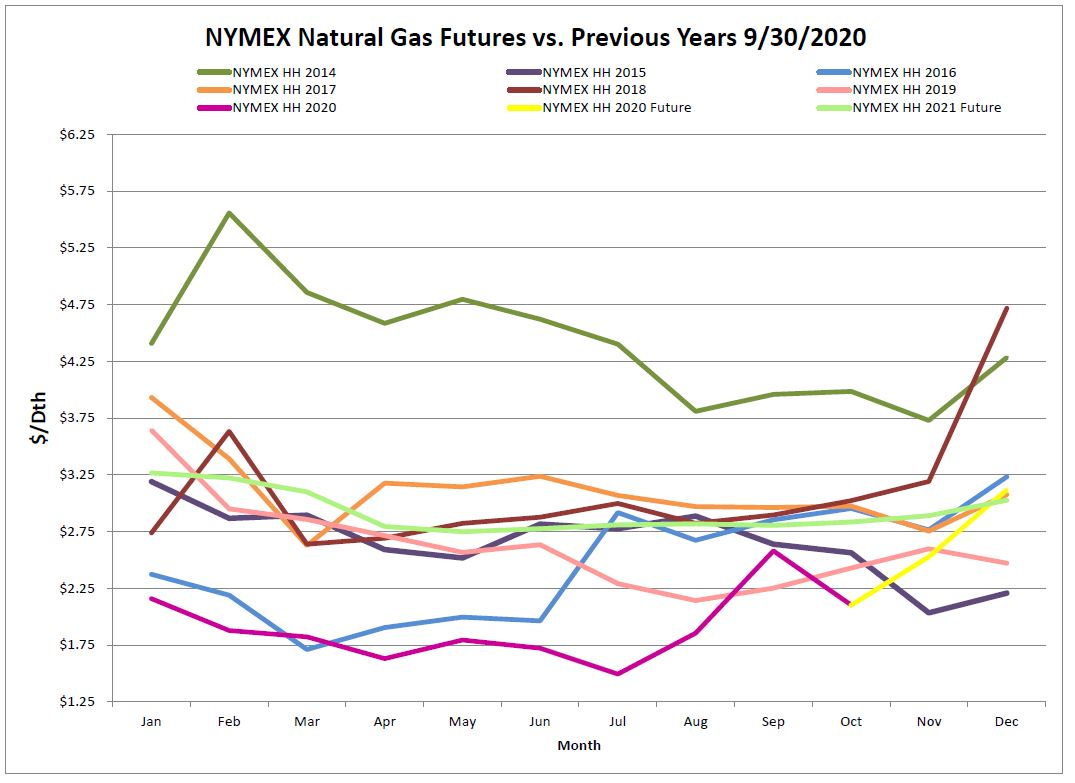 The October 2020 NYMEX contract expired Monday at $2.101. The new prompt month, November 2020 was down $0.27 while the 12-month strip contracts declined $0.07. December 2020 has also moved down and is now trading within a historically normal range for this timeframe. We've seen the largest drop in near-term pricing as we approach this winter with strong storage levels and mild weather. 2020 settlements are mirroring 2016 when we moved out of a similarly warm winter with this year being aided by the COVID shutdown as well. Probability spreads are not narrowing as we move into this winter; uncertainty remains and there is still little expectation of a downside to fixing at current levels.
Futures as of 9/30/2020 versus previous week:
| | | |
| --- | --- | --- |
| Nov-20 | $2.527 | -$0.267 |
| Dec-20 | $3.117 | -$0.112 |
| Jan-21 | $3.267 | -$0.081 |
| Feb-21 | $3.221 | -$0.082 |
| Mar-21 | $3.099 | -$0.066 |
| Apr-21 | $2.794 | -$0.040 |
Natural Gas Inventory

Working gas in storage was 3,756 Bcf as of Friday, September 25, 2020. According to EIA estimates this represents a net increase of 76 Bcf from the previous week. Storage totals are 14% more than the year-ago level and 12% more than the five-year average for this week.

The Baker Hughes exploration gas count decreased 1 rig over the report week for a total of 74. This is 70 fewer rigs than the 144 in operation at this time one year ago.
Weather Update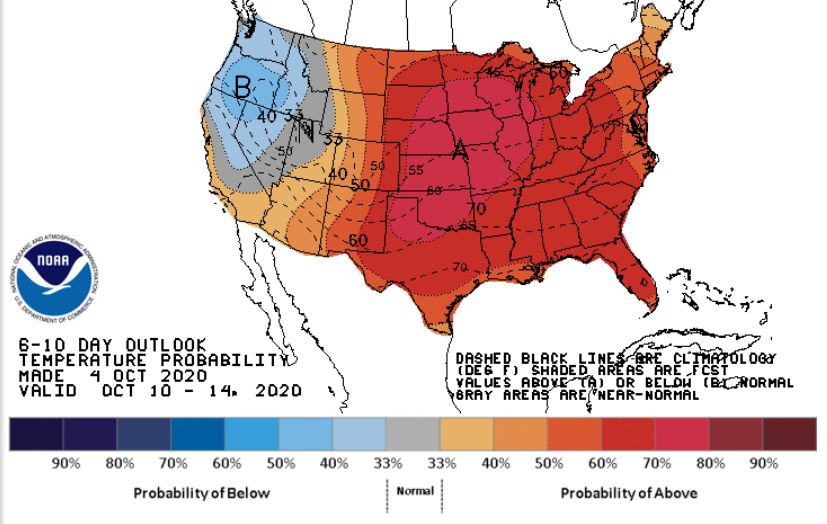 A return to above-normal temps dominates the 11-15 and 16-20 day forecasts for the majority of the CONUS. If this hold true, heating demand will take a back seat for the second half of October. The exception is on the West coast which may finally get some much-needed reprieve from the bolstering heat it has experienced over the last several weeks.
National Weather Service Updates (NOAA)
Hurricane Watch: No Hurricanes
Click here to view the National Hurricane Center site.
Equatorial Pacific Outlook:
Click here to view La Nina and El Nino status.
Energy News
If you would like to receive the Energy Market Update to your inbox weekly, please click here to submit your name and email address.
Disclaimer: This information is provided for the use of our customers and potential customers. Power Management Company assumes no responsibility or liability for the accuracy or completeness of pricing or information in this document. Historical data was obtained from sources that we believe to be reliable, but we do not guarantee its accuracy or completeness. It is not intended to provide advice or recommendation. Views are subject to change without