Electricity Markets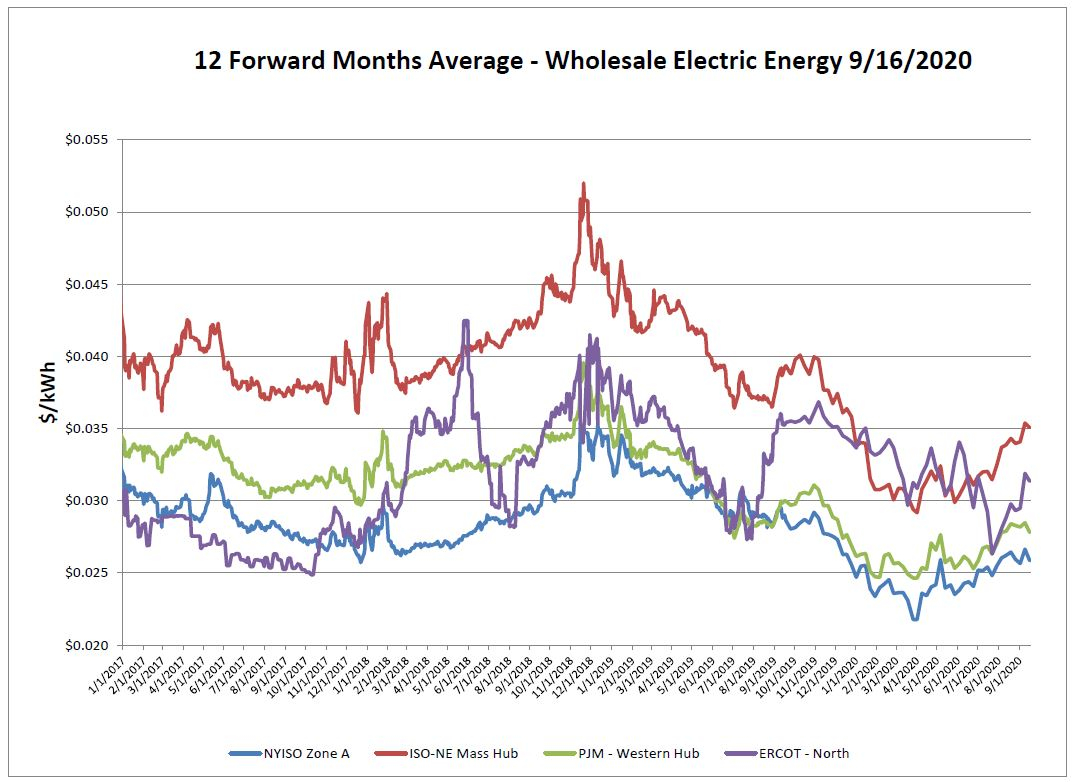 All ISO's saw very slight dips down on the electric market as natural gas fundamentals moved prices down.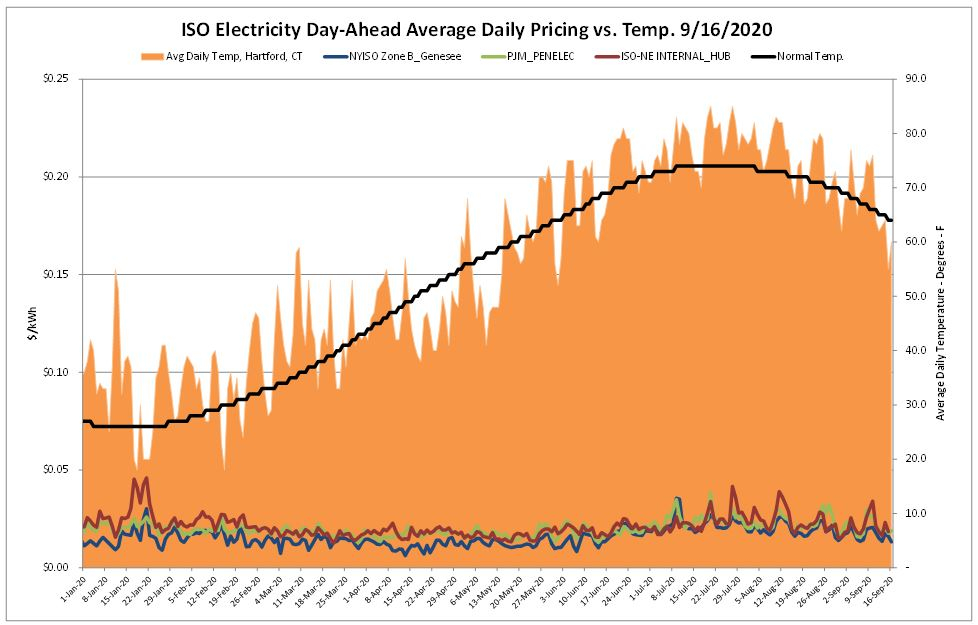 Day-ahead electric prices shifted downward as well on the heels of below normal temperatures.
Natural Gas Markets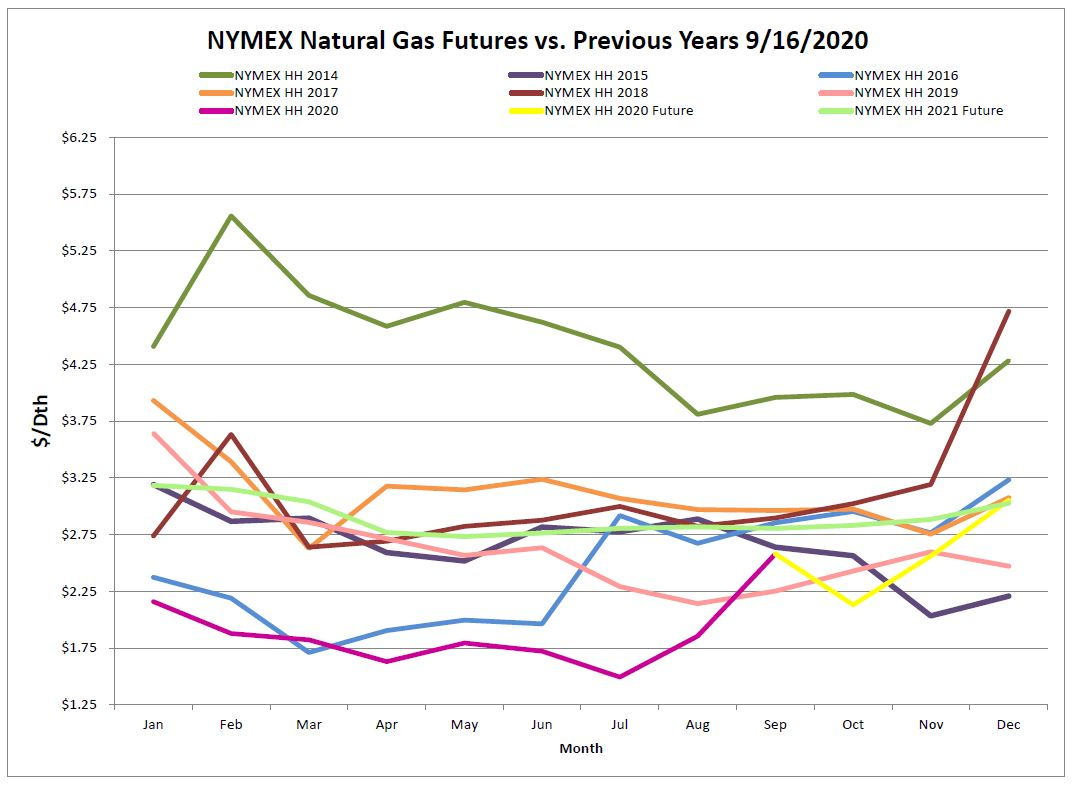 Weather events have dominated the energy news front as fires, hurricanes and record low September temperatures have all effected the energy markets. Additional Hurricanes and Tropical Storms continue to creep in and impacted the Oct '20 NYMEX prompt month with a swift downward shift, as the market anticipates demand destruction. The effects of COVID are slowly dissipating, however uncertainty over winter weather and the presidential election loom in the background. Moving into the next few weeks, energy managers and business owners should evaluate if they are properly hedged against risk as we move forward.
Futures as of 9/16/2020 versus previous week:
| | | |
| --- | --- | --- |
| Oct-20 | $2.130 | -$0.276 |
| Nov-20 | $2.559 | -$0.314 |
| Dec-20 | $3.051 | -$0.190 |
| Jan-21 | $3.183 | -$0.178 |
| Feb-21 | $3.147 | -$0.176 |
| Mar-21 | $3.038 | -$0.163 |

Natural Gas Inventory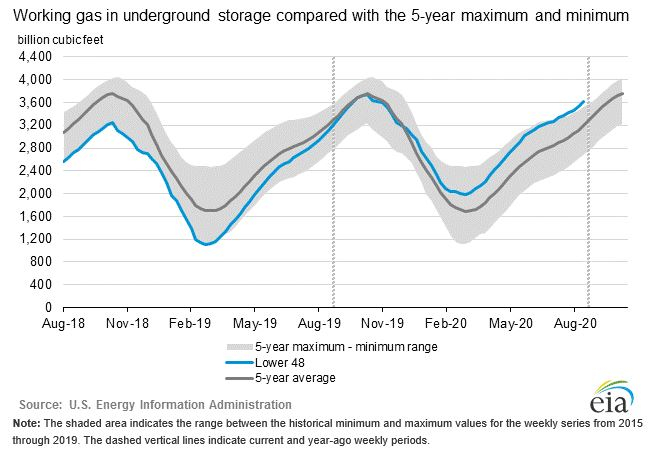 According to EIA estimates a net increase of 89 Bcf was reported. Working gas in storage was 3,614 Bcf as of Friday, September 11, 2020. This was quite a bit higher than the estimates that were in the ballpark of 75 Bcf, in line with the 5-year average.

The Baker Hughes exploration gas count increased 2 rigs over the report week for a total of 73. This is 75 fewer rigs than the 148 in operation at this time one year ago.
Weather Update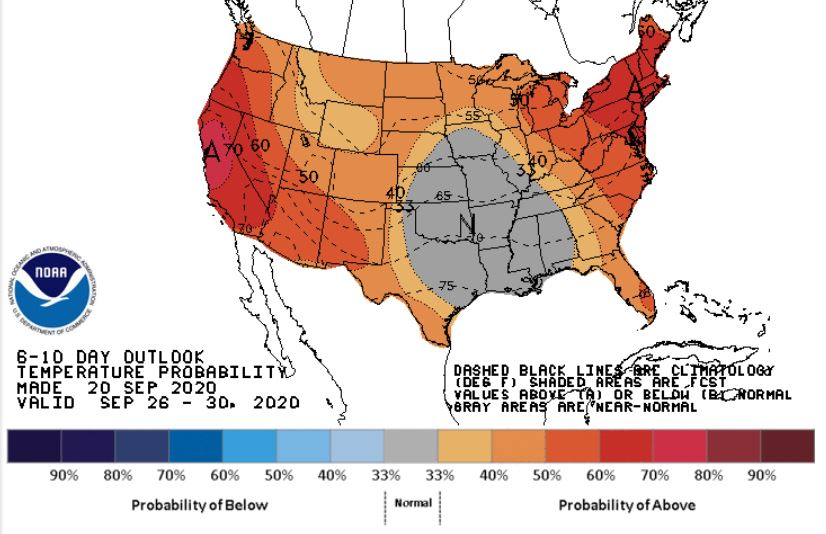 As Summer officially comes to an end this week, the end of September is expected to bring above normal temperatures for this time of year, especially to those on the West coast and in the Northeast.
National Weather Service Updates (NOAA)
Hurricane Watch: Hurricane Teddy & Tropical Storm Beta
Click here to view the National Hurricane Center site.
Equatorial Pacific Outlook:
Click here to view La Nina and El Nino status.
Energy News
BP warns oil demand may have peaked as pandemic hits fossil fuels
Global oil demand may have already peaked, according to BP's latest long-term energy outlook, as the COVID-19 pandemic kicks the world economy onto a weaker growth trajectory and accelerates the shift to cleaner fuels
If you would like to receive the Energy Market Update to your inbox weekly, please click here to submit your name and email address.
Disclaimer: This information is provided for the use of our customers and potential customers. Power Management Company assumes no responsibility or liability for the accuracy or completeness of pricing or information in this document. Historical data was obtained from sources that we believe to be reliable, but we do not guarantee its accuracy or completeness. It is not intended to provide advice or recommendation. Views are subject to change without