Electricity Markets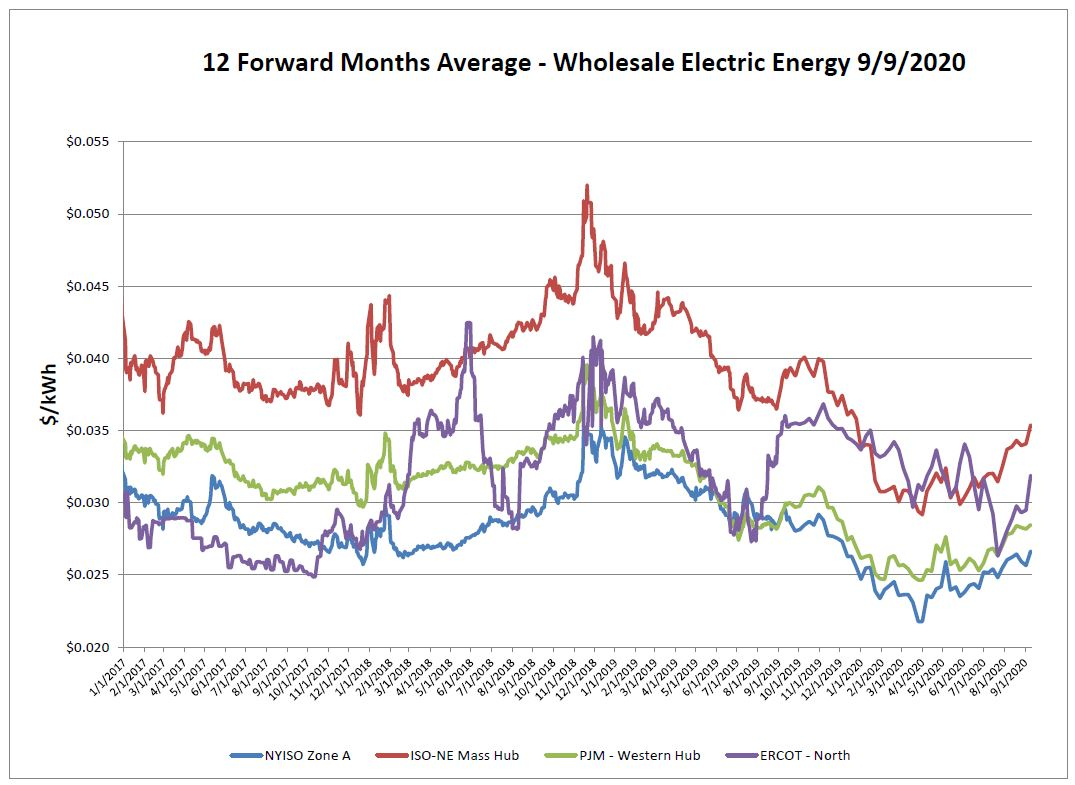 Both electric and gas markets are trending up. ERCOT specifically continues to experience market volatility. ISO-NE has also climbed somewhat significantly over the past few weeks.
Temperatures were much warmer than normal in western states and cooler than normal across the Midwest. While there was no extremely warm temperatures in the ISO's we monitor for day-ahead pricing, the humidity caused some slight volatility.
Natural Gas Markets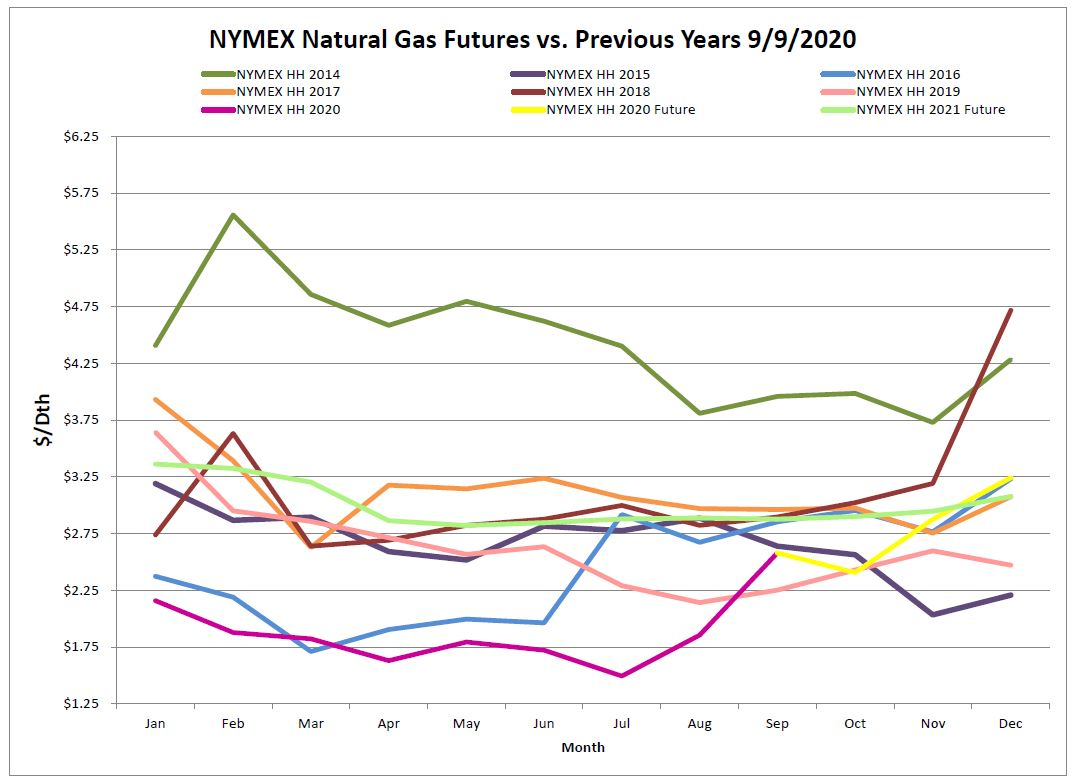 The price of the 12-month strip futures contract declined $0.01 to $2.964. Natural gas continues to remain elevated for the remainder of the 2020 and 2021 futures contracts. The rise in prices can be tied to a number of variables; partly a rebound of load as the economy gets back on track after the shutdown from COVID, tightening of supply as rig counts drop, and the cost of associated gas rising tied to oil production. One thing not driving the spike is storage as it continues to remain high. The timing of prices increasing back to the more "normal" range happened around the same times as it had in 2016. December 2020 is trading higher than 2021 futures, which is somewhat surprising given storage levels are at 5-year highs.
Futures as of 9/9/2020 versus previous week:
| | | |
| --- | --- | --- |
| Oct-20 | $2.406 | -$0.080 |
| Nov-20 | $2.873 | -$0.058 |
| Dec-20 | $3.241 | -$0.047 |
| Jan-21 | $3.361 | -$0.038 |
| Feb-21 | $3.323 | -$0.034 |
| Mar-21 | $3.201 | -$0.015 |
Natural Gas Inventory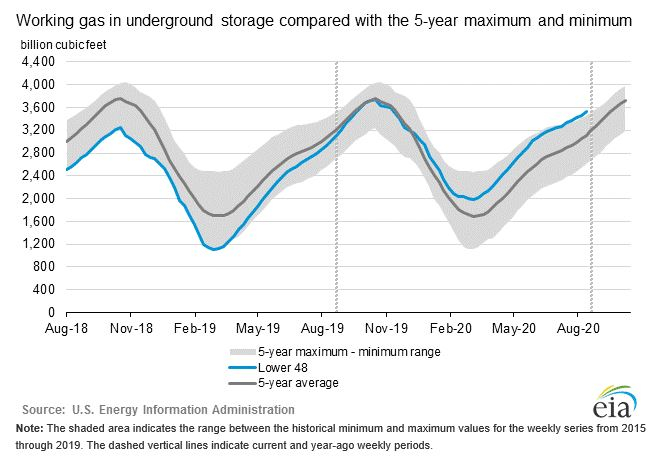 As of Friday, September 4, 2020 working gas in storage was 3,525 Bcf. According to EIA estimates this represents a net increase of 70 Bcf from the previous week. Expectations for injection was in the mid 60's. Last year the injection was 80 Bcf and 68 Bcf is the 5-year average. If injections stay on course with the 5-year average, we will be close to max storage levels.

The Baker Hughes exploration gas count decreased 1 rig over the report week for a total of 71. This is 82 fewer rigs than the 153 in operation at this time one year ago.
Weather Update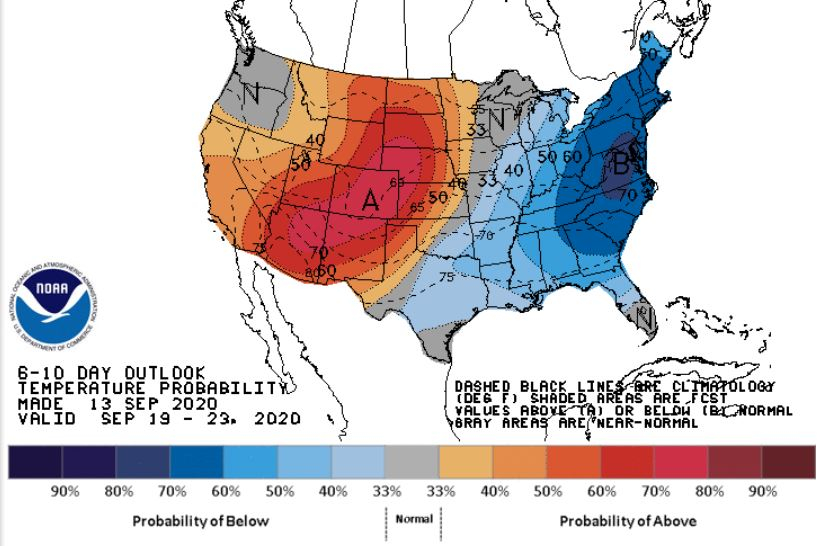 The increased temperatures remain in place for those in the West and sweeping through the Rocky Mountains. The East coast on the other hand is predicted to see some much cooler temperatures to round out the last few days of Summer.
National Weather Service Updates (NOAA)
Hurricane Watch: Hurricane Sally & Paulette
Click here to view the National Hurricane Center site.
Equatorial Pacific Outlook:
Click here to view La Nina and El Nino status.
Energy News
News : US EIA pushes up gas production, spot price forecasts in second half 2020
The US Energy Information Administration Sept. 9 bumped up its estimates for natural gas production and Henry Hub spot prices for the second half of 2020, amid increased use of gas for generation and returning market support for exports.  
If you would like to receive the Energy Market Update to your inbox weekly, please click here to submit your name and email address.
Disclaimer: This information is provided for the use of our customers and potential customers. Power Management Company assumes no responsibility or liability for the accuracy or completeness of pricing or information in this document. Historical data was obtained from sources that we believe to be reliable, but we do not guarantee its accuracy or completeness. It is not intended to provide advice or recommendation. Views are subject to change without