Electricity Markets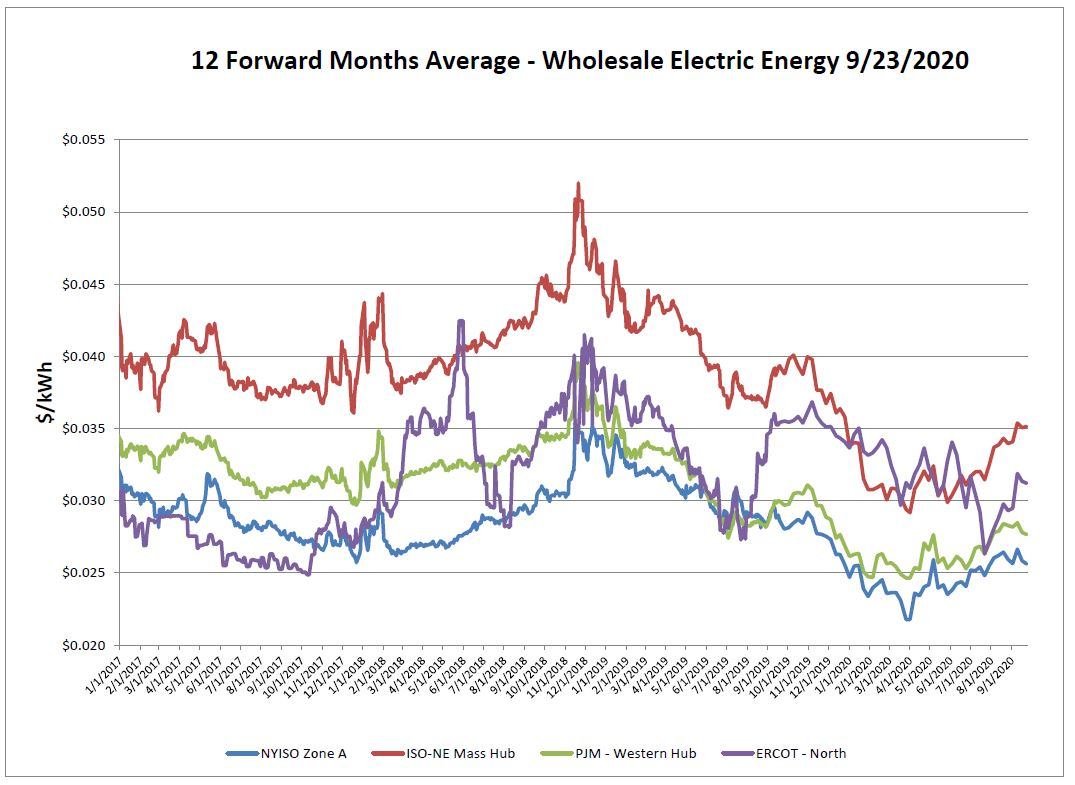 Not much change across the electric ISO's which was somewhat surprising as the patterns usually follow natural gas which has been quite volatile as of late.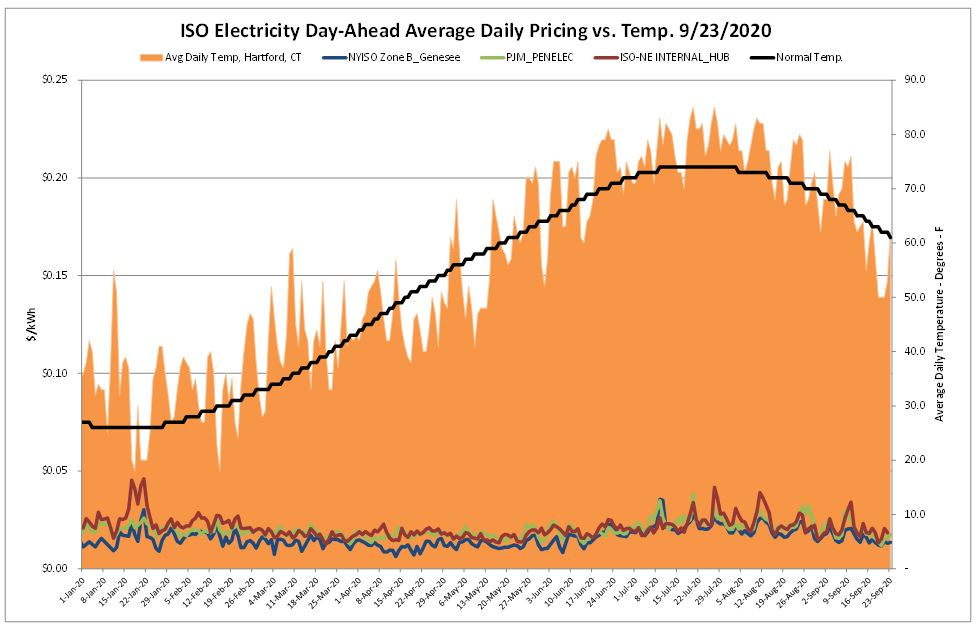 Cooler, well below normal temperatures were reported over the report week however the day-ahead market didn't react much
Natural Gas Markets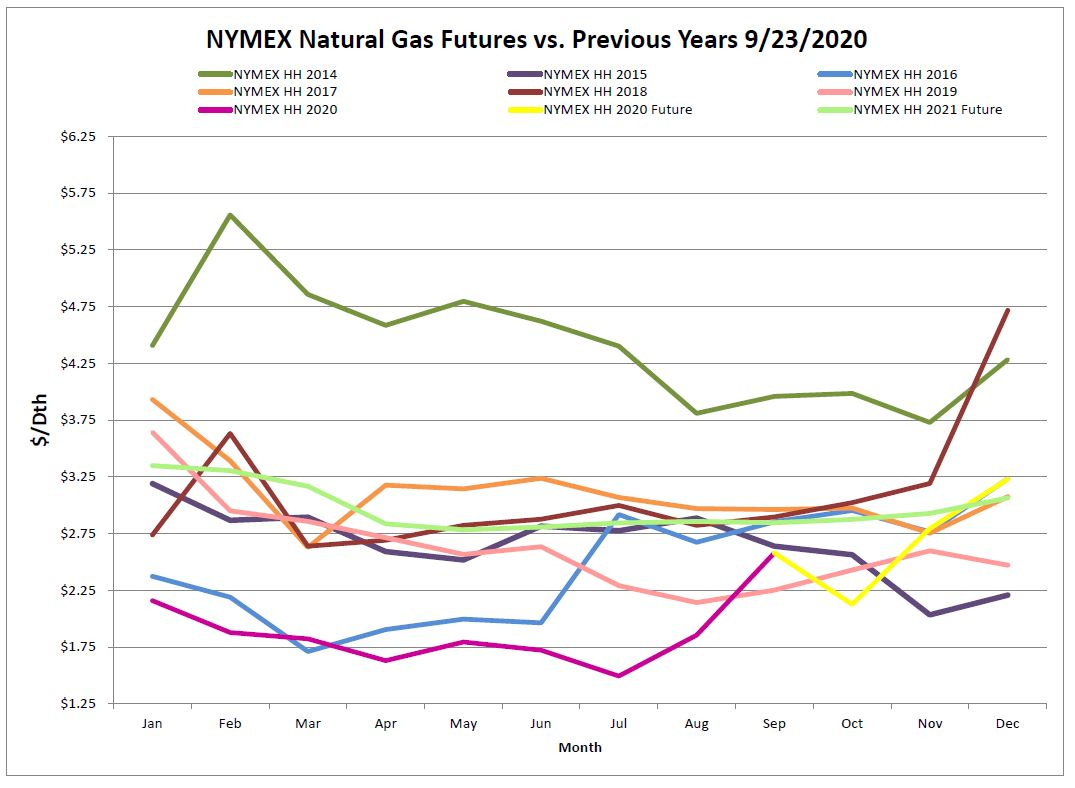 Natural gas traded all over the board over the report week as prices rallied up and down. Ultimately the prompt month was down at the close of the report week and the overall NYMEX 12-month strip was up $0.09. Hurricanes continue to threaten gas dynamics as the 2020 Atlantic hurricane season has the potential to be the most active in recorded history, currently in second place behind the 2005 season.
Futures as of 9/23/2020 versus previous week:
| | | |
| --- | --- | --- |
| Oct-20 | $2.125 | -$0.005 |
| Nov-20 | $2.794 | +$0.235 |
| Dec-20 | $3.229 | +$0.178 |
| Jan-21 | $3.348 | +$0.165 |
| Feb-21 | $3.303 | +$0.156 |
| Mar-21 | $3.165 | +$0.127 |
Natural Gas Inventory
According to EIA estimates working gas in storage was 3,680 Bcf as of Friday, September 18, 2020. This represents a net increase of 66 Bcf from the previous week. This injection was below the expectations of around 70 Bcf, and below both last year's injection of 97 Bcf and the 5-year average of 80 Bcf. The lower storage report may have added strength to the natural gas market prices.

The Baker Hughes exploration gas count increased 2 rigs over the report week for a total of 75. This is 71 fewer rigs than the 146 in operation at this time one year ago.
Weather Update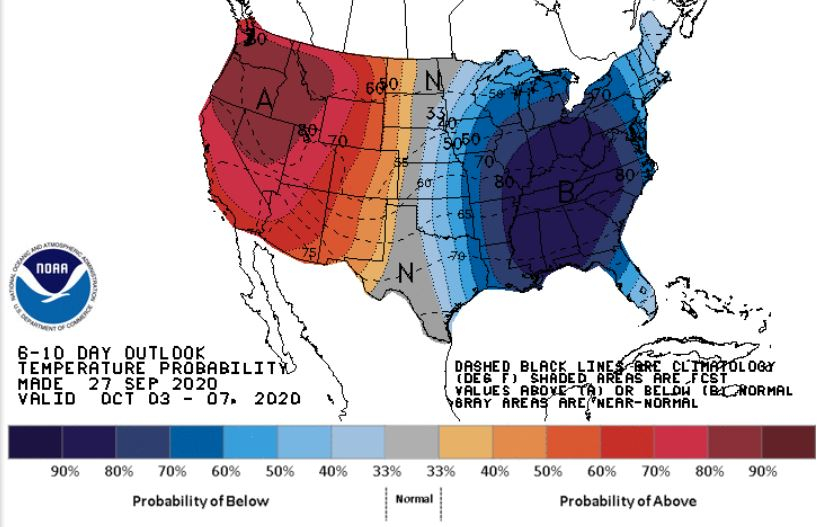 October is expected to come in with a cool start for the Eastern half of the CONUS. The West is still anticipated to experience warmer than normal temperatures.
National Weather Service Updates (NOAA)
Hurricane Watch: No Hurricanes
Click here to view the National Hurricane Center site.
Equatorial Pacific Outlook:
Click here to view La Nina and El Nino status.
Energy News
Enbridge gets signoff to start controversial Mass. compressor station
Enbridge Inc. received the go-ahead from the Federal Energy Regulatory Commission to begin service on a long-delayed component of the Atlantic Bridge pipeline expansion project: a 7,700-horsepower natural gas compressor station in Weymouth, Mass.
If you would like to receive the Energy Market Update to your inbox weekly, please click here to submit your name and email address.
Disclaimer: This information is provided for the use of our customers and potential customers. Power Management Company assumes no responsibility or liability for the accuracy or completeness of pricing or information in this document. Historical data was obtained from sources that we believe to be reliable, but we do not guarantee its accuracy or completeness. It is not intended to provide advice or recommendation. Views are subject to change without