Electricity Markets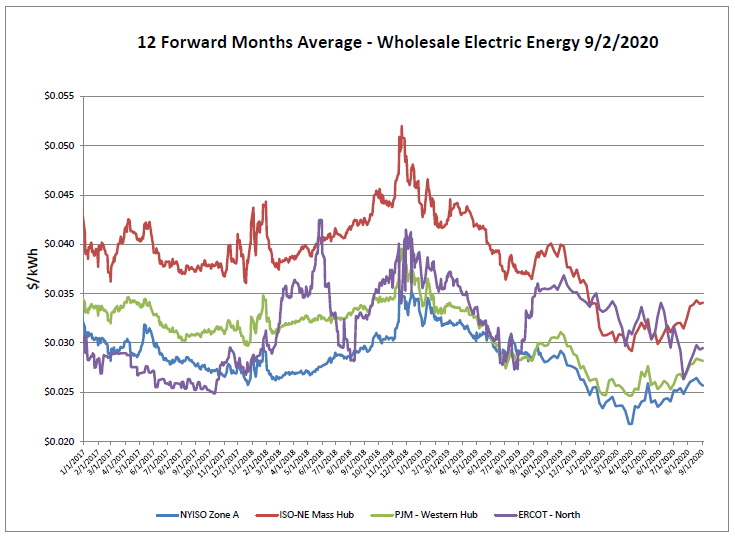 ERCOT and ISO-NE rose week-over-week in response to the increased underlying cost of gas.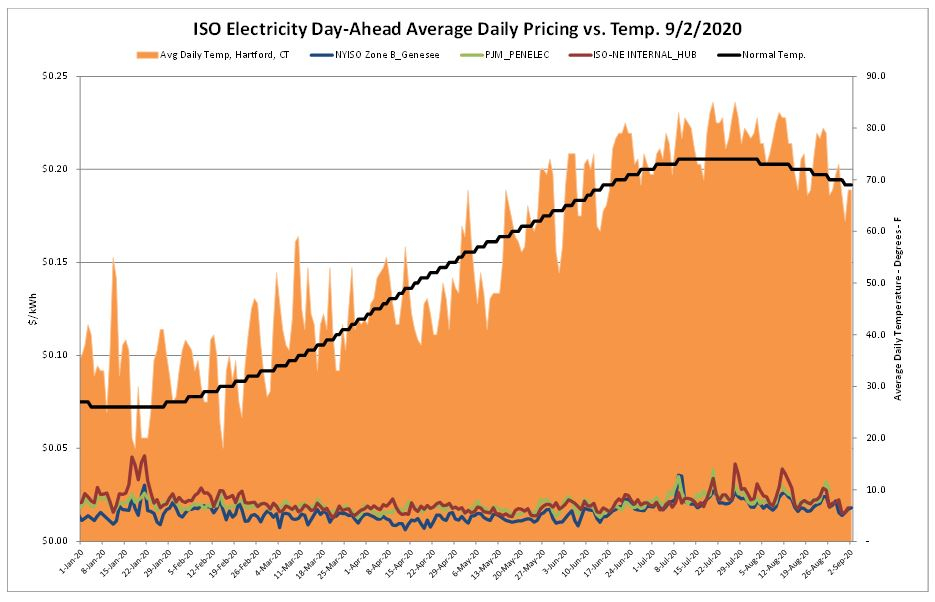 On or below-average daily temperatures led to a quiet week in the markets as demand dropped without the need for air conditioning.
Natural Gas Markets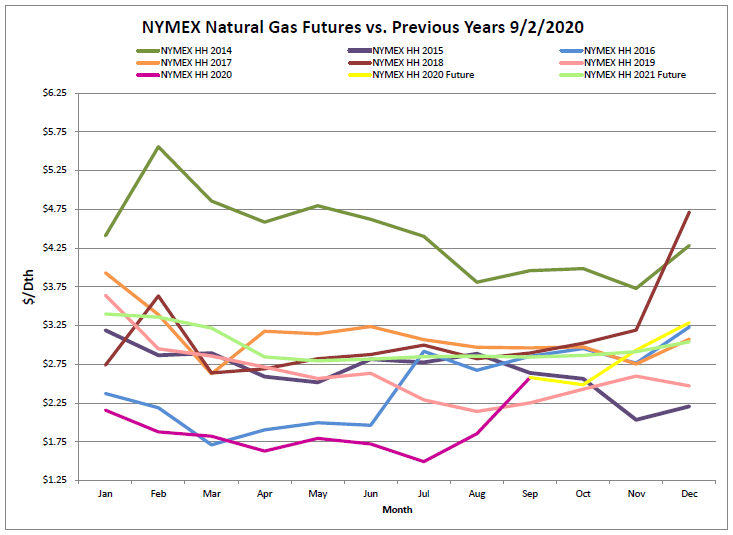 Natural gas pricing rose most substantially throughout the Winter 2020-2021 with December 2020 now trading above December 2021. Despite setting a new 5-year maximum in this week's storage report, a less-than-anticipated injection paired with concerns over the ability of production to keep up with demand during heating season appear to be behind the increase in costs.
Futures as of 9/2/2020 versus previous week:
| | | |
| --- | --- | --- |
| Oct-20 | $2.486 | -$0.088 |
| Nov-20 | $2.931 | +$0.106 |
| Dec-20 | $3.288 | +$0.177 |
| Jan-21 | $3.399 | +$0.173 |
| Feb-21 | $3.357 | +$0.176 |
| Mar-21 | $3.216 | +$0.169 |
Natural Gas Inventory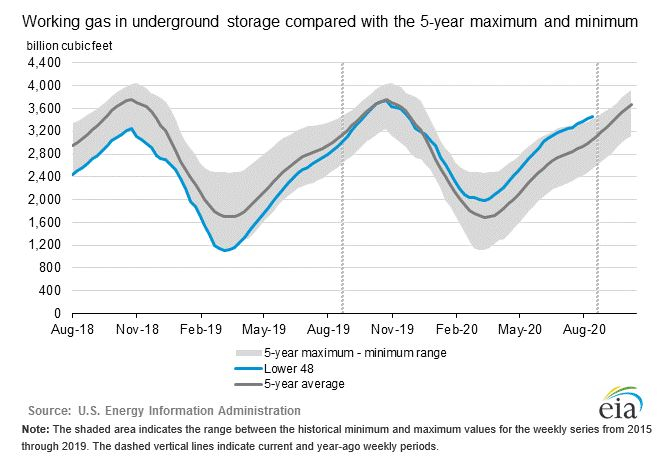 As of Friday, August 28, 2020 working gas in storage was 3,455 Bcf. According to EIA estimates this represents a net increase of 35 Bcf from the previous week. This was below market expectations as well as both last year's and the 5-year average, but did set a new 5-year maximum range for this time frame.

The Baker Hughes exploration gas count remained flat over the report week for a total of 72. This is 88 fewer rigs than the 160 in operation at this time one year ago.
Weather Update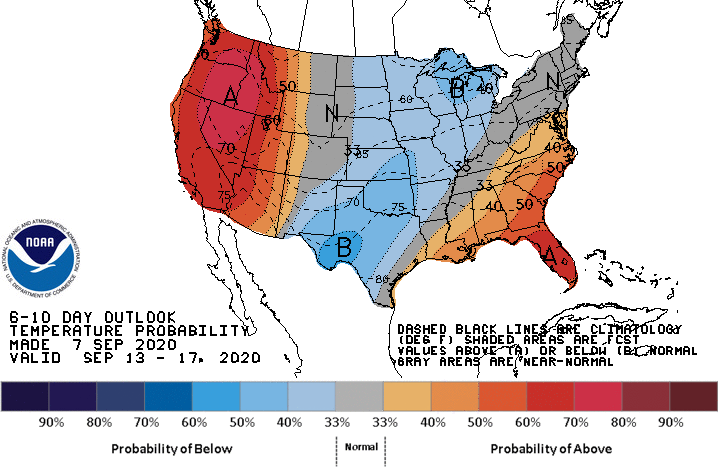 The 6-10 day forecast once again predicts above normal heat to continue for those in the West. Cooler than average temperatures are predicted for the central US with a small band of heat expected along the southern portion of the East Coast and Gulf states.
National Weather Service Updates (NOAA)
Hurricane Watch: Tropical Storms Paulette & Rene Click here to view the National Hurricane Center site.
Equatorial Pacific Outlook:
Click here to view La Nina and El Nino status.
Energy News
PJM forum evaluates technology to enhance power markets, grid operations
New York — PJM Interconnection launched a new stakeholder process called the Emerging Technology Forum to investigate the viability of new and evolving power grid technologies like data centers acting as flexible load and Dynamic Line Ratings to reduce transmission congestion.
US energy transition unfolding amid low power demand, gas prices: Platts Analytics
New York — State and federal policy aimed at mitigating climate change impacts along with economic shifts are set to dramatically impact US power markets over the next decade, as more coal and nuclear capacity is retired, while renewable energy capacity grows, S&P Global Platts Analytics said Sept. 2.
If you would like to receive the Energy Market Update to your inbox weekly, please click here to submit your name and email address.
Disclaimer: This information is provided for the use of our customers and potential customers. Power Management Company assumes no responsibility or liability for the accuracy or completeness of pricing or information in this document. Historical data was obtained from sources that we believe to be reliable, but we do not guarantee its accuracy or completeness. It is not intended to provide advice or recommendation. Views are subject to change without