Electricity Markets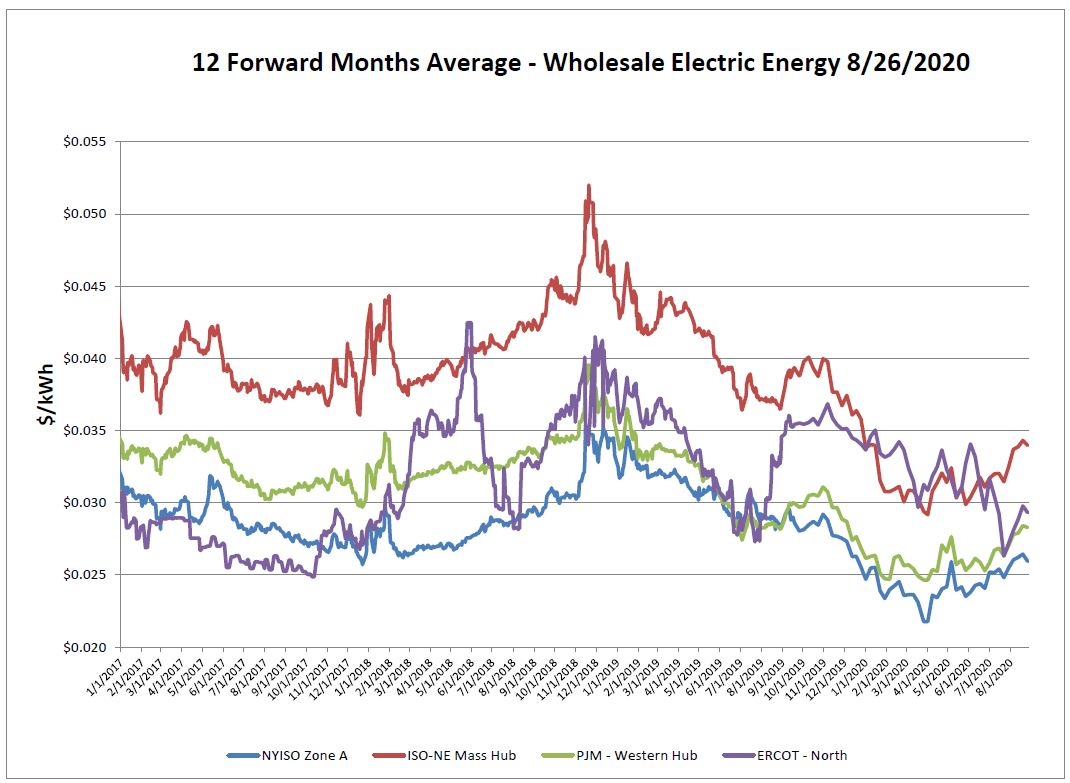 Electric markets showed minimal activity over the report week, with just minor decreases across each of the ISO's.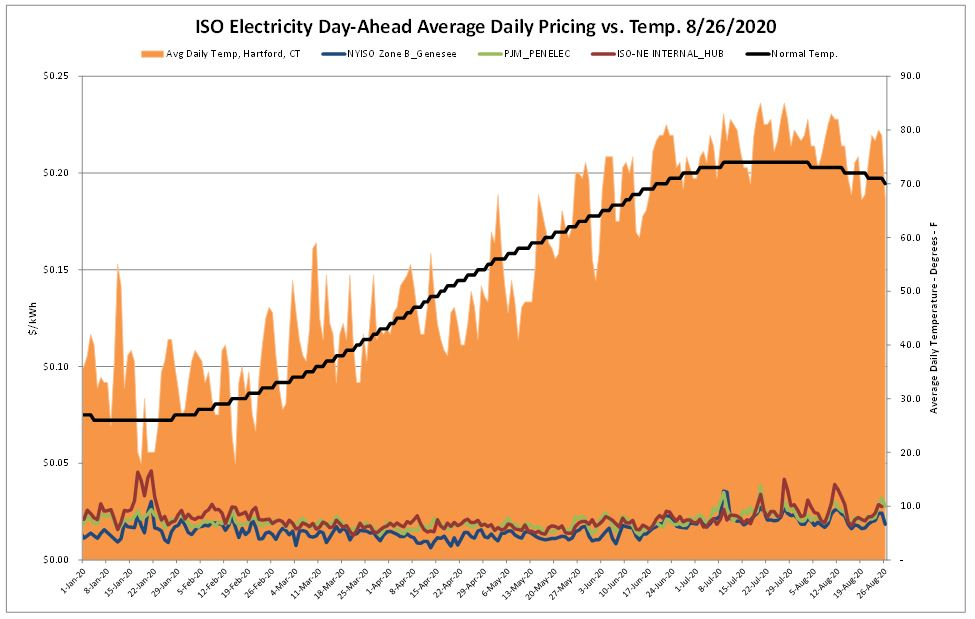 Likewise, the day-ahead market showed just subtle movement while temperatures still remain above-average.
Natural Gas Markets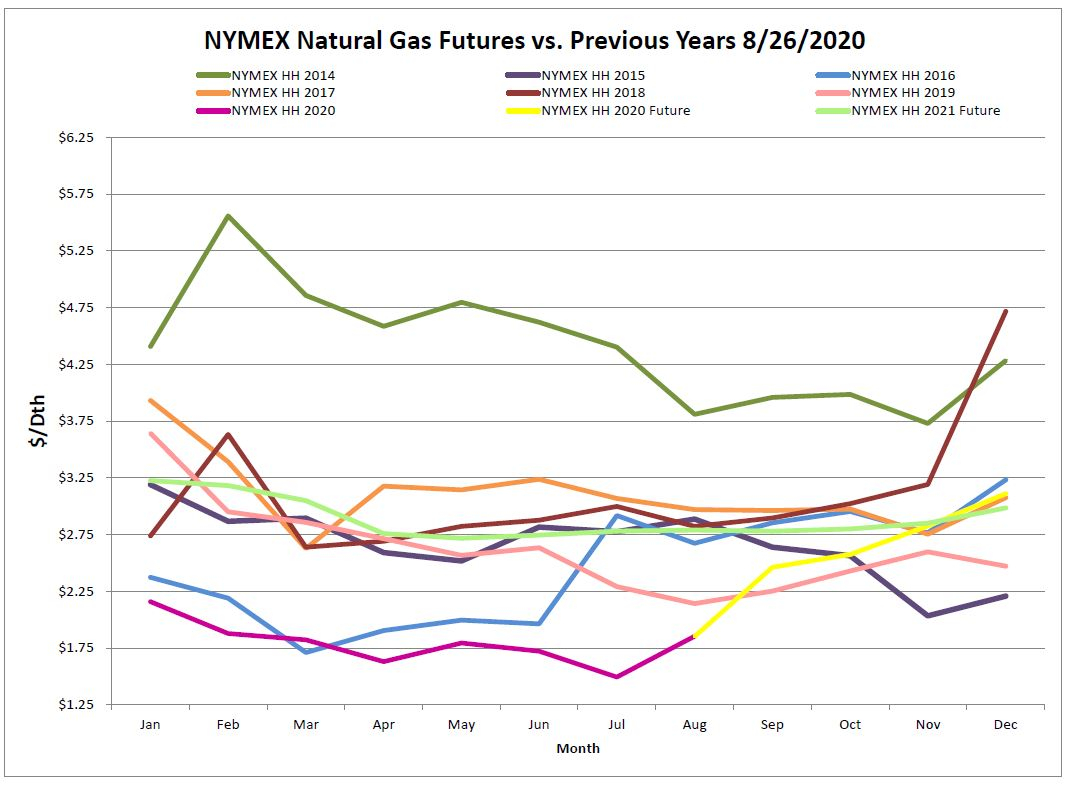 Hurricane Laura was the main driving force behind activity in the natural gas markets over the report week. Storms forced operators in the gulf to shut down operations due to the projected high wind as the path of the storm was in line with infrastructure for oil & gas production and exports. Natural gas prices may hang in limbo as analysts determine how much destruction has been done and how long will it take to get back to normal. The 2021 strip has continued to show strength over the past month, as uncertainty related to COVID, the presidential election and production output have all pushed prices higher.
Futures as of 8/26/2020 versus previous week:
| | | |
| --- | --- | --- |
| Sep-20 | $2.461 | +$0.035 |
| Oct-20 | $2.574 | +$0.011 |
| Nov-20 | $2.825 | -$0.043 |
| Dec-20 | $3.111 | -$0.041 |
| Jan-21 | $3.226 | -$0.029 |
| Feb-21 | $3.181 | -$0.022 |
Natural Gas Inventory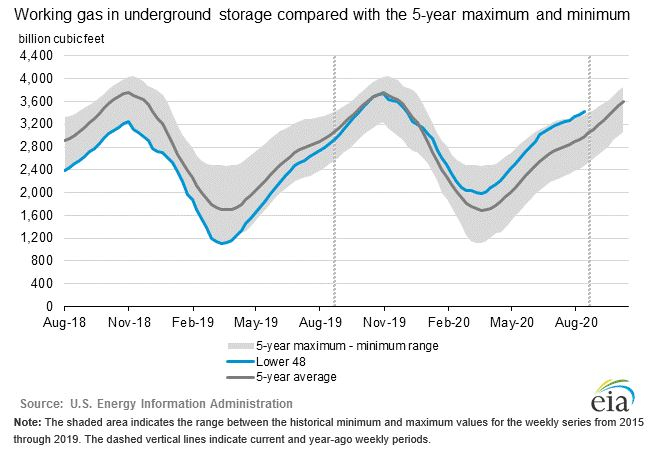 As of Friday, August 21, 2020 working gas in storage was 3,420 Bcf. According to EIA estimates this represents a net increase of 45 Bcf from the previous week. This was in line with market expectations. Last years net injection was 60 Bcf and the five-year average is 45 Bcf.

The Baker Hughes exploration gas count increased by 3 rigs over the report week for a total of 72. This is 90 fewer rigs than the 162 in operation at this time one year ago.
Weather Update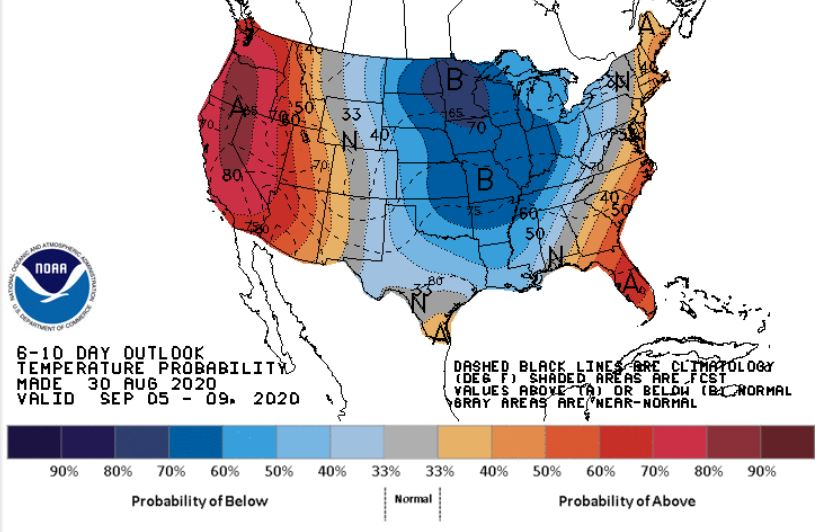 The 6-10 day forecast shows relentless heat is to continue for those in the West. The middle of the country on the other hand, is expected to have cooler than normal temperatures for the start of September.
National Weather Service Updates (NOAA)
Hurricane Watch: No Current Hurricanes Click here to view the National Hurricane Center site.
Equatorial Pacific Outlook:
Click here to view La Nina and El Nino status.
Energy News
NY focused on power grid reliability in wake of California blackouts
Extreme heat and a confluence of other factors recently led the California Independent System Operator to institute rolling blackouts in order to prevent wider power system failure.  
After loss at FERC, Exelon decides to retire Mystic gas-fired units in 2024
Exelon Corporation will retire its 1,700-MW Mystic River 8 and 9 power generating facility when a cost-of-service agreement spanning June 1, 2022, through May 31, 2024, expires.
If you would like to receive the Energy Market Update to your inbox weekly, please click here to submit your name and email address.
Disclaimer: This information is provided for the use of our customers and potential customers. Power Management Company assumes no responsibility or liability for the accuracy or completeness of pricing or information in this document. Historical data was obtained from sources that we believe to be reliable, but we do not guarantee its accuracy or completeness. It is not intended to provide advice or recommendation. Views are subject to change without