Electricity Markets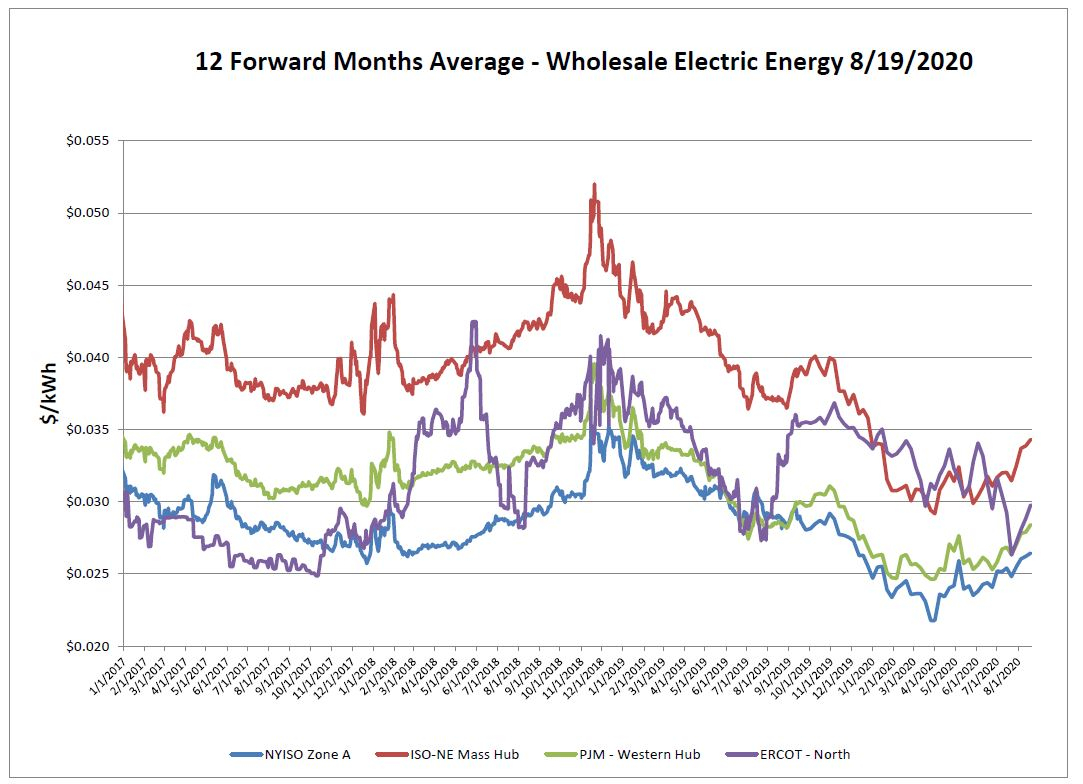 Electric prices are starting to march up, tied to the increase in the prices of natural gas. ISO- NE, NYISO & PJM are all trending upwards. Texas has shown the most volatility also related to high loads and increased temperatures.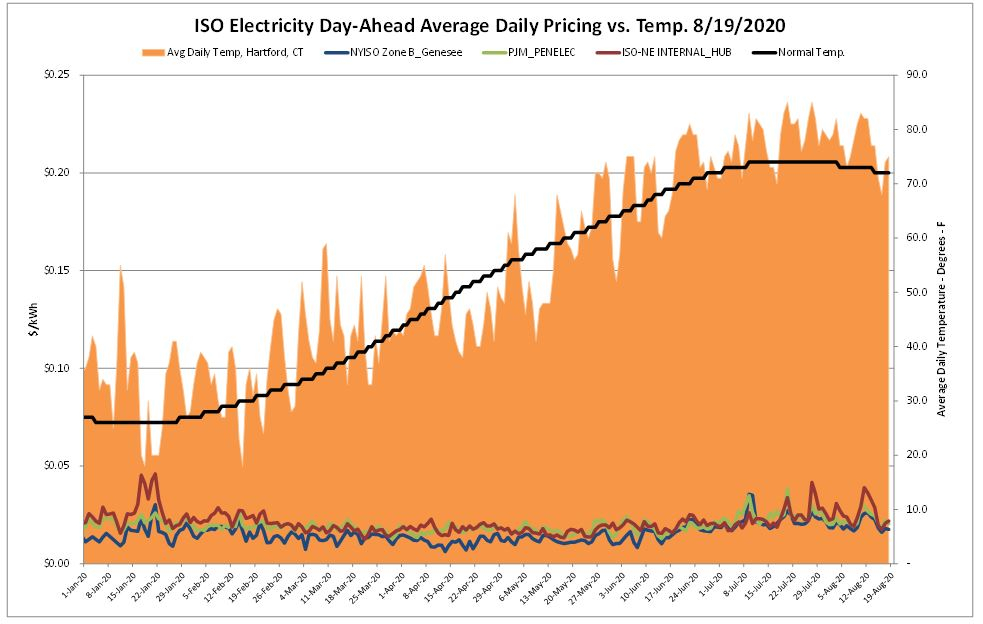 Electric day-ahead markets were more relaxed over the report week as temperatures mellowed out in relation to the averages.
Natural Gas Markets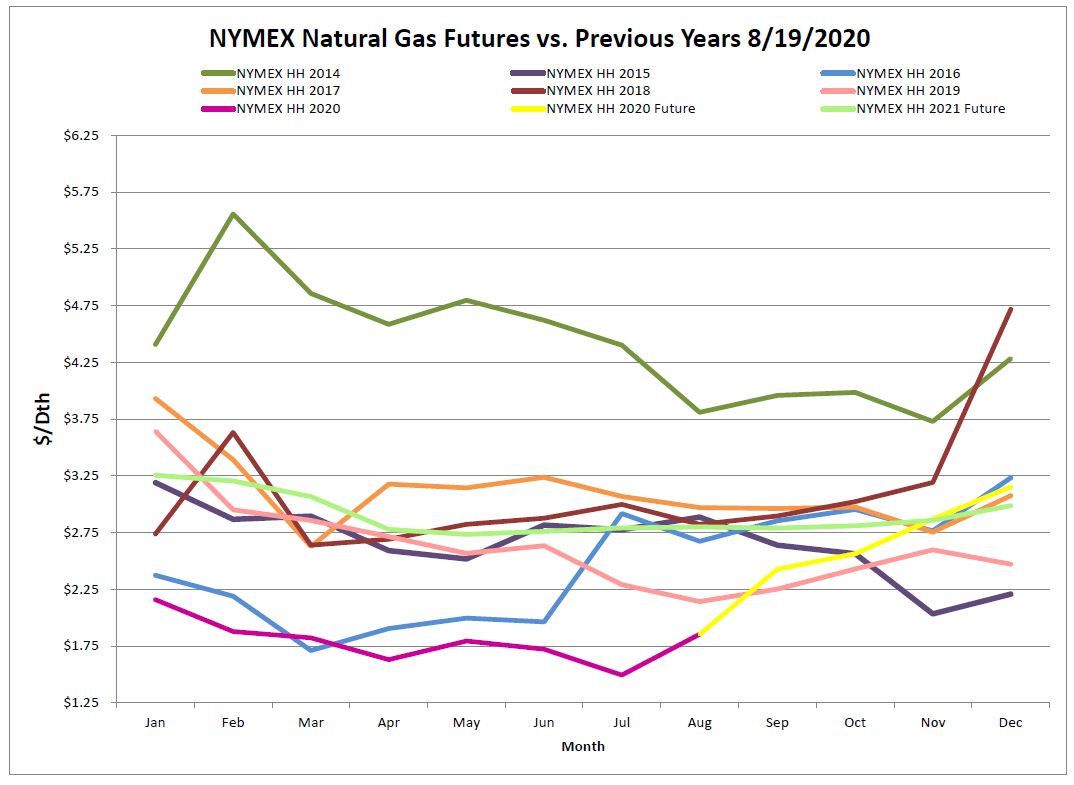 At the New York Mercantile Exchange, the price of the September 2020 contract increased a whopping $0.27 while the NYMEX 12-month strip climbed $0.15 and the Algonquin basis fell $0.05. The Dec'20-Mar'21 contracts are all now trading above the $3 mark. Market uncertainty lingers around growing demand and flattened supply for this upcoming winter. Increases may also reflect the price of oil starting to back off again and the doubt surrounding the upcoming elections.
Futures as of 8/19/2020 versus previous week:
| | | |
| --- | --- | --- |
| Sep-20 | $2.426 | +$0.274 |
| Oct-20 | $2.563 | +$0.266 |
| Nov-20 | $2.868 | +$0.196 |
| Dec-20 | $3.152 | +$0.155 |
| Jan-21 | $3.255 | +$0.154 |
| Feb-21 | $3.203 | +$0.148 |
Natural Gas Inventory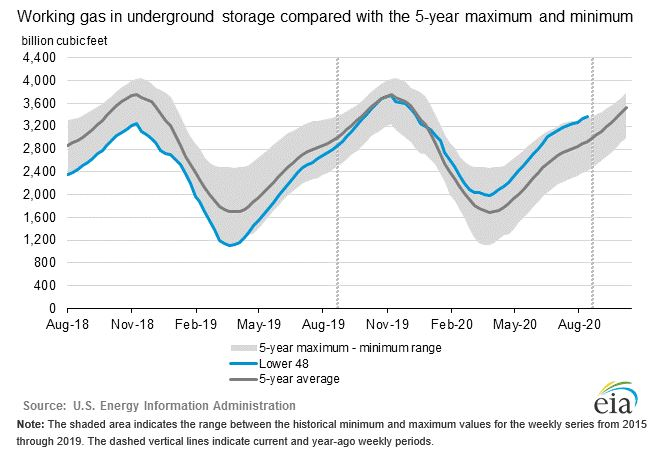 A 43 Bcf injection was reported for the week ending Friday, August 14, 2020. This exceed the expectation of an injection in the high 30's. Last years injection was 56 Bcf. Working gas in storage now stands at 3,375 Bcf.

The Baker Hughes exploration gas count decreased by one rig over the report week for a total of 69. This is 93 fewer rigs than the 162 in operation at this time one year ago.
Weather Update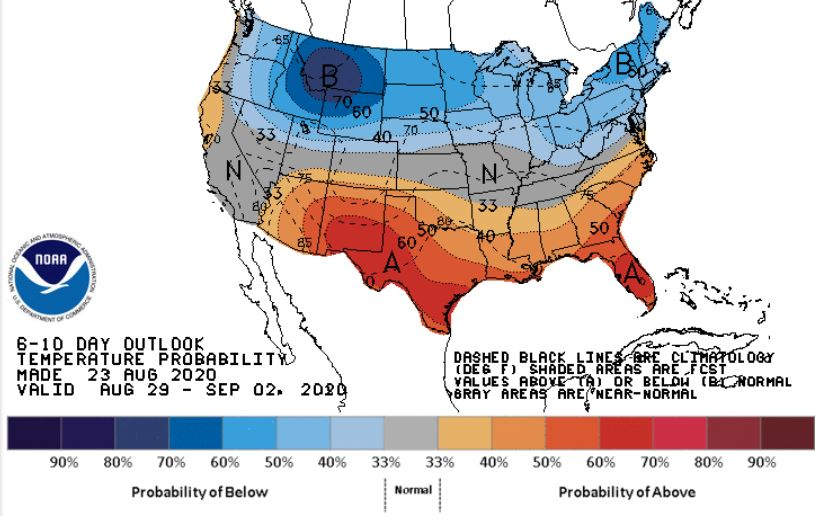 The Northeast is expected to experience a breath of fresh air as cooler weather moves in over the 6-10 day outlook. A pattern of warmer weather will make its way from Florida to Texas.
National Weather Service Updates (NOAA)
Hurricane Watch: No Current Hurricanes
Click here to view the National Hurricane Center site.
Equatorial Pacific Outlook:
Click here to view La Nina and El Nino status.
Energy News
WINTER WEATHER FORECAST 2021 FROM THE OLD FARMER'S ALMANAC
LIGHT WINTER FOR MANY, COLDER IN THE WEST
If you would like to receive the Energy Market Update to your inbox weekly, please click here to submit your name and email address.
Disclaimer: This information is provided for the use of our customers and potential customers. Power Management Company assumes no responsibility or liability for the accuracy or completeness of pricing or information in this document. Historical data was obtained from sources that we believe to be reliable, but we do not guarantee its accuracy or completeness. It is not intended to provide advice or recommendation. Views are subject to change without