Electricity Markets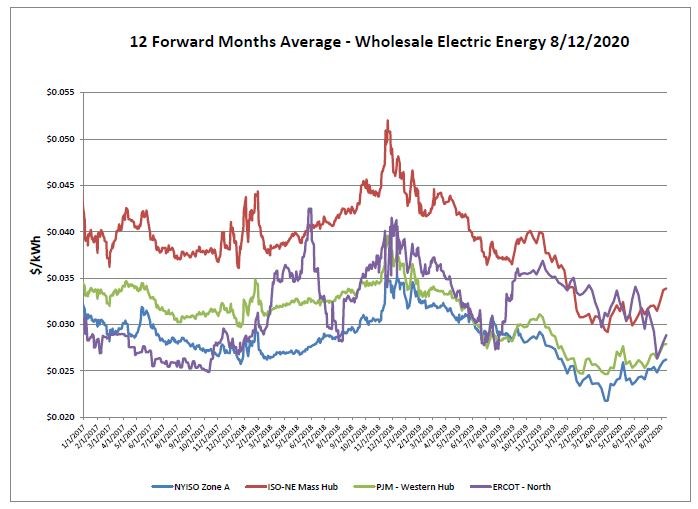 Quiet week over all with very slight increase in electric prices. Relatively tight range in comparison to last week when there was a more dramatic uptick in prices driven by the price of natural gas.
The report week brought multiple peak demand alerts for ERCOT as heat peaked throughout the week.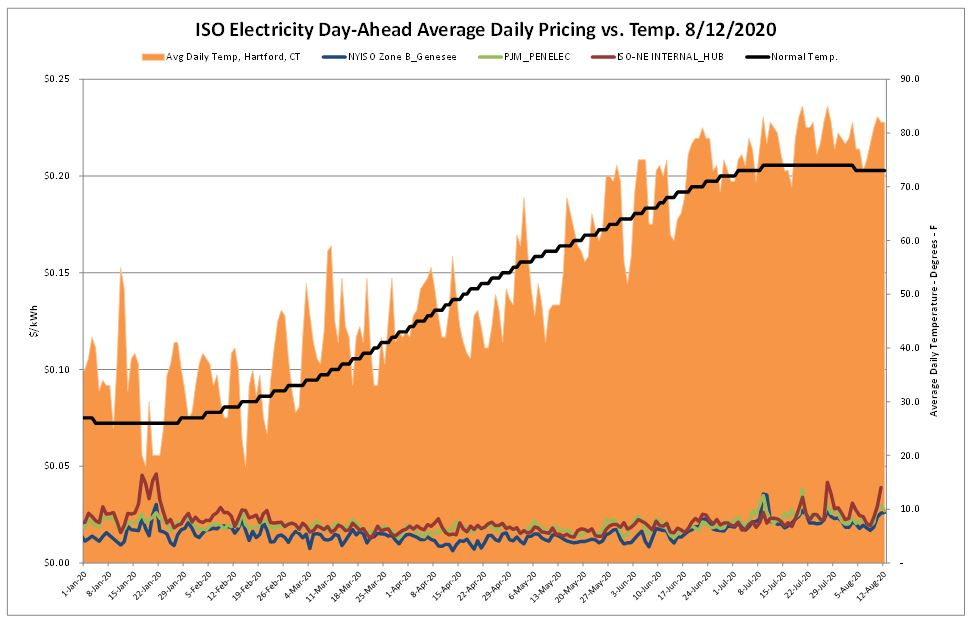 ISO-NE continued to show some volatility on the day-ahead electric market as temperatures remained above average for this time of year.
Natural Gas Markets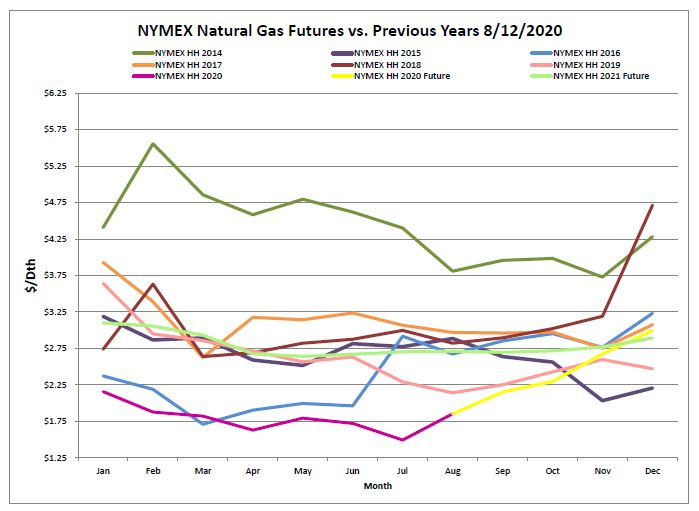 The NYMEX September 2020 contract decreased $0.04 over the report week while the 12-month strip went unchanged. The Algonquin basis was up $0.11 amid warmer-than-normal temperatures in the Boston region. The market is showing strength for the upcoming winter in spite of a strong storage outlook.
Futures as of 8/13/2020 versus previous week:
| | | |
| --- | --- | --- |
| Sep-20 | $2.152 | -$0.039 |
| Oct-20 | $2.297 | -$0.034 |
| Nov-20 | $2.672 | -$0.003 |
| Dec-20 | $2.997 | +$0.003 |
| Jan-21 | $3.101 | -$0.002 |
| Feb-21 | $3.055 | -$0.001 |
Natural Gas Inventory
A 58 Bcf injection was reported according to EIA estimates. Working gas in storage was 3,332 Bcf as of Friday, August 7, 2020. The average rate of injections into storage is 11% higher than the five-year average so far in the refill season. If the rate of injections into storage matched the five-year average for the remainder of the refill season, the total inventory would be 4,166 Bcf on October 31, which is 443 Bcf higher than the five-year average.

The Baker Hughes exploration gas count increased by one rig over the report week for a total of 70. This is 95 fewer rigs than the 165 in operation at this time one year ago.
Weather Update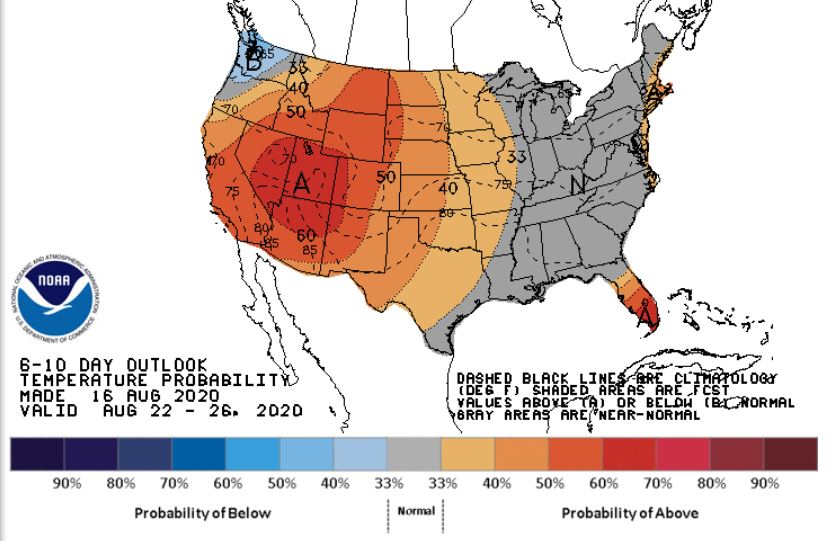 The NOAA 6-10 day outlook anticipates warmer weather to make a shift from the East to West Coast.
National Weather Service Updates (NOAA)
Hurricane Watch: No Current Hurricanes
Click here to view the National Hurricane Center site.
Equatorial Pacific Outlook:
Click here to view La Nina and El Nino status.
Energy News
ConEd, Eversource blasted by New York, Connecticut officials after 'wholly inadequate' storm response
New York and Connecticut officials chided electric utilities across the Northeast for a "wholly inadequate" response as outages persisted in the aftermath of a storm that ravaged the coastal region.
More than 100 coal-fired plants have been replaced or converted to natural gas since 2011
According to data from the U.S. Energy Information Administration (EIA), 121 U.S. coal-fired power plants were repurposed to burn other types of fuels between 2011 and 2019
If you would like to receive the Energy Market Update to your inbox weekly, please click here to submit your name and email address.
Disclaimer: This information is provided for the use of our customers and potential customers. Power Management Company assumes no responsibility or liability for the accuracy or completeness of pricing or information in this document. Historical data was obtained from sources that we believe to be reliable, but we do not guarantee its accuracy or completeness. It is not intended to provide advice or recommendation. Views are subject to change without