Electricity Markets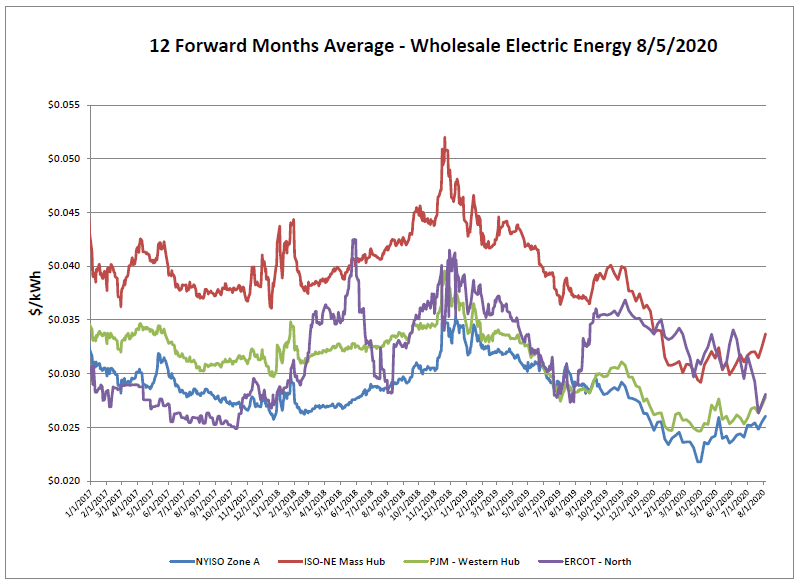 Forward pricing rose across all markets this past week in correlation with a dramatic increase in the underlying cost of natural gas. Uncharacteristically, ERCOT, which had dropped near $.015/kwh month-over-month due to the lack of a volatile July, took a sharp turn back up unrelated to summer heat.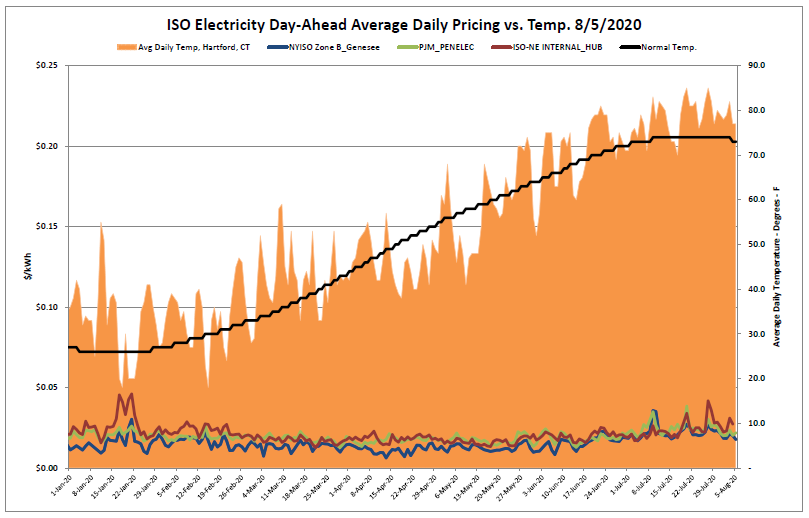 Prolonged summer heat has kept the day-ahead markets elevated as we move past the, statistically, warmest part of the year.
Natural Gas Markets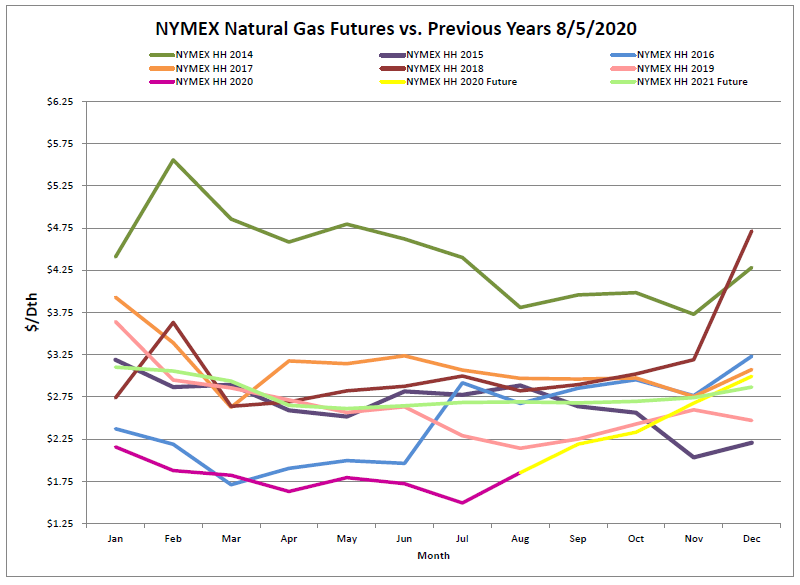 The NYMEX saw a dramatic increase week-over-week for the remainder of 2020, and the 12-month forward average is now at its highest since early 2019. Though Dec. '20 is now trading above Dec. '21, the forwards have moved into a historically-normal range.
Futures as of 8/5/2020 versus previous week:
| | | |
| --- | --- | --- |
| Sep-20 | $2.191 | +$0.261 |
| Oct-20 | $2.331 | +$0.252 |
| Nov-20 | $2.675 | +$0.137 |
| Dec-20 | $2.994 | +$0.098 |
| Jan-21 | $3.103 | +$0.093 |
| Feb-21 | $3.056 | +$0.081 |
Natural Gas Inventory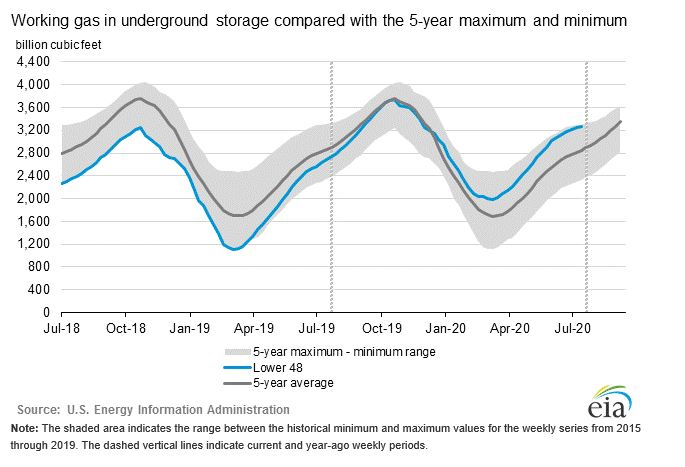 According to EIA estimates a net increase of 33 Bcf from the previous week was reported. As of Friday, July 31, 2020 working gas in storage was 3,274 Bcf. This injection was on par with the 5-year average and continues to hold current storage levels in line with the 5-year maximum.
The Baker Hughes exploration gas count held steady over the report week for a total of 69. This is 100 fewer rigs than the 169 in operation at this time one year ago.
Weather Update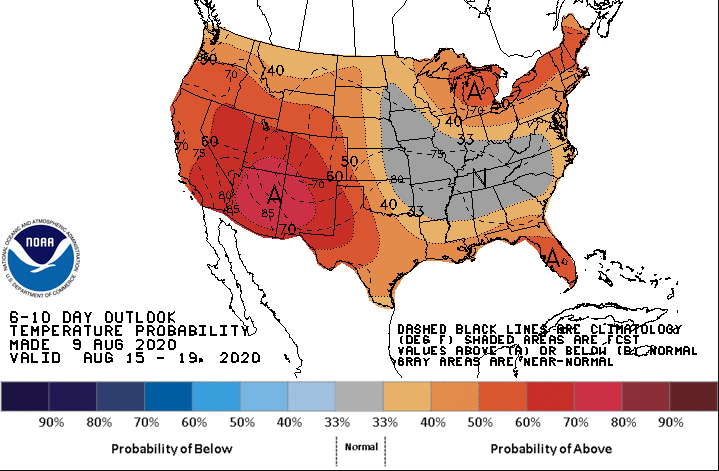 Warmer than normal temperatures are expected throughout much of the United States with the highest probability falling over the Southwest.
National Weather Service Updates (NOAA)
Click here
to view the National Hurricane Center site. Equatorial Pacific Outlook:
Click here
to view La Nina and El Nino status.
Energy News
NYISO Tracker: Warmer weather, higher load pull up power, gas prices
Houston — Above-normal temperatures in July drove up New York Independent System Operator cooling demand, leading to a average of a 31% month-on-month jump in wholesale power prices as well as an 18% jump in spot gas prices.
Coal-fired power generation in PJM could see brief 2021 comeback
New York — PJM Interconnection coal-fired power generation could recover from recent low levels in 2021 with an anticipated natural gas price resurgence that would improve coal generation economics, but then coal use could taper off again, S&P Global Platts Analytics said. If you would like to receive the Energy Market Update to your inbox weekly, please
click here
 to submit your name and email address.
Disclaimer
: This information is provided for the use of our customers and potential customers. Power Management Company assumes no responsibility or liability for the accuracy or completeness of pricing or information in this document. Historical data was obtained from sources that we believe to be reliable, but we do not guarantee its accuracy or completeness. It is not intended to provide advice or recommendation. Views are subject to change without notice.