Electricity Markets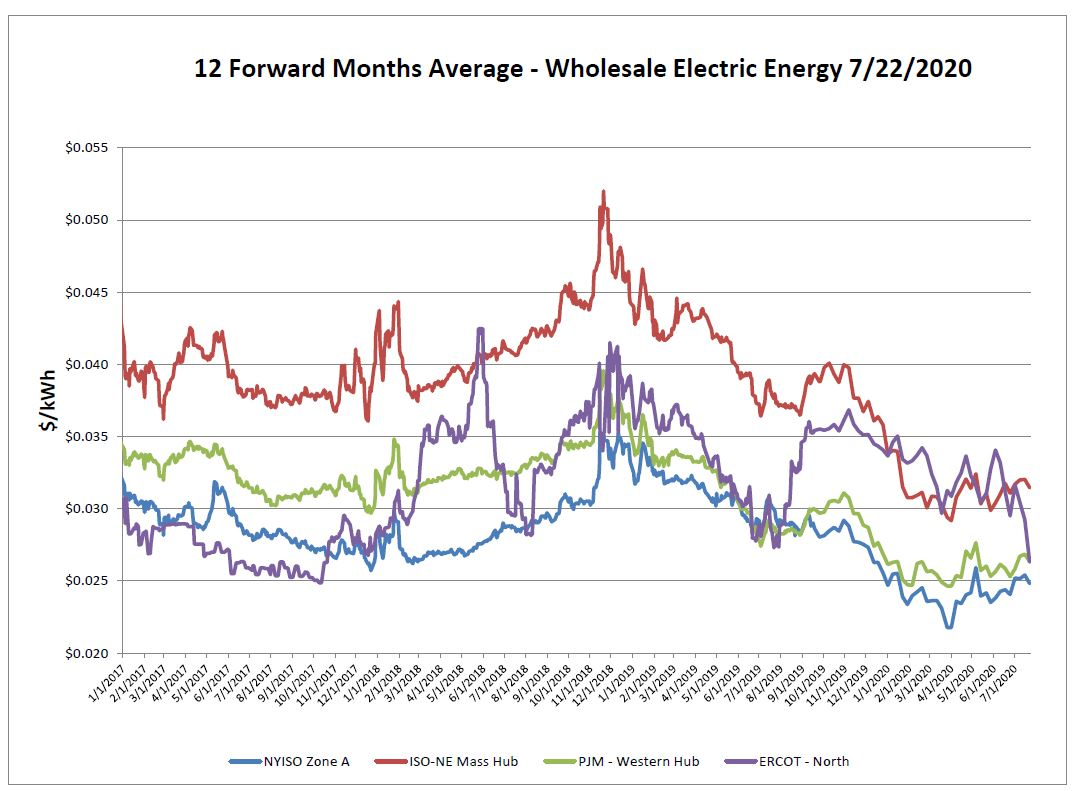 ERCOT forward electric market came way down over the report week, even with the warm temperatures and high loads. Wind generation has been constant and given comfort to TX, causing prices to level out.
The remaining ISO's are all down week over week. It's a positive sign that there have been no big price spikes regardless of hitting peak loads Monday 7/20 in NYISO, ISO-NE and PJM. All areas are expected to hit a new peak load today 7/27.
ISO-NE announced that they have approved funding to put more renewable energy programs in place, likely consisting of nuclear and hydro generation. The requirement to buy that energy is predicted to be a regulatory change that is passed on to energy users.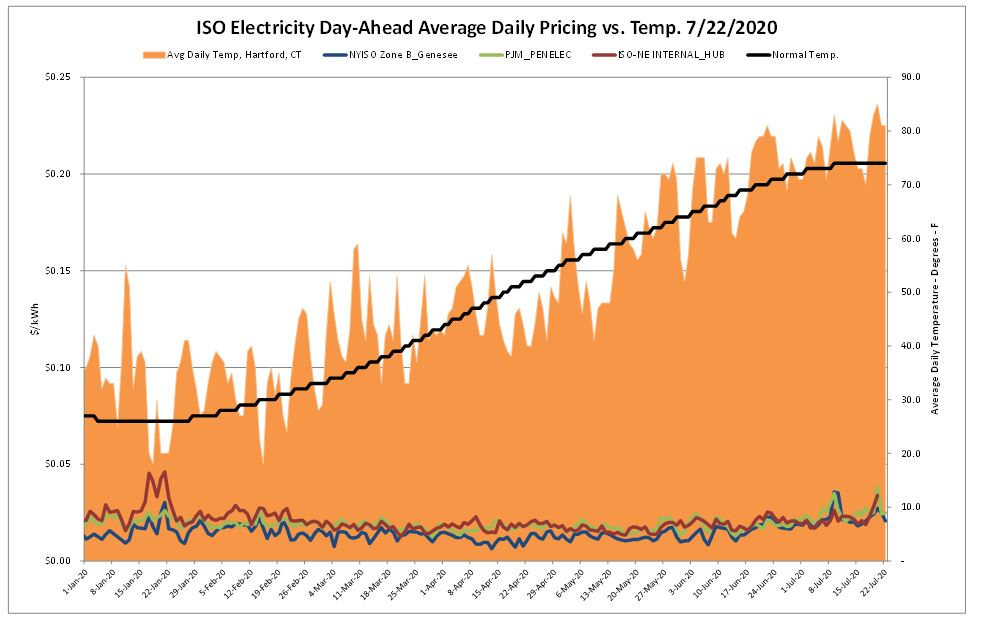 Temperatures have reached what is historically the hottest point of the summer, and most regions are feeling the effects this year. Another volatile week on the day-ahead market and NYISO, ISO-NE and PJM all hit peak demand days on 7/20.
Natural Gas Markets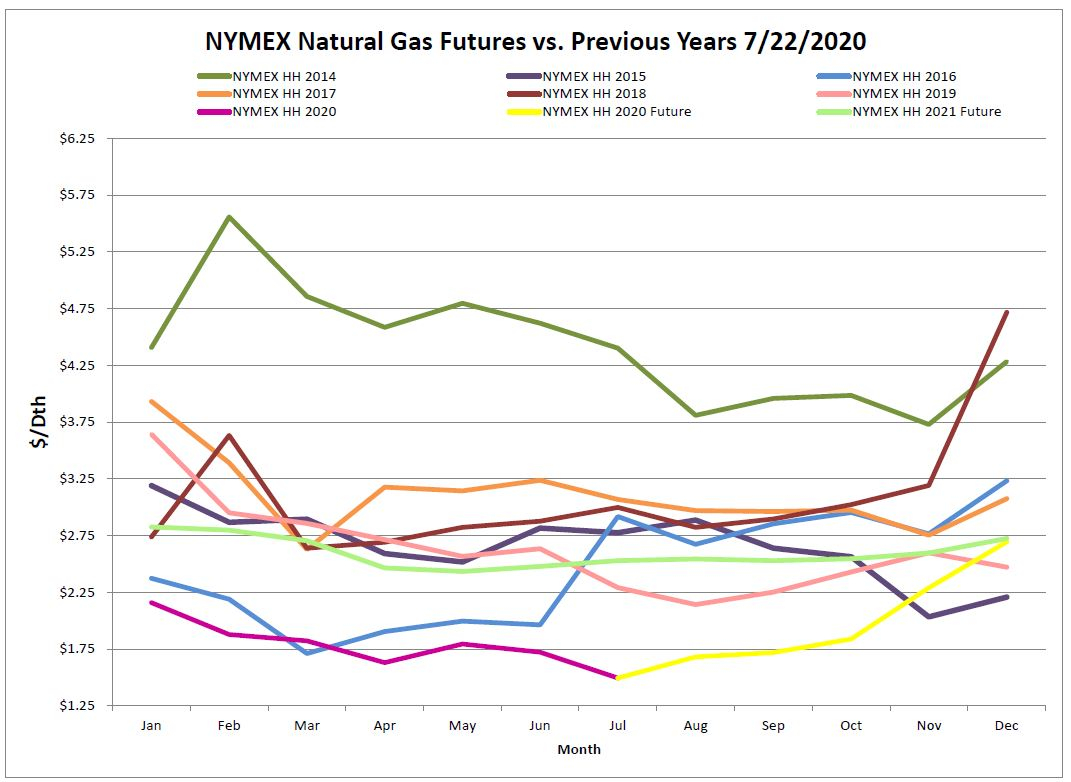 The price of the August 2020 NYMEX contract decreased nearly $0.10 week over week. The price of the 12-month strip averaging August 2020 through July 2021 futures contracts declined $0.05 to $2.37.
Futures as of 7/22/2020 versus previous week:
| | | |
| --- | --- | --- |
| Aug-20 | $1.681 | -$0.097 |
| Sep-20 | $1.718 | -$0.100 |
| Oct-20 | $1.838 | -$0.079 |
| Nov-20 | $2.288 | -$0.078 |
| Dec-20 | $2.694 | -$0.066 |
| Jan-21 | $2.826 | -$0.062 |
Natural Gas Inventory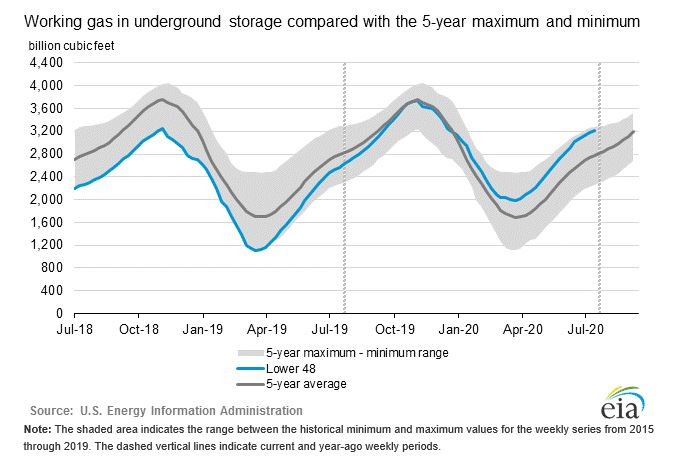 The EIA reported a net increase of 37 Bcf from the previous week. Working gas in storage was 3,215 Bcf as of Friday, July 17, 2020. Stocks are 656 Bcf higher than last year at this time and 436 Bcf above the five-year average.  

The Baker Hughes exploration gas count decreased by 3 rigs over the report week for a total of 68. This is 101 fewer rigs than the 169 in operation at this time one year ago.
Weather Update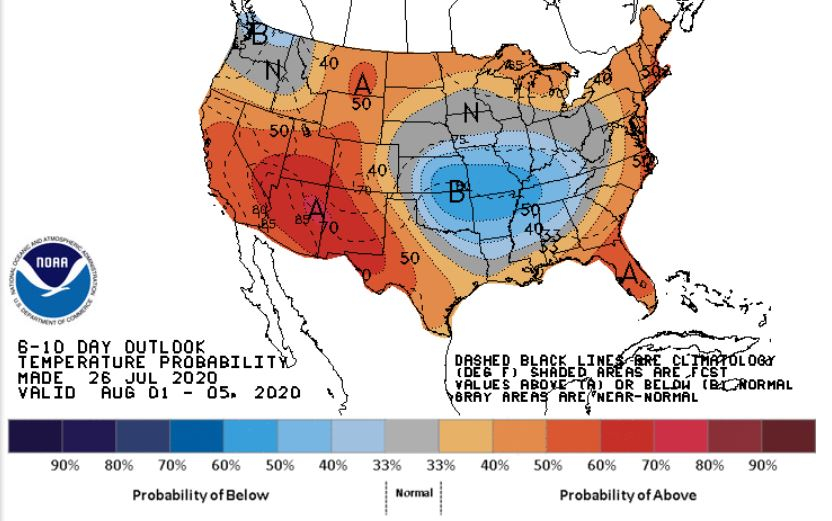 The beginning of August is predicted to bring some slightly less intense weather than has been experienced over the last few weeks. Milder temperatures are expected along the East coast specifically as well as cooler temperatures for parts of the Midwest and South.
National Weather Service Updates (NOAA)
Hurricane Watch: Hurricane Douglas
Click here to view the National Hurricane Center site.
Equatorial Pacific Outlook:
Click here to view La Nina and El Nino status.
Energy News
Second heat wave in Western Pa. strains power grid but utilities handle extra demand
Jul. 21–This summer's heat has pushed the mercury to 90 degrees and higher for 11 days, prompting people to keep the air conditioners humming day and night.  
If you would like to receive the Energy Market Update to your inbox weekly, please click here to submit your name and email address.
Disclaimer: This information is provided for the use of our customers and potential customers. Power Management Company assumes no responsibility or liability for the accuracy or completeness of pricing or information in this document. Historical data was obtained from sources that we believe to be reliable, but we do not guarantee its accuracy or completeness. It is not intended to provide advice or recommendation. Views are subject to change without notice.