Electricity Markets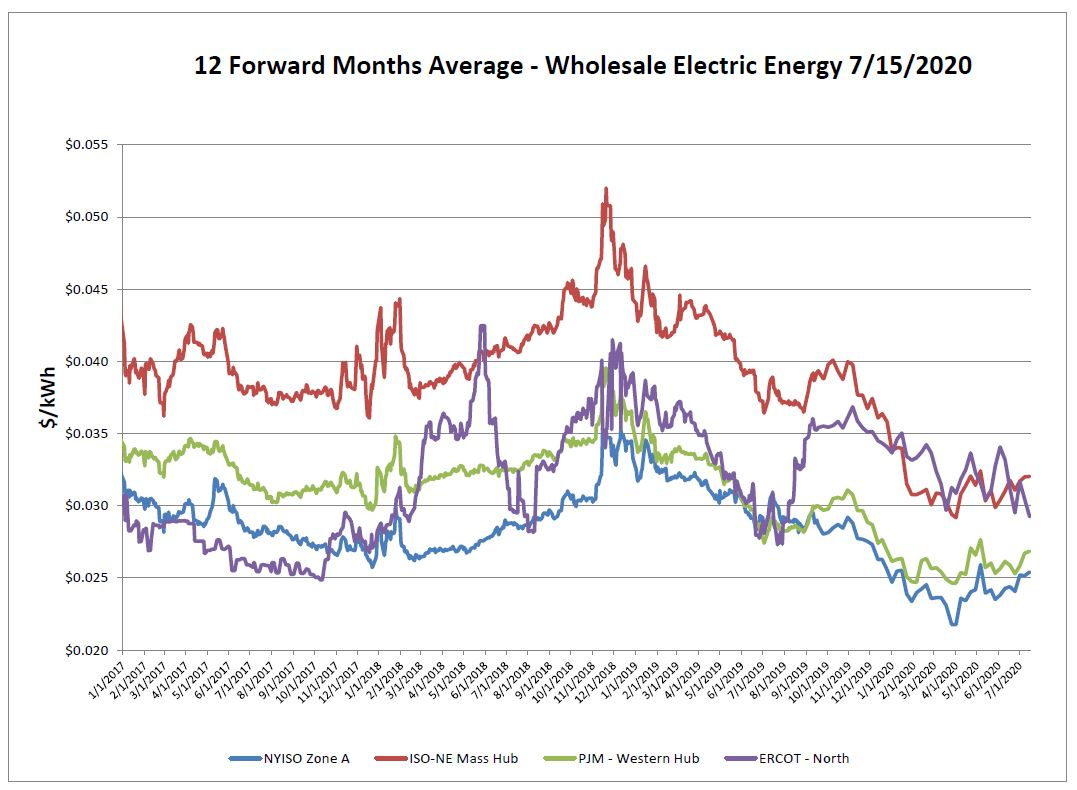 NYISO, PJM & ISO-NE all saw some slight gains on the electric market over the report week.  Future prices continue to trade higher than the near-term. Still in a good range, but not at the lows we have seen. ERCOT was down over the report week however we have a lot of summer to go, and Texas is still at risk.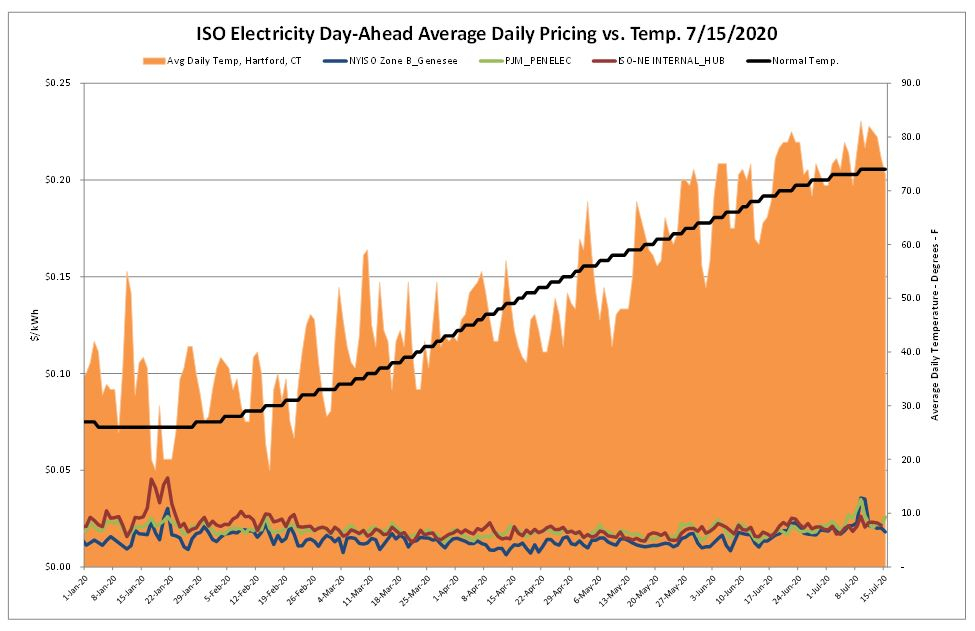 The day-ahead markets demonstrated some volatility as a result of very warm temperatures. These recent spikes have been the most volatile since the January time frame. However loads continue to be much below normal.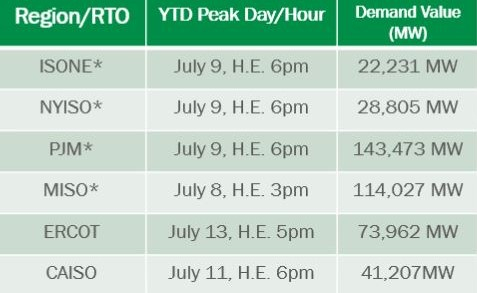 Outlined above are the current year to date peak demand dates that have been set. Loads are much below the usual demand set for this time of year. Please be advised there is a new peak potential expected for today in NYISO, ISO-NE & PJM.
Natural Gas Markets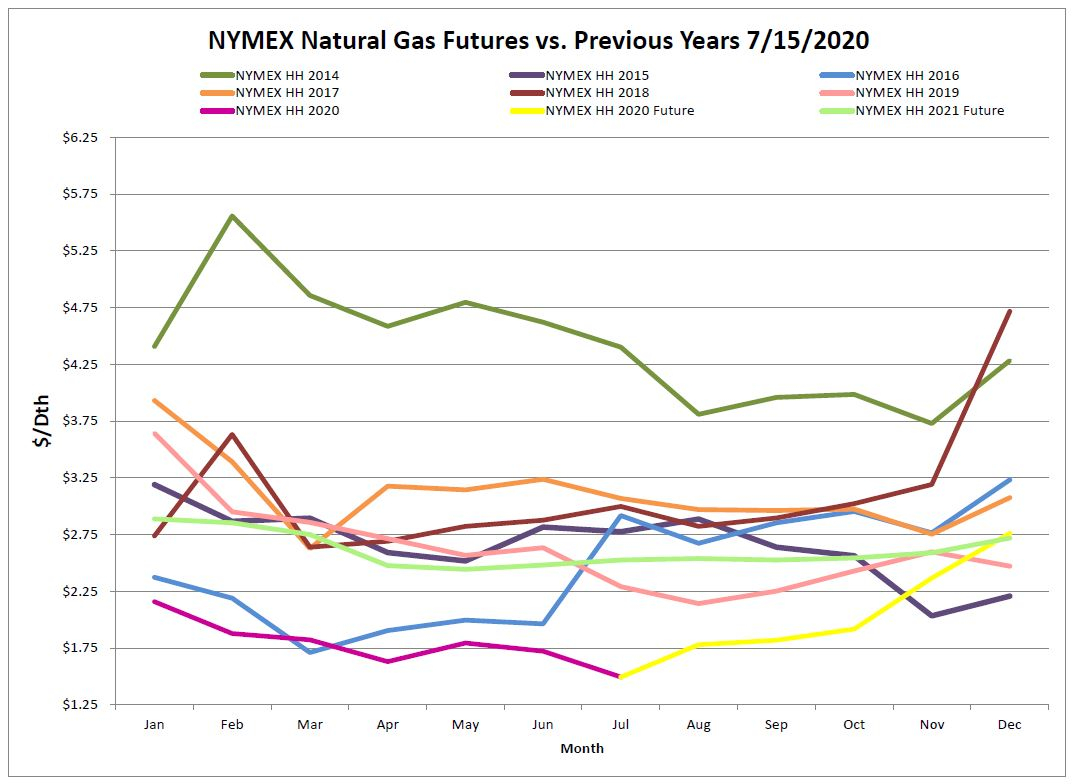 Week over week natural gas prices are down slightly. Overall the market has shown little price movement since mid-May. While this type of summer weather would normally prompt a rally to the gas markets it currently has been much of a factor. Production continues to be steady, LNG exports and industrial demand are still down and power burns are up.
Futures as of 7/15/2020 versus previous week:
| | | |
| --- | --- | --- |
| Aug-20 | $1.778 | -0.091 |
| Sep-20 | $1.818 | -$0.098 |
| Oct-20 | $1.917 | -$0.094 |
| Nov-20 | $2.366 | -$0.028 |
| Dec-20 | $2.760 | -$0.019 |
| Jan-21 | $2.888 | -$0.013 |
Natural Gas Inventory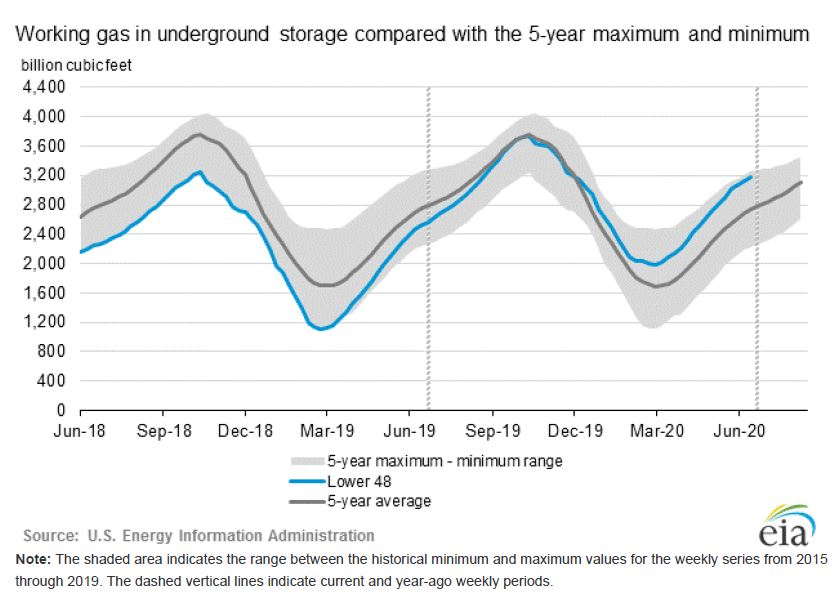 As of Friday, July 10, 2020, working gas in storage was 3,178 Bcf. This represents a net increase of 45 Bcf from the previous week. This compares to last years injection of 67 Bcf and the 5-year average of 63 Bcf.

The Baker Hughes exploration gas count increased by four rigs over the report week for a total of 71. This is 103 fewer rigs than the 174 in operation at this time one year ago.
Weather Update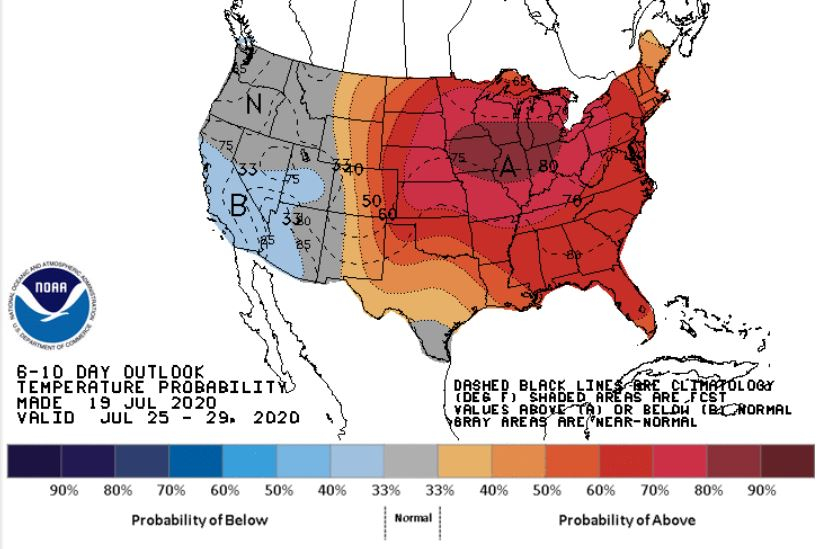 The 6-10 day forecast anticipates the blanket of heat covering the Northeast will spread westward into the Great Lakes region. All top 10 hottest summers have been in the 2000's. If temperatures stay on the current track into August, this year could come in 1st or 2nd. In addition, weather experts are expecting an active tropical season.
National Weather Service Updates (NOAA)
Hurricane Watch: No Current Hurricanes
Click here to view the National Hurricane Center site.
Equatorial Pacific Outlook:
Click here to view La Nina and El Nino status.
Energy News
ISO-NE Proposes to Advance Eversource and National Grid Ready Path Solution to Ensure Reliability When Mystic Generating Station Retires in 2024
The Ready Path Solution, a collaboration between Eversource and National Grid to improve the region's energy system reliability, has been singled out by Independent System Operator-NE, the region's power grid manager, as the cost-effective solution to maintain grid reliability following the retirement of the Mystic Generating Station in 2024.
If you would like to receive the Energy Market Update to your inbox weekly, please click here to submit your name and email address.
Disclaimer: This information is provided for the use of our customers and potential customers. Power Management Company assumes no responsibility or liability for the accuracy or completeness of pricing or information in this document. Historical data was obtained from sources that we believe to be reliable, but we do not guarantee its accuracy or completeness. It is not intended to provide advice or recommendation. Views are subject to change without notice.