Electricity Markets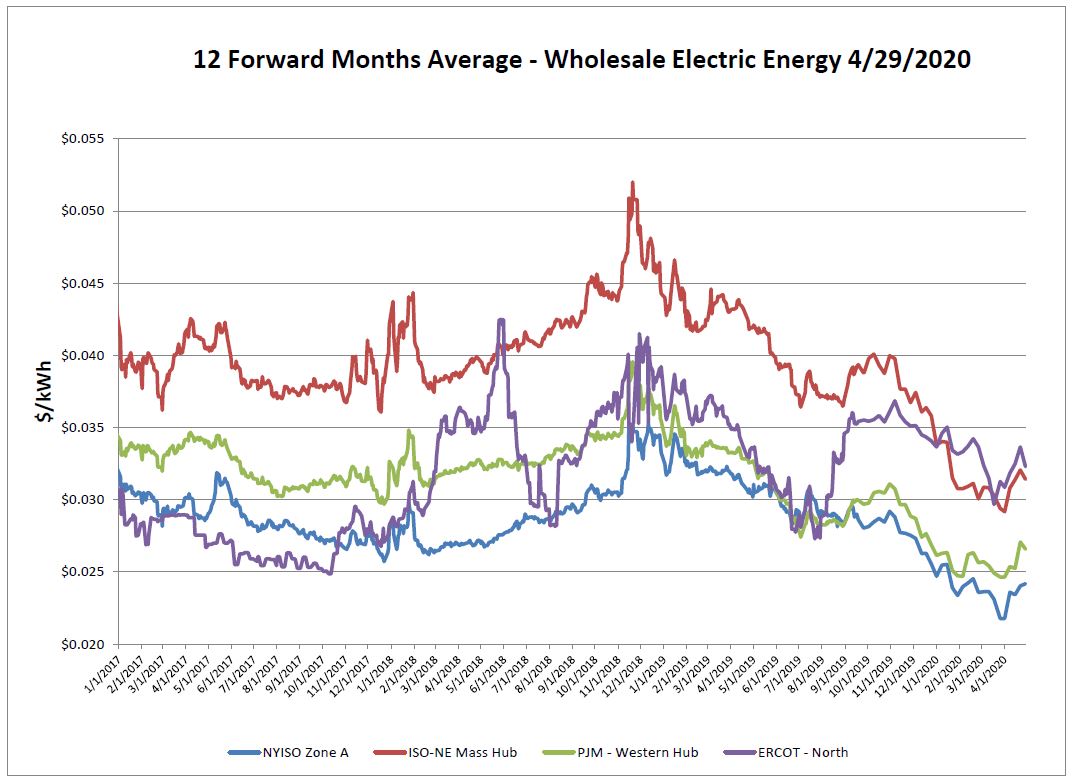 With the exception of NYISO, the rest of the ISO's moved down slightly following lower natural gas prices over the report week. NYISO trended up just slightly, possibly tied to Indian Point being close to going offline.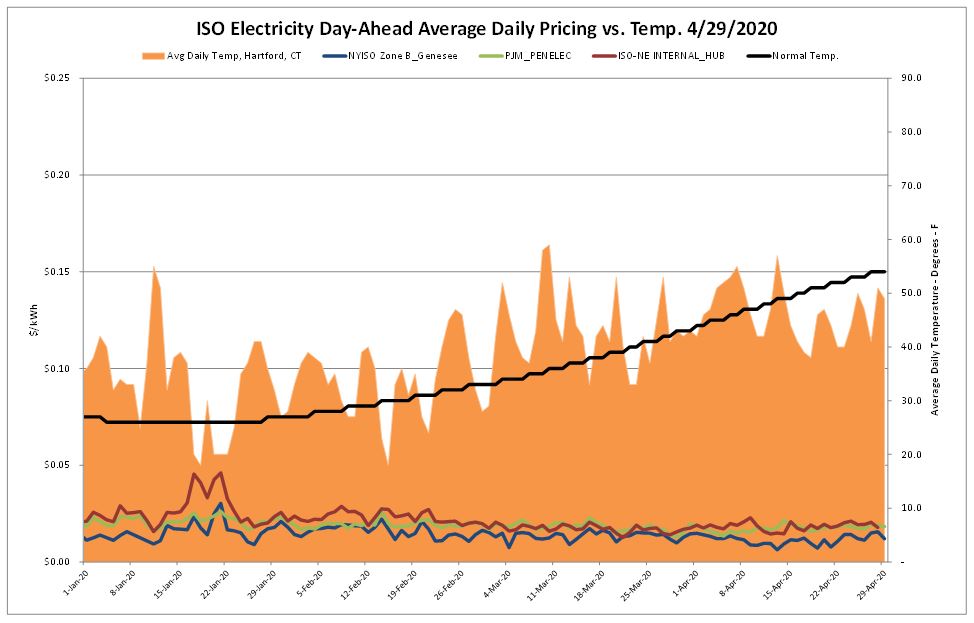 Temperatures continued to trend below normal for this time of year. The day-ahead market held steady with little variation in prices.
Natural Gas Markets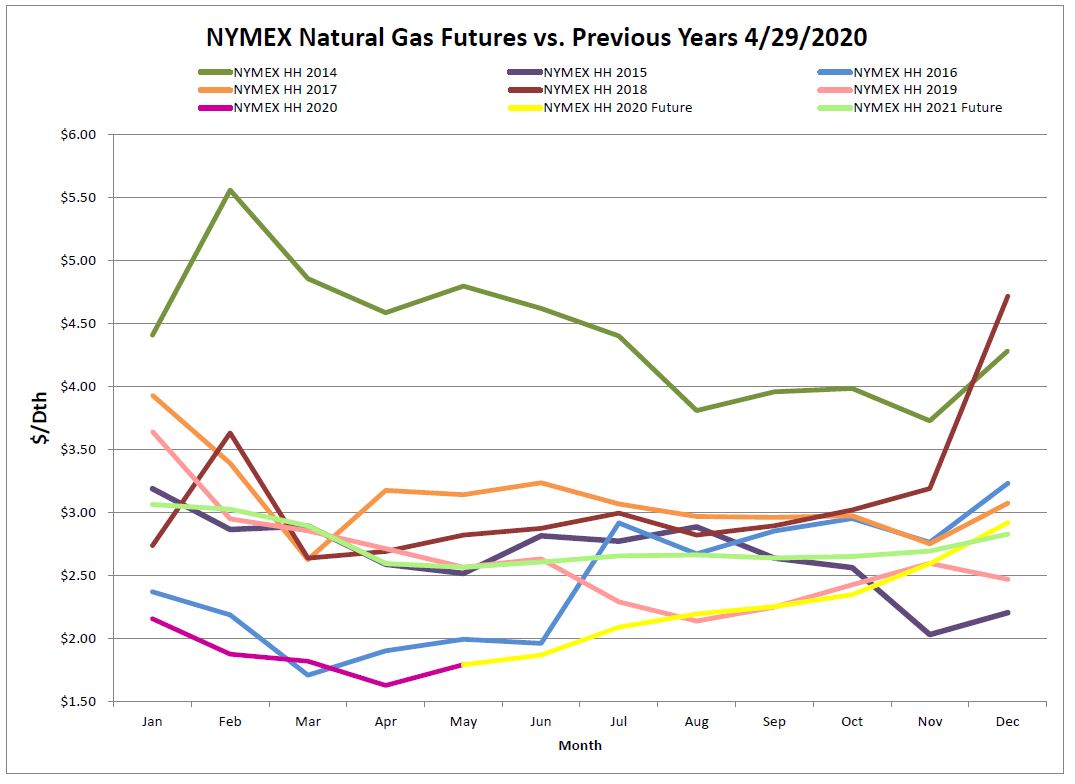 The May 2020 NYMEX contract expired at $1.794, the lowest closing for May in over 15 years. Both the NYMEX 12-month strip and Algonquin basis were each down $.01 over the report week. The heat wave in the West continues, which could create some volatility due to cooling demand. Conversely the East coast is much below normal for this time of year, causing some lingering heating demand. As states begin to re-open from COVID-19, demand shifts will take shape.
Futures as of 4/29/2020 versus previous week:
| | | |
| --- | --- | --- |
| Jun-20 | $1.869 | -$0.184 |
| Jul-20 | $2.091 | -$0.145 |
| Aug-20 | $2.196 | -$0.124 |
| Sep-20 | $2.255 | -$0.099 |
| Oct-20 | $2.349 | -$0.070 |
| Nov-20 | $2.594 | -$0.043 |
Natural Gas Inventory

The EIA reported a net increase of 70 Bcf from the previous week. Estimated working gas in storage at 2,210 Bcf as of Friday, April 24, 2020. This injection is close to the 5-year average of 74 Bcf, but much lower than last year's injection of 114 Bcf.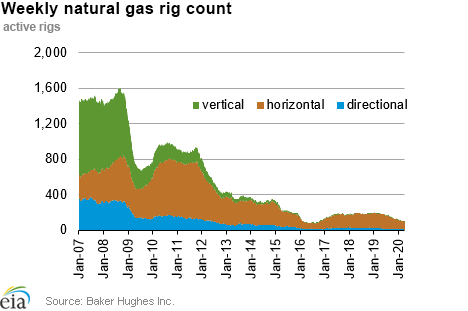 The Baker Hughes exploration gas count decreased another 4 rigs over the report week for a total of 81. This is 102 fewer rigs than the 183 in operation at this time one year ago.
According to Baker Hughes data, the natural gas rig count peaked at 202 rigs in January 2019, the highest level since 2015. Production rose in 2019 even though the rig count decreased. However, since then, production has declined as low prices have diminished the incentive for producers to drill new natural gas wells.
Weather Update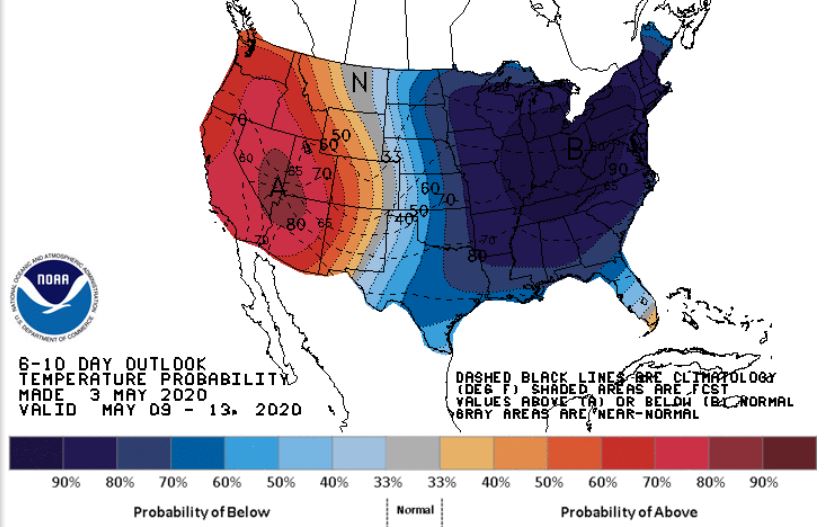 The heat wave in the West continues, some seeing temperatures 8-15 degrees above normal. The Eastern half of the country on the other hand is expected to see much below normal temperatures for mid-May. This is causing some lingering heating demand and curbing in some sense what would otherwise be very large storage injections.
National Weather Service Updates (NOAA)
Hurricane Watch: No Current Hurricanes
Click here to view the National Hurricane Center site.
Equatorial Pacific Outlook:
Click here to view La Nina and El Nino status.
Energy News
In 2019, U.S. energy production exceeded consumption for the first time in 62 years
In 2019, for the first time since 1957, energy production exceeded energy consumption in the United States on an annual basis, according to the U.S. Energy Information Administration's (EIA) Monthly Energy Review.
Indian Point Unit 2 reactor to shut down for good
Indian Point's Unit 2 reactor ascended along the shores of the Hudson River in the late 1960s at a time of great optimism for the nuclear power movement in the U.S.
Rising Natural Gas Prices Are a Hot Bet
Investors are unwinding wagers that prices will fall, bidding up producers' beaten-down shares and even
buying their new bonds  
If you would like to receive the Energy Market Update to your inbox weekly, please click here to submit your name and email address.
Disclaimer: This information is provided for the use of our customers and potential customers. Power Management Company assumes no responsibility or liability for the accuracy or completeness of pricing or information in this document. Historical data was obtained from sources that we believe to be reliable, but we do not guarantee its accuracy or completeness. It is not intended to provide advice or recommendation. Views are subject to change without notice.