Electricity Markets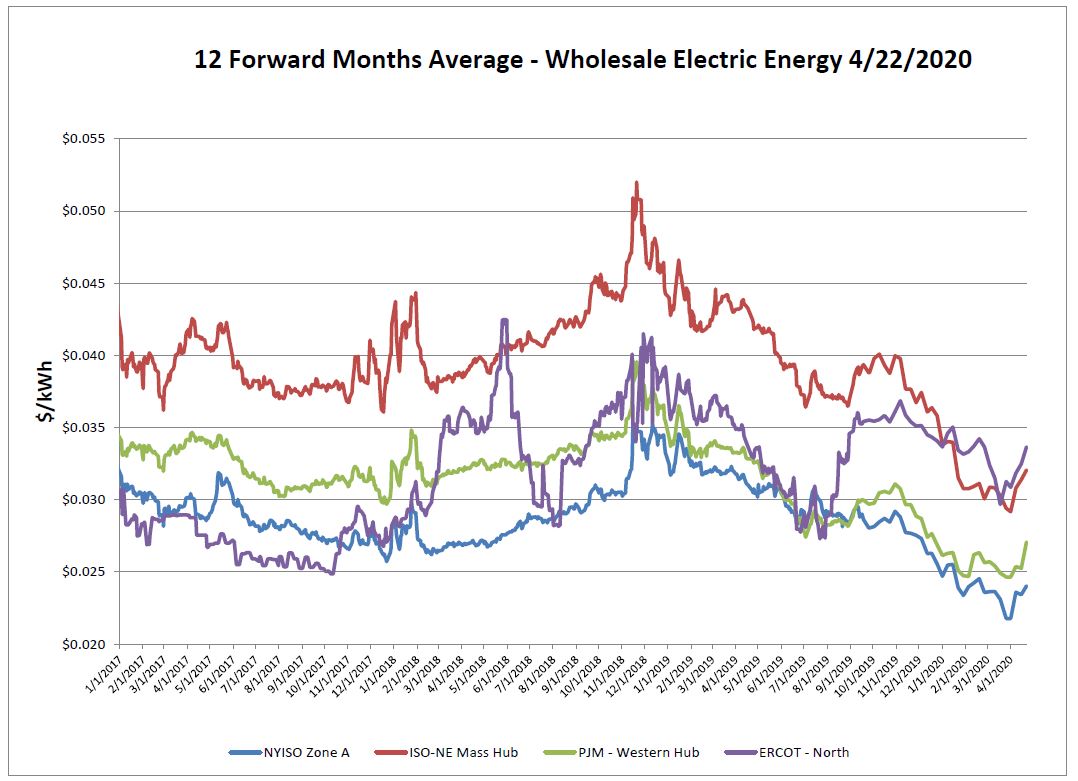 Electric markets picked up over the report week. There was a spring up in all markets, smallest being in NYISO, while PJM, ISO-NE and ERCOT all saw a good adjustment. The increase in electric prices is due in large part to the natural gas markets rebounding.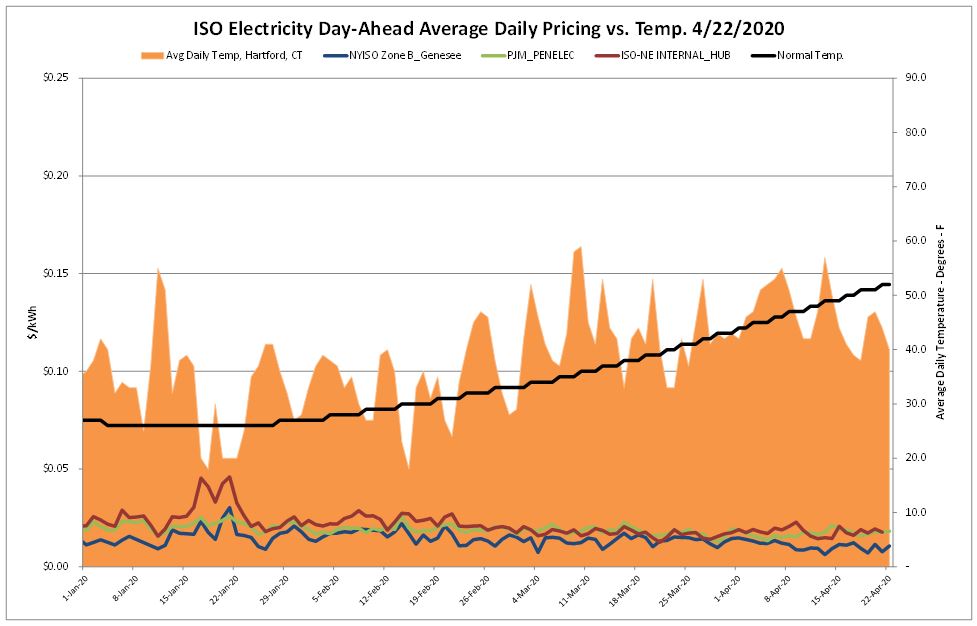 Below normal temperatures for April, but not freezing or cold enough to alter demand for gas, thus little fluctuation. All the way back to January there has been very little volatility on the day-ahead market.
Natural Gas Markets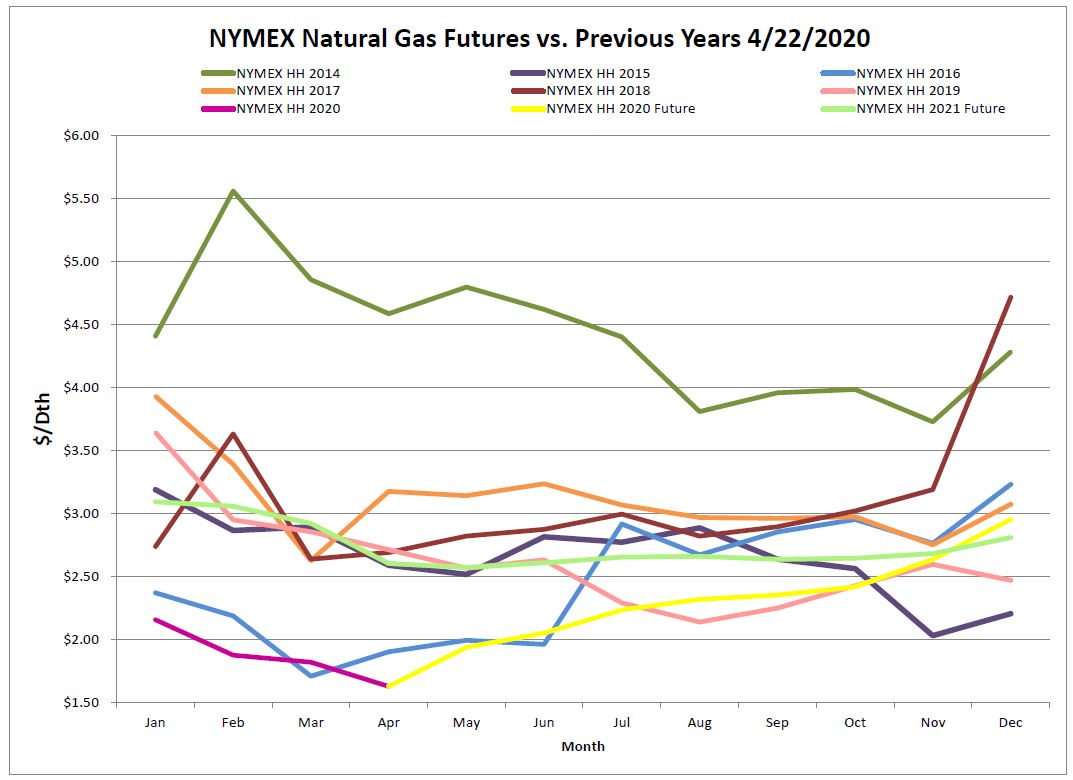 Prompted by a lack of demand and lack of storage, U.S. West Texas crude oil settled below zero for the first time ever on Monday 4/20, This concerns natural gas traders about the future of domestic oil production into next year. If oil production drops, so does associated natural gas production. Thus, counter-intuitive to the oil markets falling negative, natural gas prices saw an increase. The May 2020 NYMEX contract future gained $.34, while the 12-month strip climbed $.25. This is the upward price pressure that the markets have been anticipating. Coupled with the new economics established of Covid-19, supply and demand fundamentals that have historically driven natural gas prices have officially taken a back seat. Late 2020 prices are starting to converge in an upward more "normal" direction while 2021 futures are creeping up in the $2.50-$3.00 range as well.
Futures as of 4/27/2020 versus previous week:
| | | |
| --- | --- | --- |
| May-20 | $1.939 | +$0.341 |
| Jun-20 | $2.053 | +$0.305 |
| Jul-20 | $2.236 | +$0.290 |
| Aug-20 | $2.320 | +$0.283 |
| Sep-20 | $2.354 | +$0.286 |
| Oct-20 | $2.419 | +$0.281 |
Natural Gas Inventory

As of Friday, April 17, 2020 working gas in storage was 2,140 Bcf. According to EIA estimates this represents a net increase of 43 Bcf from the previous week. This compares with last year's much larger injection of 92 Bcf and is close to the five-year average of 49 Bcf.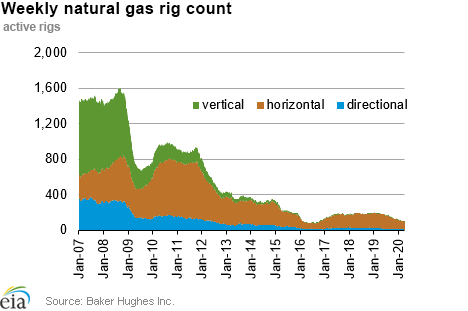 The Baker Hughes exploration gas count decreased another 4 rigs over the report week for a total of 85. This is 101 fewer rigs than the 186 in operation at this time one year ago.
Weather Update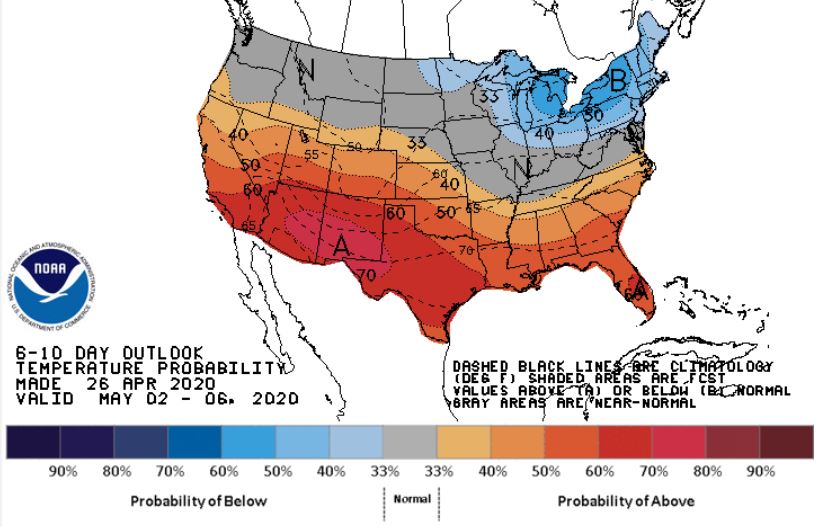 The beginning to middle of May is still anticipated to experience below-average temperatures in the Northeast. This may produce some lingering heating demand in this region, before things soon move to cooling.  The Southern half of the country will see warmer than normal temperatures.
National Weather Service Updates (NOAA)
Hurricane Watch: No Current Hurricanes
Click here to view the National Hurricane Center site.
Equatorial Pacific Outlook:
Click here to view La Nina and El Nino status.
Energy News
NYMEX WTI settles in negative territory for first time ever amid lack of storage
New York — Front-month NYMEX WTI settled in negative territory as a lack of storage capacity forced traders to exit positions ahead of Tuesday's contract expiration.
COVID-19 mitigation efforts result in the lowest U.S. petroleum consumption in decades
U.S. consumption of petroleum products has fallen to its lowest level in decades because of measures that limit travel and because of the general economic slowdown induced by mitigation efforts for the coronavirus disease 2019 (COVID-19).
If you would like to receive the Energy Market Update to your inbox weekly, please click here to submit your name and email address.
Disclaimer: This information is provided for the use of our customers and potential customers. Power Management Company assumes no responsibility or liability for the accuracy or completeness of pricing or information in this document. Historical data was obtained from sources that we believe to be reliable, but we do not guarantee its accuracy or completeness. It is not intended to provide advice or recommendation. Views are subject to change without notice.