Electricity Markets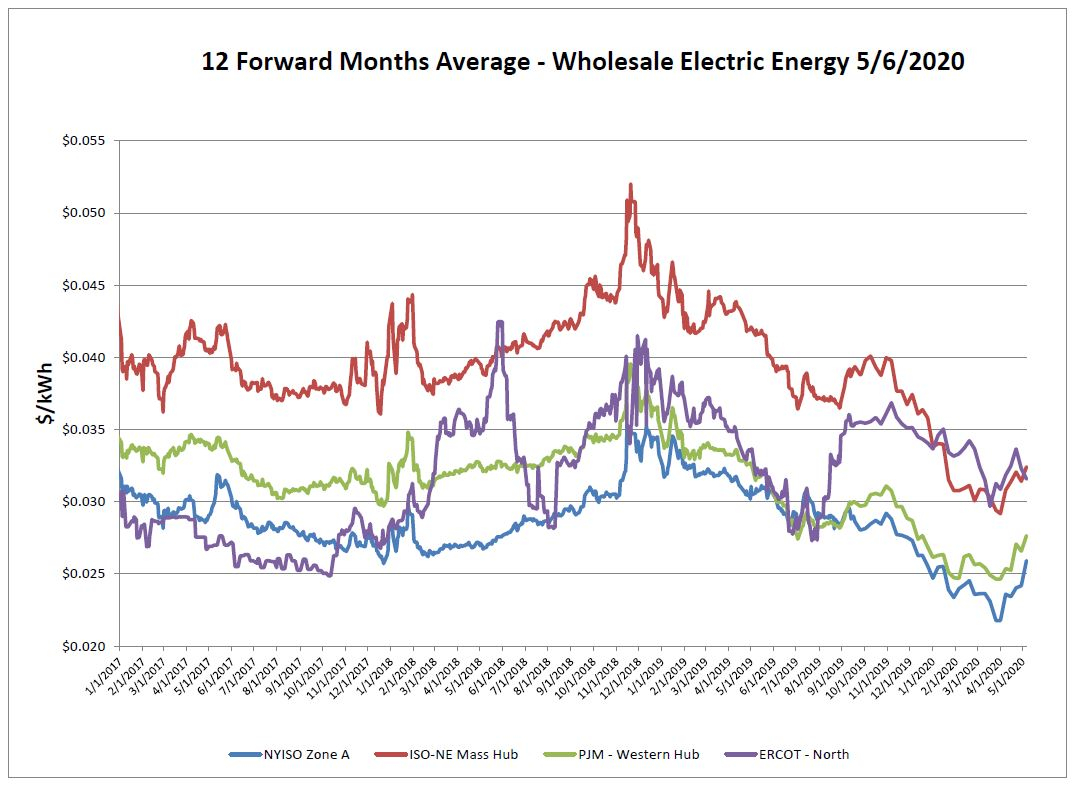 All ISO's saw a gain on the electric market over the report week with the exception of ERCOT. The biggest spike was seen in NYISO, were the Indian Point Unit 2 closure recently took place. The impact of this generation may have been understated and we will see where prices move absent this significant amount of generation. The biggest change may be in the winter months when this base load capacity is out downstate and needs to be replaced with natural gas.
The day-ahead market still remains calm, in spite of temperatures trending both above and much below normal for this time of year.
Natural Gas Markets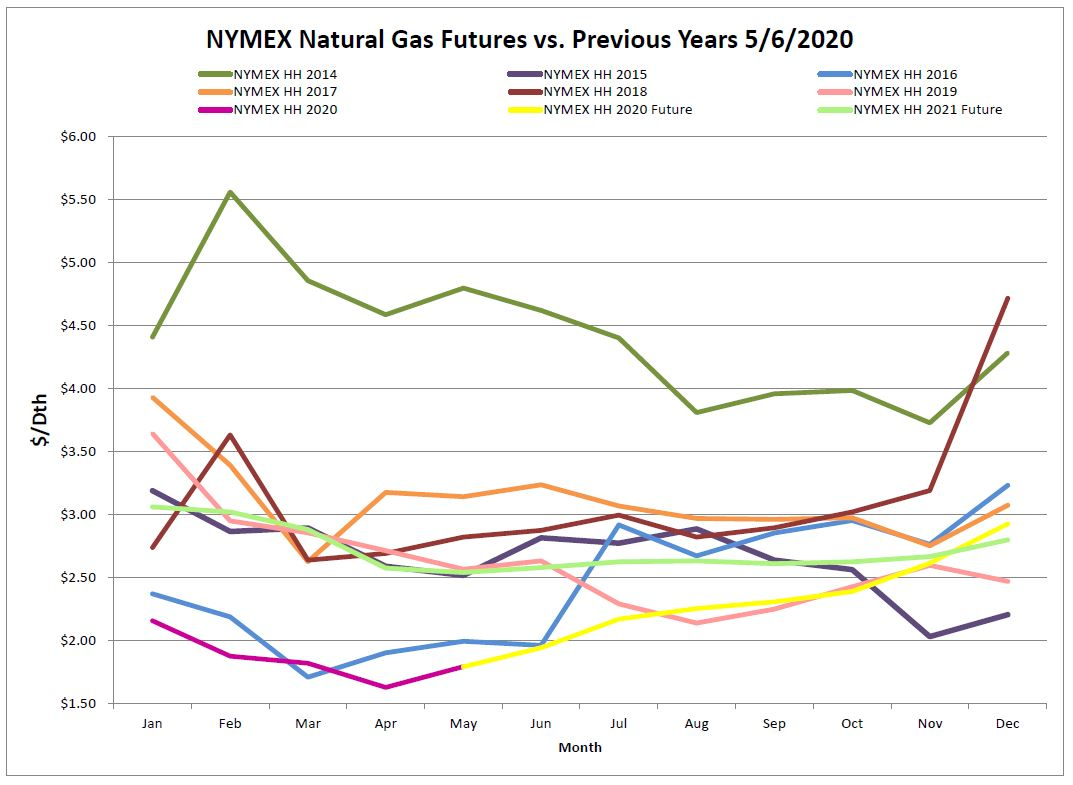 At the NYMEX the price of the June 2020 contract increased $0.08 while the 12-month strip averaging June 2020 through May 2021 futures contracts climbed $0.02. The June contract had settled at a four-month high of $2.13 on Tuesday over the report week following a Monday explosion on the Texas Eastern Transmission (TETCO) pipeline in northeast Kentucky. However since then, the market has not been able to sustain this level as by Wednesday flows indicated that production had started to recover as natural gas began to be rerouted. Additionally, while eastern temperatures have remained quite cold, heating demand is expected to weaken during May's much warmer second half. As temperatures warm-up, along with a tentative opening of the economy could cause demand to start to creep higher.
Futures as of 5/6/2020 versus previous week:
| | | |
| --- | --- | --- |
| Jun-20 | $1.944 | +$0.075 |
| Jul-20 | $2.171 | +$0.080 |
| Aug-20 | $2.254 | +$0.058 |
| Sep-20 | $2.308 | +$0.053 |
| Oct-20 | $2.389 | +$0.040 |
| Nov-20 | $2.615 | +$0.021 |
Natural Gas Inventory

According to EIA estimates a net increase of 109 Bcf was reported. As of Friday, May 1, 2020, working gas in storage was 2,319 Bcf. This is above both last year's injection of 96 Bcf, and the 5-year average of 74 Bcf.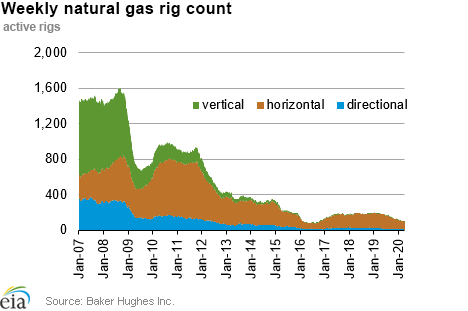 The Baker Hughes exploration gas count decreased 1 rig over the report week for a total of 80. This is 103 fewer rigs than the 183 in operation at this time one year ago.
Weather Update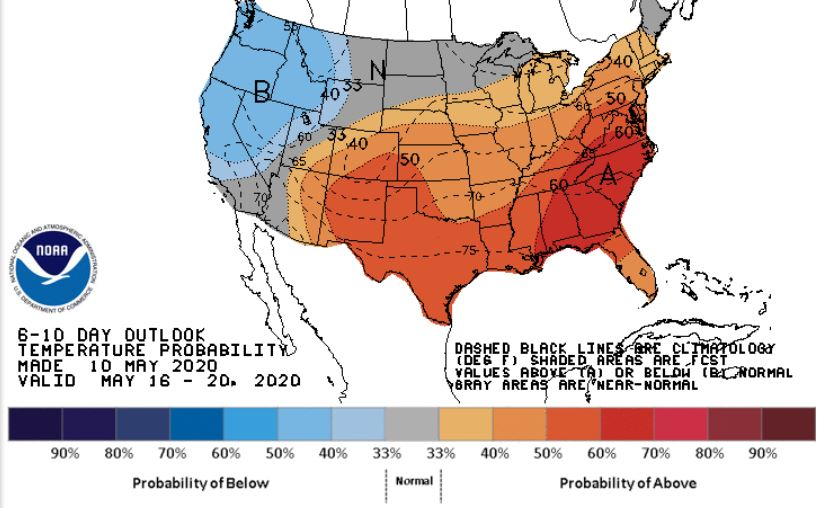 Milder spring weather finally seems to be on the horizon for most of the Northeast and sweeping down through Florida to Texas. The pattern shifts in mid-May as the West coast may now experience some cooler temperatures.
National Weather Service Updates (NOAA)
Hurricane Watch: No Current Hurricanes
Click here to view the National Hurricane Center site.
Equatorial Pacific Outlook:
Click here to view La Nina and El Nino status.
Energy News
Daily electricity demand in New York falls about 13% after COVID-19 mitigation efforts
Recent business shutdowns and changes to normal routines related to mitigation efforts for the 2019 novel coronavirus disease (COVID-19) have caused daily, weekday electricity demand in New York state to decrease by 11%–14% in March and April compared with expected demand, after accounting for seasonal temperature changes.
Natural Gas Futures Called Higher Following Tetco Explosion in Kentucky Natural gas futures were trading sharply higher early Tuesday following reports of a pipeline explosion in Kentucky late Monday afternoon, an event that raises the prospect of prolonged supply disruptions.
Factbox – US producers throttle back as gas faces domestic, global headwinds US producers reduced natural gas production over the last week as continued volatility in the oil markets keeps many operating below wellhead breakeven prices.  
If you would like to receive the Energy Market Update to your inbox weekly, please click here to submit your name and email address.
Disclaimer: This information is provided for the use of our customers and potential customers. Power Management Company assumes no responsibility or liability for the accuracy or completeness of pricing or information in this document. Historical data was obtained from sources that we believe to be reliable, but we do not guarantee its accuracy or completeness. It is not intended to provide advice or recommendation. Views are subject to change without notice.