Electricity Markets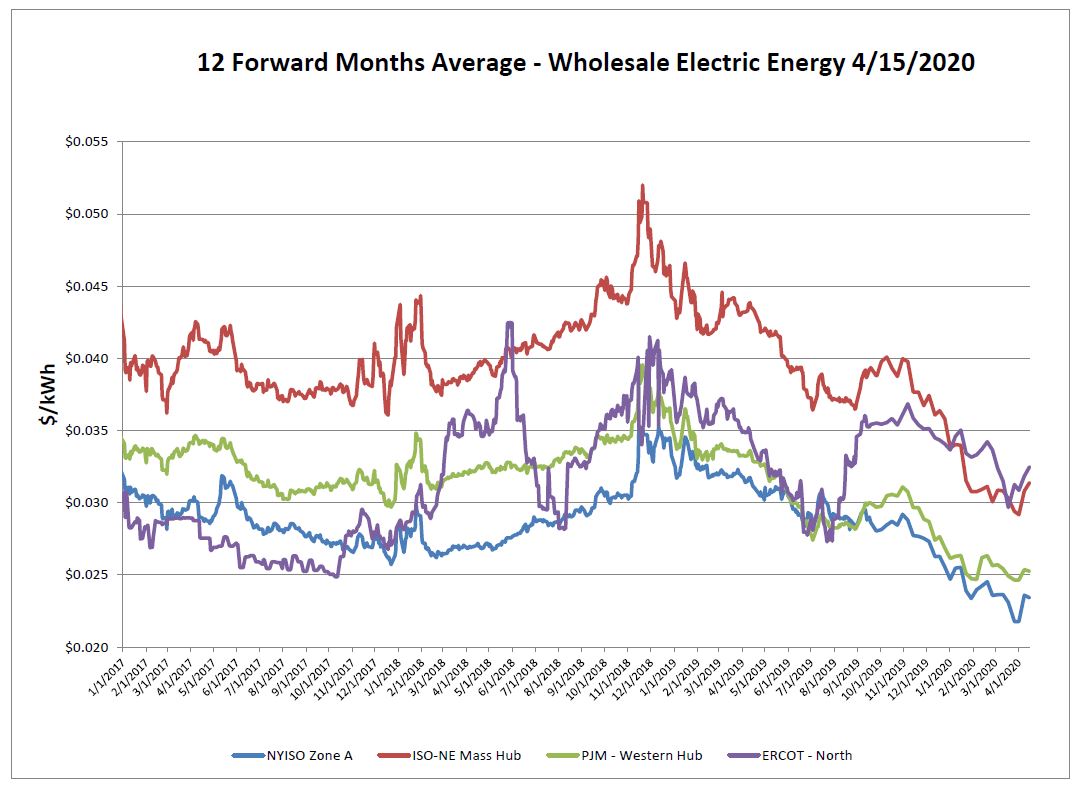 ISO-NE and ERCOT electric prices continued to climb over the report week while NYISO and PJM flattened out.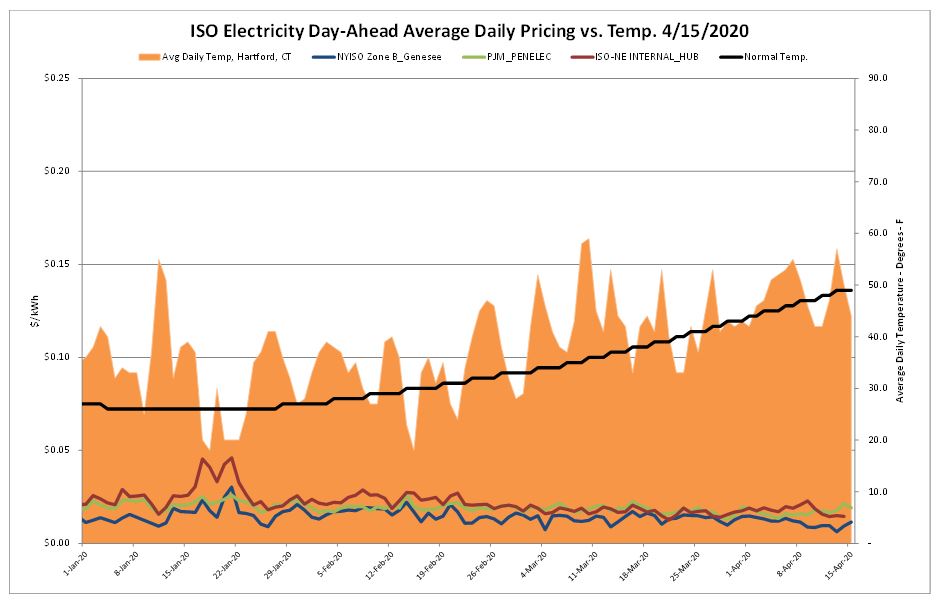 While temperatures were mixed, the day-ahead market remained fairly relaxed. With the current lack of load surrounding COVID-19, there is plenty of generation currently to sustain the market.
Natural Gas Markets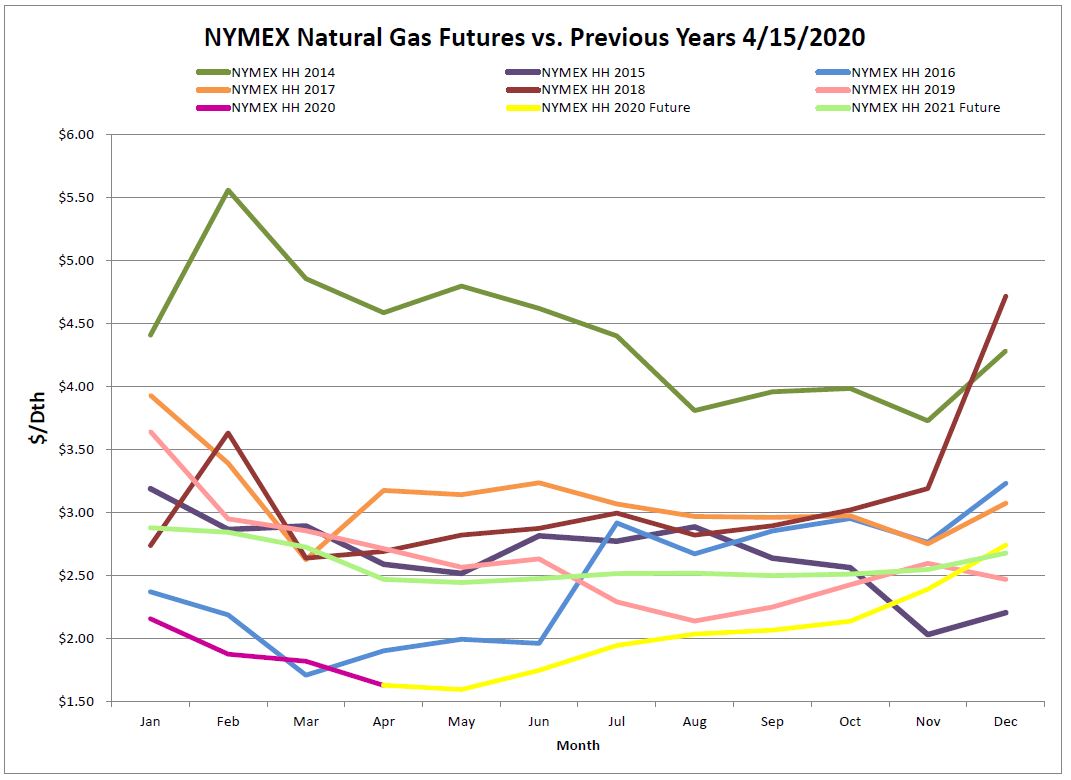 The 12-month strip averaging May 2020 through April 2021 futures contracts declined $0.05 to $2.299. While natural gas storage levels are strong right now, concerns are mounting over how production will continue to respond to the current low-price environment along with the demand rebound from COVID-19.
Futures as of 4/15/2020 versus previous week:
| | | |
| --- | --- | --- |
| May-20 | $1.598 | -$0.185 |
| Jun-20 | $1.748 | -$0.148 |
| Jul-20 | $1.946 | -$0.106 |
| Aug-20 | $2.037 | -$0.073 |
| Sep-20 | $2.068 | -$0.071 |
| Oct-20 | $2.138 | -$0.062 |
Natural Gas Inventory

The EIA reported a net injection of 73 Bcf from the previous week. As of Friday, April 10, 2020, working gas in storage was 2,097. This is well above the five-year average injection of 27 Bcf. Storage is currently 21% above the five-year average and 72% more than the year-ago level. As of March 31, 2020 (the traditional end of the heating season) storage ended at the highest level for working natural gas stocks since 2017.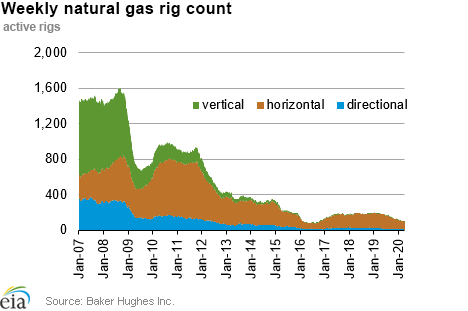 The Baker Hughes exploration gas rig count took another big slide this week, falling by 7 rigs for a total of 89. This is 98 fewer rigs than the 187 in operation at this time one year ago.
Weather Update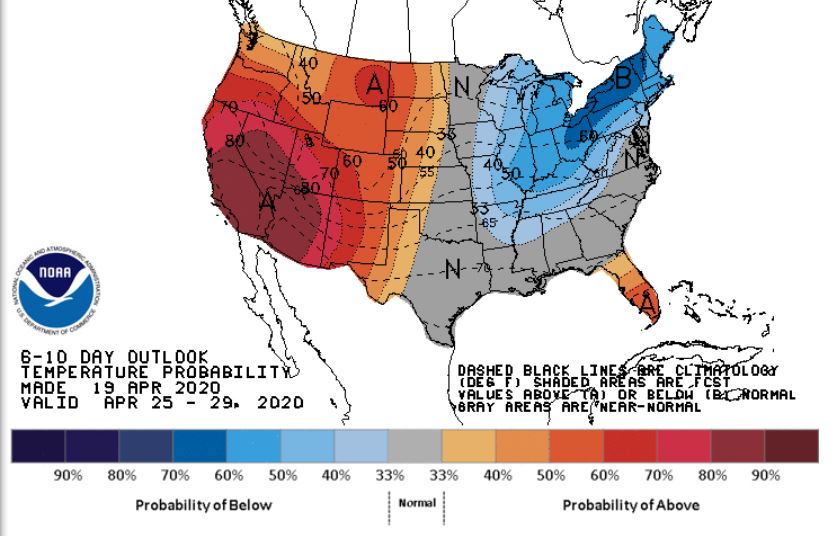 Weather forecasts continue to show below-average temperatures blanketing the Great Lakes and Northeast regions through the end of the month. Warmer temperatures are expected in the South and Western have of the CONUS.
National Weather Service Updates (NOAA)
Hurricane Watch: No Current Hurricanes Click here to view the National Hurricane Center site.
Equatorial Pacific Outlook:
Click here to view La Nina and El Nino status.
Energy News
EPA Takes Corrective Action on Standards for Coal-Refuse Power Plants
Today, the U.S. Environmental Protection Agency (EPA) is taking corrective action to provide stability in the Pennsylvania and West Virginia economies.
7 ways to refine the energy sector's COVID-19 response
The ongoing COVID-19 response is an enormous test of the quality of energy institutions and policies.
If you would like to receive the Energy Market Update to your inbox weekly, please click here to submit your name and email address.  
Disclaimer: This information is provided for the use of our customers and potential customers. Power Management Company assumes no responsibility or liability for the accuracy or completeness of pricing or information in this document. Historical data was obtained from sources that we believe to be reliable, but we do not guarantee its accuracy or completeness. It is not intended to provide advice or recommendation. Views are subject to change without notice.