Electricity Markets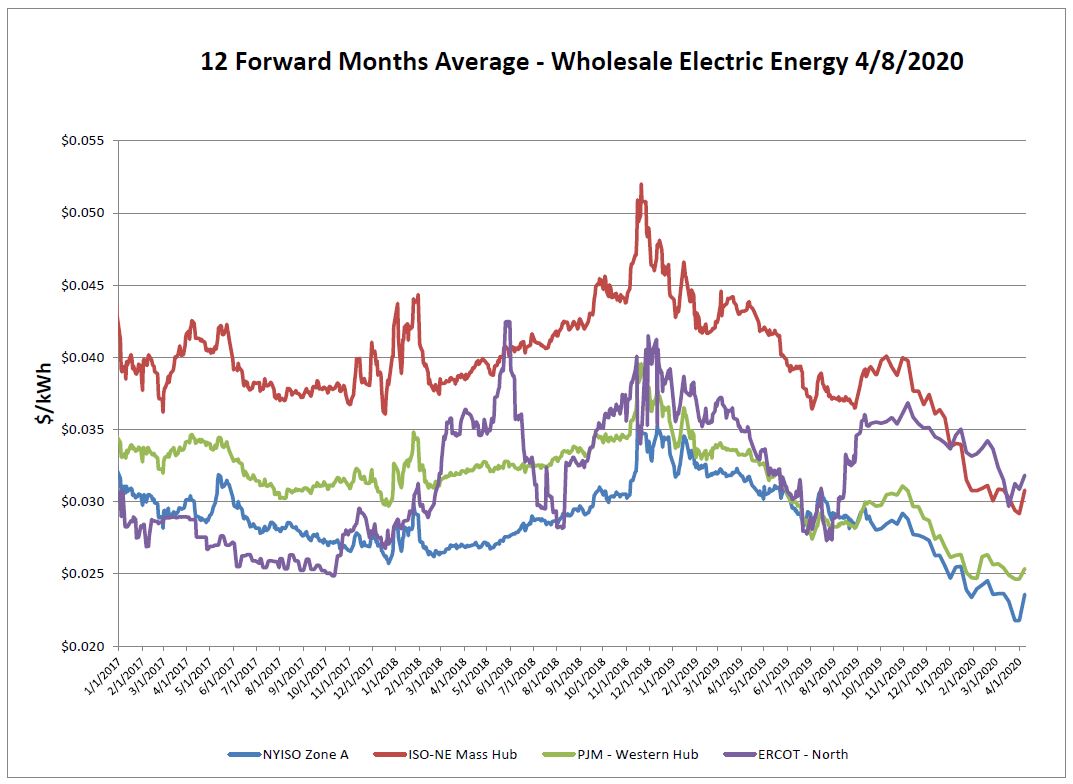 Forward electric prices are up across all markets. The shift can be attributed to the increase in both natural gas and oil prices.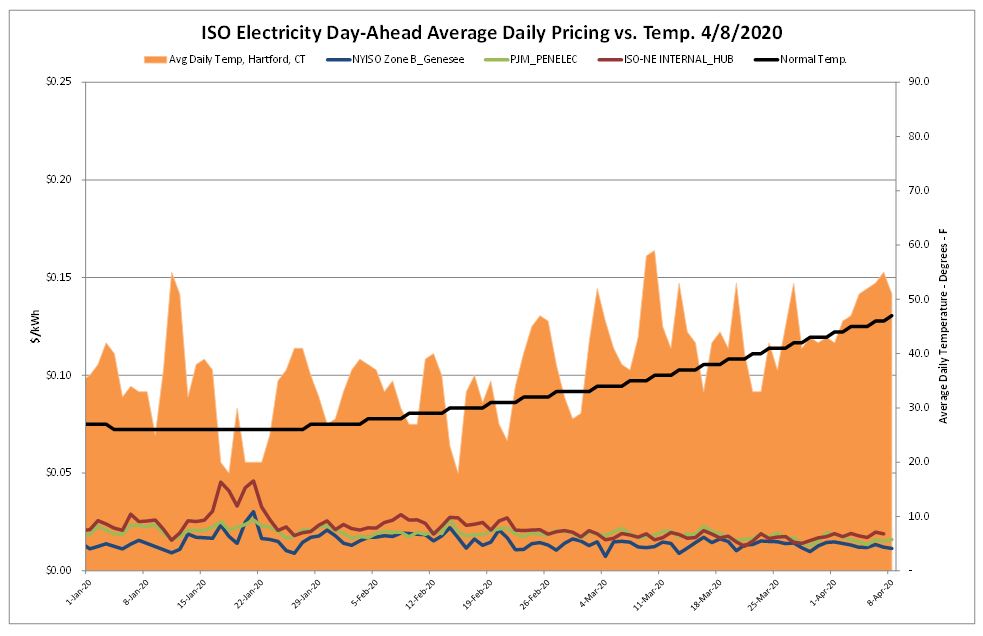 Loads across the ISO's were pretty flat regardless of some above average temperatures over the report week. To be expected for this time of year as there is usually not much volatility in the April shoulder month.
Natural Gas Markets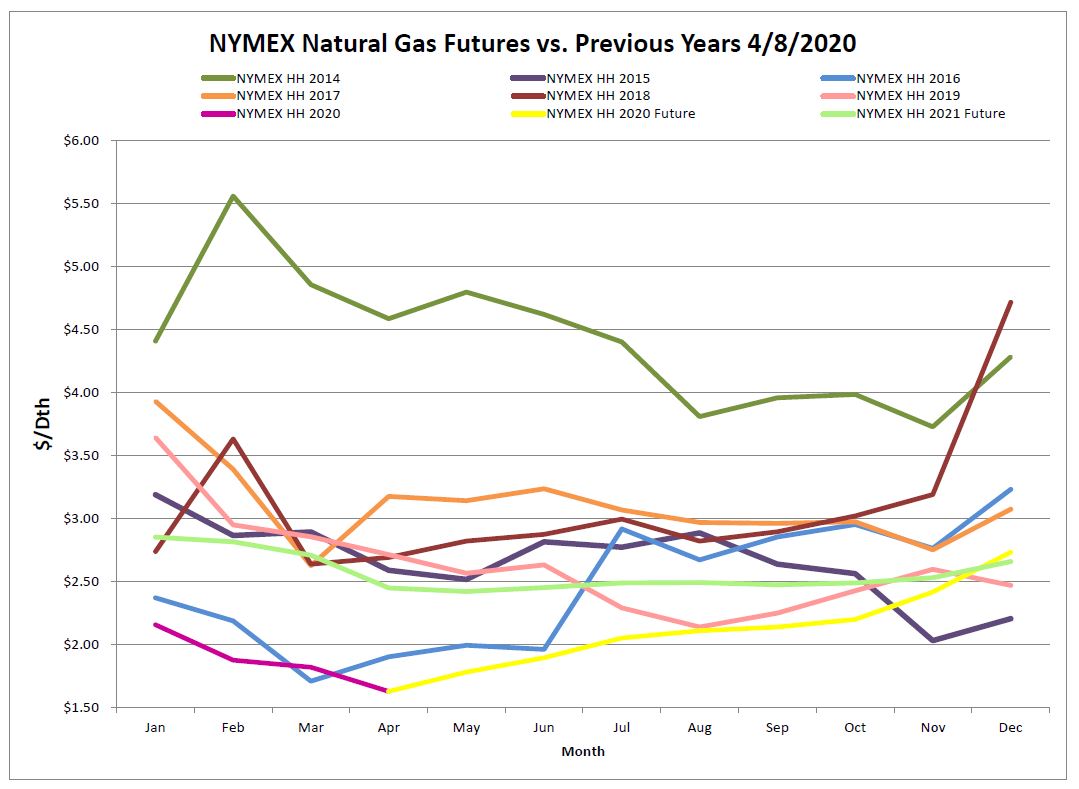 The NYMEX 12-month strip was up $0.12 over the report week. The May natural gas contract has been quite volatile over the past two weeks. Confidence intervals accessing the potential for lower vs. higher prices are becoming more extreme. There is more favor of upside risk which generally happens in a time of economic shock. Coupled with cooler weather and production declines forecasted to move in over the next two weeks, it's likely this volatility in the short-term gas market will continue. With natural gas prices so low, this leads us to wonder if we've hit the bottom. Only time will tell.
Futures as of 4/8/2020 versus previous week:
| | | |
| --- | --- | --- |
| May-20 | $1.783 | +$0.196 |
| Jun-20 | $1.896 | +$0.184 |
| Jul-20 | $2.052 | +$0.166 |
| Aug-20 | $2.110 | +$0.152 |
| Sep-20 | $2.139 | +$0.149 |
| Oct-20 | $2.20 | +$0.141 |
Natural Gas Inventory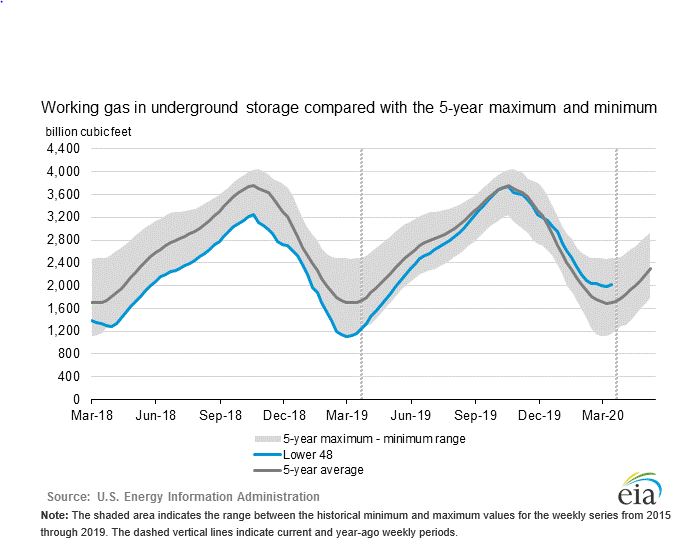 As expected, the first injection of the season was reported. According to EIA estimates a net increase of 38 Bcf was reported from the previous week. As of Friday, April 3, 2020 working gas in storage was 2,024 Bcf. Last year a 25 Bcf injection was made, and 6 Bcf is the 5-year average. Analysts remain concerned that continued low prices will push production down further in order to achieve better equilibrium in the market.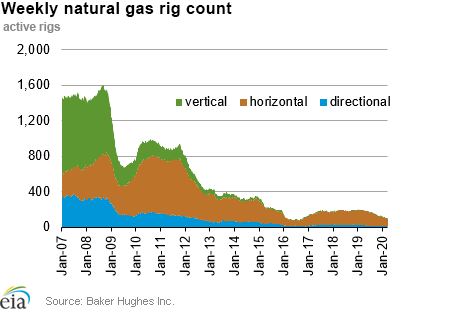 The Baker Hughes exploration gas rig count dropped below 100 this week, falling by 4 rigs for a total of 96. This is 93 fewer rigs than the 189 in operation at this time one year ago.
Weather Update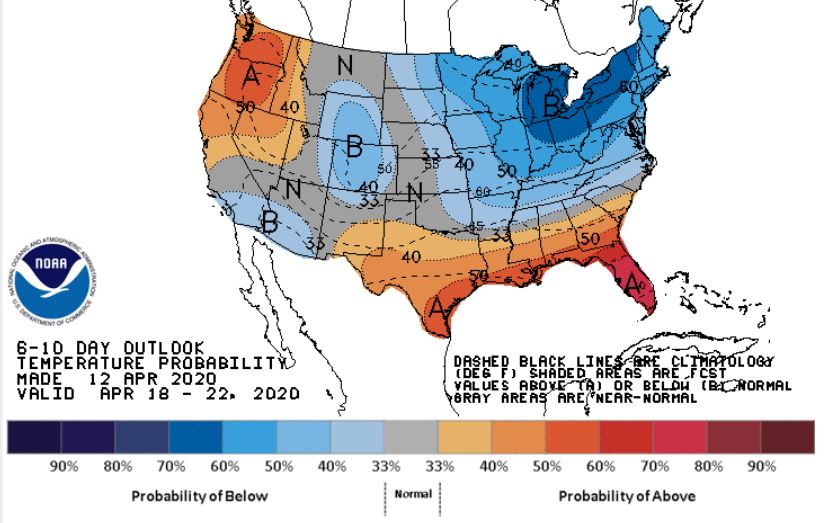 Mid-April is anticipated to bring a chill to much of the CONUS, with really the only exceptions in the 6-10 day NOAA outlook being Florida and California.
National Weather Service Updates (NOAA)
Hurricane Watch: No Current Hurricanes Click here to view the National Hurricane Center site.
Equatorial Pacific Outlook:
Click here to view La Nina and El Nino status.
Energy News
News US EIA makes deeper cuts to short-term gas output, consumption
Q3 gas marketed production lowered 4.76 Bcf/d to 97.78 Bcf/d
If you would like to receive the Energy Market Update to your inbox weekly, please click here to submit your name and email address.
Disclaimer: This information is provided for the use of our customers and potential customers. Power Management Company assumes no responsibility or liability for the accuracy or completeness of pricing or information in this document. Historical data was obtained from sources that we believe to be reliable, but we do not guarantee its accuracy or completeness. It is not intended to provide advice or recommendation. Views are subject to change without notice.