Electricity Markets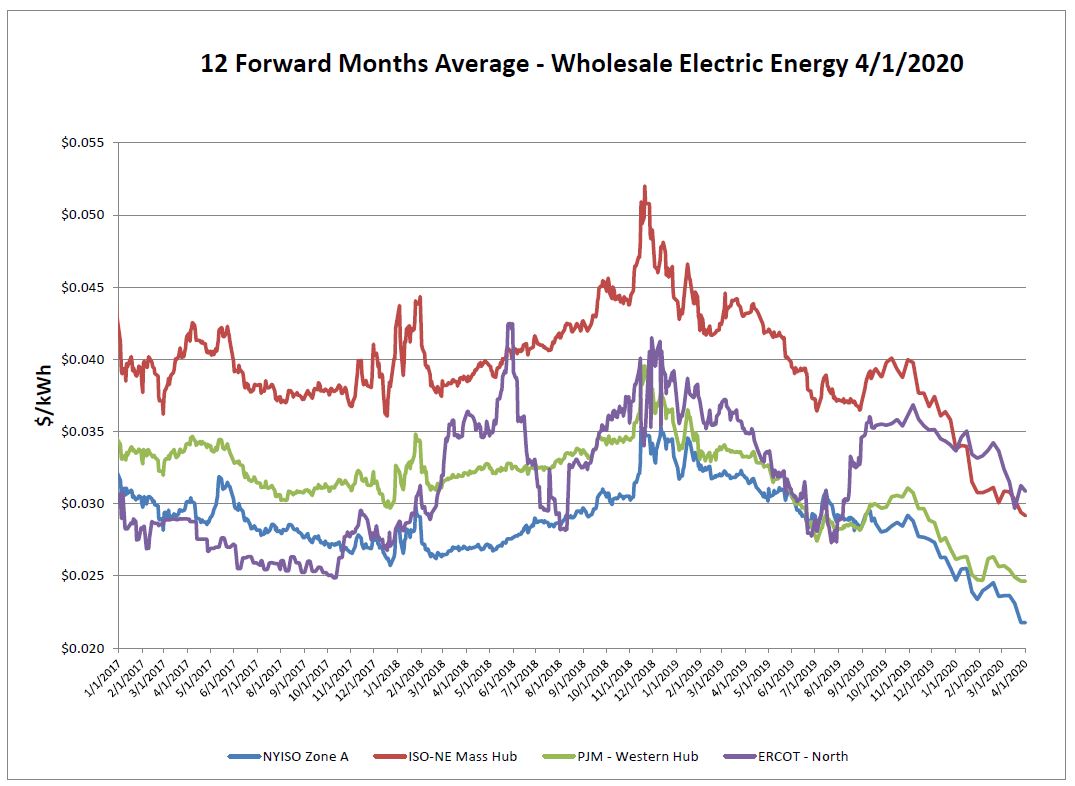 Electric markets held largely steady for another week in a row. It's important to remain aware however of market variables in various regions that could begin to impact these low prices. In NYISO, Somerset Coal Plant officially closed its doors, taking 600-700 MW of capacity out of the market. In April, the 1st unit of Indian Point Nuclear plant will shudder another 1,000 MW of capacity and next April 2021, the second unit will close with 1,000 MW more being taken offline. Capacity will likely begin to creep up as a more substantial percentage of the all-in energy price as states move towards meeting their renewable goals.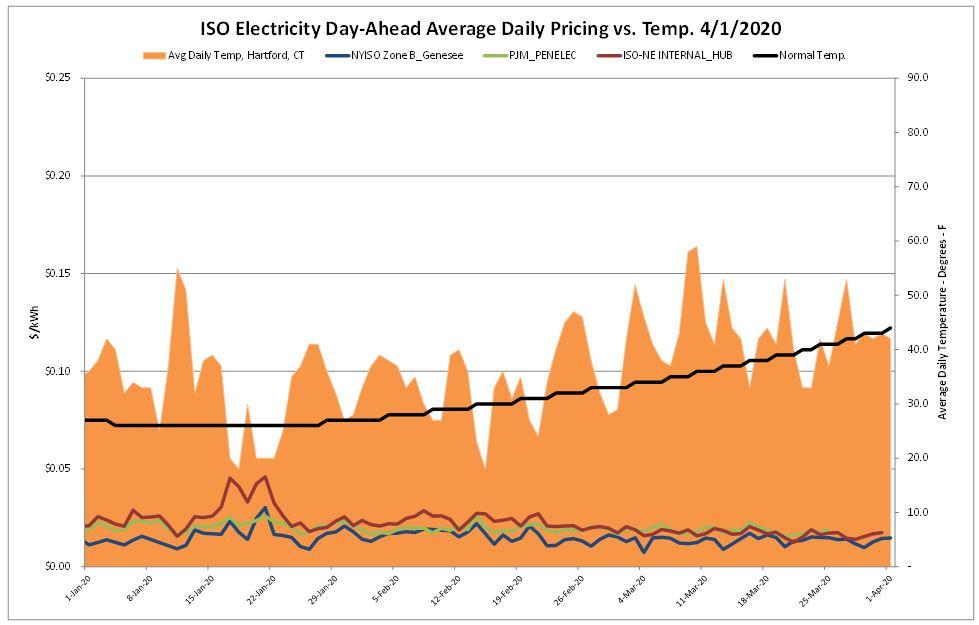 Temperatures were mild and largely normal over the report week, causing little disruption on the day-ahead markets.
Natural Gas Markets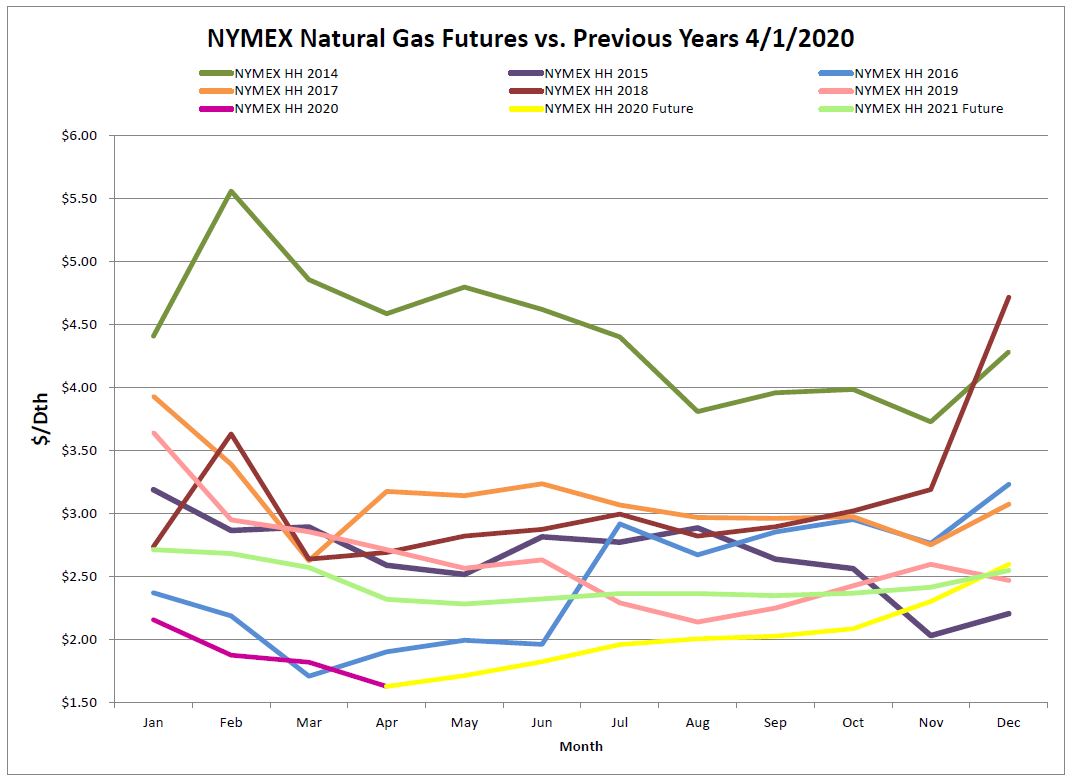 Mild temperatures coupled with the demand reduction due to COVID-19 are keeping natural gas contracts low. The price of the 12-month strip averaging May 2020 through April 2021 futures contracts declined $0.02 over the report week to $2.214.
Futures as of 4/1/2020 versus previous week:
| | | |
| --- | --- | --- |
| May-20 | $1.587 | -$0.127 |
| Jun-20 | $1.712 | -$0.114 |
| Jul-20 | $1.886 | -$0.075 |
| Aug-20 | $1.958 | -$0.049 |
| Sep-20 | $1.990 | -$0.037 |
| Oct-20 | $2.059 | -$0.028 |
Natural Gas Inventory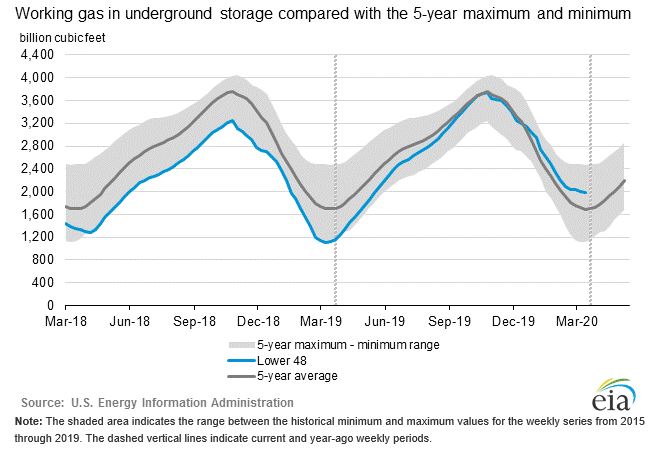 As of Friday, March 27, 2020, working gas in storage was 1,986 Bcf. According to EIA estimates this represents a net decrease of 19 Bcf from the previous week. This is expected to be the last storage withdrawal of the season.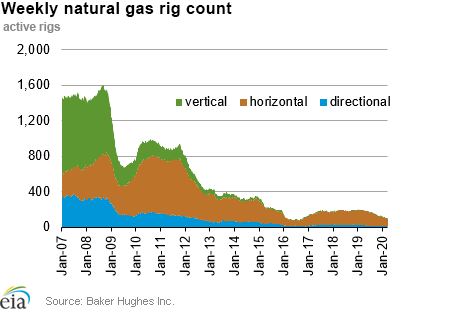 Natural gas production continues to decline, impacted further by the decline in oil prices. The Baker Hughes exploration gas rig count fell by 2 rigs this week for a total of 100. This is 94 fewer rigs than the 194 in operation at this time one year ago.
Weather Update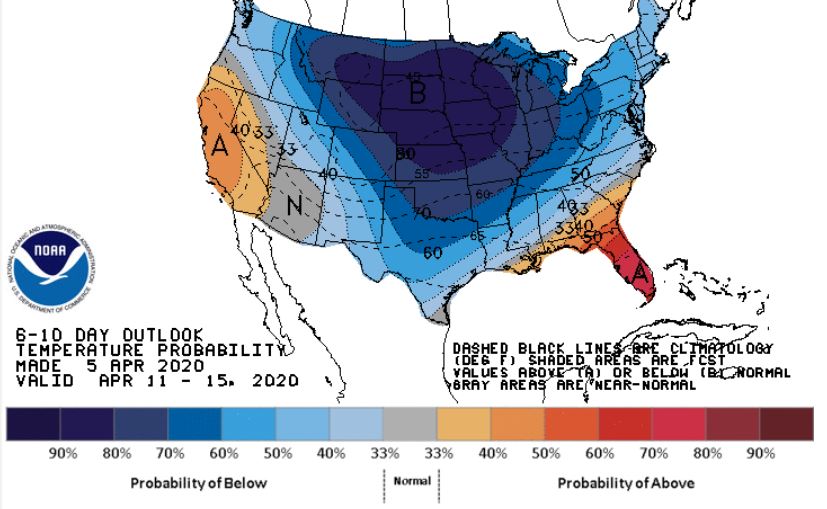 Mid-April is anticipated to bring a chill to much of the CONUS, with really the only exceptions in the 6-10 day NOAA outlook being Florida and California.
National Weather Service Updates (NOAA)
Hurricane Watch: No Current Hurricanes
Click here to view the National Hurricane Center site.
Equatorial Pacific Outlook:
Click here to view La Nina and El Nino status.
Energy News
News Monthly natural gas prices hit all-time lows across country
Monthly natural gas prices hit all-time lows across the country Wednesday amid low demand and ample volumes of gas in storage.   The full impacts on electricity usage are not yet known, but grid operators say demand is both shifting and falling.
New York's last coal-burning power plant closes on Lake Ontario shore
New York State's coal-burning era will end Tuesday, when Somerset Operating Co. officially retires its power plant on the shore of Lake Ontario in Niagara County
Twelve U.S. states generate more than 30% of their electricity from nuclear power
Nuclear power plants play an important role in U.S. electricity generation, consistently providing about 20% of total annual generation
If you would like to receive the Energy Market Update to your inbox weekly, please click here to submit your name and email address.
Disclaimer: This information is provided for the use of our customers and potential customers. Power Management Company assumes no responsibility or liability for the accuracy or completeness of pricing or information in this document. Historical data was obtained from sources that we believe to be reliable, but we do not guarantee its accuracy or completeness. It is not intended to provide advice or recommendation. Views are subject to change without notice.