Electricity Markets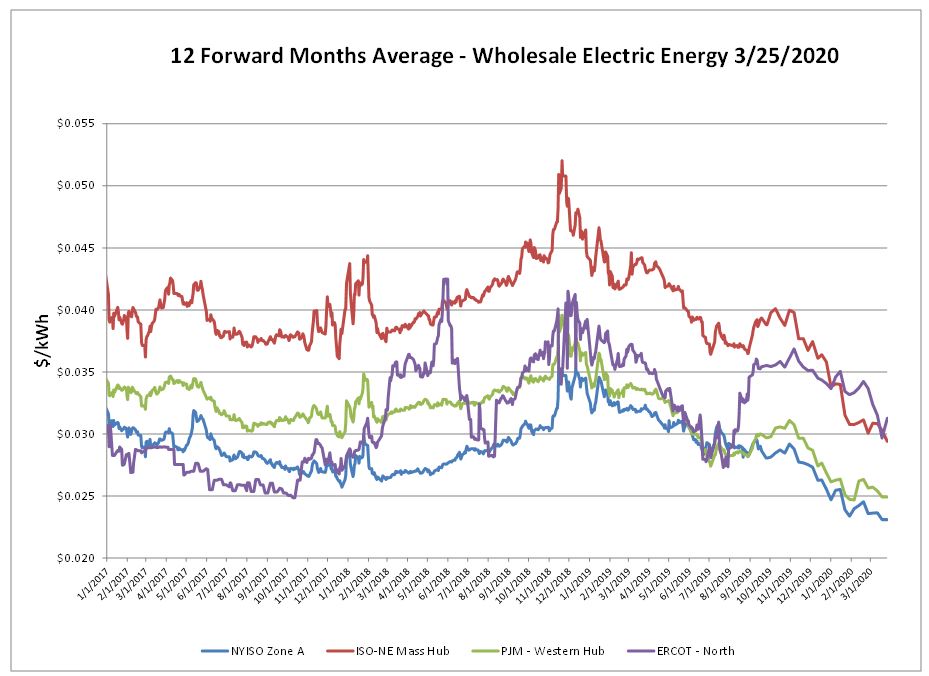 The suppressed activity on the energy markets continued into the last week of March. ERCOT was the only market that saw a slight tick up on the electric market, while the other ISO's held steady.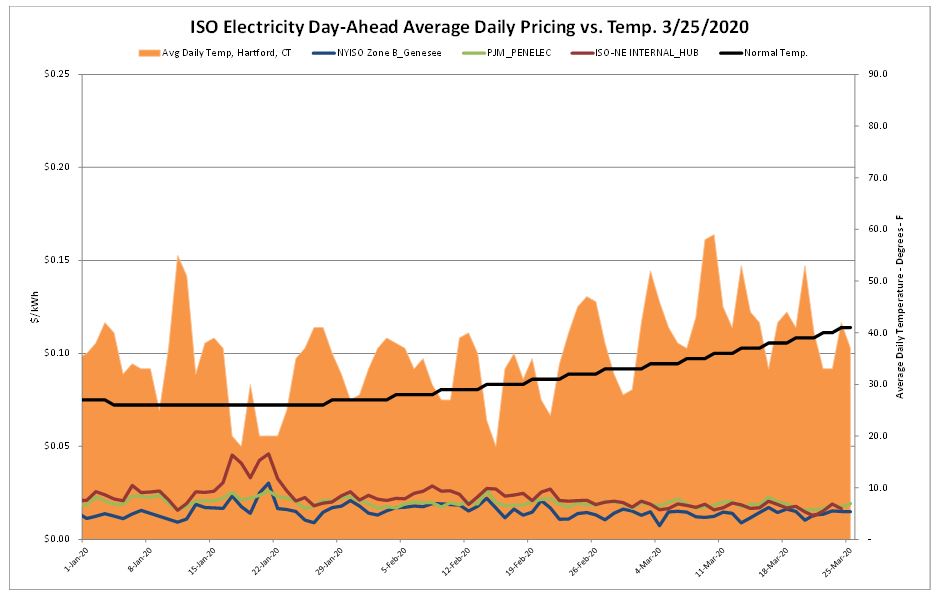 Some below normal temperatures seemed to have no effect on the volatility of the day-ahead market as prices continue to remain very calm. The spread between the markets is almost non-existent at this point.
Natural Gas Markets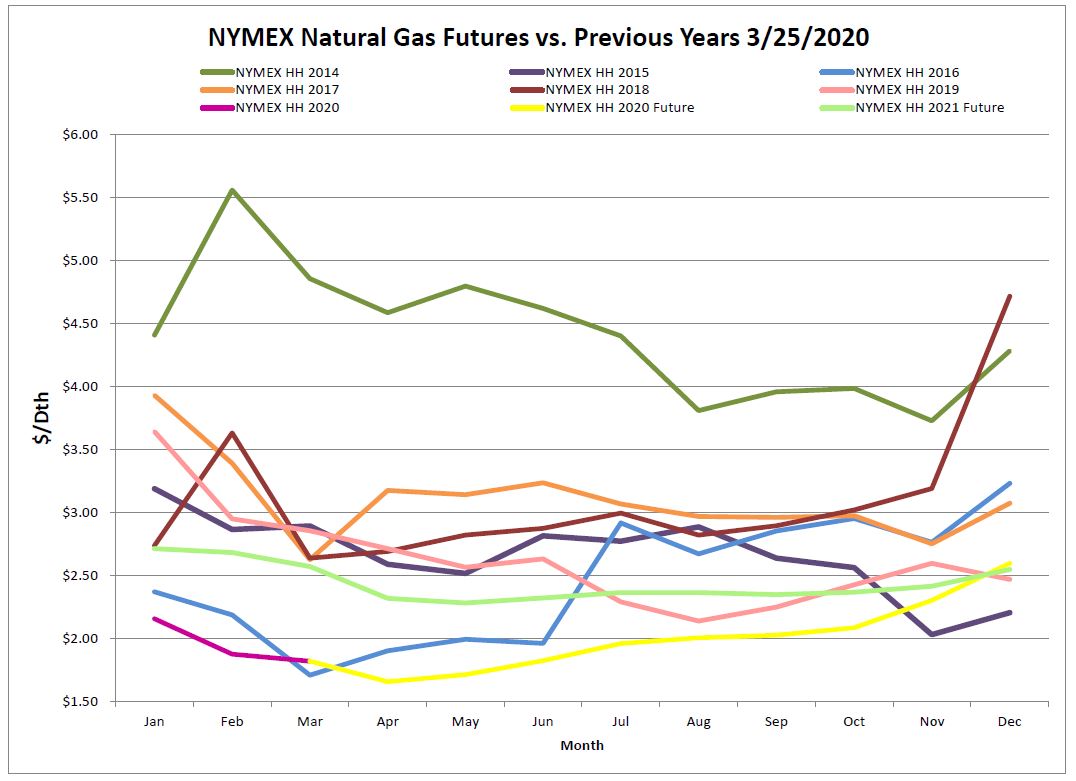 The April 2020 NYMEX futures gained some strength before closing the contract at $1.653. The price of the 12-month strip averaging April 2020 through March 2021 futures contracts also climbed $0.10/Dth to $2.179. This is the lowest the prompt month has expired since the record set in July 1995. As Trump announced the extension of the nationwide quarantine due to COVID-19 through April 30th, fundamentals in the market could remain weak.
Futures as of 3/25/2020 versus previous week:
| | | |
| --- | --- | --- |
| Apr-20 | $1.659 | +$0.008 |
| May-20 | $1.714 | +$0.009 |
| Jun-20 | $1.826 | +$0.025 |
| Jul-20 | $1.961 | +$0.045 |
| Aug-20 | $2.007 | +$0.036 |
| Sep-20 | $2.027 | +$0.023 |
Natural Gas Inventory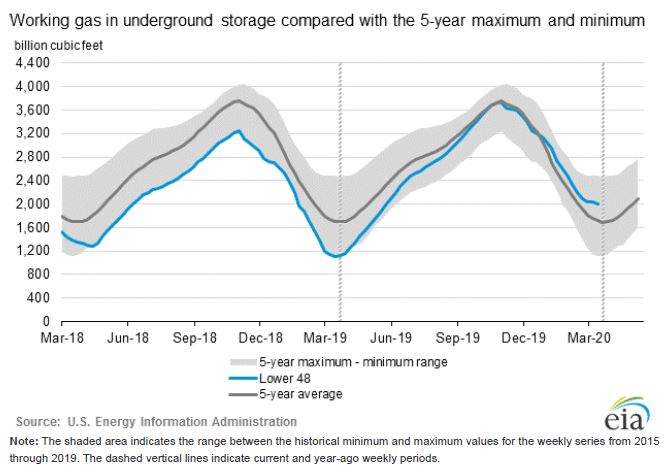 According to EIA estimates there was a net decrease of 29 Bcf from the previous week. Working gas in storage was 2,005 Bcf as of Friday, March 20, 2020. Last year there was a withdrawal of 39 Bcf. Storage is currently 80% above last year at this time and 17% above the five-year average.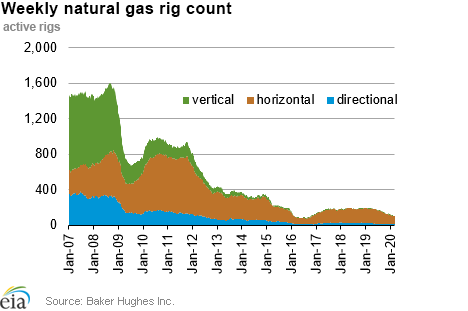 The Baker Hughes exploration gas rig count fell by 4 rigs this week for a total of 102. This is 88 fewer rigs than the 190 in operation at this time one year ago.
Weather Update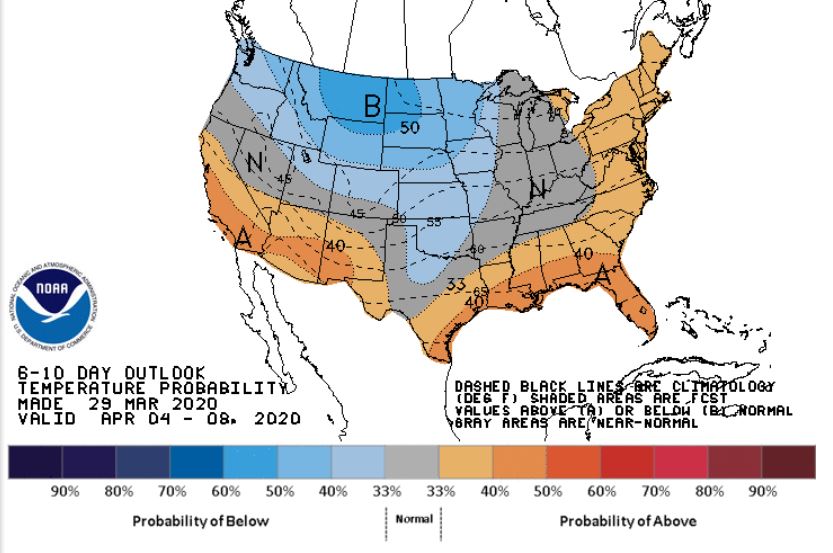 The East Coast and southern states are expected to experience some slightly above normal temperatures while much of the remaining CONUS will see some below average temperatures creep into the forecast for early to mid-April.
National Weather Service Updates (NOAA)
Hurricane Watch: No Current Hurricanes
Click here to view the National Hurricane Center site.
Equatorial Pacific Outlook:
Click here to view La Nina and El Nino status.
Energy News
Utilities beginning to see the load impacts of COVID-19 as economic shutdown widens
The full impacts on electricity usage are not yet known, but grid operators say demand is both shifting and falling.
National Grid suspends pending rate increases in response to COVID-19
National Grid has suspended for three months rate increases for electric and gas customers in upstate New York, in response to economic fallout related to the COVID-19 pandemic.
Coronavirus could disrupt normal refueling practices for nuclear facilities as staffing concerns grow
The nuclear sector has sprung into action to screen employees for signs of the novel coronavirus and prepare for potential disruptions to their typical refueling practices in light of pandemic-related travel restrictions. 
If you would like to receive the Energy Market Update to your inbox weekly, please click here to submit your name and email address.
Disclaimer: This information is provided for the use of our customers and potential customers. Power Management Company assumes no responsibility or liability for the accuracy or completeness of pricing or information in this document. Historical data was obtained from sources that we believe to be reliable, but we do not guarantee its accuracy or completeness. It is not intended to provide advice or recommendation. Views are subject to change without notice.