Electricity Markets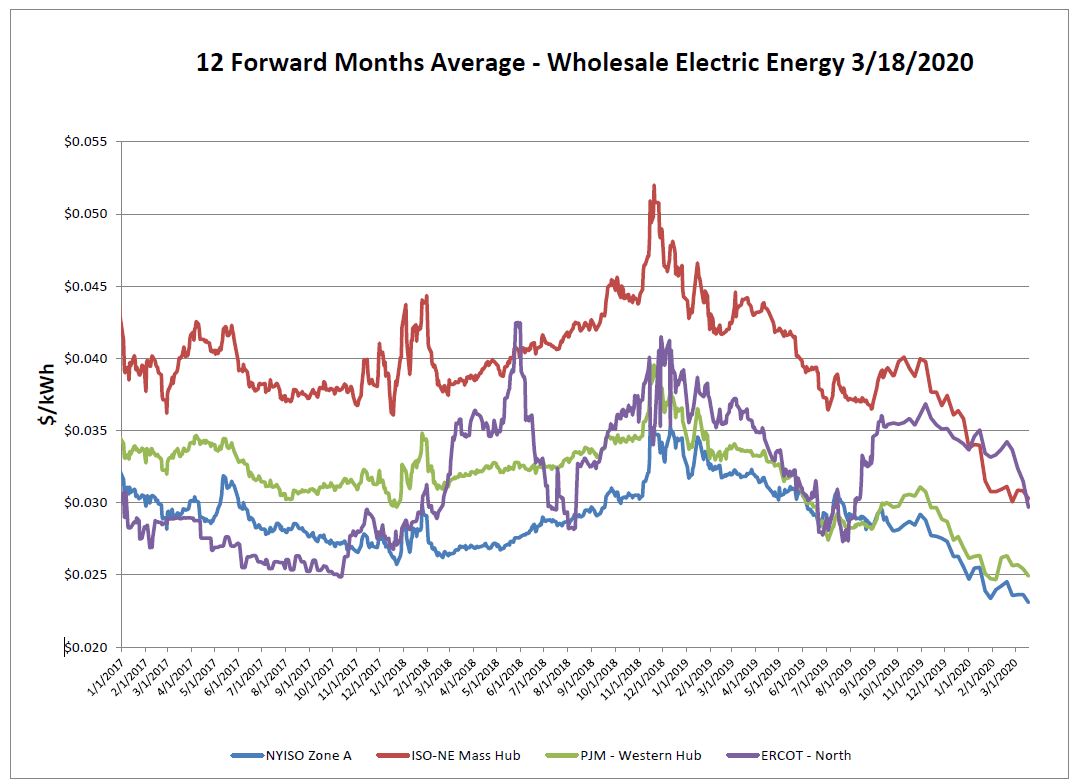 The downward trend in the electric and natural gas markets continued over the report week. With the erosion of demand in correlation to the Coronavirus, this should come as no surprise. ERCOT has come down quite a bit, starting to approach last year's lows. Strong, favorable pricing remains in NYISO, ISO-NE and PJM.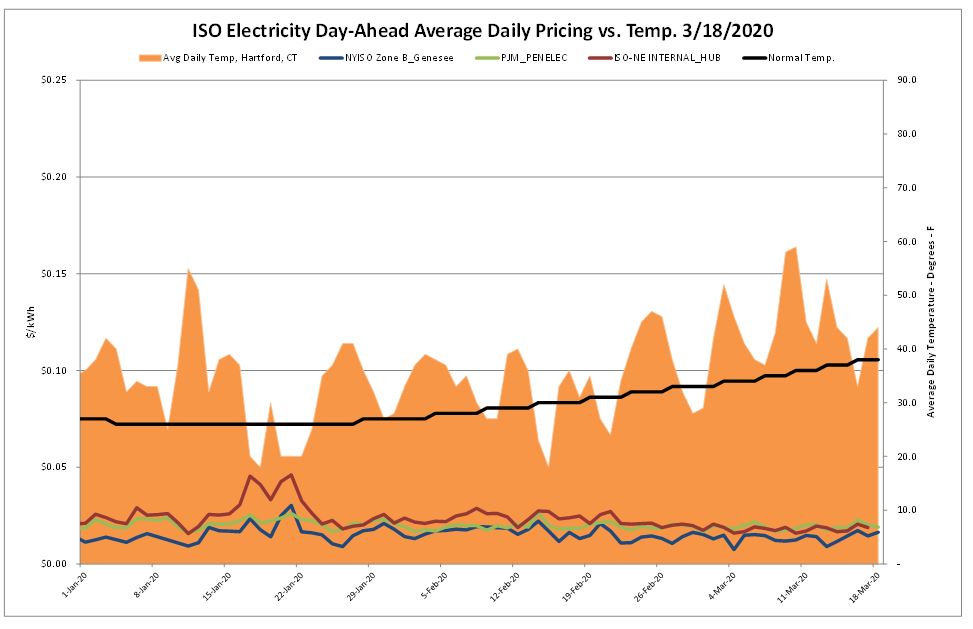 Overall, temperatures continue to be warmer than normal. As such, day-ahead electric prices continue to be very low.
Natural Gas Markets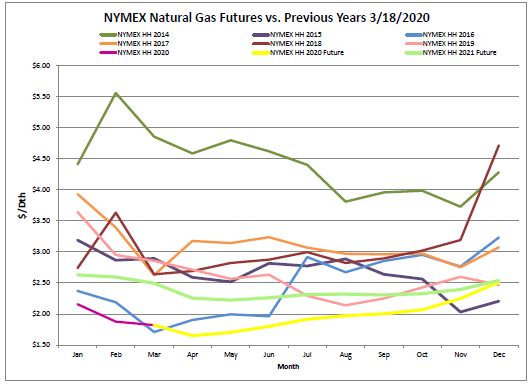 The NYMEX took another dive this week, with near-term prices remaining uncharacteristically low. The 12- month strip is nearing the 2015/2016 lows experienced after that warm winter.
It's hard to believe just a few weeks ago the presidential political candidates influence was a main topic of influence on the energy market. The Saudis and Russia continue to dispute in an oil price war, racing to gain market share and flooding the market with supply by both parties. But the driving force now is the effects or potential effects of Coronavirus. Most of the country has, or is soon likely, to go into "hibernation" over the next 4-6 weeks. The true demand shock of this global virus may slowly show its cards. Without demand recovery in site, near-term natural gas prices could remain low. Prompt month gas has been under $2.00/Dth since January 21, 2020. There are only roughly 100 total days since 2000 where prompt month gas was less than $2.
Overall, the current environment gives way to an immense amount of uncertainty for what the future holds. However history as a guide, market environments driven by fear are usually short lived. Gasoline is indicative and can be a good indicator of when things go back to normal as people return to the pump and "normal" life.
As a business manager/owner/energy user- What should you be doing right now??
• Get in contact with us to review your energy plan. With uncertainty in so many other areas, let us help you feel fully informed about your energy strategy.
• Consider long term price options. Although this may not always be your strategy, this is currently a good time to take advantage of these exceptionally low prices.
Six-Month Natural Gas Futures
Futures as of 3/18/2020 versus previous week:
| | | |
| --- | --- | --- |
| Apr-20 | $1.651 | -$0.206 |
| May-20 | $1.705 | -$0.195 |
| Jun-20 | $1.801 | -$0.179 |
| Jul-20 | $1.916 | -$0.165 |
| Aug-20 | $1.971 | -$0.150 |
| Sep-20 | $2.004 | -$0.129 |
Natural Gas Inventory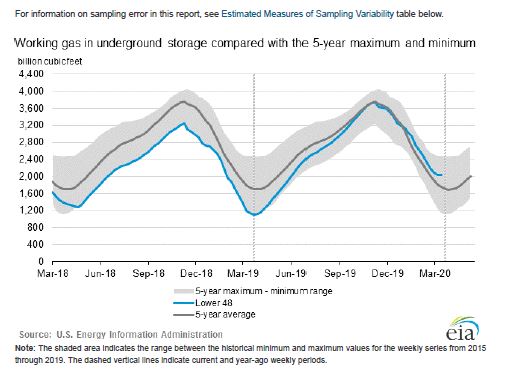 As of Friday, March 13, 2020 working gas in storage was 2,034 Bcf. According to EIA estimates this represents a net decrease of 9 Bcf from the previous week. Currently storage is 76% above last year's levels and 16% above the 5-year average. The average rate of withdrawal from storage is 13% lower than the five-year average so far in the withdrawal season. Next week is anticipated to be a similar size withdrawal. One year ago, the withdrawal was 91 Bcf.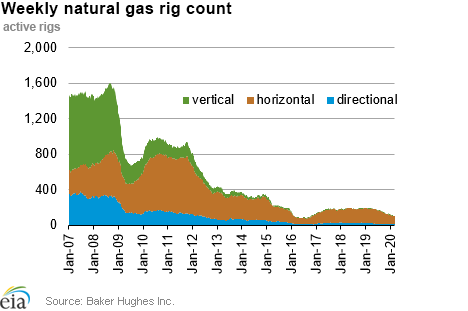 The Baker Hughes exploration gas rig count fell by one rig this week for a total of 106. This is 86 fewer rigs than the 192 in operation at this time one year ago. The financial condition of gas has continued to become more distressed. Producers with high debt will cut budgets, which could mean production falling further in the 2nd half of 2020 into 2021.
Weather Update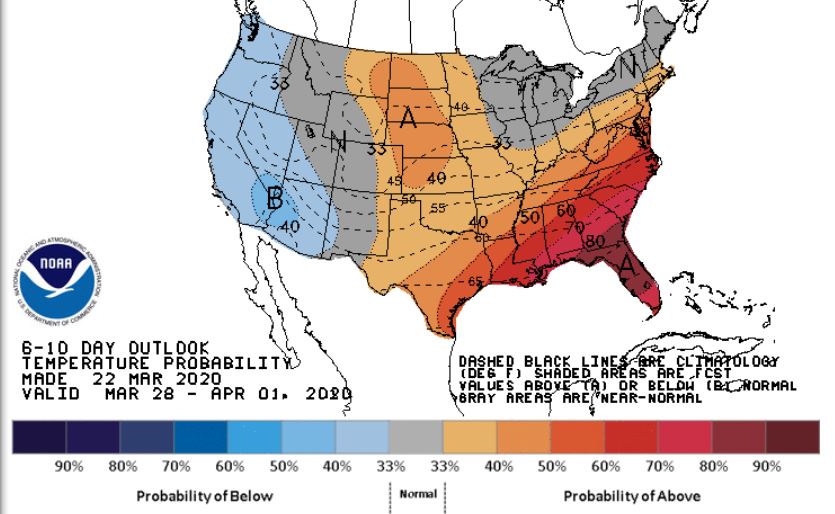 The Southeast is expected to see some warmer than normal temperatures for the end of April. While the West coast is forecasted to have slightly cooler than normal temperatures.
National Weather Service Updates (NOAA)
Hurricane Watch: No Current Hurricanes
Click here to view the National Hurricane Center site.
Equatorial Pacific Outlook:
Click here to view La Nina and El Nino status.
Energy News
News US oil and gas trade groups voice confidence on industry preparedness for virus
US oil and gas industry officials Wednesday expressed confidence in the sector's ability to keep energy supplies flowing amid the coronavirus outbreak and downplayed the likelihood of supply chain interruptions
If you would like to receive the Energy Market Update to your inbox weekly, please click here to submit your name and email address. 
Disclaimer: This information is provided for the use of our customers and potential customers. Power Management Company assumes no responsibility or liability for the accuracy or completeness of pricing or information in this document. Historical data was obtained from sources that we believe to be reliable, but we do not guarantee its accuracy or completeness. It is not intended to provide advice or recommendation. Views are subject to change without notice.