Electricity Markets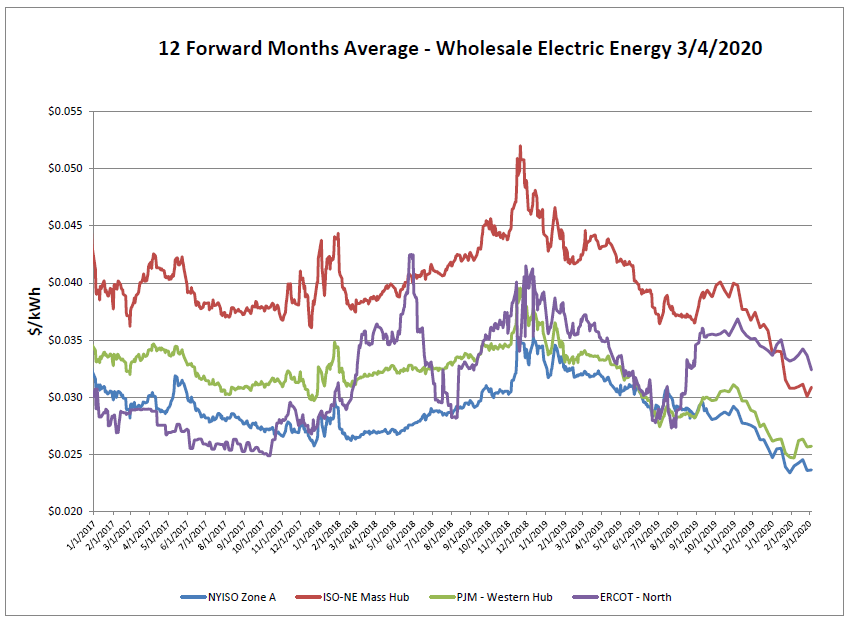 Pricing remains low across ISOs this week as the underlying cost of natural gas continues to be extremely low. Halted LNG exports due to the fear of the Coronavirus are a contributing factor.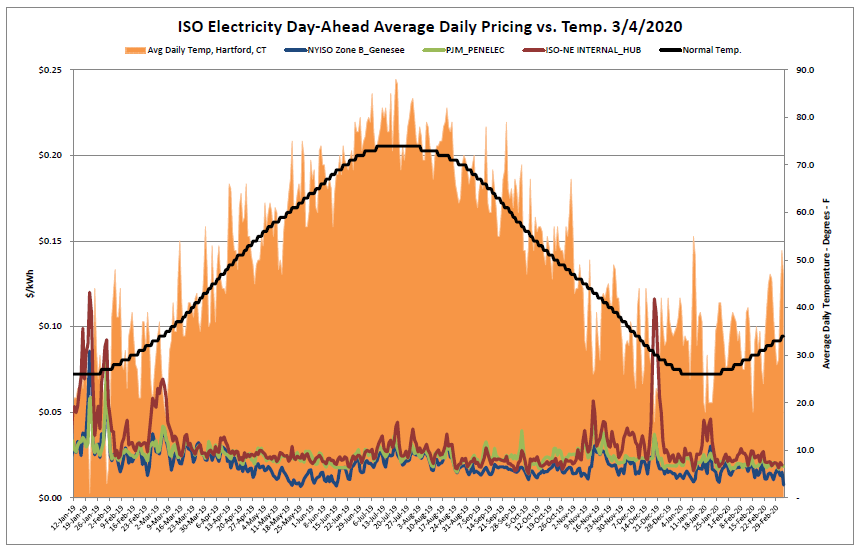 It was a quiet week in the daily markets as temperatures spiked well above normal for this time of year. The NYISO's Zone B observed the largest dip in response to the mid-week warmth.
Natural Gas Markets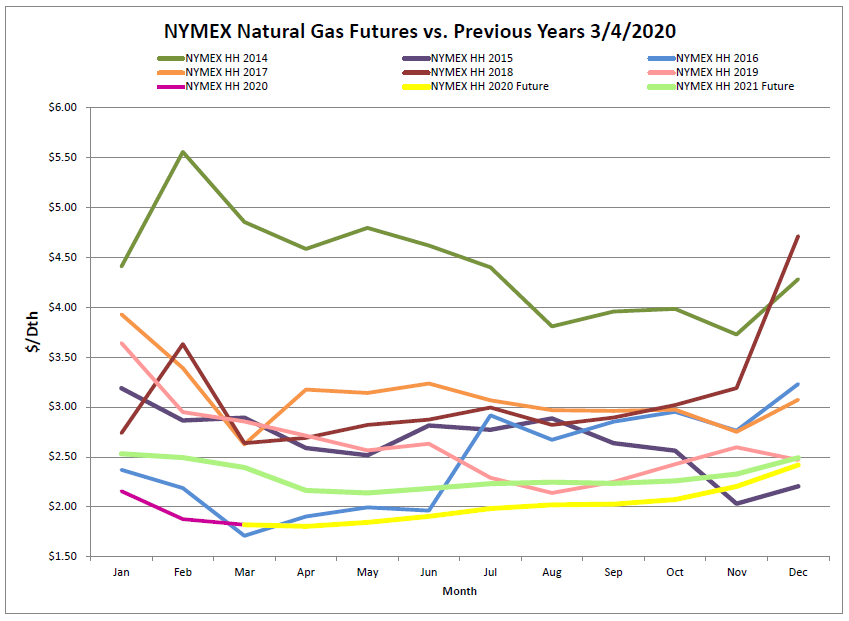 Natural gas rose slightly for the remainder of 2020 but was nearly flat across 2021 futures. Pricing remains extremely competitive as global market conditions impacted due to the Coronavirus mount downward pressure on rates.
Six-Month Natural Gas Futures
Futures as of 3/4/2020 versus previous week:
| | | |
| --- | --- | --- |
| Apr-20 | $1.805 | +$0.066 |
| May-20 | $1.845 | +$0.056 |
| Jun-20 | $1.905 | +$0.048 |
| Jul-20 | $1.983 | +$0.041 |
| Aug-20 | $2.020 | +$0.041 |
| Sep-20 | $2.027 | +$0.039 |
Natural Gas Inventory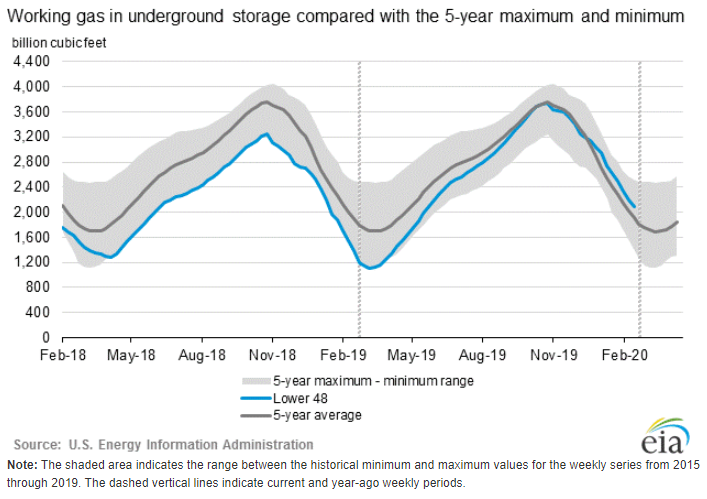 The EIA reported a draw from storage of 109 Bcf. Working gas in storage was 2,091 Bcf as of Friday, February 28, 2020. This was in line with the 5-year average.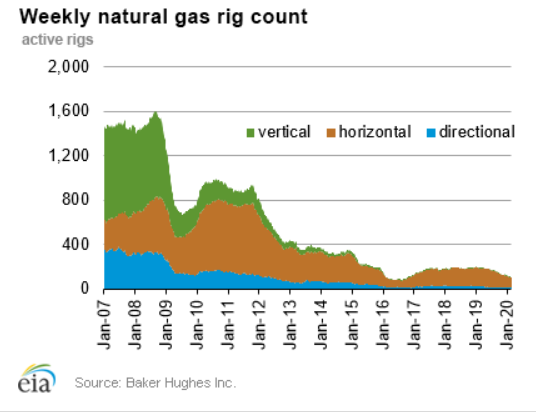 The Baker Hughes exploration gas rig count fell by one this week for a total of 109. This is 84 fewer rigs than the 193 in operation at this time one year ago.
Weather Update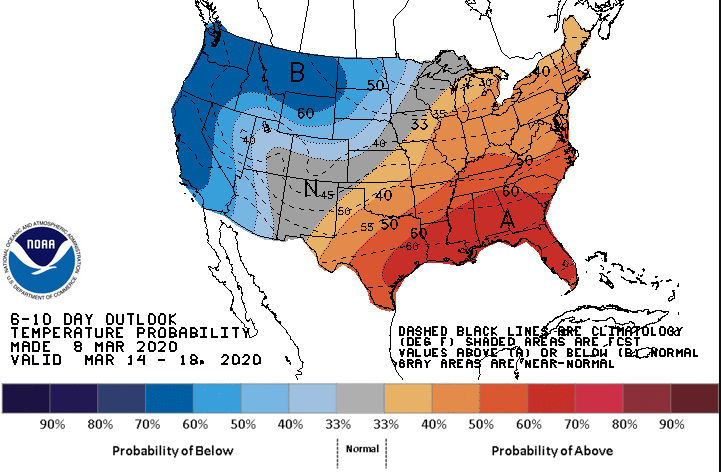 Temperatures are expected to be above normal for the eastern half of the US and Texas with the highest probability of below-normal temperatures along the West Coast and over Montana.
National Weather Service Updates (NOAA)
Hurricane Watch: No Current Hurricanes Click here to view the National Hurricane Center site.
Equatorial Pacific Outlook:
Click here to view La Nina and El Nino status.
Energy News
News : API warns battleground voters of economic impact of fracking ban
Washington — The American Petroleum Institute launched an ad campaign Thursday to warn voters in US battleground states that Democratic presidential candidates' proposals to ban fracking could trigger a recession and job losses across all sectors of the economy.
News : Northeast producer Southwestern plans to cut capex 20% in 2020
Appalachian operator Southwestern Energy Co. joined other large-scale U.S. shale producers with plans to cut its capital investment in 2020, as it slowly grows production through increased drilling and completion efficiencies and utilizes hedges to offset poor natural gas prices.