Electricity Markets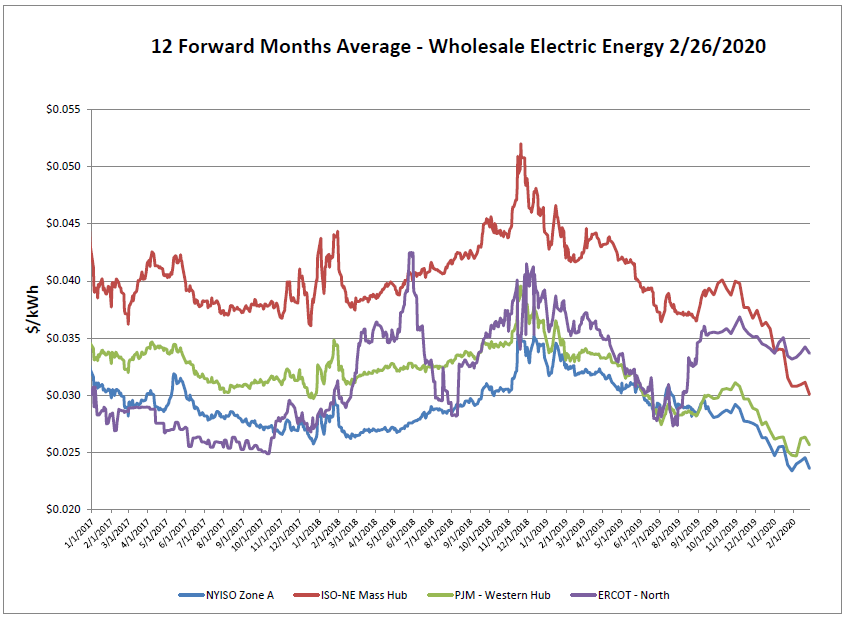 Pricing fell across all ISOs as the underlying cost of gas dropped over the last market week.
Daily pricing held steady as temperatures remained above average for this time of year.
Natural Gas Markets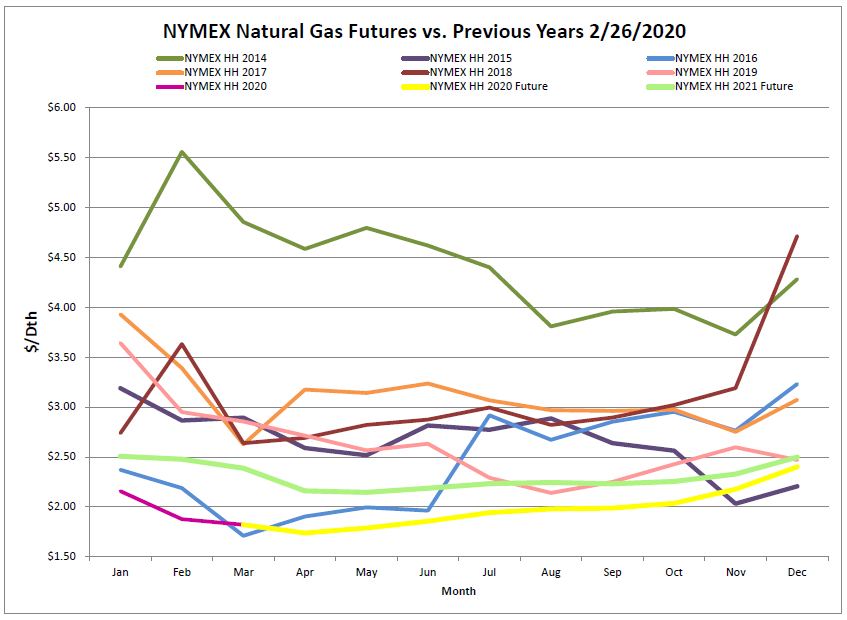 March 2020 settled at $1.821/dth last week. Near-term pricing saw the most substantial week-over-week drop as temperatures remain steadily above normal with unseasonably warm weather anticipated over the next several weeks.
In response to fears over the spread of Coronavirus, some overseas shipments of Liquefied Natural Gas (LNG) have been cancelled. Analysts had relied on these exports to help buoy the cost of natural gas in the US but, in light of these cancellations, an already-glutted market saw a tumble in price.
Six-Month Natural Gas Futures
Futures as of 2/26/2020 versus previous week:
| | | |
| --- | --- | --- |
| Apr-20 | $1.739 | -$0.247 |
| May-20 | $1.789 | -$0.234 |
| Jun-20 | $1.857 | -$0.214 |
| Jul-20 | $1.942 | -$0.187 |
| Aug-20 | $1.979 | -$0.177 |
| Sep-20 | $1.988 | -$0.168 |
Natural Gas Inventory

The EIA reported a draw from storage of 143 Bcf. Working gas in storage was 2,200 Bcf as of Friday, February 21, 2020. This was slightly below market expectations and places storage at 40.8% above levels of this same time one year ago.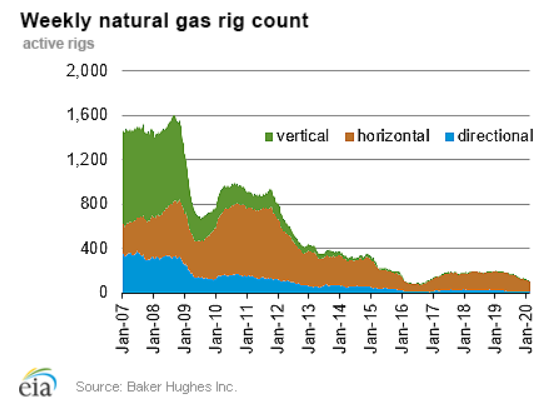 The Baker Hughes exploration gas rig count remained steady this week for a total of 110. This is 85 fewer rigs than the 195 in operation at this time one year ago. Several producers are expected to cut back on the number of rigs in the coming weeks in an effort to cut costs and keep financing viable in the face of decreased trading costs as availability increases with the loss of expected LNG exports and demand falls in response to unseasonably-warm weather.
Weather Update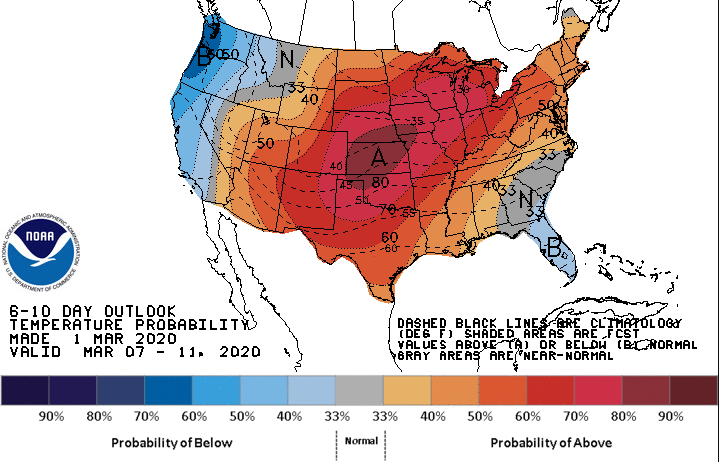 Temperatures are expected to be above normal for most of the contiguous US with the exceptions of the West Coast and Florida.
National Weather Service Updates (NOAA)
Hurricane Watch: No Current Hurricanes Click here to view the National Hurricane Center site.
Equatorial Pacific Outlook:
Click here to view La Nina and El Nino status.
Energy News
FERC Rejects ISO-NE's Proposed Early Sunsetting Revisions to Fuel Security Mechanism
On February 14, 2020, FERC rejected ISO New England Inc.'s ("ISO-NE") and the New England Power Pool Participants Committee's (together with ISO-NE, the "Filing Parties") proposed revisions to the ISO-NE tariff intended to allow for the termination of ISO-NE's Fuel Security Reliability Retention Mechanism ("Fuel Security Mechanism") at the end of Forward Capacity Auction ("FCA") 14 – one year earlier than currently provided in the tariff.
Largest New England coal plant clears ISO-NE capacity auction, will stay online until 2024
One of the last coal-fired power plants in New England won its bid in the latest ISO-New England capacity auction, finalized Tuesday, and will now run until 2024.