Electricity Markets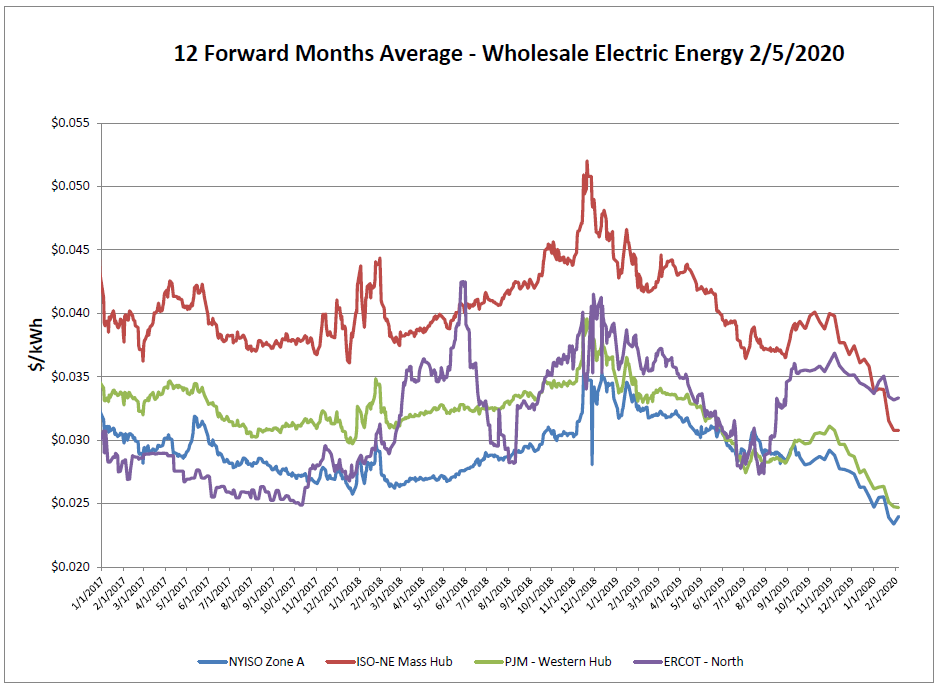 Electricity rebounded slightly across all markets as near-term pricing reacted to a brief rise in the underlying cost of natural gas.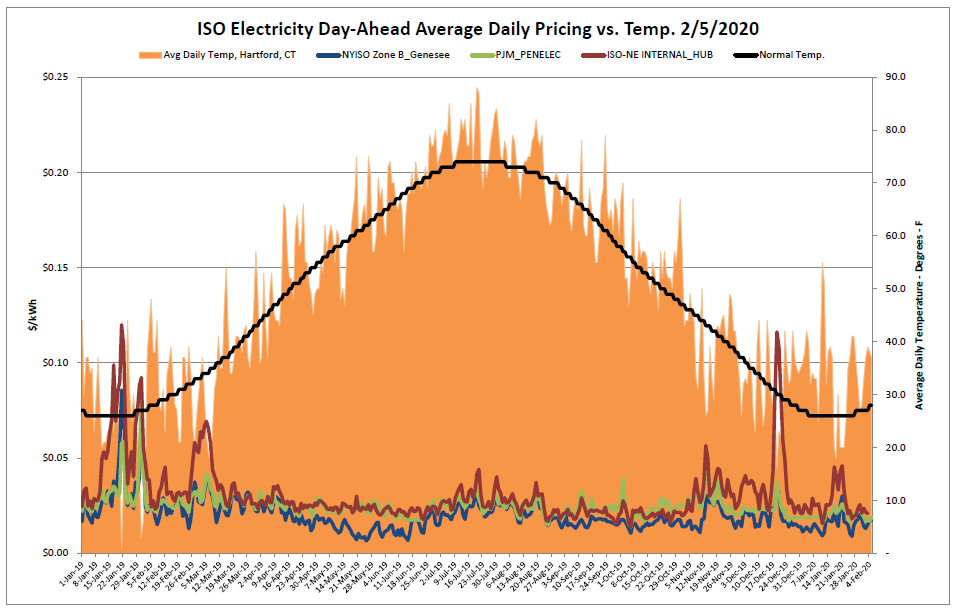 It was a quiet week in the daily markets as temperatures remained at or above the norm. Unseasonably warm temperatures are predicted to continue as we move out of the, on average, coldest time of the year.
Natural Gas Markets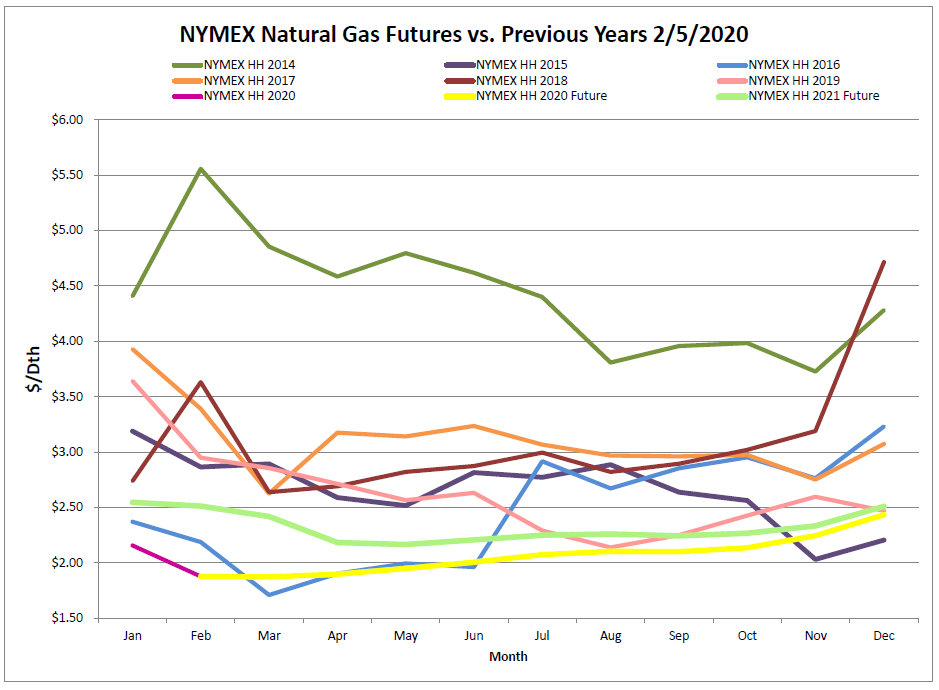 Slight upward pressure was observed in the near-term as the remainder of 2020 and the 2021 trendlines close in on one another.
Six-Month Natural Gas Futures
Futures as of 2/5/2020 versus previous week:
| | | |
| --- | --- | --- |
| Mar-20 | $1.875 | $0.043 |
| Apr-20 | $1.898 | $0.020 |
| May-20 | $1.949 | $0.007 |
| Jun-20 | $2.007 | -$0.004 |
| Jul-20 | $2.074 | -$0.010 |
| Aug-20 | $2.104 | -$0.007 |
Natural Gas Inventory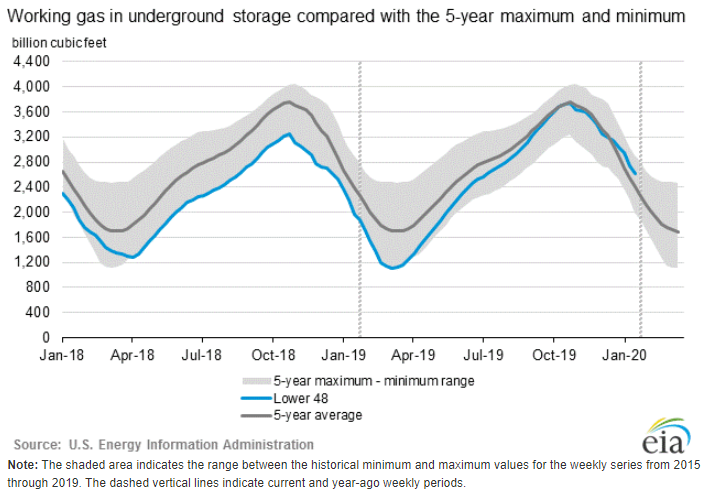 The EIA reported a draw from storage of 137 Bcf. Working gas in storage was 2,609 Bcf as of Friday, January 31, 2020. This week's withdrawal fell far short of last year's 228 Bcf and was in line with the 5-year average of 143 Bcf.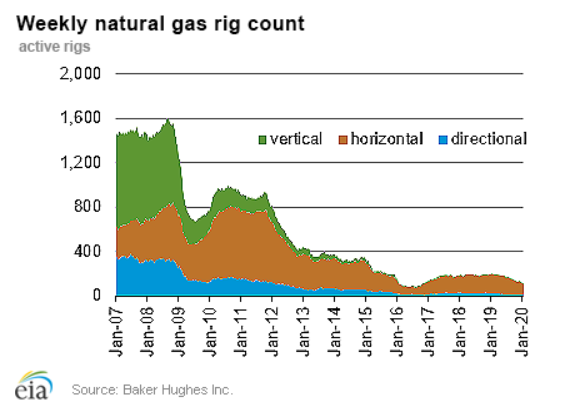 The Baker Hughes exploration gas rig count fell by one this week for a total of 111. This is 84 fewer rigs than the 195 in operation at this time one year ago.
Weather Update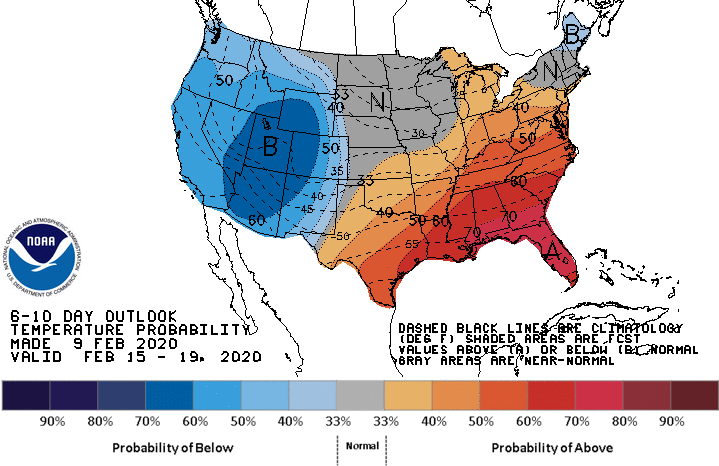 Temperatures have a high probability of being cooler than normal in the Western half of the US and warmer than normal from Texas to Florida and up the East Coast through Pennsylvania.
National Weather Service Updates (NOAA)
Hurricane Watch: No Current Hurricanes Click here to view the National Hurricane Center site.
Equatorial Pacific Outlook:
Click here to view La Nina and El Nino status.
Energy News
N.Y. Gov. Cuomo Announces $341M in Funding to Rebuild Critical Power Transmission Link in the North Country
Governor Andrew M. Cuomo announced $341 million in funding to advance the New York Power Authority's plan to rebuild and strengthen the Moses- Adirondack transmission lines – a vital 86-mile stretch of New York's North-South power transmission system.
Report: Nuclear, wind power contracts put Connecticut ratepayers at risk
A new report released by a Boston-based energy services company is projecting no relief in energy costs across New England over the next decade, and the potential for Connecticut ratepayers to face even higher electric bills.