Electricity Markets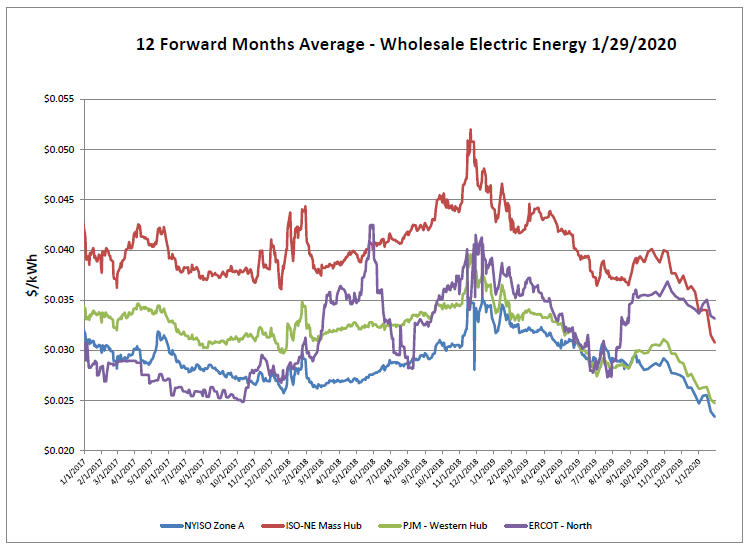 The downward trend continues with a softer slope than has been observed in previous weeks. ISO-NE, heavily affected by near-term lows, is at some of its most competitive levels in the last decade. Forward fixed rates remain extremely attractive even when comparing relatively higher outward year pricing.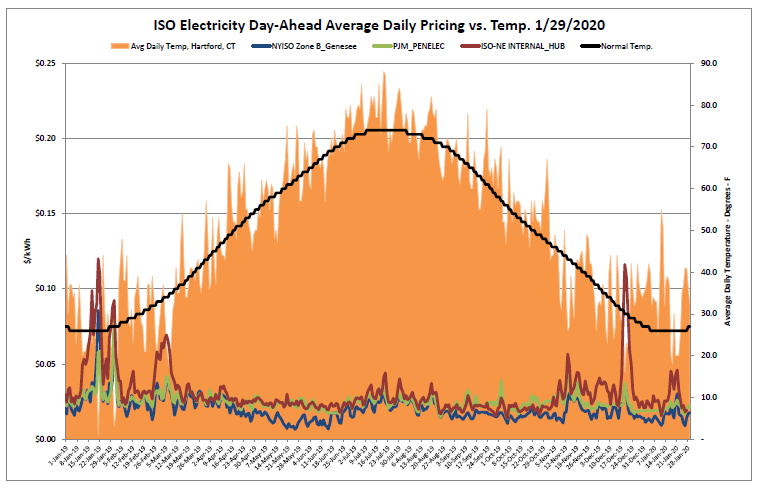 Unseasonably warm weather led to a predictable quiet week in the daily electric markets with NYISO Zone B trading below $.01/kwh on January 26, 2020.
Natural Gas Markets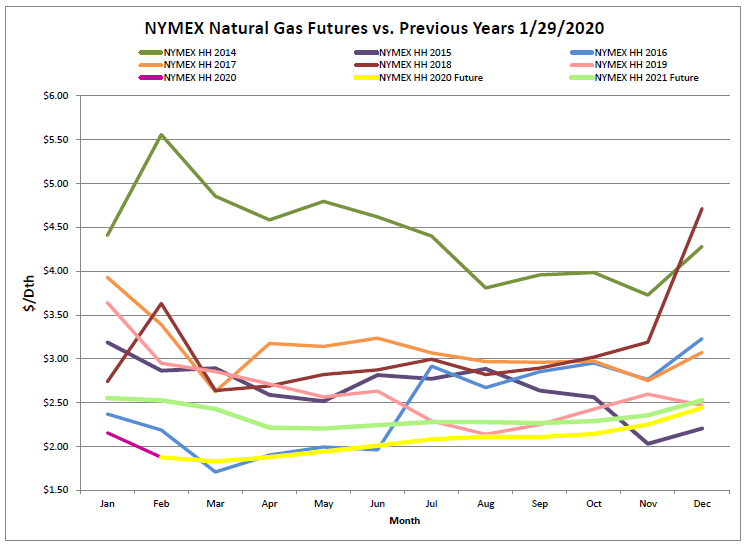 The February 2020 NYMEX settled at $1.877/dth, the lowest since February 1999, as warm weather continued throughout the US. Little effect was noted in the markets after the release of this week's storage report which detailed a withdrawal of 201 Bcf for the timeframe nearly two weeks ago when an extremely brief cold spell swept the nation. Though this surpassed both the 5-year average of 143 Bcf and last year's withdrawal of 171 Bcf, the continuation of warmer-than-normal temperatures in forward weather outlooks has held the cost of gas at historic lows.
Six-Month Natural Gas Futures
Futures as of 1/29/2020 versus previous week:
| | | |
| --- | --- | --- |
| Mar-20 | $1.832 | -$0.087 |
| Apr-20 | $1.878 | -$0.077 |
| May-20 | $1.942 | -$0.066 |
| Jun-20 | $2.011 | -$0.069 |
| Jul-20 | $2.084 | -$0.070 |
| Aug-20 | $2.111 | -$0.070 |
Natural Gas Inventory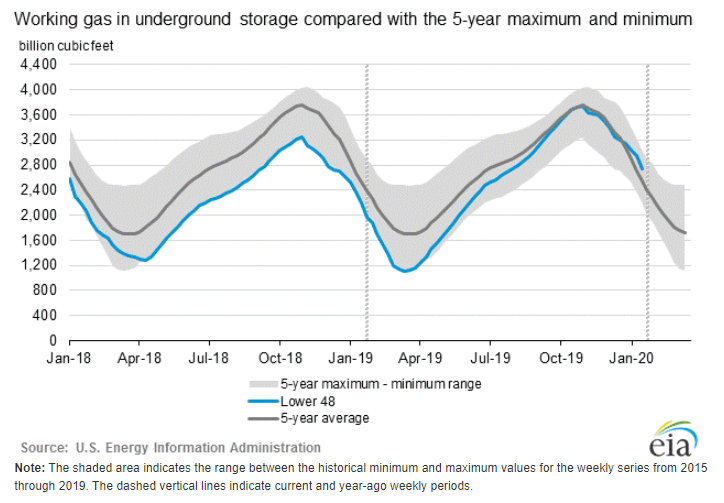 The EIA reported a draw from storage of 201 Bcf. Working gas in storage was 2,746 Bcf as of Friday, January 24, 2020. This was above both market expectations and the 5-year average. Even so, storage is trending 7.6% above the 5-year average and 23.6% above this time last year.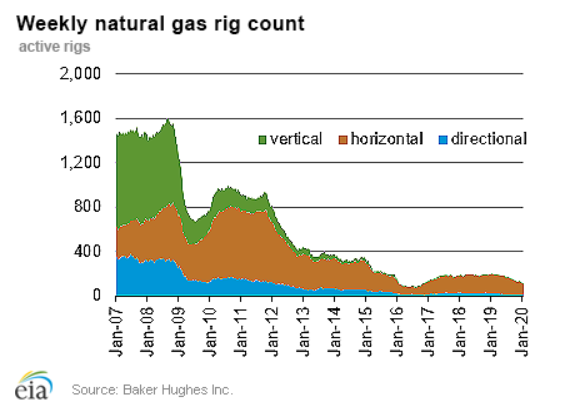 The Baker Hughes exploration gas rig count fell by three this week for a total of 112. This is 86 fewer rigs than the 198 in operation at this time one year ago.
Weather Update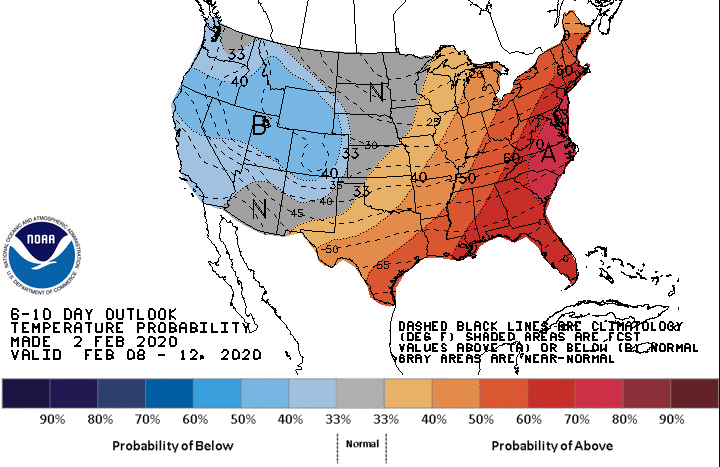 Warmer than average temperatures are expected for most of the contiguous United States with the exception of Florida and the Pacific Northwest.
National Weather Service Updates (NOAA)
Hurricane Watch: No Current Hurricanes Click here to view the National Hurricane Center site.
Equatorial Pacific Outlook:
Click here to view La Nina and El Nino status.
Energy News
'Gasmageddon' Is Here, with NatGas Prices Averaging $1.99 in 2020, Say Analysts
Natural gas has broken below the $2/MMBtu mark earlier than expected this year, and now the commodity faces a "gasmageddon" that could see prices stay below $2 on average through 2020.
Natural Gas Prices Are Poised To Move Above $3 As Production Declines
Energy is the most loathed sector of the entire stock market, and within the energy sector, natural gas is even more scorned after a roughly 14-year bear market, despite robust structural demand gains.