Electricity Markets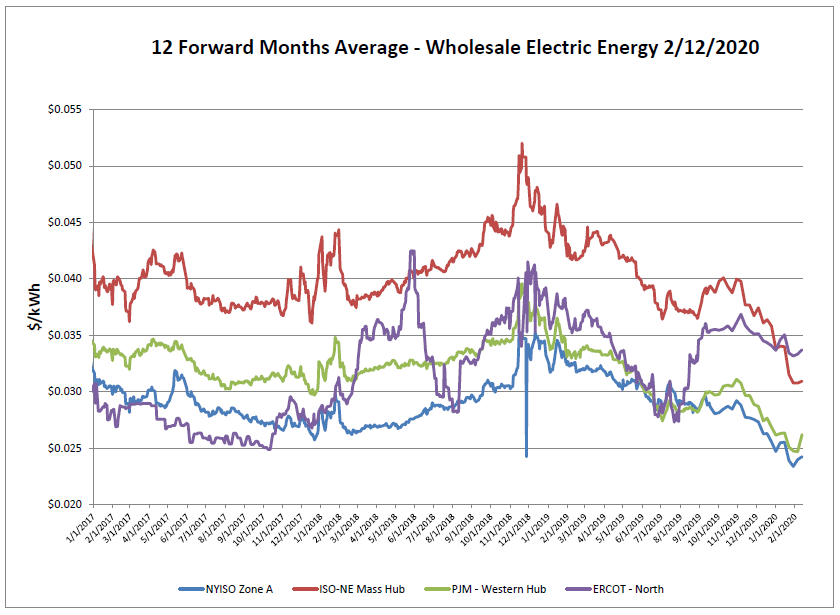 Electricity continued to experience a slight rebound this week as sustained winter temperatures and conditions were observed throughout most of the US.
ISO-NE held its 14th forward capacity auction for 2023-2024 and cleared at $2.00/KW-month. This will continue the downward descent of forward capacity pricing in the region which currently stands at $7.03/KW-month, slated to drop to $5.30/KW-month for 2020-2021, $4.63/KW-month for 2021-2022, and then $3.80/KW-month for 2022-2023.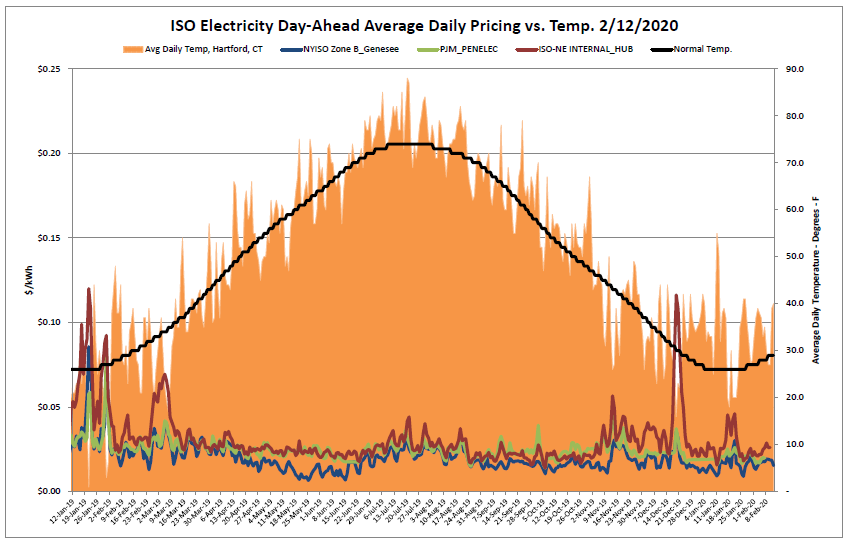 There was minimal volatility in the daily markets as temperatures remained at or above average.
Natural Gas Markets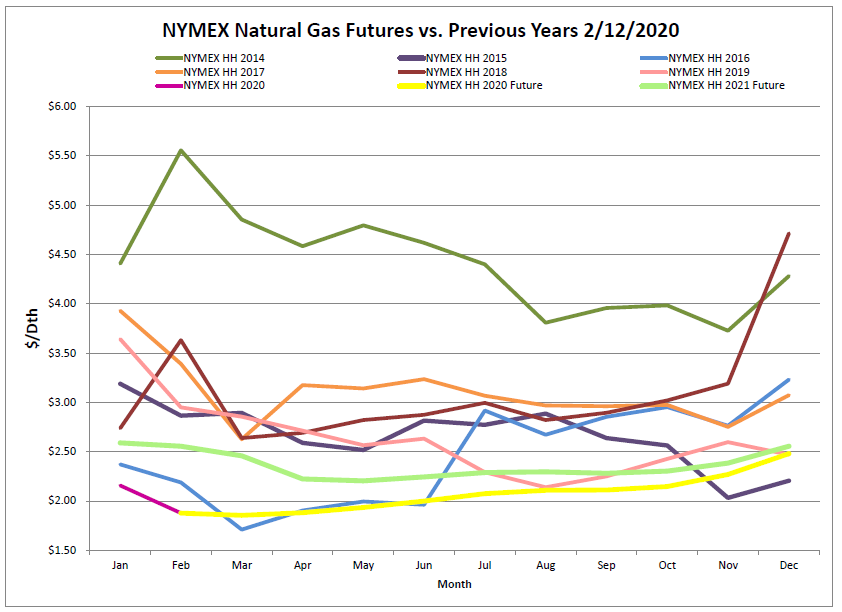 2020 futures dipped slightly in the near term while the fall and 2021 futures experienced marginal upward pressure.
Six-Month Natural Gas Futures
Futures as of 2/12/2020 versus previous week:
| | | |
| --- | --- | --- |
| Mar-20 | $1.856 | -$0.019 |
| Apr-20 | $1.882 | -$0.016 |
| May-20 | $1.934 | -$0.015 |
| Jun-20 | $2.000 | -$0.007 |
| Jul-20 | $2.074 | $0.000 |
| Aug-20 | $2.109 | $0.005 |
Natural Gas Inventory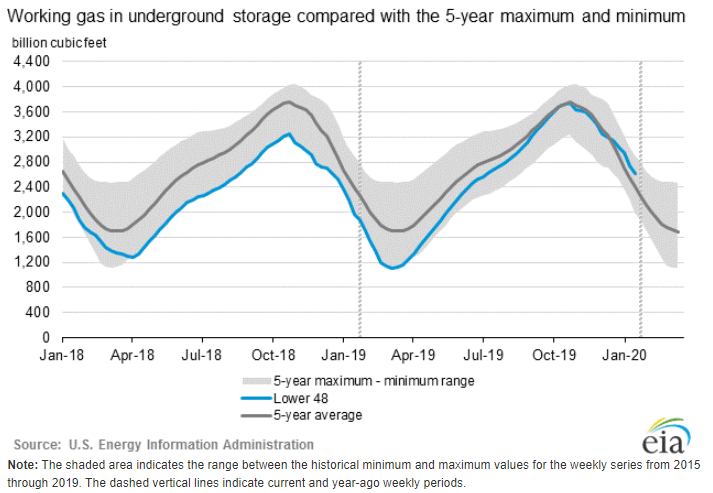 The EIA reported a draw from storage of 115 Bcf. Working gas in storage was 2,494 Bcf as of Friday, February 7, 2020. This was slightly above market expectations but fell short of the 5-year average of 131 Bcf.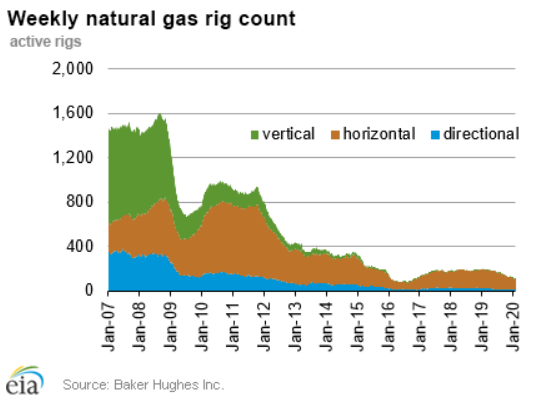 The Baker Hughes exploration gas rig count fell by one this week for a total of 110. This is 84 fewer rigs than the 194 in operation at this time one year ago.
Weather Update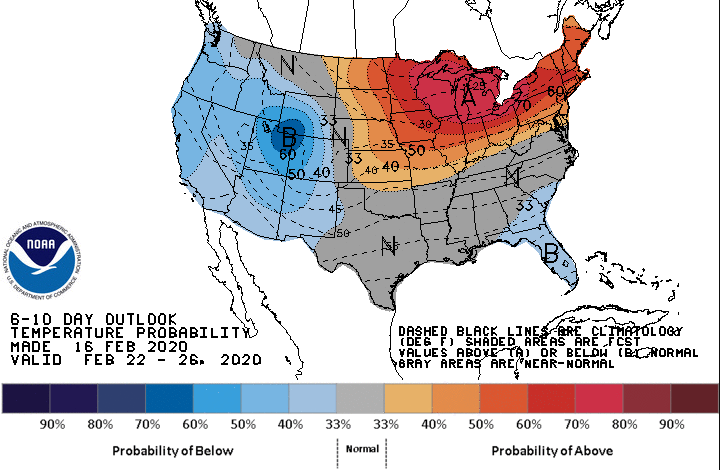 Temperatures are expected to fall below normal along the West Coast to Colorado and above average throughout the Northeast, extending through the Dakotas.
National Weather Service Updates (NOAA)
Hurricane Watch: No Current Hurricanes Click here to view the National Hurricane Center site.
Equatorial Pacific Outlook:
Click here to view La Nina and El Nino status.
Energy News
NYC mayor to pursue building gas ban, orders end to fossil fuel infrastructure
New York City Mayor Bill de Blasio announced Thursday that he will work with the city council to develop legislation prohibiting the use of natural gas and fuel oil in large buildings, part of a suite of renewable energy and climate policies.
US state regulators hear notes of caution on municipal gas ban movement
Washington — State regulators were served a strong dose of skepticism Sunday about municipal bans on natural gas hookups in new buildings from parties concerned about the consumer costs and the wisdom of setting key energy policies outside the state utility regulation construct.