Electricity Markets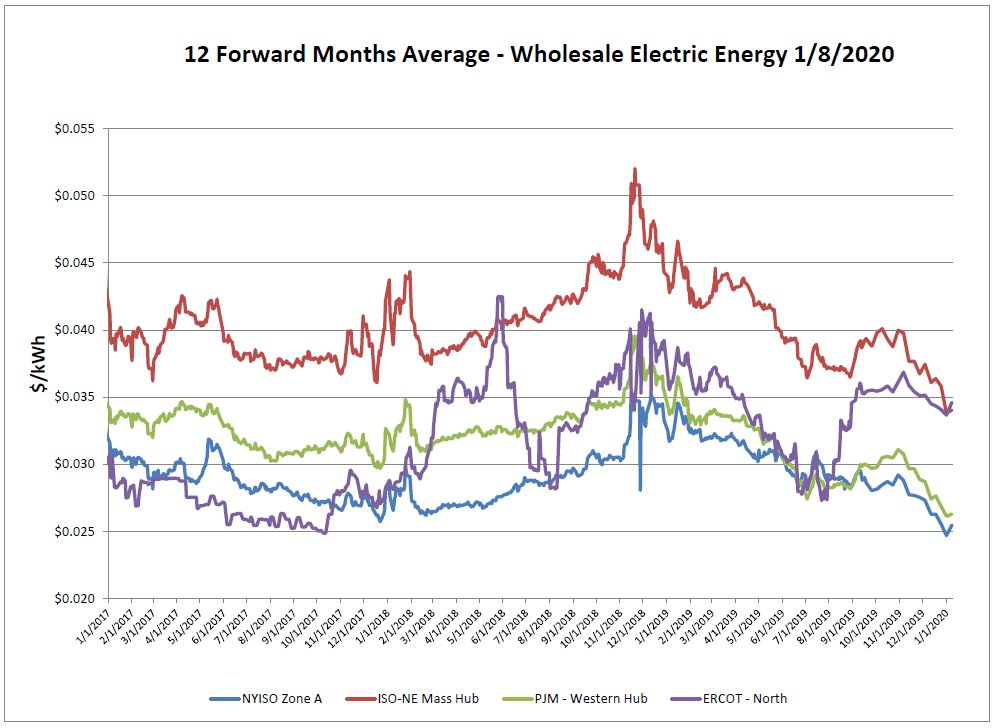 Electric markets saw a small bump upwards over the last market week but month over month continue to remain extremely competitive. Pricing across all regions has been primarily driven by the low underlying cost of natural gas. ISO-NE's forward average is highly reflective of uncharacteristic near-term lows; 2021 rates of this same timeframe are not quite as similarly competitive.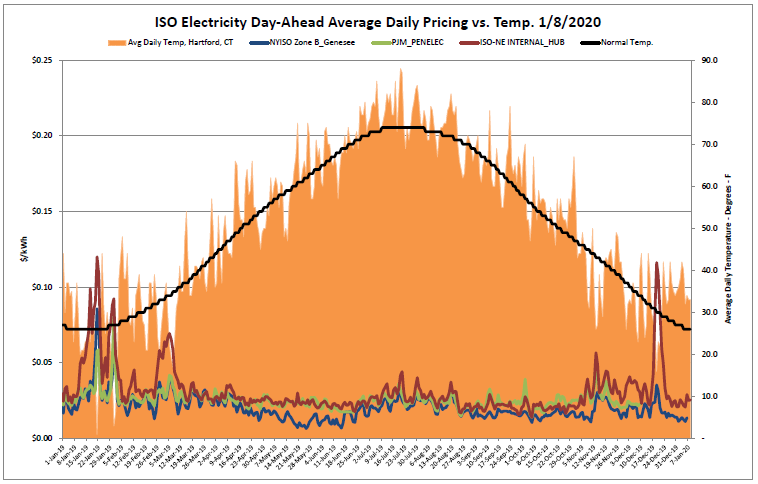 Continued above-average temperatures resulted in an expected quiet week in the daily markets. Information is not currently available for Penelec.
Natural Gas Markets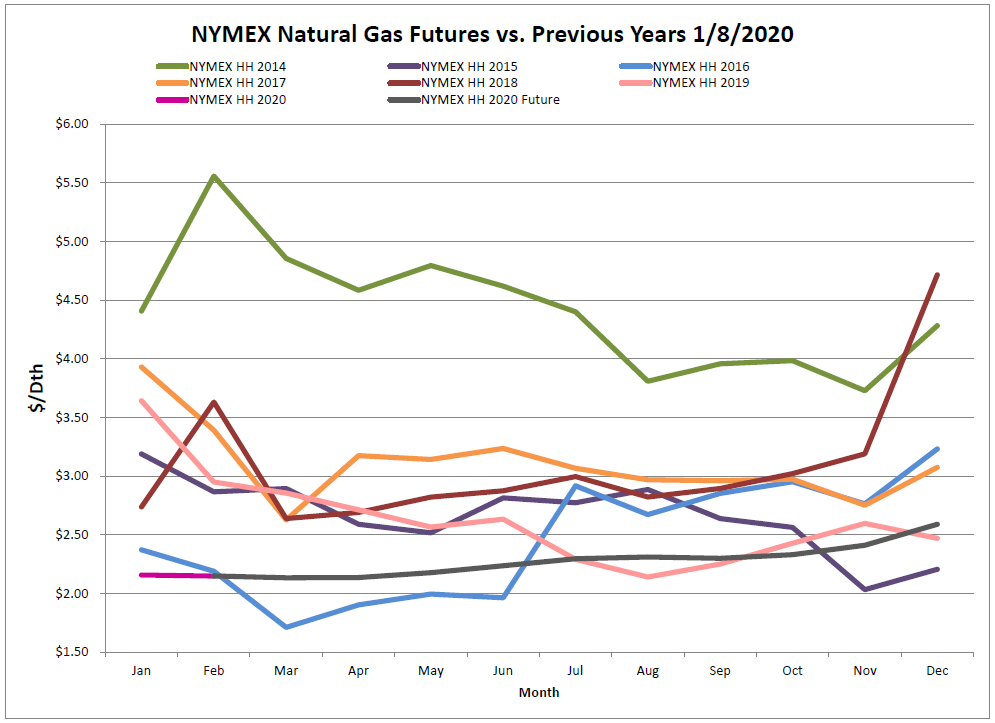 The NYMEX continues to present incredible value in the face of an exceedingly mild winter resulting in low withdrawals from storage.
Six-Month Natural Gas Futures
Futures as of 1/8/2020 versus previous week:
| | | |
| --- | --- | --- |
| Feb-20 | $2.149 | +$0.020 |
| Mar-20 | $2.134 | +$0.035 |
| Apr-20 | $2.136 | +$0.032 |
| May-20 | $2.177 | +$0.029 |
| Jun-20 | $2.236 | +$0.030 |
| Jul-20 | $2.296 | +$0.031 |
Natural Gas Inventory
The EIA reported a draw from storage of 44 Bcf. Working gas in storage was 3,148 Bcf as of Friday, January 3, 2020. This was on par with market expectations and very low in comparison to the 5-year average withdrawal of 156 Bcf. Gas in storage is now trending 2.4% above the 5-year average and 19.8% above this time last year when record lows were set.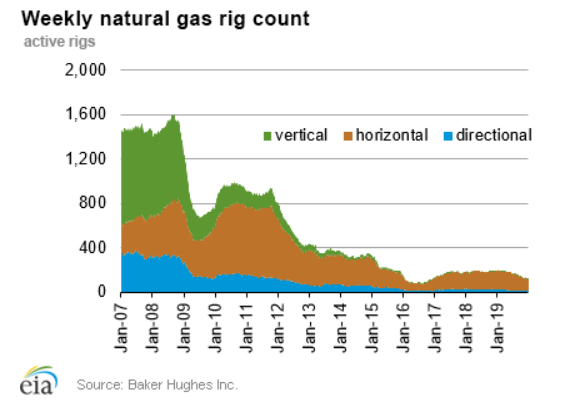 The Baker Hughes exploration gas rig count fell by four this week for a total of 119. This is 83 fewer rigs than the 202 in operation at this time one year ago.
Weather Update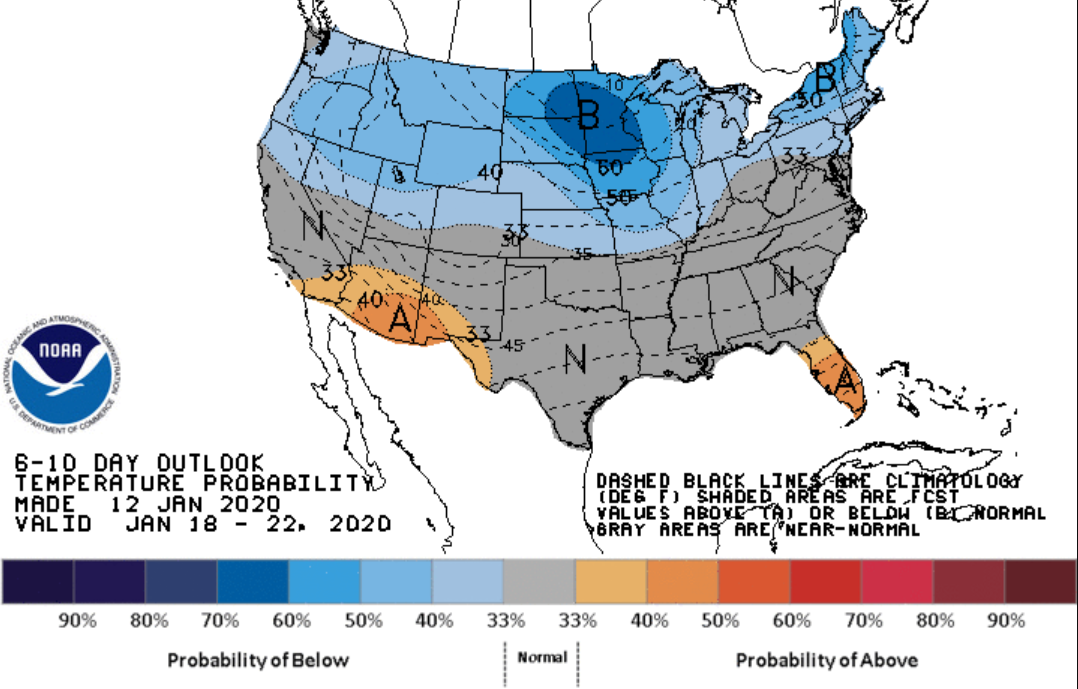 Below average temperatures can be expected throughout the northern half of the United States while the southern half is largely expected to be within seasonal norms.
National Weather Service Updates (NOAA)
Hurricane Watch: No Current Hurricanes Click here to view the National Hurricane Center site.
Equatorial Pacific Outlook:
Click here to view La Nina and El Nino status.
Energy News
Power sector faces major policy, technology and market challenges in 2020
Houston — Policy actions regarding distributed energy, capacity markets, carbon pricing and tax credits likely will interact with market and technical phenomena such as hydrogen, natural gas and offshore wind to make 2020 eventful for power markets, industry observers say.