Electricity Markets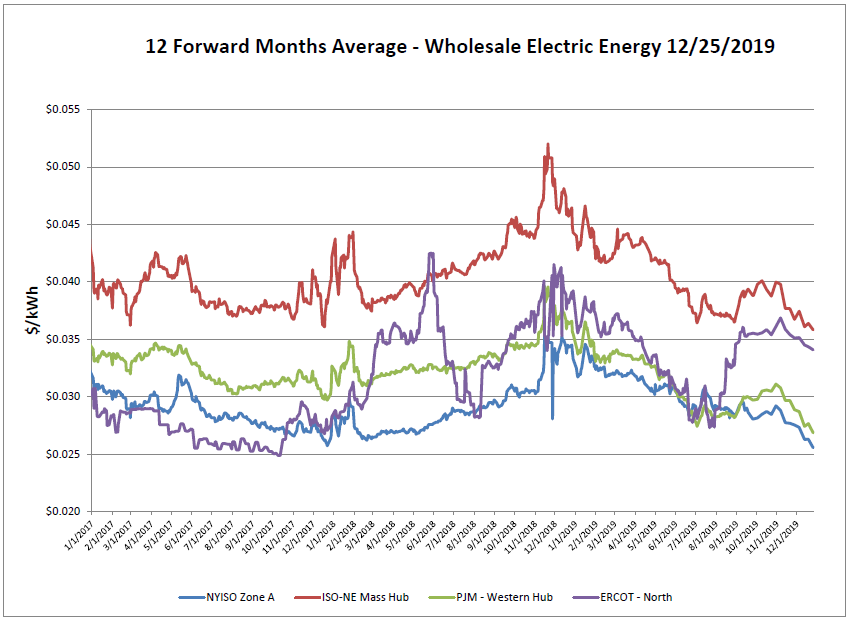 Electric markets saw another drop as we moved into the holiday week. Warmer temperatures and lower demand brought down rates in the near-term and continue to afford incredible value in outward years.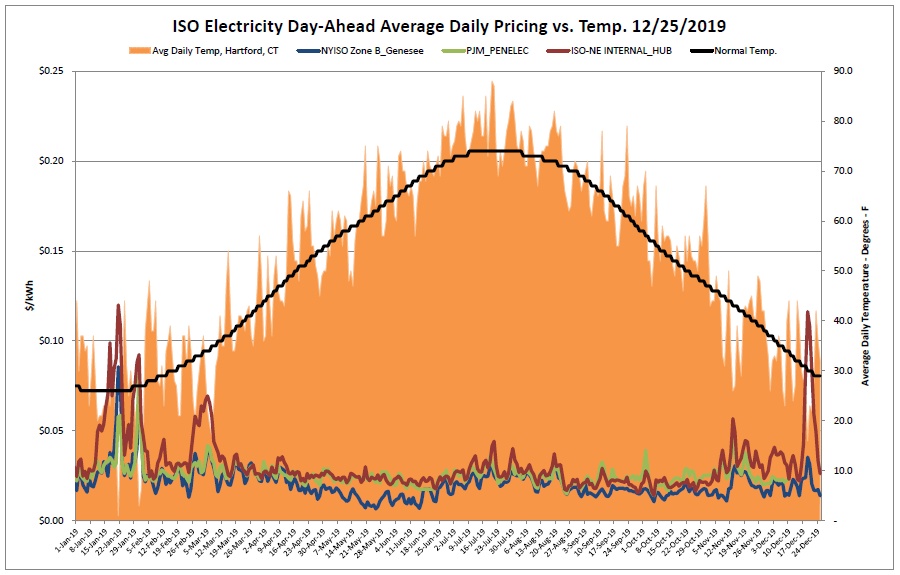 A brief cold spell caused an expected surge in the daily markets that quickly quieted as temperatures rose back to, and above, the normal range.
Natural Gas Markets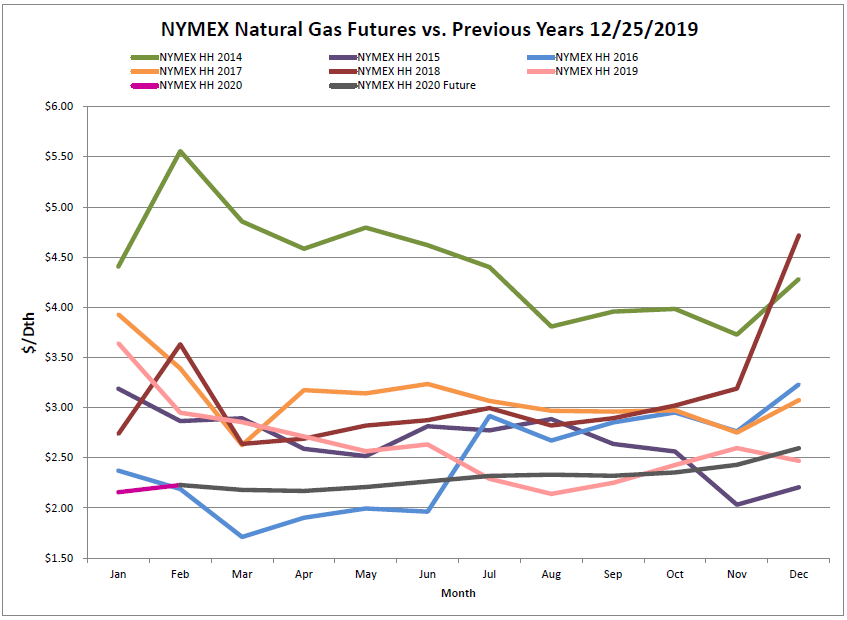 The January NYMEX contract closed at $2.158; a historic low in January not seen since 1999. Pricing over the next 12 months continues to trend near the all-time lows of the past two decades and remains a market well-worth taking advantage of long term.
Six-Month Natural Gas Futures
Futures as of 12/25/2019 versus previous week:
| | | |
| --- | --- | --- |
| Feb-20 | $2.229 | -$0.035 |
| Mar-20 | $2.180 | -$0.031 |
| Apr-20 | $2.170 | +$0.003 |
| May-20 | $2.209 | +$0.018 |
| Jun-20 | $2.264 | +$0.023 |
| Jul-20 | $2.320 | +$0.028 |
Natural Gas Inventory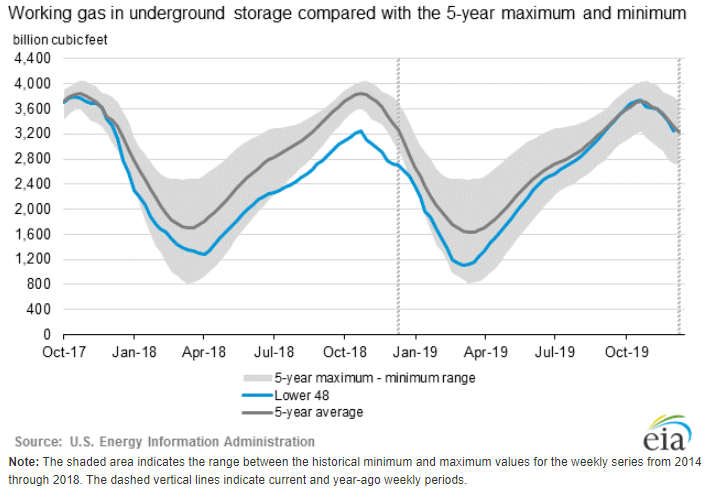 The EIA reported a draw from storage of 161 Bcf. Working gas in storage was 3,250 Bcf as of Friday, December 20, 2019. This was the second week in a row that the reported withdrawal surpassed industry expectations; median estimates among major analysts ranged from 147 to 158 Bcf. Despite this pull, the NYMEX saw minimal fluctuation, an increase of only $.002/dth over rates already trending $.08 below the day before, before swift dropping back to close the day, and January 2020's contract, down $.136 to $2.158.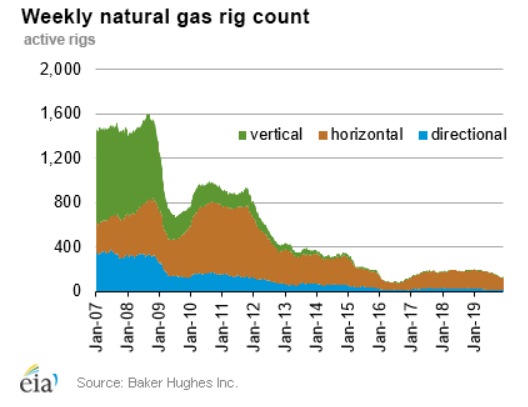 The Baker Hughes exploration gas rig count remained steady from last week for a total of 125. This is 73 fewer rigs than the 198 in operation at this time one year ago.
Weather Update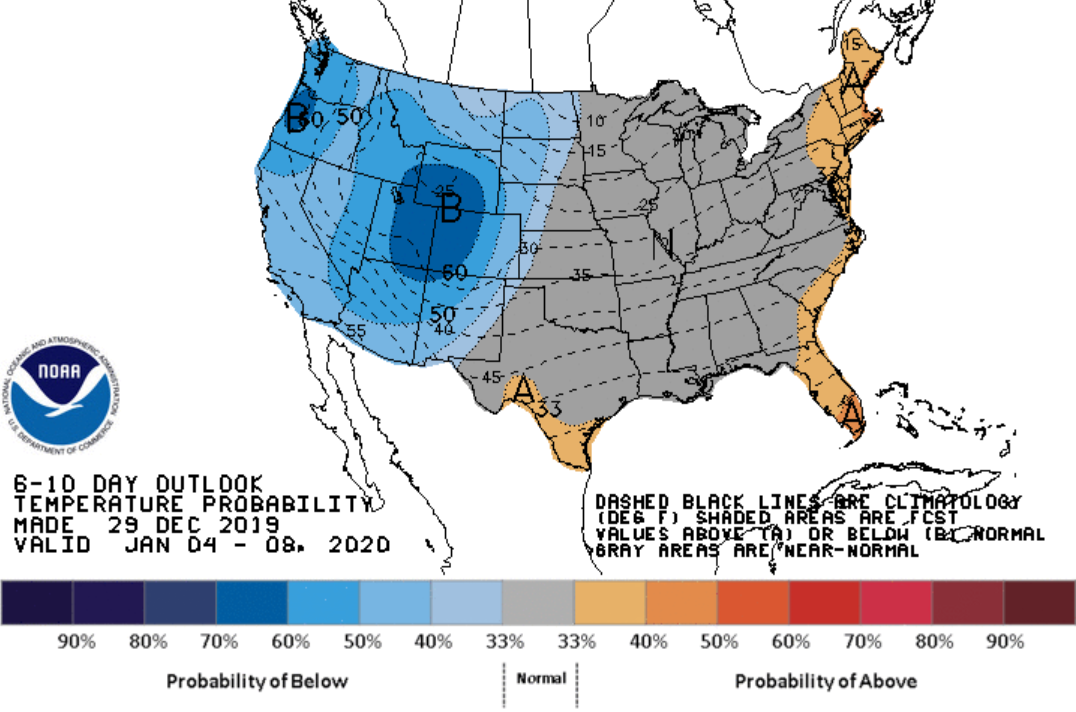 Temperatures are expected to be cooler than normal for the western half of the United States. Normal temperatures are expected throughout the East with a small band of slightly above-normal temperatures predicted along the coast and in South Texas.
National Weather Service Updates (NOAA)
Click here
to view the National Hurricane Center site. Equatorial Pacific Outlook:
Click here
to view La Nina and El Nino status.
Energy News
NY Approves 124MW Wind Farm in Broome County
The New York State Board on Electric Generation Siting and the Environment has approved the development of a 124-megawatt wind farm in Broome County, N.Y. Dubbed Bluestone Wind, the renewable energy project is estimated to require an investment of approximately $200 million.