Electricity Markets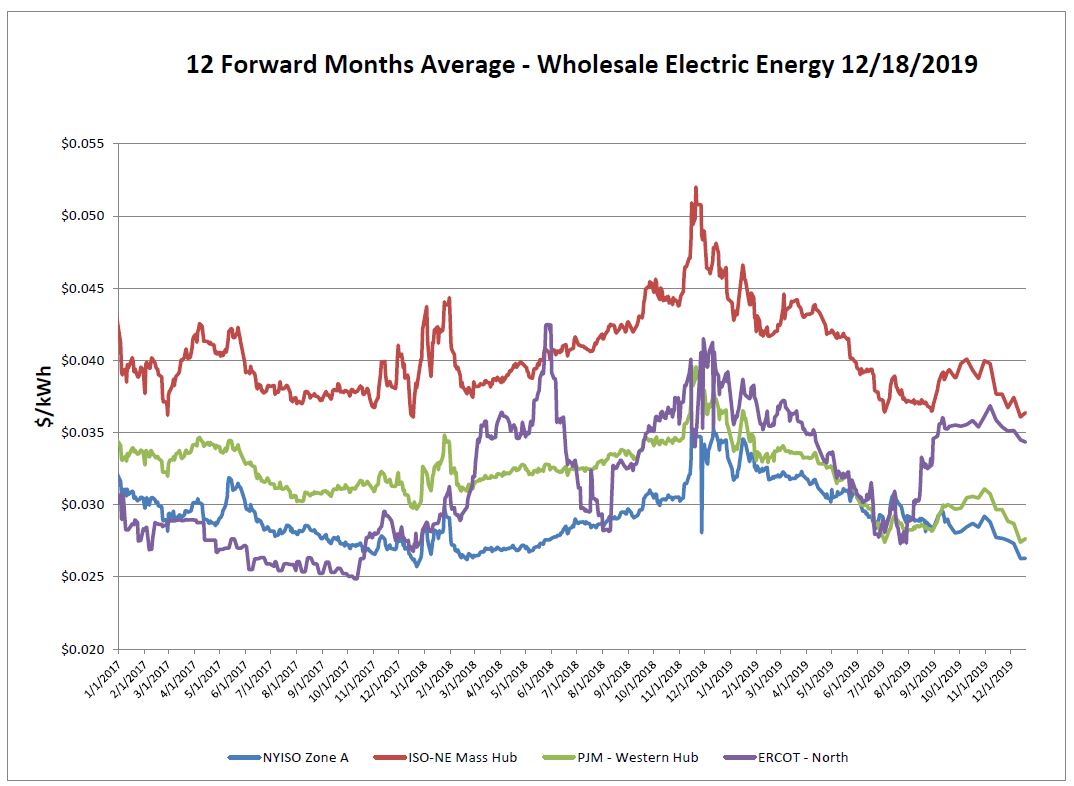 Electric markets saw the slightest tick up over the report week. On a broad scale, the overall wholesale cost of energy is down. It remains a good time to take advantage of opportunities in the market you can control, as many other non-energy related components are expected to continue driving up costs into the future.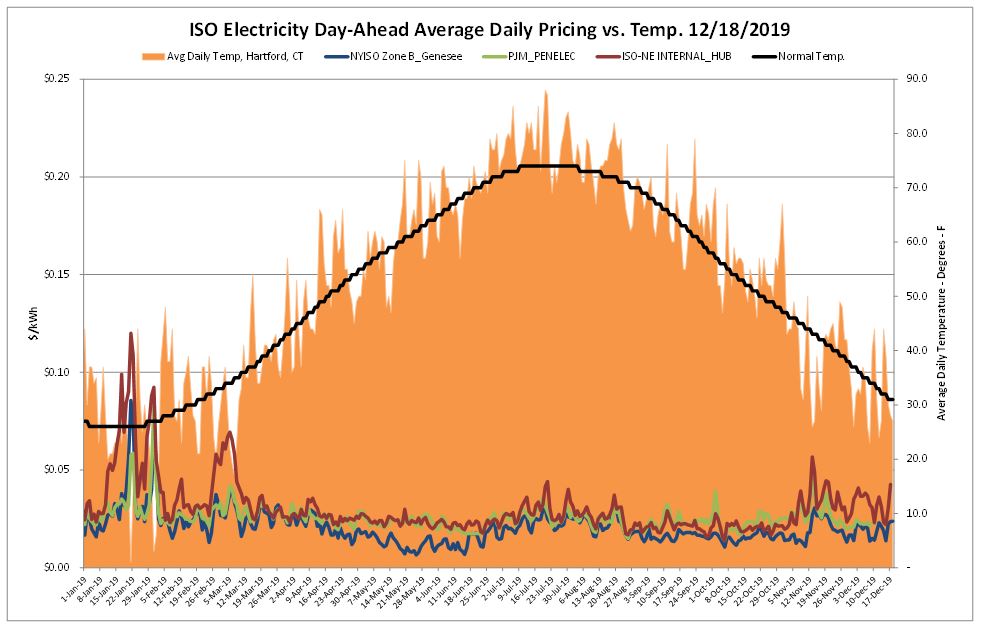 As per this time of year, weather continues to dominate volatility on the day-ahead markets.
Natural Gas Markets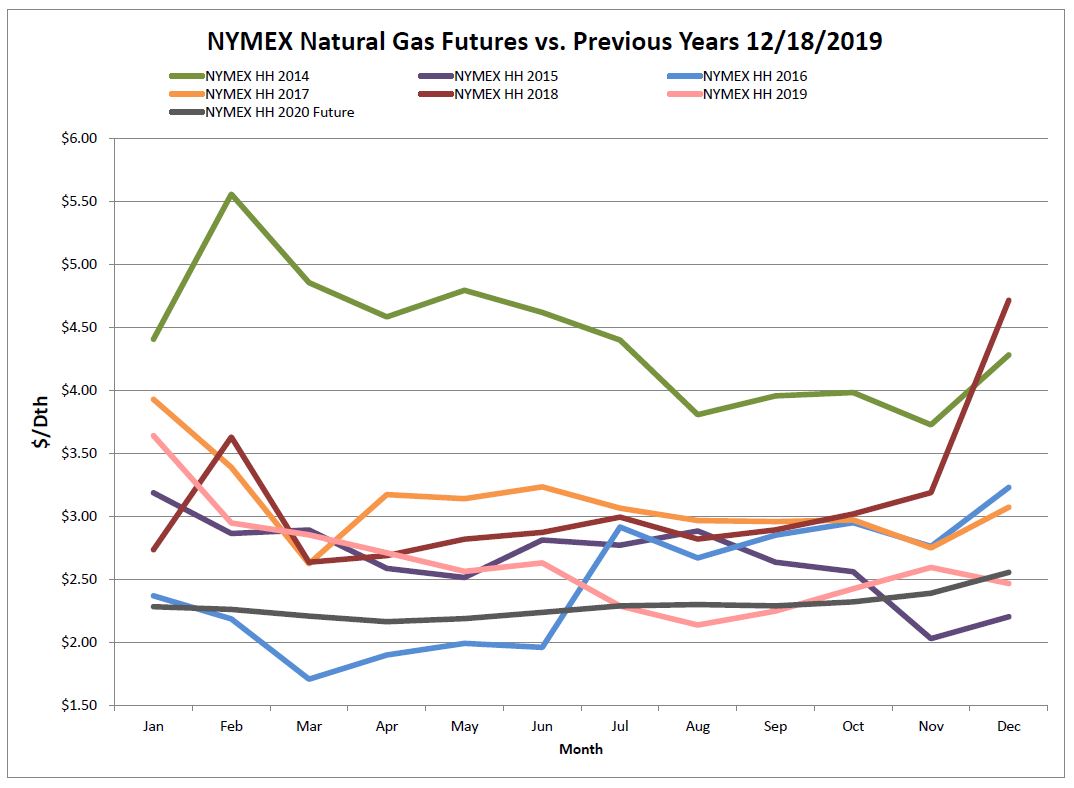 Continued healthy production and storage are keeping prices very close to their all-time lows. Weather continues to remain the focus of most trading activity. Though the first half of November came in cold, the opposite has been seen in a December that has been far warmer than normal; so far the 12th warmest on record. The big question is whether this pattern will continue into January. Winter has technically just begun this past weekend and price risk remains with January forecasts largely undetermined with February, thus far, expected to be colder than normal. Next week's forecast shows well-above-average temperatures that would lessen residential and commercial heating demand around the holidays. However, the Northeast is expected to be a few degrees below normal for the first week of January. As a result, the monthly contracts within the 2020 calendar strip each gained slightly.
Six-Month Natural Gas Futures
Futures as of 12/18/2019 versus previous week:
| | | |
| --- | --- | --- |
| Jan-20 | $2.286 | +$0.043 |
| Feb-20 | $2.264 | +$0.021 |
| Mar-20 | $2.211 | +$0.011 |
| Apr-20 | $2.167 | +$0.019 |
| May-20 | $2.191 | +$0.023 |
| Jun-20 | $2.241 | +$0.022 |
Natural Gas Inventory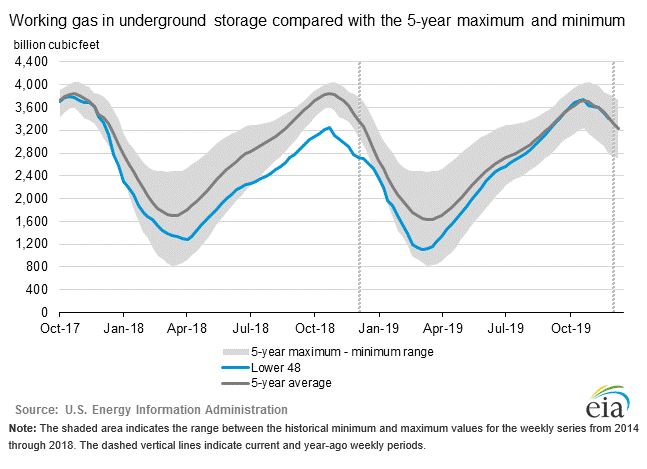 The EIA reported a draw from storage of 107 Bcf. Working gas in storage was 3,411 Bcf as of Friday, December 13, 2019. This withdrawal was well above most estimates but has little impact on the natural gas market.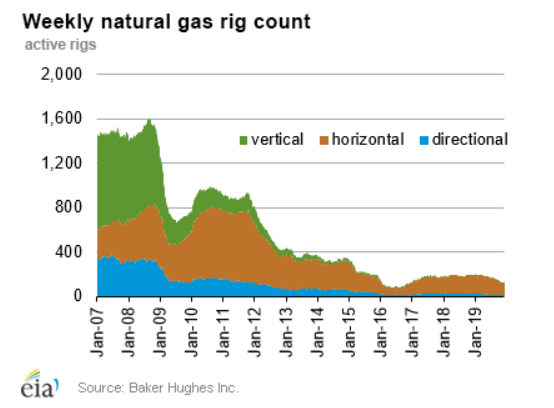 The Baker Hughes exploration gas rig count continues to decrease, by another four rigs from last week, for a total of 125. This is 72 fewer rigs than the 197 in operation at this time one year ago. Gas rig counts are down 35% since the start of the year.
Weather Update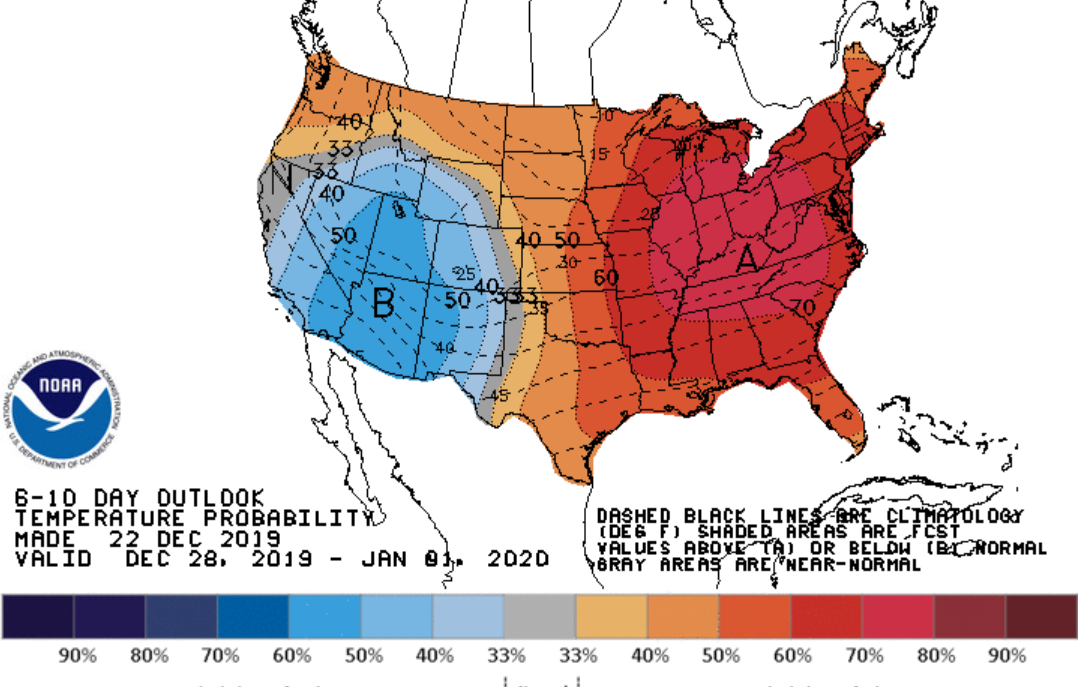 Temperatures are expected to be warmer than normal throughout most of the contiguous US with a pocket of cooler temperatures in the Southwest, centered over Arizona and surrounding states.
National Weather Service Updates (NOAA)
Hurricane Watch: No Current Hurricanes Click here to view the National Hurricane Center site.
Equatorial Pacific Outlook:
Click here to view La Nina and El Nino status.
Energy News
Major 2020 Energy Events are Dominated by Energy Transition Theme The global transition to lower emissions and increased sustainability is the predominant theme among numerous energy events scheduled for 2020.