Electricity Markets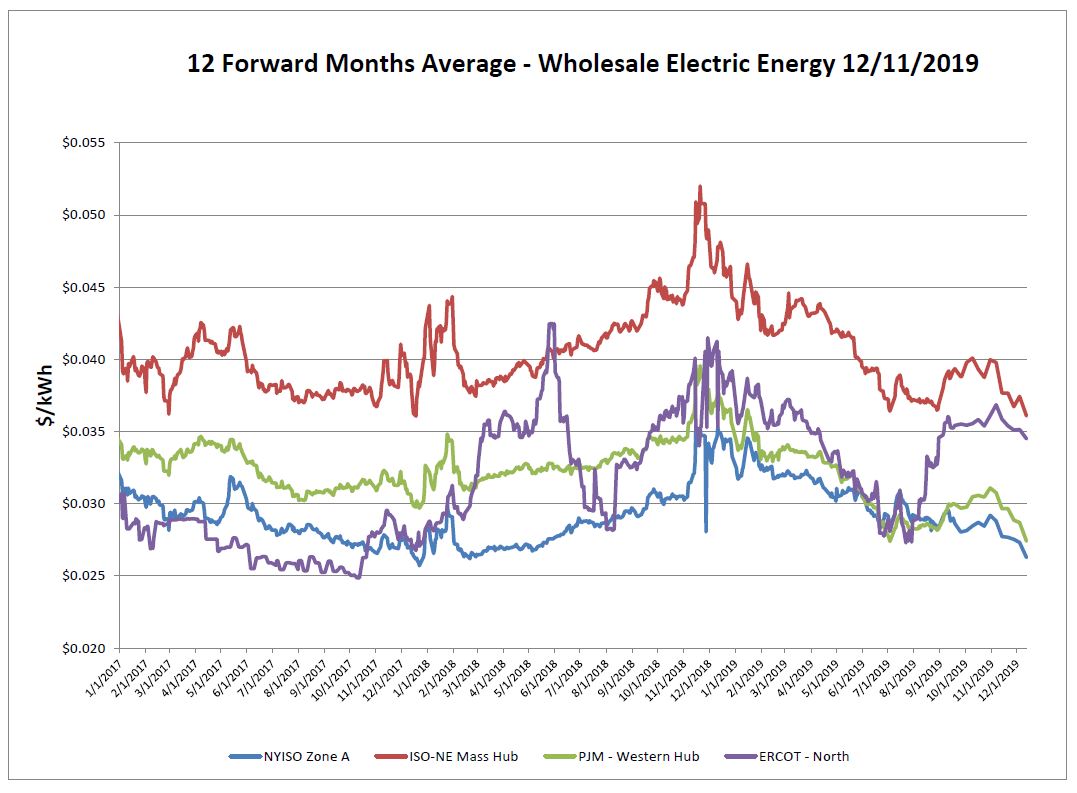 Electric pricing has continued to drop across all markets and represent some of the most favorable rates seen since 2017. The continued drop in the 12M forward averages is primarily driven by near-term winter months; rates in Winter 2020-2021 are higher as they fall in a more normal range. The NYISO is approaching historic lows even while upcoming plant closures draw nearer.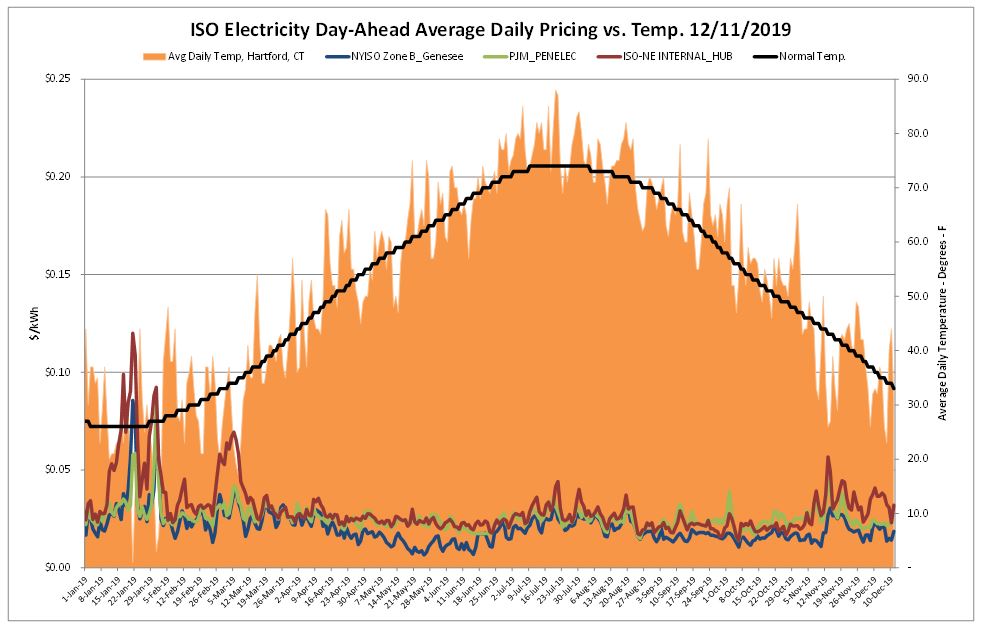 Continued temperature fluctuations have brought expected volatility to the daily markets.
Natural Gas Markets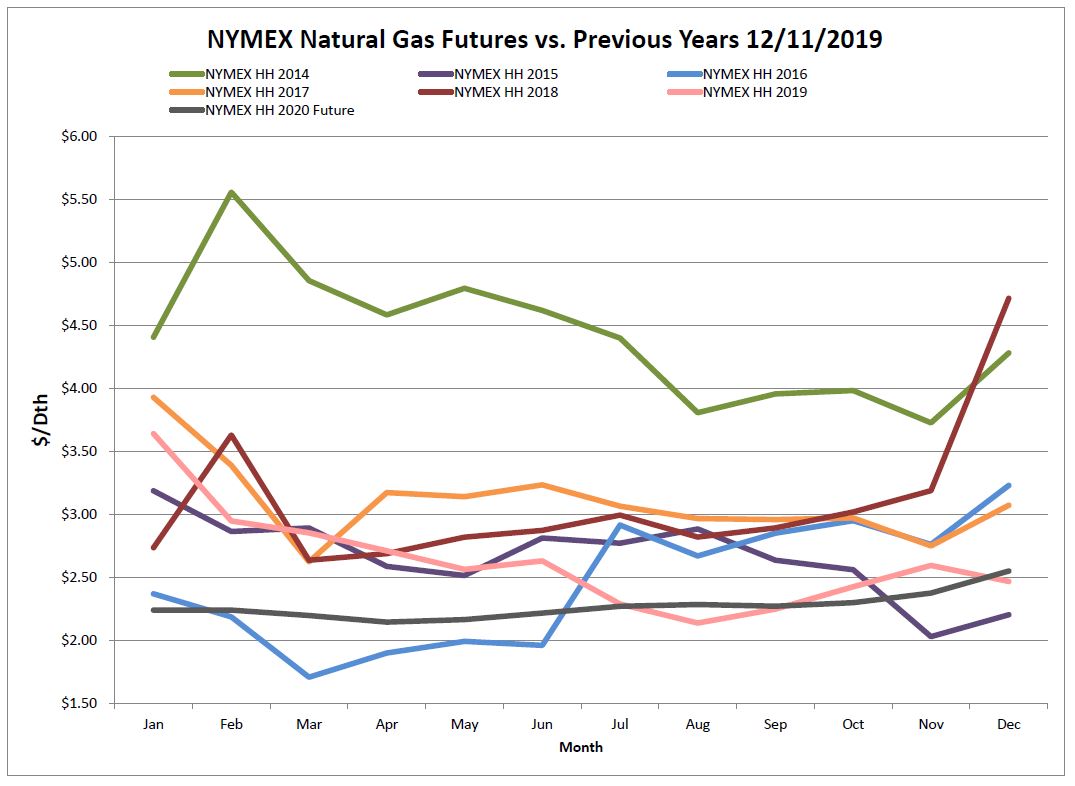 January 2020 is currently trading below the lowest settle since 2014. The forward 12 months continue to present incredible value.
Six-Month Natural Gas Futures
Futures as of 12/11/2019 versus previous week:
| | | |
| --- | --- | --- |
| Jan-20 | $2.243 | -$0.156 |
| Feb-20 | $2.243 | -$0.131 |
| Mar-20 | $2.200 | -$0.088 |
| Apr-20 | $2.148 | -$0.044 |
| May-20 | $2.168 | -$0.035 |
| Jun-20 | $2.219 | -$0.034 |
Natural Gas Inventory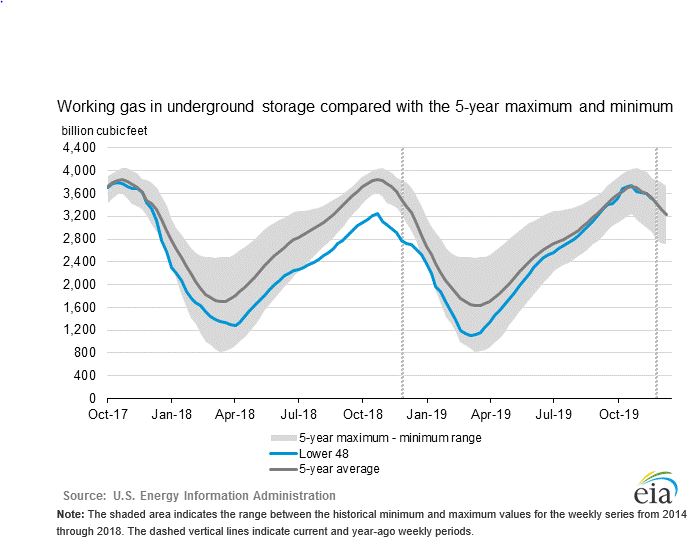 The EIA reported working gas in storage was 3,518 Bcf as of Friday, December 6, 2019. This represents a net decrease of 73 Bcf from the previous week. This figure was in-line with market expectations of an expected withdrawal of 74 Bcf. This fell just below last year's withdrawal of 75 Bcf and above the 5-year average of 68 Bcf.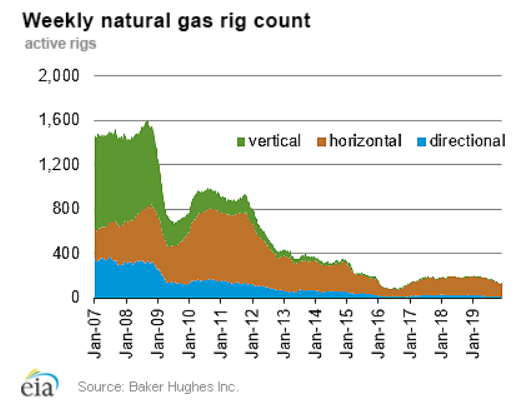 The Baker Hughes exploration gas rig count decreased by four from last week, for a total of 129 rigs. This is 69 fewer rigs than the 198 in operation at this time one year ago.
Weather Update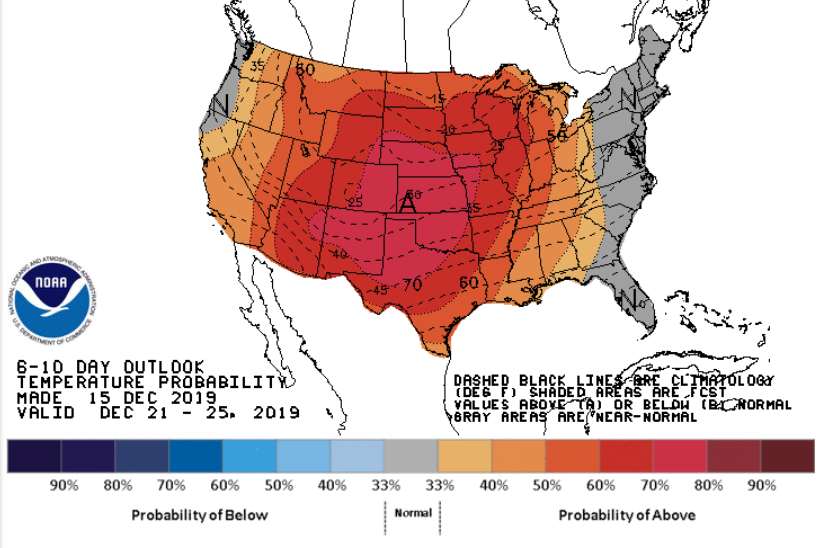 The 6-10 day forecast expects above-normal temperatures for most of the US with average temperatures for all states along the east coast.
National Weather Service Updates (NOAA)
Hurricane Watch: No Current Hurricanes Click here to view the National Hurricane Center site.
Equatorial Pacific Outlook:
Click here to view La Nina and El Nino status.
Energy News
ISO-NE Expects Adequate Winter Resources, but Fuel Availability Worries Persist ISO New England said it expects to have the necessary resources this winter to meet demand under both normal and extreme temperatures.
Opponents of CMP transmission line press for full environmental Review Opponents of Central Maine Powers proposed $1 billion transmission project that would bring Canadian hydropower to the New England power grid urged the Army Corps of Engineers on Thursday to perform a full environmental impact statement, one that CMP says would delay a final decision by a year.   If you would like to receive the Energy Market Update to your inbox weekly, please click here to submit your name and email address. Disclaimer: This information is provided for the use of our customers and potential customers. Power Management Company assumes no responsibility or liability for the accuracy or completeness of pricing or information in this document. Historical data was obtained from sources that we believe to be reliable, but we do not guarantee its accuracy or completeness. It is not intended to provide advice or recommendation. Views are subject to change without notice.