Electricity Markets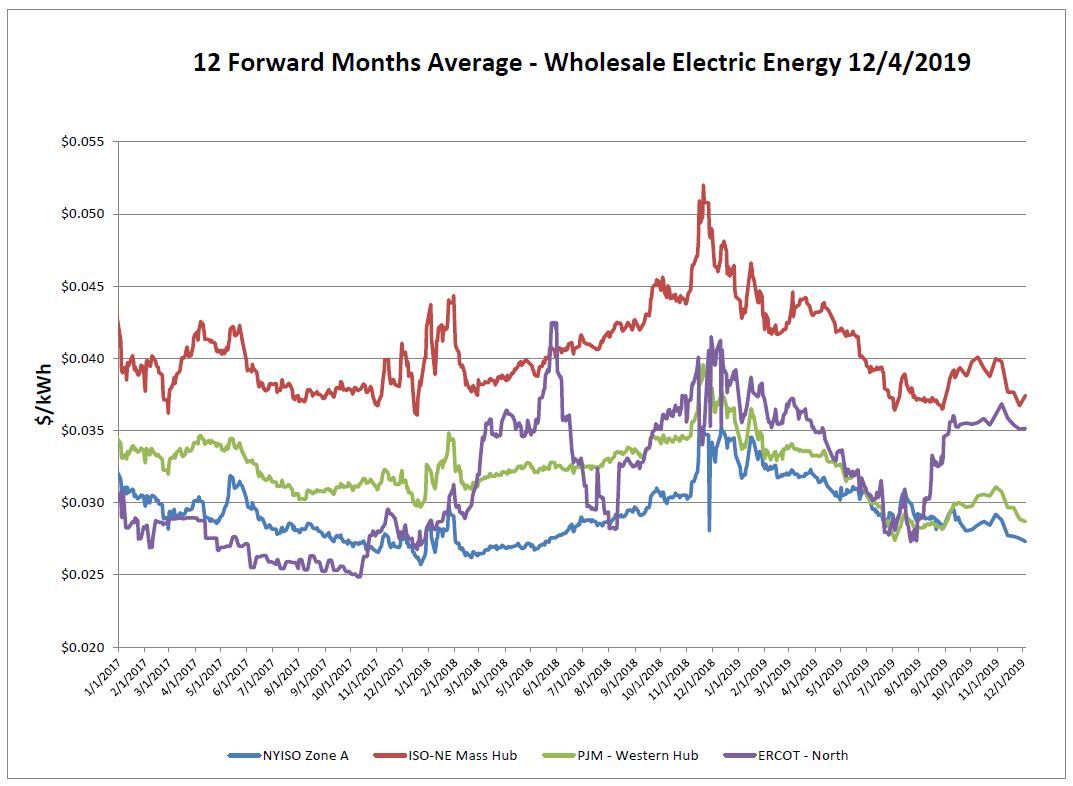 Electric pricing in ISO-NE saw a slight increase over the report week. The remaining ISO's were mainly flat or saw minimally movement downward.
Slightly below-average temperatures caused prices on the day-ahead market to continue the pattern of volatility experienced over the last month.
Natural Gas Markets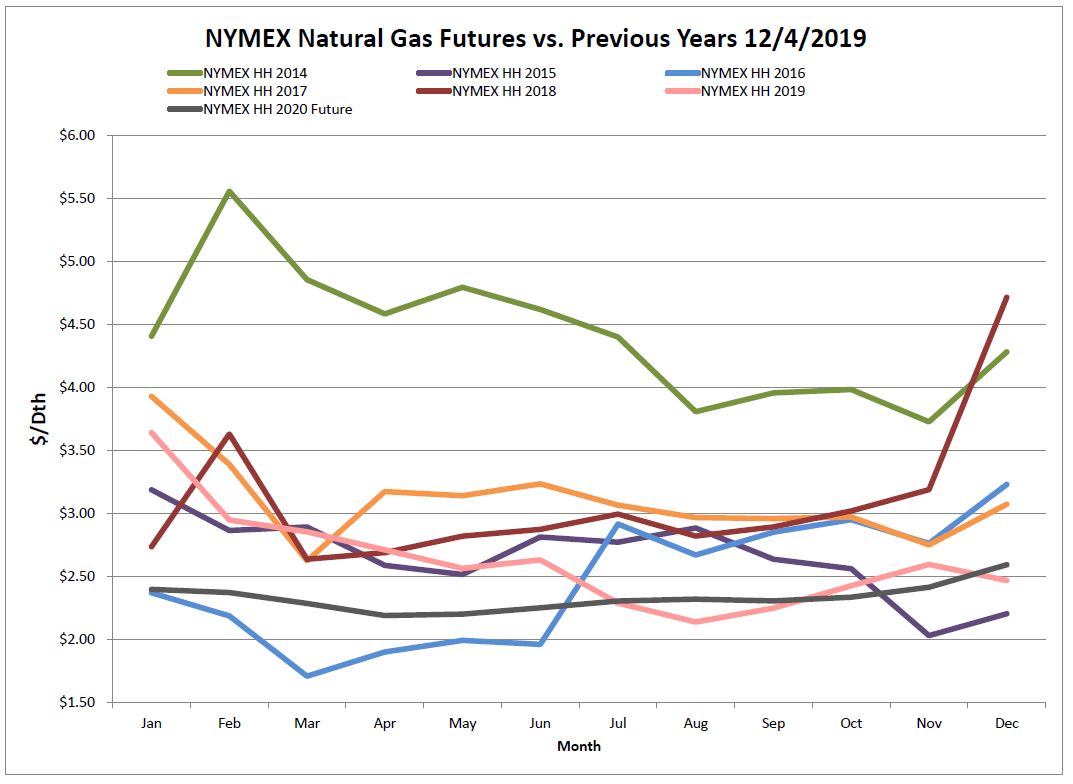 The price of the January 2020 contract decreased $0.10 over the report week with the price of the 12-month strip averaging January 2020 through December 2020 futures contracts declined $0.07. Weather outlooks continue to interest market participants who are relying on these figures to predict market direction as production of natural gas remains strong and storage levels are healthy. At current market prices, looking at any short or long-term natural gas contracts still open is likely a good move before the next round of winter cold appears.
Six-Month Natural Gas Futures
Futures as of 12/4/2019 versus previous week:
| | | |
| --- | --- | --- |
| Jan-20 | $2.399 | -$0.102 |
| Feb-20 | $2.374 | -$0.096 |
| Mar-20 | $2.288 | -$0.095 |
| Apr-20 | $2.192 | -$0.080 |
| May-20 | $2.203 | -$0.067 |
| Jun-20 | $2.253 | -$0.059 |
Natural Gas Inventory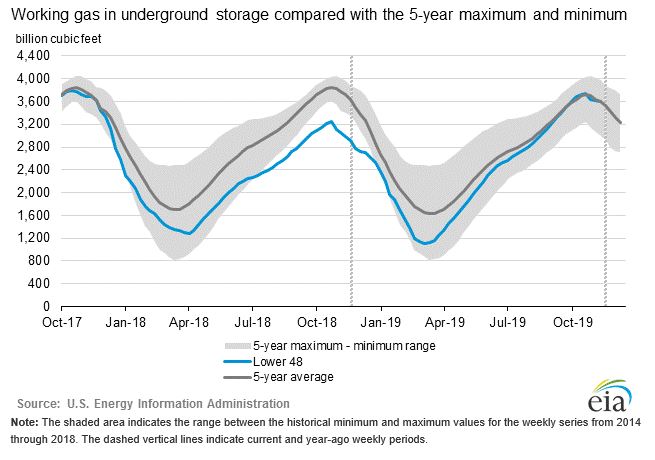 The EIA reported working gas in storage was 3,591 Bcf as of Friday, November 29, 2019. This represents a net decrease of 19 Bcf from the previous week. This figure was just below market expectations which centered around a 21 Bcf withdrawal.   This compared with the five-year average net withdrawal of 41 Bcf and last year's net withdrawal of 62 Bcf during the same week.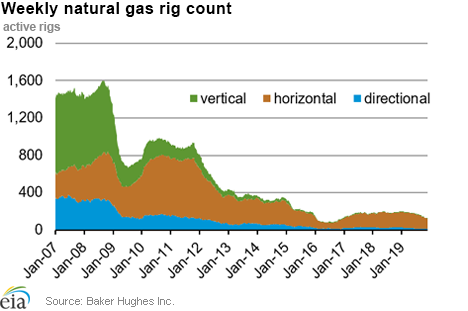 The Baker Hughes exploration gas rig count increased by two from last week, for a total of 133 rigs. This is 65 fewer rigs than the 198 in operation at this time one year ago.
Weather Update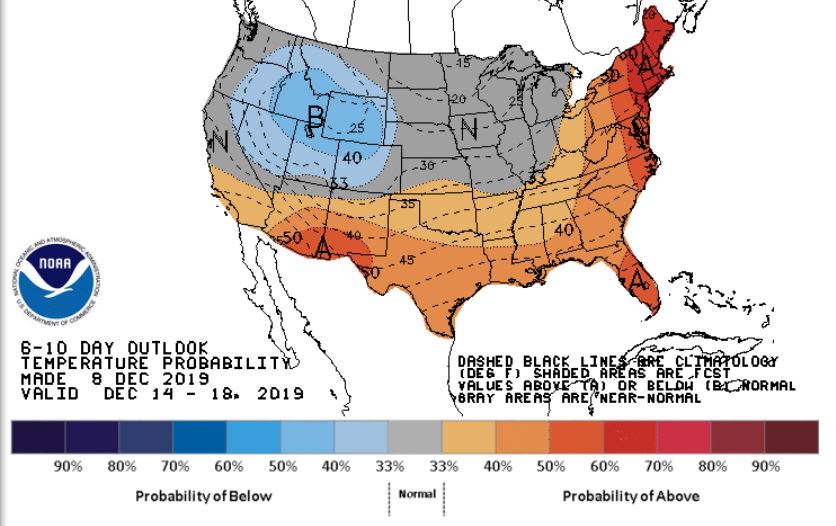 The 6-10 day forecast shows a blanket of warmer-than-normal temperatures for the eastern and southern portions of the country, which should help keep demand at bay for this time of year.
National Weather Service Updates (NOAA)
Hurricane Watch: No Current Hurricanes Click here to view the National Hurricane Center site.
Equatorial Pacific Outlook:
Click here to view La Nina and El Nino status.
Energy News
FERC allows construction of Weymouth gas compressor station, over objections
Washington — The Federal Energy Regulatory Commission has given Enbridge subsidiaries approval to start construction on a long-delayed compressor station in Weymouth, Massachusetts, that would enable northbound natural gas flows on Maritimes & Northeast Pipeline and into Canada.
Pennsylvania Q3 gas production growth rate lowest in two years -state IFO
Natural gas production in the Keystone State grew to 1.7 Tcf (18.48 Bcf/d) in third-quarter 2019, but the rate of growth slowed to 9.1%, the slowest in two years, according to a Pennsylvania Independent Fiscal Office report.
If you would like to receive the Energy Market Update to your inbox weekly, please click here to submit your name and email address.
Disclaimer: This information is provided for the use of our customers and potential customers. Power Management Company assumes no responsibility or liability for the accuracy or completeness of pricing or information in this document. Historical data was obtained from sources that we believe to be reliable, but we do not guarantee its accuracy or completeness. It is not intended to provide advice or recommendation. Views are subject to change without notice.