Electricity Markets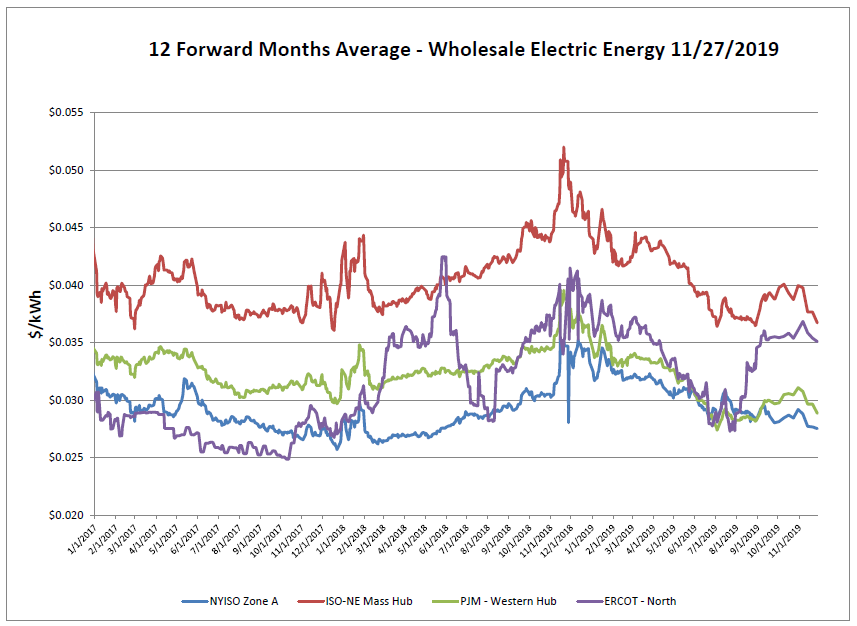 Electric pricing in Texas and New York was quiet last week while New England and Pennsylvania continued to drop off. Rates now mirror some of the lowest we've seen since this past summer.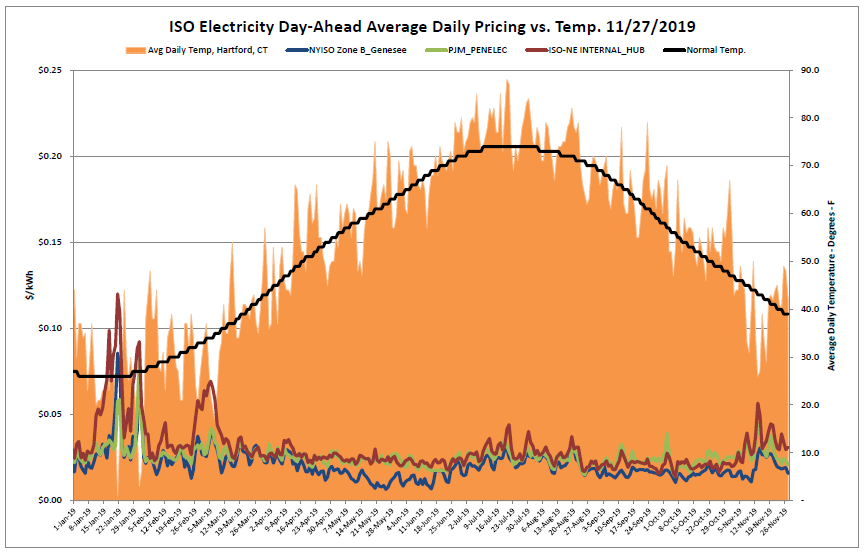 Temperatures settled at- or above-average this past week and helped to bring pricing back down in the daily markets.
Natural Gas Markets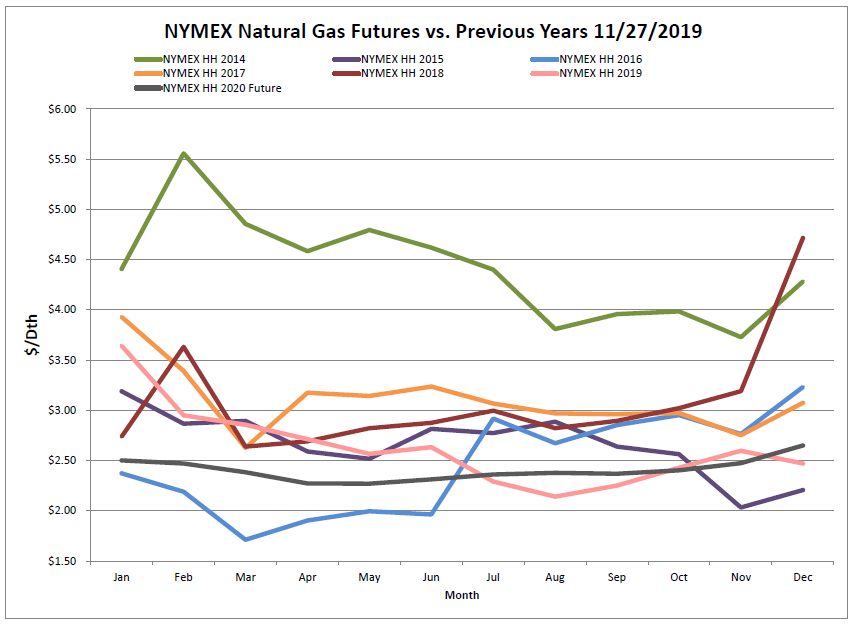 The NYMEX continued to drop early last week prior to the last trading day of December on November 26th. The market settled at $2.47 and marks the lowest close since 2015. 2020 futures continue to present incredible value.
Six-Month Natural Gas Futures
Futures as of 11/27/2019 versus previous week:
| | | |
| --- | --- | --- |
| Jan-20 | $2.501 | -$0.090 |
| Feb-20 | $2.47 | -$0.071 |
| Mar-20 | $2.383 | -$0.059 |
| Apr-20 | $2.272 | -$0.009 |
| May-20 | $2.27 | -$0.003 |
| Jun-20 | $2.312 | -$0.003 |
Natural Gas Inventory
As of Friday, November 22, 2019 working gas in storage was 3,610 Bcf. According to EIA estimates this represents a net decrease of 28 Bcf from the previous week. Seasonably-mild temperatures helped to lessen the impact of the previous week's large withdrawal, ,and storage levels are now only -.9% below the 5-year average.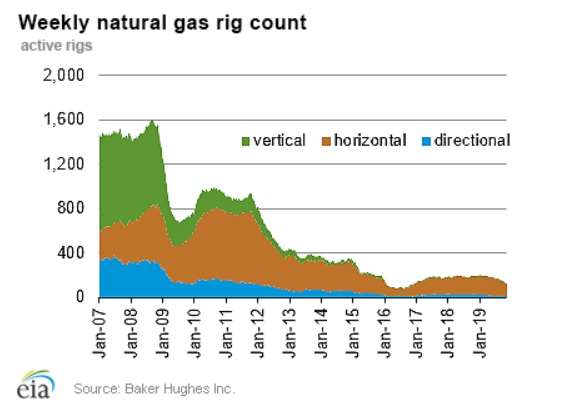 The Baker Hughes exploration gas rig count increased by two from last week, for a total of 131 rigs. This is 58 fewer rigs than the 189 in operation at this time one year ago.
Weather Update
Warmer-than-average temperatures are expected through much of the United States with normal temperatures expected in New York/New England.
National Weather Service Updates (NOAA)
Hurricane Watch: No Current Hurricanes Click here to view the National Hurricane Center site.
Equatorial Pacific Outlook:
Click here to view La Nina and El Nino status.
Energy News
NYISO expects slightly lower power demand this winter, cites slightly warmer Forecast
The New York Independent System Operator anticipates power demand this winter will be slightly lower than last winter, with peak consumption of24,123 MW expected, compared with last winter's peak of 24,728 MW, it said Thursday.
Regulators: Central Station Generation Will Stay Dominant Despite Emerging Tech
A nationwide survey of state utility commissions suggests regulators are increasingly grappling with issues that could "profoundly" alter energy delivery and utility business models.